Denver Broncos Running Back Knowshon Moreno: Why He Will Have a Breakout Season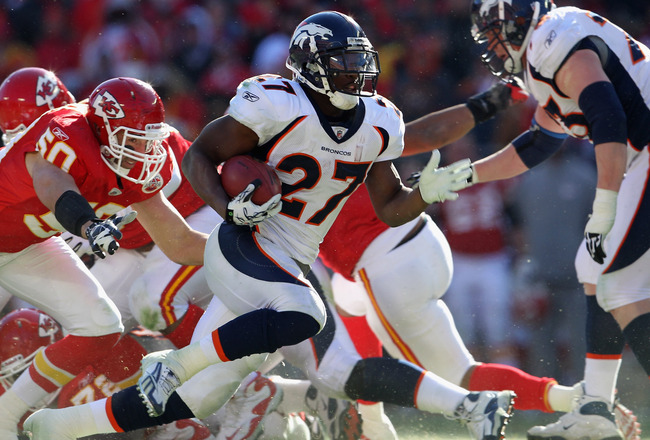 Denver running back Knowson Moreno runs through the Kansas City defense
Jamie Squire/Getty Images
In Denver, there has been a rumbling of concern with regards to the running game, or lack thereof. Unfortunately RB Knowshon Moreno has had to take the brunt of that criticism. Some of it is well deserved, however, most of it should be steered towards the real culprit, the scheme.
Here I will attempt to show why Knowshon Moreno is set to have a break out year...
Head Coach John Fox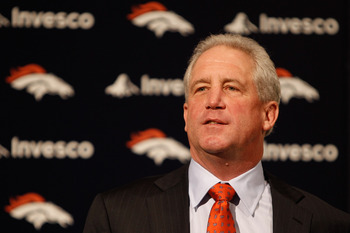 Denver head coach John Fox adresses the media
Justin Edmonds/Getty Images
It's no secret that new head coach John Fox is a run first coach. That being said, one can only assume that he will accept nothing less than excellence from that position. It also can be assumed that he will put the tools in place for that position to succeed. For Knowshon, it will start the day the Broncos open for OTA's this spring.
Workouts, strength training, and philosophies will be instilled in this young man to prepare him both physically and mentally for the rigors of an NFL season. He will at long last learn what it is to be an NFL running back. This can only be achieved through hard work, dedication, and continuity. Which leads me to my next point.
Eric Studesville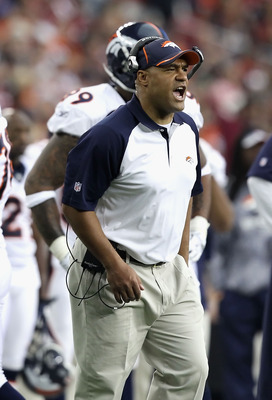 Running Backs Coach Eric Studesville
Christian Petersen/Getty Images
After careful consideration, the Denver Broncos brass has granted former interim head coach Eric Studesville the opportunity to return as the running backs coach for the 2011 season.
As I said before, hard work, dedication and continuity are essential to the success of our running backs. Coach Studesville exemplifies these principles and demonstrated them when he took over for debunked head coach Josh McDaniels after he was "relieved" of his duties. This will be a key piece for the young Moreno in what could be his lone opportunity to impress new head coach John Fox.
Studesville, Moreno and the rest of the running back corps should all benefit from the one-cut and go philosophy Coach Fox will bring back to the Broncos.
On that note, we move to the next piece of the puzzle to making Knowshon a success in 2011.
New Offensive Line Coach Dave Magazu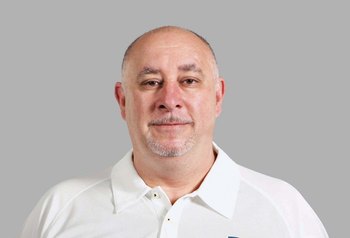 Introducing New O-Line Coach Dave Magazu
NFL Photos/Getty Images
Coach Magazu comes to the Denver Broncos after coaching the offensive line for the Carolina Panthers from 2007 to 2010. Prior to that, he was the tight ends coach for the same team between '03 and '06 after coaching offensive lines at the college ranks for 23 years.
During his time with the Carolina Panthers, his lines helped to pave the way for the league's first ever 1,100+ yard running tandem in the NFL. This tandem featured backs Jonathan Stewart and DeAngelo Williams during their 2009 campaign. Any running back would be excited to run behind one of coach Magazu's lines.
Given the youth, raw talent and sheer beef of the Broncos O-line, running lanes for young Mr. Moreno should be more than just open, they should be evident, sending him into the defensive secondary where we find yet another key piece to Knowshon's future success.
Broncos Tight Ends and Receivers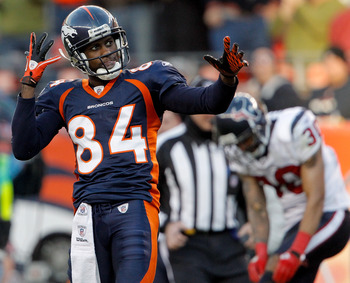 Denver receivers will need to step up their run blocking
Justin Edmonds/Getty Images
Under the new regime, the Denver Broncos wide receivers and tight ends will have to be more physical down the field. The offensive line can break open holes but it is the down field blocking that will set Knowshon and the other backs free.
Remember in the glory days of old when Terrell Davis was breaking the defenses backs with his punishing runs. He forced defenses to constantly have eight or more men in the box. This allowed a QB out of Stanford you may have heard of to torch DB's down the field. Yeah, remember that guy John Elway, the man who led us to the promised land five times with back-to-back victories during his career? He's the same guy that is running the show once again in Denver.
This leads us to the final item crucial to the success of Moreno.
Tim Tebow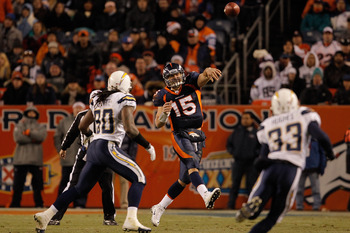 Tim Tebow showing he can get it done through the air
Justin Edmonds/Getty Images
With the guidance of new head coach John Fox and Mike McCoy, Tim Tebow should make huge strides in his first full year as a starter. With the constant threat of the run coupled with his continued development as a passer, defenses will be forced to play our offense head-to-head, reducing trick plays, stunts and blitzes.
This man-to-man approach will open up options for how we attack. If they plan to stop the run, Tebow can hit Knowshon in the flat as a dump off man as he is also a very capable receiver.
With all these pieces in place it's hard to envision a situation where Knowson Moreno will not be effective.
But, this is just this writers' opinion, leave a comment and let me know what you think.
Keep Reading

Denver Broncos: Like this team?