MLB Power Rankings: 10 Struggling AL East Stars Who Most Need to Rebound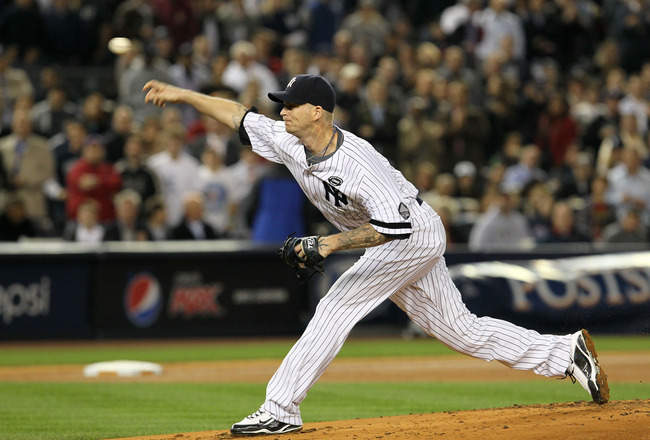 Jim McIsaac/Getty Images
Last week, I wrote an article entitled MLB Predictions: Boston's Josh Beckett and 10 AL East Stars Who Will Rebound in 2011, predicting 10 star athletes from baseball's AL East Division who will fare better in the year ahead than they did in the 2010 season.
I anticipate a return to form for stars like Derek Jeter of New York and Josh Beckett of Boston—elite players who offered uncharacteristically mediocre contributions last year.
This week, I'm following that theme, but with a bit of a twist. While the last article suggested which players would rebound, this article is going to focus on which players need to rebound for the sake of their teams' success in 2011.
Several of the names on this list can be found on the previous one. We are focusing on the stars of the league, after all. These are the players who make the biggest impact, and that is precisely why the fate of their respective teams rests greatly upon their shoulders.
Players will be listed in order, 10 through one, leading up to the player who most needs to succeed if his team is to do the same. But before we begin, I will explain the angle I took, so to speak, in determining these rankings. I put emphasis on the expectations of each team going into the season. I predict that the standings will look like this at the end of the season:
Boston
New York
Tampa Bay
Toronto
Baltimore
Now, Baltimore is not looking like much of a threat going into the season; if they could finish at .500, that would be a pretty impressive feat when compared with last season. With such low expectations, Baltimore doesn't really need to have a star rebound, because I still couldn't fathom them making the playoffs.
Tampa Bay, on the other hand, is still in the hunt for the wild card despite some significant offseason losses from the roster. More than anyone, they need people to step up, because they actually have a shot at the playoffs, even if I don't expect them to make it if all players on all teams were to play to their potential. But of course, that won't happen, so a star returning to form might be just enough for an underdog to make some noise and grab a playoff berth.
At any rate, without further ado, I give you 10 Struggling AL East Stars Who Most Need to Rebound, starting with No. 10...
10. B.J. Upton, Tampa Bay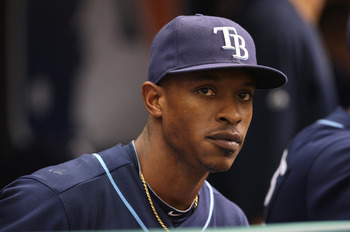 Mike Ehrmann/Getty Images
Of all the teams in the AL East, the Tampa Bay Rays roster needs players to rebound more than any other.
The reason for this, as I alluded to earlier, is that the Rays are a talented team that should have playoff hopes going into the season, even though they are underdogs to the Red Sox and Yankees.
B.J. Upton is an important part of the lineup, as his contact at the plate and speed on the basepaths are two key ingredients to the Rays' formula for putting runs on the board. Coming off a season where he batted .237, Upton will need to be more consistent as a catalyst for the offense and a run-scoring machine if the Rays are to edge their way into the postseason.
As this list will suggest, he's not the only player in Tampa that needs to put forth a better showing in 2011...
9. Jonathan Papelbon, Boston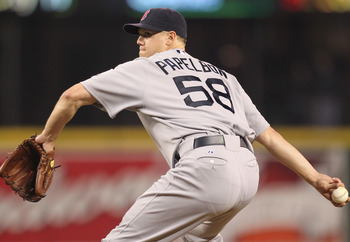 Otto Greule Jr/Getty Images
Boston is further towards the other end of the spectrum compared to Tampa Bay. Boston appears the clear favorite in the division, and even if their stars don't contribute to the fullest potential, the Sox should at the very least be in the wild card slot at season's end.
However, if their major players do offer up their best, then the East is all Boston's. One of those players that could most definitely help Boston keep a stranglehold on first place throughout the year is closer Jonathan Papelbon.
After blowing eight saves and racking up an ERA of nearly 4.00, Pap has to have his eyes set on a better season this year. The Sox seem prepared for a scenario where things don't go as planned, with successful closer Bobby Jenks acquired in the offseason, as well as Daniel Bard coming up through the ranks over the past couple years.
Regardless of all that, Boston would prefer nothing more than to have Papelbon return to form and be the shutdown pitcher he has been throughout his career. After all, they look like they will likely have their share of leads going into the late stages of games this year...
8. J.J. Hardy, Baltimore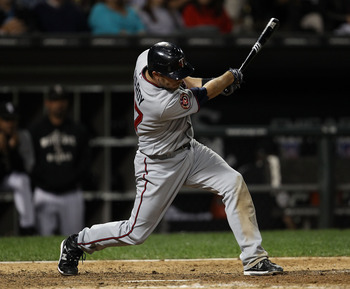 Jonathan Daniel/Getty Images
Shortstop J.J. Hardy looks to rediscover some of the talent that he displayed in his best years in Milwaukee now that he's with the Orioles. He's much more capable than his 2010 numbers would have you believe, having batted .268 with six HR and 38 RBI.
Unfortunately for the O's, even a career year for Hardy won't be enough to get into the playoffs, though it might help them get closer to a winning season. Not much of an accomplishment in one of the strongest divisions in the majors, but everybody has to start somewhere.
Barring any actual, genuine, literal miracles, Baltimore's success (if that's the word), however limited, is tied greatly to Hardy's rebound in the 2011 season.
7. Aaron Hill, Toronto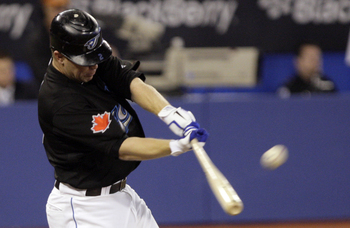 Abelimages/Getty Images
Toronto is another team whose potential does not approach that of the three major powers in the East in Boston, New York and Tampa Bay.
That being said, the team is in the process of rebuilding and on the verge of being competitive, and if the franchise could manage to finish third in the standings, that would be something to be excited about.
For this to happen, however, some big name players need to rebound, and Aaron Hill is one of those names.
The second baseman posted a .205 batting average this past year, and his 26 HR and 68 RBI were significantly down from 2009's 36 long balls and 108 RBI. Hill has a lot of talent and is most definitely a better batter than he represented himself to be this past year.
If he is able to reach his potential in 2011, and a few other talents in Toronto rebound or break out, there would certainly be potential for this team to be happy with its season and even more excited about what 2012 might bring. But one season at a time...
6. Adam Lind, Toronto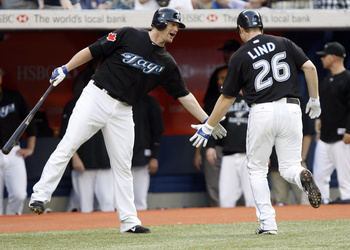 Abelimages/Getty Images
Sticking with the Blue Jays, slugger Adam Lind rebounding in 2011 would be an enormous boost to the team's offense.
Lind's ability to produce makes his rebound even more necessary than Hill's, as this star has actually shown himself to be capable of batting at a .300 level, while putting up power numbers as well (35 HR, 114 RBI in 2009).
If both Lind and Hill can get themselves going in the early stages, Toronto has an outside shot at hanging around in the race towards the end of the season. Offense is contagious, as they say.
I don't really foresee Toronto having what it takes to crack the upper echelon of the AL East, but if there is any hope, it rests in large part on the shoulders of Lind and Hill.
5. Josh Beckett, Boston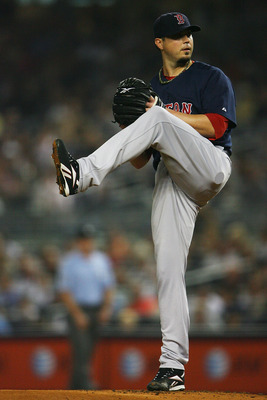 Andrew Burton/Getty Images
Boston is the team that looks best on paper, as we've addressed. But looking good "on paper" is simply an estimation of the talent and potential within the organization.
Boston's got a lot of both of those things, likely more than any of its division counterparts, but there's a reason the games aren't played on paper.
One of Beantown's biggest question marks is the 3-5 slots of the starting rotation. One of those slots belongs to Josh Beckett, and he is a young (30 years old) pitcher who has usually been considered an ace for whatever squad he's been a part of.
With Clay Buchholz and Jon Lester looking to continue as Boston's most reliable pitchers, a rebound from Beckett would be a huge support to the starting cast. If Beckett is able to pitch at the high level that he has throughout his career, as opposed to the 6-6, 5.78 ERA level of 2010, then it would basically give Boston three pitchers who could pass for the Opening Day ace on nearly any other team.
With all of their talent, Boston could probably afford it if Beckett wasn't spectacular in 2011, but at least one of the starting pitchers other than Lester and Buchholz will need to shine for the team to win the division and reach the World Series, which is undoubtedly where the bar has been set after this offseason.
4. Derek Jeter, New York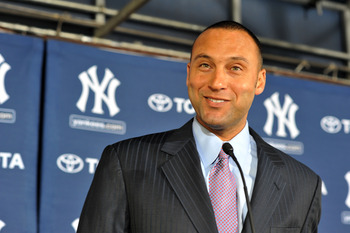 Tim Boyles/Getty Images
Yankees fans haven't been thrilled with the offseason actions of the front office, especially in the wake of Boston acquiring stars like Adrian Gonzalez and Carl Crawford.
That being said, the hopes of another AL East crown are always high or, at the least, a wild card entry into the postseason.
While New York does not look to be as good as Boston going into the season, it is still looking better than Tampa Bay, by my assessment.
Tampa lost some key players to Boston and New York. If the division title is Boston's to lose, then the wild card is the same for New York. But nothing is set in stone. The Evil Empire needs a rebound from franchise star shortstop Derek Jeter if it is to contend at the level that fans and players are accustomed to.
Jeter hit a mere .270 in 2010, following a 2009 season that saw him bat .334. Similarly, his home runs and OBP were down very significantly, and with arch nemesis Boston looking so strong and Tampa Bay breathing down their neck, the Yankees can hardly afford another subpar season from Jeter. A rebound from this Hall of Famer is an absolute must for success.
3. James Shields, Tampa Bay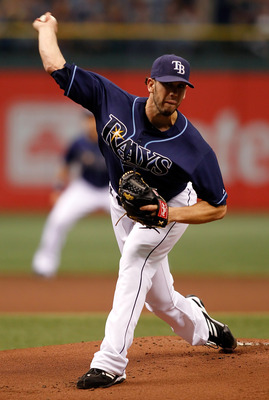 J. Meric/Getty Images
As stated earlier, Tampa Bay has the most to gain from the potential rebounds of several stars, as it looks to be in the verge of playoff contention as 2011 approaches.
Quality starting pitching is an overwhelming necessity for successful franchises, and with that in mind, No. 3 on the list is Jame Shields.
After a 13-15, 5.18 ERA season in 2010, Shields is going to need a significant rebound in 2011 to keep the Rays' playoff hopes alive. If Shields can produce at a level reminiscent of his 14-8, 3.56 ERA season of 2008, he'd at least be doing his part to give his team a shot at the post season.
He can't do it alone, but a rebound from Shields, along with the other players on this list, could get the job done.
2. A.J. Burnett, New York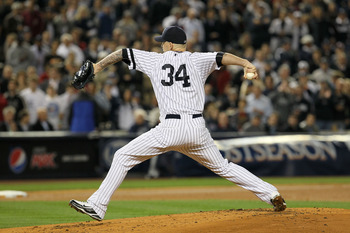 Jim McIsaac/Getty Images
More important than Derek Jeter's revival is that of A.J. Burnett, whose 2010 season was rather forgettable, or so he wishes.
With a 10-15 record and an ERA well above any previous career high, there's hopefully nowhere to go but up for Burnett—for his sake and for his team.
With question marks in the starting rotation (as well as throughout the roster), New York needs to wring ever ounce of talent and potential out of the starting five. Burnett's rebound is absolutely key to the Yankees making the postseason, more so than any other player on the roster.
Last but not least, No. 1 on the list of 10 Struggling AL East Stars Who Most Need to Rebound...
1. Manny Ramirez, Tampa Bay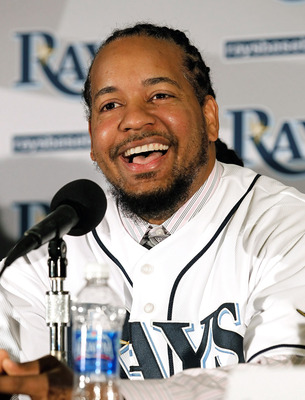 J. Meric/Getty Images
Tampa recently signed future Hall of Famer Manny Ramirez for pocket change. Well, if you have really big pockets. But at $2 million for the season, Manny's signing has potential to be one of the all-time great steals in the history of the game.
Of course, that all depends on how well Ramirez produces for the Rays. Similarly, so does the success of the franchise.
Tampa lost key players to teams within the division; they got weaker as Boston got beefier. They lost their closer to New York. Things weren't looking bright for 2011, and it is still rather unclear what to expect for the franchise in terms of wins or playoff appearances.
A rebound from Manny, who has been a consistent over-.300 hitter for his career, with countless All-Star appearances, 30-plus HR seasons and 100-plus RBI years, is imperative if the Rays are to contend.
Just like anyone on this list, he's going to need help from his teammates. But with Manny swinging the bat well and giving the ball a ride, and with timely contributions throughout the order, Tampa Bay might be able to sneak into the postseason, when most accounts would expect them to be underdogs.
Because the franchise has so much to gain and Manny has so much to offer, his rebound is needed more than that of any other AL East star.
Keep Reading