Cleveland Browns 5 Biggest Player Decisions: Free Agency Starts at Home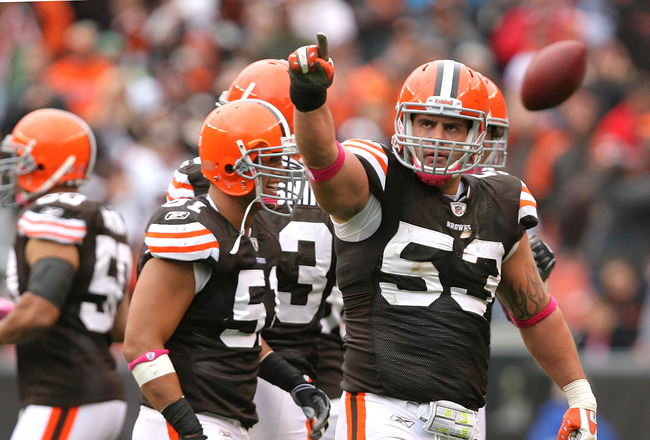 Matt Sullivan/Getty Images
Assuming they get a new collective bargaining agreement done, NFL free agency is scheduled to begin on March 3, 2011.
I'm going to go through every team between now and then and identify their top five free agents and try to determine what should be done with each player—should the team re-sign them or let them walk?
I've been going team by team in draft order and I am at the team with the sixth pick in the draft, the Cleveland Browns.
The Browns had an up and down 2010 season. They won their last four games at the end of the 2009 season, so expectations were high for a 5-11 team. Unfortunately, the team didn't improve enough over the offseason and finished with a 5-11 record yet again and head coach Eric Mangini was let go.
Pat Shurmur was hired by team president Mike Holmgren to replace Mangini as head coach. Shurmur wasn't a big-name head coaching candidate when the 2010 season started, but he helped guide the Rams offense and rookie quarterback Sam Bradford to an unexpectedly good season this year.
He was also a long-time Eagles assistant and Eagles coach Andy Reid is a former Holmgren disciple, which surely contributed to the decision to hire him.
Shurmur and the Browns should improve moving forward. The team added quarterback Colt McCoy and cornerback Joe Haden in last year's draft and should continue to draft well with Holmgren at the helm.
They are on the upside of the rebuilding process now and should consider that when they make their decisions about their own free agents.
(Honorable Mention—D'Qwell Jackson—Didn't make the list because he's been injured for most of the past two years, but is a former second round pick and was a good player before he was hurt.)
5. Seneca Wallace, Quarterback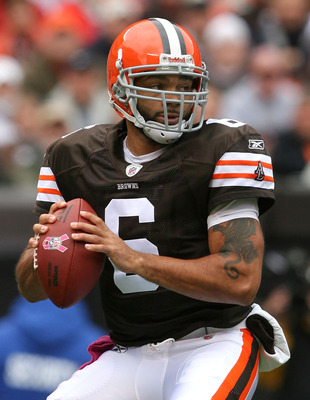 Matt Sullivan/Getty Images
Seneca Wallace probably had a worse year than he had hoped.
He came to Cleveland from Seattle, brought in by his former coach Mike Holmgren, and was in competition for the starting job. He didn't win it outright, but got his chance to start in Week 2.
He performed decently during his four games as a starter, throwing four touchdowns and just two picks, but then got hurt during their game against the Falcons in Week 5. By the time he returned, Colt McCoy had taken over as the starter.
Wallace didn't have a blow-away performance this year, but he didn't kill the team when he was in either. Todd Collins and the Bears proved how important it is to have a back-up quarterback. The Browns would be smart to try and bring him back for a few years to back up Colt McCoy.
They would have been better off signing him to an extension earlier though. There are so many quarterback-needy teams this year that he might get a decent-sized offer when he hits the open market. If that happens, the Browns should look elsewhere.
4. Eric Wright, Cornerback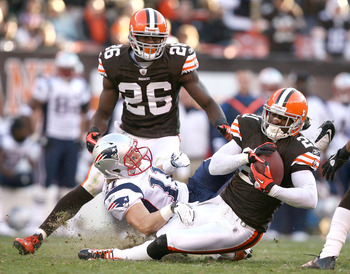 Matt Sullivan/Getty Images
Eric Wright is a very interesting case for any team next year. In 2008 and 2009 he appeared to be the best player on the Browns defense, showing signs of being a capable No. 1 NFL cornerback.
However, he had an absolutely horrible contract year in 2010. He had just one pick and got hurt, losing his job midseason to rookie Joe Haden and ending the year on injured reserve.
Wright is definitely not going to get a large deal after the year he just had, so he should be looking to grab a one-year contract with some team to try and "rehab" his value. The Browns could use the help on defense and should try and sign him for one more year.
If he gets back to form, he and Haden should combine to form a great starting duo for years to come.
3. Matt Roth, Outside Linebacker
Matt Sullivan/Getty Images
Matt Roth isn't going to blow you away on the field or the stat sheet. He is a former second round pick of the Dolphins, but despite being a defensive end/rush linebacker his whole career, he's never had more than five sacks in a season.
However, he did lead all Browns linebackers in tackles this year and started all 22 games for them since signing there during last season.
Roth is a player who should be brought back more because of the guys around him than his own talent. None of the Browns' other linebackers are real impact players either. Roth is the best of the bunch and should be brought back.
They won't be able to find multiple linebackers better than him to bring in.
2. Abram Elam, Safety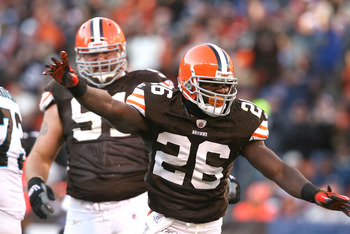 Matt Sullivan/Getty Images
Before doing the research, I just remembered Abram Elam as a mediocre player at best for the New York Jets. He seemed to be a throw-in player for the Mark Sanchez trade and I didn't expect him to do much. I thought he only had a job because he was one of Mangini's guys—and I seemed to be right at first.
He had just one sack, two passes defensed and one forced fumble in 2009 even though he started every game. He led the team in tackles, but did not seem like an impact player and was unreliable in pass coverage.
Jump ahead to 2010, and with rookie T.J Ward leading the team in tackles from the other safety position, Elam seemed much more comfortable.
This year, Elam finished second on the team in tackles and added two sacks, two picks, two forced fumbles and 10 passes defended. Despite being in more games this year (preventing opponents from just running it) the Browns allowed 20 fewer passing yards per game, jumping from 29th to 18th against the pass.
Elam is a leader on a defense with a lot of young players in the secondary and should be brought back.
1. Phil Dawson, Kicker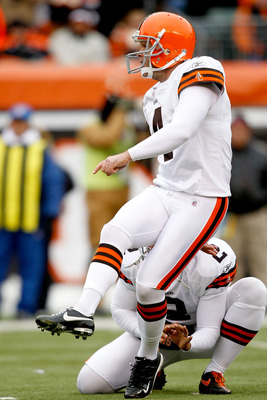 Matthew Stockman/Getty Images
It's not often that someone will talk about a kicker as an important free agent, but when that kicker is Phil Dawson it's worth taking the time.
Dawson has been a Cleveland Brown since 1999 and is by far the longest tenured Browns player. He made 23-of-28 field goals this year and all of the misses were from beyond 40 yards.
The Browns appear to be crazy because they have yet to lock him up with an extension, and Dawson believes he's not likely to be back with Cleveland.
This is a horrible personnel decision. Dawson could beat out more than half the kickers in the league for their jobs. He is the ninth most accurate kicker in NFL history. Someone on a good team is going to take note of the fact that Dawson has only missed three field goals in his career of under 30 yards and lock him up to a big deal.
Keep Reading

Cleveland Browns: Like this team?