Super Bowl XLV Special Report: Live from Sundance Square in Fort Worth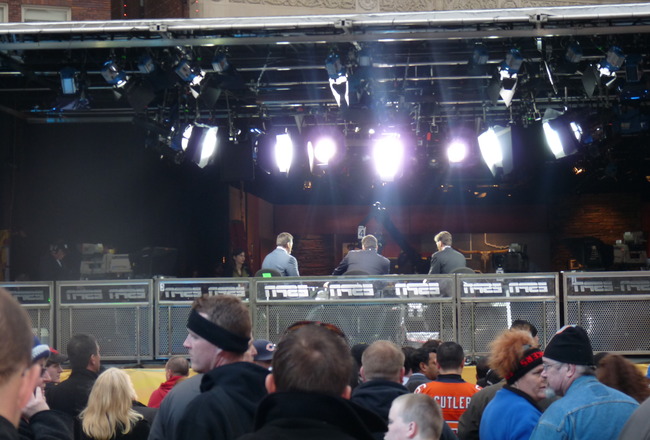 ESPN SportsCenter Live

Super Bowl XLV marks the first time North Texas and the Dallas/Forth Metroplex has hosted a Super Bowl. Today, I went on a field trip to check out the scene in Cowtown. I am happy to report that Super Bowl XLV fever is alive and well in Sundance Square.
Fort Worth, the Super Bowl home of the AFC champion Pittsburgh Steelers, has done an outstanding job of preparing for the craziness that is the Super Bowl. The square at the heart of Sundance Square is the mobile home of ESPN for the week.
Darren Woodson on ESPN's Sports Nation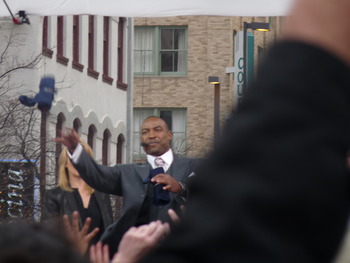 Darren Woodson tosses out T-shirts to the Sports Nation fans.
Darren Woodson, the fabulous Dallas Cowboys safety and owner of three Super Bowl rings, was among the guests on ESPN's Sports Nation while I was there. Also making appearances were brothers and native Texans, Akin and Remi Ayodele and TCU quarterback Andy Dalton.
I just missed seeing Hall of Fame running back and Cowboys great, Tony Dorsett. Each guest was asked to pick their favorite to win Super Bowl XLV.
Dorsett, a Pittsburgh native and Heisman trophy winner at the University of Pittsburgh, picked the Steelers.
TCU's Andy Dalton and Sports Nation's Michelle Beadle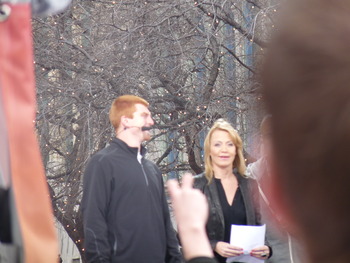 Andy Dalton, Michelle Beadle
TCU quarterback Andy Dalton was a big hit with the Fort Worth crowd when he took the Sports Nation stage.
Dalton, a senior, lead the Horned Frogs to their first-ever Rose Bowl victory and a No. 2 ranking in the final polls. Many Cowboys fans think he is a good option for the Cowboys as a late-round pick.
One thing is certain: With that fiery red hair, he would blend well with coach Jason Garrett.
The Cradle of Champions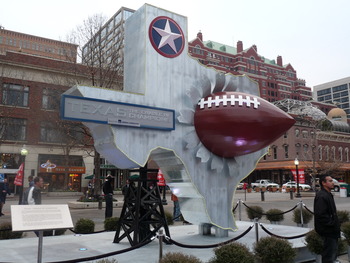 Cradle of Champions
The Cradle of Champions sculpture stands 16 feet tall and weighs over six tons. It was made primarily from steel salvaged from the imploded Texas Stadium, the former home of the Dallas Cowboys.
During their 39 years in the stadium, the Cowboys played in eight Super Bowls and won five.
Once Super Bowl XLV is history, the masterpiece will find a permanent home in Fort Worth, at TCU's Amon Carter Stadium.
Steelers Fans Vocal in Fort Worth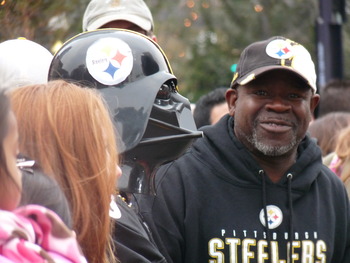 The Pittsburgh Steelers arrived at the Omni Hotel in downtown Fort Worth on Monday. The Packers are staying in the Omni Mandalay in Las Colinas.
These logistics may explain why the Steelers fans were more numerous and exuberant at the ESPN set in Sundance Square.
Cowboys Fans Think Steelers' Towels Are Terrible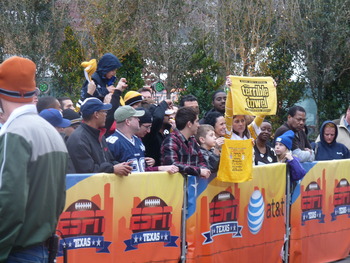 There were plenty of Steelers fans on hand in Sundance Square. The Packers fans were out in good force, as well. But if you put all of the people in Steelers and Packers gear together, they were still badly outnumbered by the Cowboys faithful.
The joy of hosting the Super Bowl and witnessing ESPN's SportsCenter live could not alleviate the pain in the faces of the Texas hosts.
This was supposed to be their year. Jerry Jones promised.
Well, maybe it was a prediction and not a promise. Or, maybe it was wishing out loud. Whatever it was, it was wrong. Just...wrong.
A Shivering Reporter in Sundance Square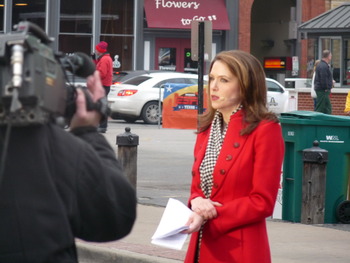 The Steelers brought confidence with them to Arlington. They are no strangers to this game, and they are letting anyone who will listen know it. And everyone is listening.
The Packers brought swagger with them. Way back before the season began, they donned cowboy hats and boots, indicating to their fans their 2010 journey would end in that wild and woolly place where the West begins: Arlington, Texas.
Well, most would say Fort Worth and its famed "Hell's Half Acre" of western lore is more accurate, but Arlington is close enough.
Both the Steelers and the Packers brought their weather with them. No sooner had they arrived than the beautiful, sunny days of sunshine and 70 degrees that had lifted our Texas spirits yielded to an Arctic front, predicted to deliver the coldest temperatures in a decade in these parts.
Serves them right. We didn't want either of these teams here in the first place, and the sooner they leave and take their nasty weather with them, the sooner our team can get started getting back where they belong.
Until then, "Happy football, everybody!"
Keep Reading