Chicago Bears: All-Time Best Running Backs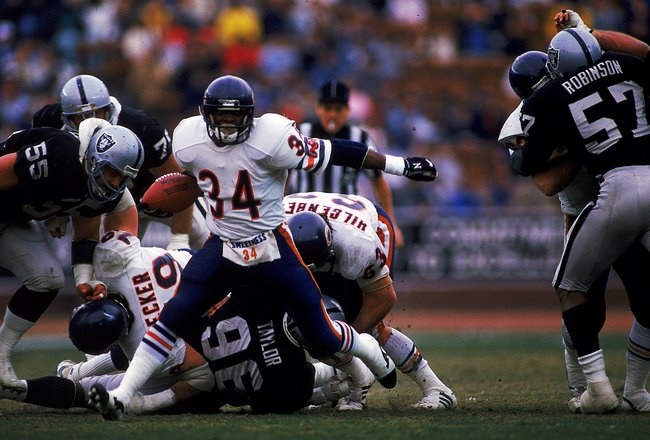 Mike Powell/Getty Images
It's that time of year again, Da Bears are once again out of playoff contention after a heart-crushing loss to the Green Bay Packers.
Since the beginning of the NFL, the Chicago Bears have been the most innovative team of all. The Wing-T offense only has been one of the team's greatest accomplishments; the Bears have always been known for a ferocious backfield.
Here are the 10 best running backs to call the hallowed grounds of Soldier Field home.
No. 10: Will "The Refrigerator" Perry (1985–1993)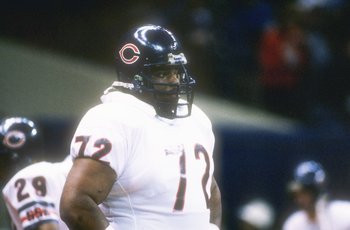 Mike Powell/Getty Images
They didn't call him the fridge for nothing.
While Perry is better remembered as a sack machine on the Bears' defensive line, Mike Ditka would sometimes make the move to line him up at fullback on the goal line or on fourth-and-one situations for a short score or first down.
He was seriously just a beast. In 1985, he put up seven yards and two touchdowns on five carries. Doing that today would be just as effective and brilliant. The Fridge should be remembered as one of the greatest ball carriers in the history of Chicago football.
Maybe that was a little bit of an exaggeration. Still, he was great.
No. 9: Matt Suhey (1980–1989)
Jonathan Daniel/Getty Images
While the majority of his tenure with the Bears was serving as the lead blocker for Walter Payton, the fullback could do more than just throw opposing run-stoppers to the ground.
Over his nine seasons with Chicago, he racked up 2,946 yards on 828 carries.
While his statistics aren't astounding, he was a great lead blocker for Sweetness and was a dear friend to Payton and his family. To this day, Suhey remains a fan-favorite because of his personality and crushing blocks.
No. 8: Beattie Feathers (1934–1937)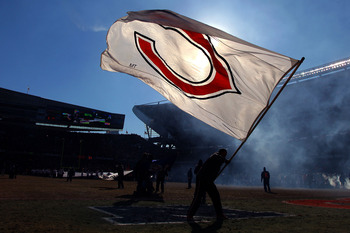 Doug Pensinger/Getty Images
Despite his cup-of-coffee-length career with the Bears, Feathers surely left his mark in Chicago.
A two-time All-Pro selection; becoming the NFL's first 1,000-yard-rusher were two great feats for the running back.
Unfortunately, after his burning-lava-hot start, he cooled down and never lived up to his standout seasons.
However, he lives on in the annals of Chicago and national football tradition.
No. 7: Matt Forte (2008–Present)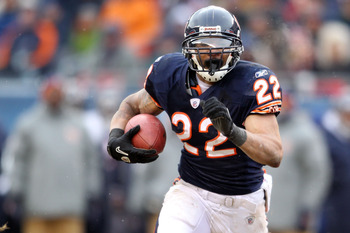 Andy Lyons/Getty Images
Alright, it might be a little premature to say this, but Matt Forte could become a legend in Chicago Bears history. Forte, after a dazzling rookie campaign, continued amazing for the fans from Chicago.
He's run for over 1,000 yards twice in three years and had well over 1,000 yards from scrimmage each of his first three seasons. He can be utilized as a slot receiver as well.
Forte is becoming the real deal in the first years of his career. Hopefully he can spend a lot of them in Chicago.
No. 6: Thomas Jones (2004–2006)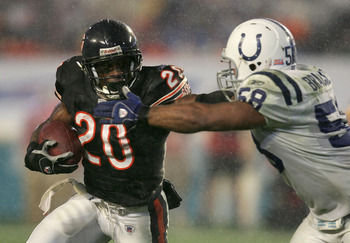 Jonathan Daniel/Getty Images
Jones would be higher on this list if he hadn't only played for three seasons with the Bears.
However, in his tenure with Chicago, he played a huge role in the 2006 season leading up to the Super Bowl with 1335 rushing yards and nine touchdowns.
Jones has quietly been one of the best running backs of the past decade in the NFL.
He left the most impact with the Bears.
If only he had stayed another year; the Bears wouldn't have had to waste its time on Cedric Benson.
No. 5: Red Grange (1925, 1929–1934)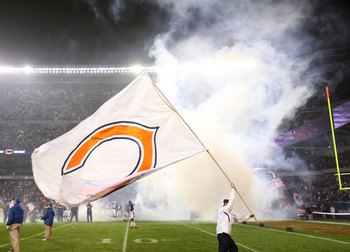 Jonathan Daniel/Getty Images
He didn't post astronomical numbers and he wasn't the greatest running back of all time, but he did change the game of football. Professional football, that is.
The Galloping Ghost was by far the best college football player to ever live. But like many college players of his time, he had plans to be a professional in something other than football. When Red Grange signed an NFL contract worth $100,000, an exorbitant amount of money for a football player at the time, he helped legitimize pro football.
We can thank Red Grange and George Halas for making the deal that made football what it is today.
No. 4: Neal Anderson (1986–1993)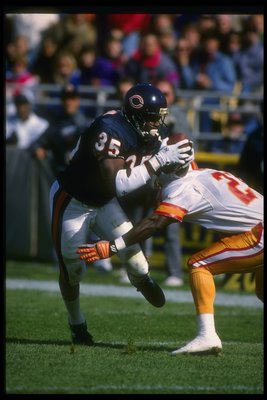 Jonathan Daniel/Getty Images
The four-time Pro-Bowler took over for Walter Payton, which left Anderson huge shoes to fill. However, he did a fine job in Chicago.
He amassed 6,166 rushing yards in his career and had three seasons with over 1,000 yards rushing. His best season came in 1989 when he ran for 1,275 yards, 11 touchdowns and 1,709 yards from scrimmage.
Not the greatest ever, but solid nonetheless.
No. 3: Bronko Nagurski (1930–1937)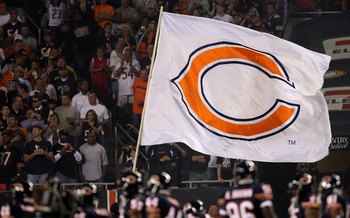 Jonathan Daniel/Getty Images
The ferocious fullback from Minnesota was one of the most vicious running backs in Chicago Bear's history.
Not only did he run, he threw as well for three seasons. He finished his career with 2778 yards on 633 attempts, racking up 25 touchdowns along the way.
He was elected into the Pro Football Hall of Fame, was a seven-time Pro-Bowler and won three NFL Championships during his time with the Monsters of the Midway.
Needless to say, Nagurski was a force to be reckoned with in Chicago.
No. 2: Gale Sayers (1965–1971)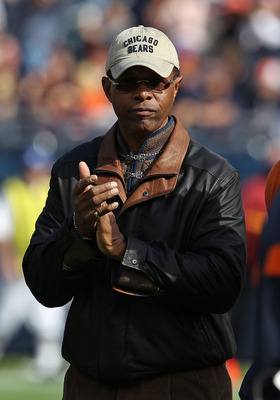 Jonathan Daniel/Getty Images
I almost made Gale Sayers No. 1 on this list, but decided against it. Sayers ran the ball like a train, he just never stopped.
Immortalized in the movie "Brian's Song," and immortal in the hearts of Chicago football fans, Sayers is one of the most iconic figures in Bears history.
He was a four-time Pro-Bowler, five-time All-Pro and a Hall of Famer with career stats amounting to 4,956 rushing yards in only 68 games.
He also tallied up 39 career rushing touchdowns, 14 of which were attained in his rookie season.
Gale Sayers, enough said.
No. 1: Walter Payton (1975–1987)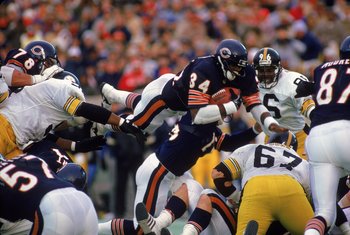 Jonathan Daniel/Getty Images
They call him Sweetness, cause he likes to dance. He runs the ball, just like making romance.
Let me just read off his accolades: Nine-time Pro-Bowler, nine-time All-Pro selection, 1977 NFL MVP, selected to the NFL's All-Time team, Super Bowl XX Champion, Hall of Famer and second all-time in rushing yards.
Walter Payton, ladies and gentlemen.
Keep Reading

Chicago Bears: Like this team?