Atlanta Falcons: Why They Should be Charged Up About Signing Darren Sproles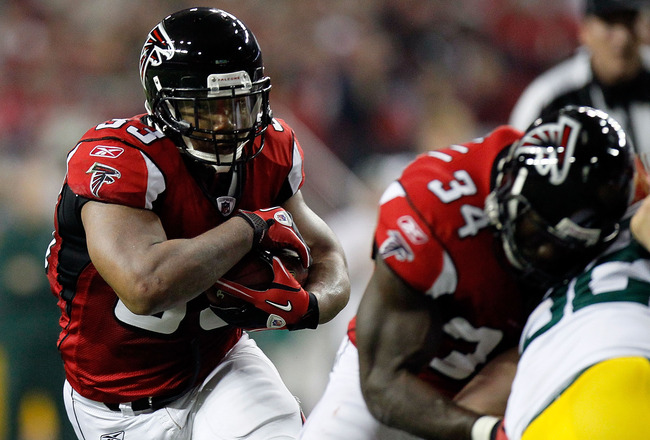 The Burner logged 334 carries this season.
Kevin C. Cox/Getty Images
With the conclusion of the Pro-Bowl, the Atlanta Falcons have closed the book on their successful season. A season that placed the team as the number one seed in the NFC but fell short against the Green Bay Packers in a disappointing loss. As the offseason rumor mill starts getting warmed up, many experts, fans and pundits alike look towards the draft to help bolster the Falcons.
While the draft is certainly exciting for Falcon fans many wonder if there will be another free agent splash as with the previous years. With Michael Turner, Tony Gonzalez and Dunta Robinson added to the fold via free agency the past few years, one can only assume another venture into free agency is the works.
While the need for another pass rushing DE is definitely pressing given the window in which Tony Gonzalez has left, there's another glaring need for the Birds.
That glaring need would be at the running back position. As much as people want to point at how great Michael Turner has been for the Falcons, he is carrying a heavy workload. The previous offseason, much was made about lightening his carries and incorporating Turner into a receiver out of the backfield.
Neither came to fruition as Turner would again tote the rock more than 330 times, clearly wearing down as the season progressed. Turner would tally just 12 catches out of the backfield, and would not provide the added dimension the coaching staff talked at length about during the season.
While Jason Snelling is a great second option, he's just more thunder whereas the Falcons need some lightning.
Here then is five reasons why the Atlanta Falcons should sign Darren Sproles as their splash free agency signing this spring.
Jerious Norwood is Made of Glass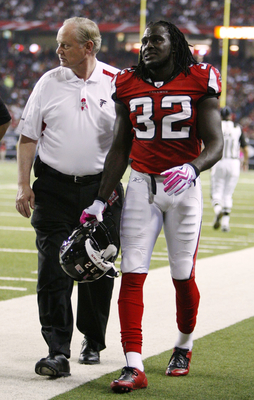 Norwood's days may be numbered as a Falcon
Kevin C. Cox/Getty Images
Jerious Norwood is one the greatest teases to ever don the Falcon jersey, flashing terrific speed and open field running ability. He was supposed to be the lightning to Turner's thunder, the change of pace back that would keep defenses honest on the edges.
Norwood has long been the player that was supposed to take the next step to becoming a viable threat and established running back for the Birds.
Instead, Norwood has missed significant time for the fourth time in his five-year career so far and has only played a full season back in 2008.
By signing Sproles, it would allow the Falcons to spell Turner and keep defenses from cheating up in the box, or collapsing between the tackles. The stretch plays, swing passes or screen plays would instantly bring a explosive element to the field.
He's also a more complete back than Jerious has proven to be, displaying an ability to run between the tackles and catch out of the backfield.
The Falcon Filter Fits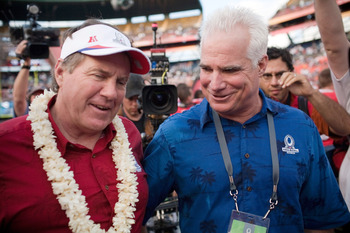 Patriots and Falcons are similar in many ways from a personnel standpoint
Kent Nishimura/Getty Images
Thomas Dimitroff has been marveled as a top general manager and talent evaluator in the NFL, and hit a home run in his 2008 draft. Since then many fans have learned that the "Falcon Filter" is something that the front office takes very seriously.
Seniors out of college, team captains, and model citizens who know what their role is and have shown the capability to put in their due diligence to get their job done is the Falcons model. A model some may say is carried from the New England Patriots and their way of thinking about personnel.
When thinking about this type of approach, free agency is no different as Dunta Robinson, Michael Turner and Tony Gonzalez are all leader types in the locker room and off the field.
Sproles is an excellent playmaker and impact running back, but is idolized in Southern California for his off-field achievements and good nature.
While many fanbases have a backup quarterback as their favorite player, Charger fans have long enjoyed the change of pace and impact that the diminutive running back can provide.
Sproles Figures to be Available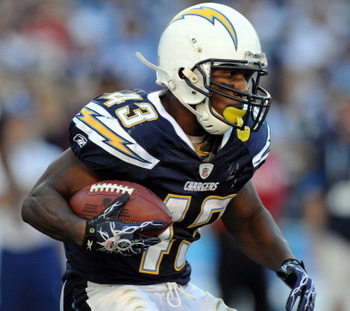 Darren Sproles will most likely walk
Harry How/Getty Images
Coming off two impact years as a backup running back, Sproles was almost certain to test the free agent waters much like LT and Westbrook. While many teams lined up for the bidding, among those rumored to be were the Colts who knew a thing or two about what Sproles could do in the playoffs.
Instead the Chargers signed him at the 11th hour, retaining him as a restricted free agent by awarding him a 10 percent pay increase and leaving his base salary at 7.283 million.
Darren Sproles tallied 50 carries for 267 yards and a team-high 59 receptions for 520 and two touchdowns on an up and down year for the San Diego Chargers.
AJ Smith surely cannot like that kind of return for 7 million dollars in Sproles, not to mention with several other players to attend to ( Vincent Jackson anyone? ) Smith is not likely to retain Sproles for another 10 percent raise on top of his already rather large salary cap hit.
To make things worse, the added burden seemed to take some of the pop out of Sproles return game. The long punt and kickoff returns that Charger fans had gotten so used to seeing all but vanished in 2010.
Even with those drawbacks this past year, Sproles did that on a team decimated by injuries and player holdouts. While his Charger team fell short of their almost annual comeback surges towards the playoffs, Sproles still was a large key that opponents had to game plan for.
The Falcons Need Him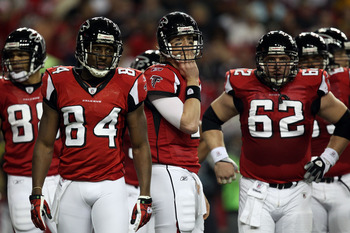 The Falcons need a playmaker
Streeter Lecka/Getty Images
The Falcons may look stacked on paper to the average fan, but any Falcon fan worth his salt knows that Matt Ryan needs help. While Michael Jenkins had some shining moments in 2010, they were far and few between to make any real impact on the field. The training camp hype that has circled around Harry Douglas is starting to die down, he just never seemed to be on the same page with Matt Ryan this year.
Jason Snelling led the Falcons out of the backfield with 44 receptions for 303 yards, with a pedestrian 6.9 yards per attempt.
Simply put, Matt Ryan needs help and playmakers to help alleviate some of the pressure and workload from Gonzalez and White.
Darren Sproles can provide this, from running between the tackles, catching the ball out of the backfield and being used on any variety of gimmick plays that Mularkey might draw up.
Michael Turner's numbers have decreased every year since his breakout year of in 2008, where he had an amazing 376 carries for 1699 yards. Turner has consistently toted the rock 300+ times for the Falcons, and he's beginning to show wear on the tires.
He's Clutch When it Counts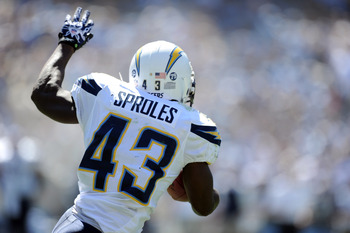 Darren Sproles has come through in the clutch before
Harry How/Getty Images
While many may argue that the 2010 playoffs was a bad showing, it did not appear as though any Falcons were ready for the task. Granted, it's much harder for an offense to get any kind of continuity when the opponents are walking up and down the field with relative ease. But still, when it counted no Falcon player could step up and seize the moment, swing the momentum and get a spark.
Sproles has done this many times in his career, although his shining moment came in the 2008 playoffs. While subbing for an injured LaDainian Tomlinson, Sproles almost singlehandedly beat the Colts in a 23-17 playoff stunner.
Sproles would tally 330 all purpose yards, capping his performance with a beautiful 22 yard touchdown run in overtime to end the game.
The Colts were a heavy favorite despite the Chargers being red hot, and many experts had counted out the small man from being any type of factor in the playoffs.
In Conclusion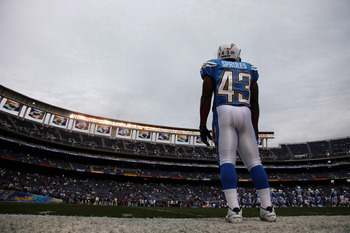 TD please bring him home!
Donald Miralle/Getty Images
Let's face it, the life of a NFL running back is a hard one, you are put through a meat grinder for 16 games year in and year out. And if you are lucky enough to taste success on for an extended period of time, many may argue that's just as much about longevity than it is about skill.
In the end, the Falcons FO knows how quickly fortunes can change for elite running backs. A simple glance back at 2009 is just a simple reminder of how quickly a running back can be worn down or lose a step after being overused.
Tony Gonzalez has already committed to another year in Red and Black, but who knows how much longer he will play?
It seems clear at this stage, without a CBA or any kind of update to the labor situation that Sproles is still a pipe dream for many Falcon fans.
But if the price isn't too steep, Darren Sproles is exactly what the Falcons need. Much like the Turner signing, Sproles would immediately fill a role and his impact would be widespread.
Bring him home.
Other Related Falcon Articles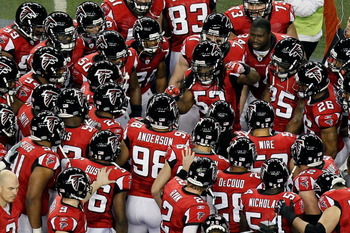 Go Falcons
Kevin C. Cox/Getty Images
Keep Reading

Atlanta Falcons: Like this team?