NFL Draft 2011: 10 Players Teams Will Be Watching Closest At The Combine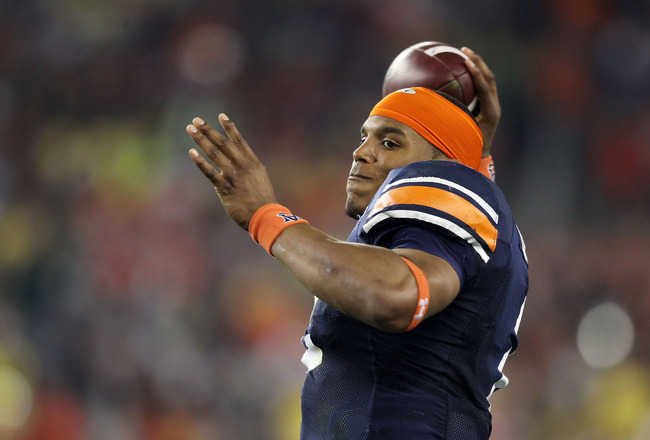 Christian Petersen/Getty Images
With the NFL Draft about three months away, the NCAA's top prospects will have one more chance to prove their worth to NFL teams.
The NFL combine will take place at the end of February where college players display their skills in a series of athletic drills that test their strength, speed and endurance.
I have compiled a list of 10 players whose stock could rise or fall as a result of the combine.
1) Nick Fairley, DT, Auburn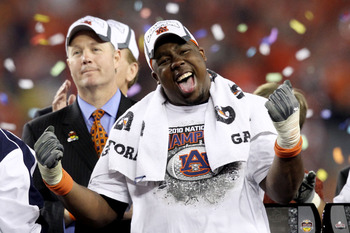 Christian Petersen/Getty Images
Many analysts believe that the Carolina Panthers will select Fairley with the No. 1 overall pick.
The defensive tackle had a standout season for Auburn en route to the National Championship title.
However, there are some questions marks with Fairley, mainly geared toward his work ethic.
If he can show at the combine that he can handle being an NFL player, I'd say the Panthers take a chance.
2) A.J. Green, WR, Georgia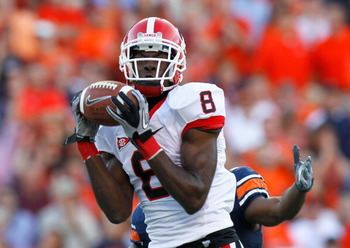 Kevin C. Cox/Getty Images
Green has been called the most talented player in the draft, and he will try to cement that status at the combine.
He has great size, great speed, great hands and runs great routes. There is really nothing more you look for in a receiver.
I've heard that the Bengals would love for Green to slip to the No. 4 spot, especially due to the uncertainty surrounding Terrell Owens and Chad Ochocinco.
3) Patrick Peterson, CB, LSU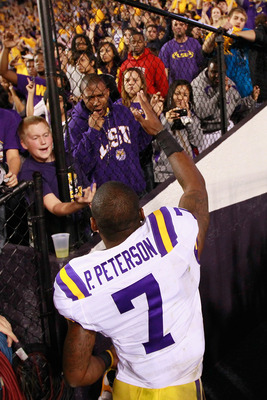 Kevin C. Cox/Getty Images
Peterson was originally a safe bet for one of the top picks, but with the emergence of Fairley, Peterson's stock has dropped slightly.
That doesn't mean he won't be an immediate impact player for whatever team drafts him.
His 4.4 speed should keep him high on the draft boards. My guess is his stock can only rise at the combine.
4) Blaine Gabbert, QB, Missouri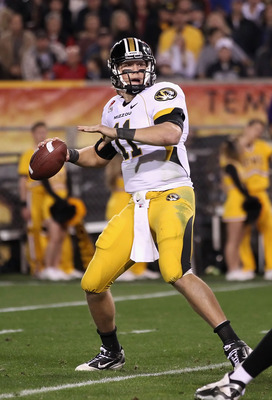 Christian Petersen/Getty Images
With Andrew Luck staying at Stanford, analysts have called Gabbert the most NFL-ready quarterback in the draft.
He put up big numbers this year and will hope his performance at the combine can alert teams of his potential.
Even without Luck, there are several quarterbacks who have the ability to make an immediate impact. The 49ers, Titans and Vikings will certainly check in on these players.
5) Prince Amukamara, CB, Nebraska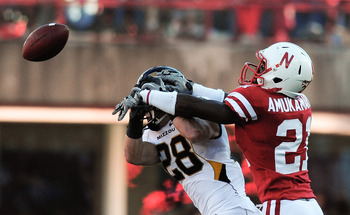 Eric Francis/Getty Images
Though his name may be hard to pronounce (let alone spell), Amukamara may become a household name in the NFL this season.
Not only does he have the size and speed, but he isn't afraid to hit somebody. He reminds me of Darrelle Revis of the Jets.
The combine will convince teams whther or not he can develop into a shut down corner.
6) Ryan Mallett, QB, Arkansas
Matthew Stockman/Getty Images
With many talented quarterbacks in the draft, the only thing that may separate them is their performance at the combine.
Mallett will look to increase his stock after enjoying a successful season.
Keep an eye on one of the teams I mentioned to pursue Mallett. I've also heard the Redskins are in the market for a QB due to the Donovan McNabb situation.
7) Cam Newton, QB, Auburn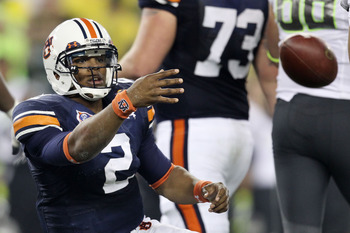 Christian Petersen/Getty Images
Cam Newton didn't exactly have a "Cam Newton" type performance in the National Championship. He seemed to be sitting back too long in the pocket and threw a few interceptions.
He has slipped toward the end of the first round in many mock drafts, with the Vikings as the most likely destination. But a strong combine may force the Titans to consider the Heisman Trophy winner.
8) Julio Jones, WR, Alabama
Mike Ehrmann/Getty Images
Like A.J. Green, Jones is a raw talent who could make an immediate impact on the next level.
His big play ability is sure to catch the eyes of many teams. He is projected near the middle of the first round, where a team like the Rams who would love to pair him with Sam Bradford.
9) Mark Ingram, RB, Alabama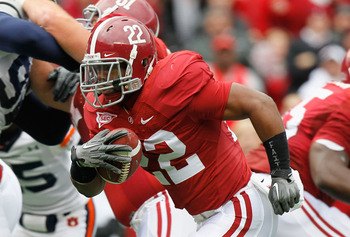 Kevin C. Cox/Getty Images
The 2009 Heisman Trophy winner had some injury troubles this year, but that does not mean scouts have forgotten him.
In a draft that may be weak at the running back position, a team in need may turn to Ingram. The combine may be his last chance to prove he is worthy of a first round pick.
10) Rahim Moore, S, UCLA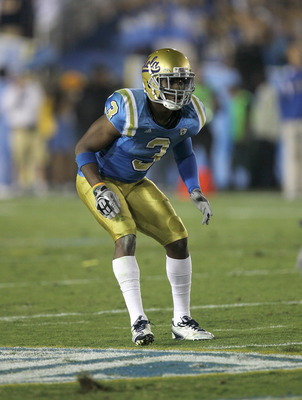 Stephen Dunn/Getty Images
All-American safety Rahim Moore could be a sleeper pick in the first round and could definitely benefit a team looking for help in the secondary.
His speed and tackling ability won't go unnoticed, but will it be enough for a team to take the chance?
Let's see what he can do at the combine.
Keep Reading