NFL Rumors: 10 Potential Landing Spots For Jeff Fisher
Rex Brown/Getty Images
Jeff Fisher was the head coach of the Tennessee Titans for 17 years and was the longest tenured head coach in the NFL before parting ways last week.
Fisher held a 147-126 overall record with the Tennessee Titans, including a 5-6 record in the postseason. He led them to the AFC Championship in 1999, but they fell short in the Super Bowl against the St. Louis Rams.
He was cut lose at an inopportune time because there aren't many coaching vacancies in either the NFL.
Whether Fisher wants to completely stop coaching football and retire has yet to be seen or decided.
Even though he has been a head coach in the NFL for 17 years, Fisher is only 52 years old and has plenty of time left.
Regardless of what he does, Fisher will have some well-deserved time off of this game and he has the opportunity to spend more time with his family, travel, and anything else that he wants to do.
Fisher is not done coaching and he will return, but I just don't think that will happen immediately.
With that being said, here are 10 potential landing spots for Jeff Fisher.
10. Broadcast Booth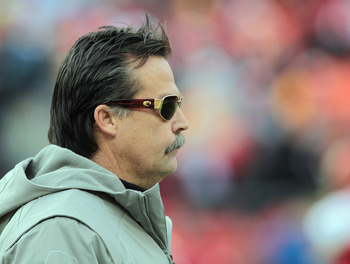 Jamie Squire/Getty Images
If Fisher wants to become one of the many former coaches on any of the major networks I'm sure he would be welcome.
Fisher has a knowledge and passion for the game that few people have and if he wants his time in front of the camera he could certainly have that option.
It's not like any of the major networks have no vacancies, they are always hiring and Jeff Fisher is a potential candidate. If he wants to be.
9. Defensive Coordinator in The NFL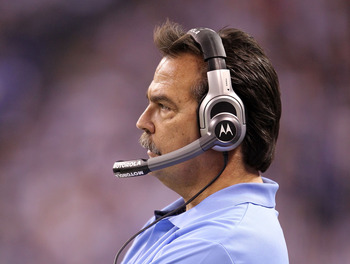 Andy Lyons/Getty Images
After playing for a couple of years for the Chicago Bears in the early 1980s Fisher began his coaching career with the Chicago Bears as a defensive assistant.
After being with the Bears for one year he became the defensive backs coach for the Eagles, then became their defensive coordinator. He would also hold the defensive coordinator position for the Los Angeles Rams and Houston Oilers.
Fisher is a defensive-minded coach and if he wants to be a part of an NFL team in 2011, then defensive coordinator might be his only option.
He obviously has the experience necessary and required, but this will come down to openings and Jeff Fishers' want to coach in the NFL.
8. Somewhere in The College Ranks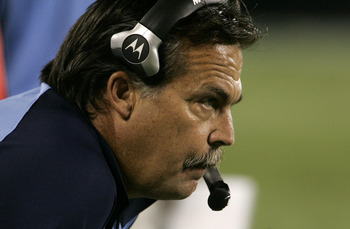 Mary Ann Chastain/Getty Images
Fisher has never worked for a collegiate program, so the chances of this are slim.
However, some coaches like new opportunities and this might be one that Fisher decides to explore.
He is put in a tough spot because their aren't many vacancies, but he could end up as a defensive coordinator if he is interested. I don't think Fisher wants to deal with the college ranks, he never has.
I am not sure that Fisher wants the responsibility of the college ranks or even the pay decrease, but if he wants a new challenge the opportunities are there.
7. Mentor/ Therapist
Remember Vince Young vs. Jeff Fisher.
Fisher showed that he handles issues like a man, and that face-to-face is the best way to solve conflicts.
I don't know if he will chug on over to mamby pamby land, but he could definitely solve some internal disputes amongst other people and chances are he wants a high profile job.
I don't think he would do as good as Tony Dungy, but he could have a positive impact as a mentor/ therapist.
6. Dancing With The Stars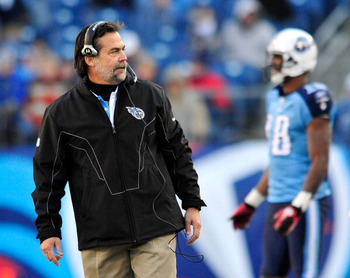 Grant Halverson/Getty Images
Who doesn't want to see Jeff Fisher on Dancing with the Stars?
There's nothing to say that he would do a good or terrible job, but it would be something worth watching.
Former NFL stars have appeared on the show including Chad Ochocinco, Emmit Smith and Jerry Rice.
Granted those are former players, and a coach hasn't taken center stage. However, Fisher would be an interesting choice for ABC's show.
5. NFL Employee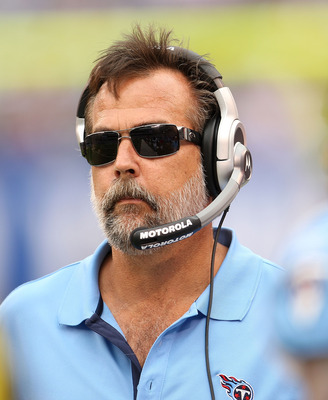 Mike Ehrmann/Getty Images
Fisher is the Co-Chair of the NFL competition committee along with Rich McKay, Atlanta Falcons President.
With Fisher being out of work he could find himself a job with the NFL and help them figure out this whole CBA mess.
If Fisher wants to stay in the NFL and the game of football, this might be his only option, but I don't think the NFL is considering hiring people with the potential work stoppage coming up.
4. Commercials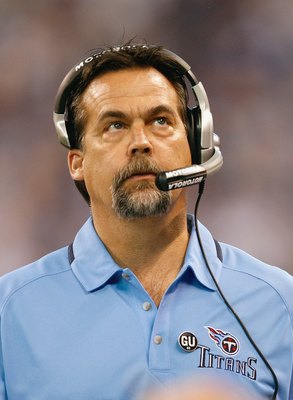 Jamie Squire/Getty Images
This could be another new endeavour for the former NFL head coach, another new frontier.
There is alot of money to be made in the commercial business and Fisher could help sell products both locally and nationally.
Granted, I don't know how well his stuff would sell in Tennessee, but he could be on the list for other companies to endorse their products.
3. The Bank Counting His Money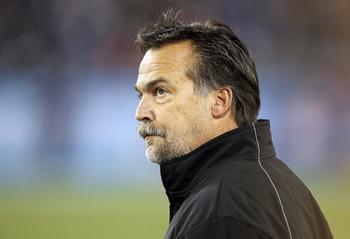 Andy Lyons/Getty Images
Jeff Fisher received $8 million dollars to walk away from the Tennessee Titans.
Even though he won't be coaching in 2011, he will still be receiving a hefty sum of cash which he can take all the way to the bank.
Fishers' expected salary in 2011 was $6.5 million dollars, but he his getting paid $8 million dollars to not coach.
He got a raise because he walked away and because he won't be coaching. I want to congratulate Jeff Fisher's agent, he is the one that deserves the raise.
2. His Couch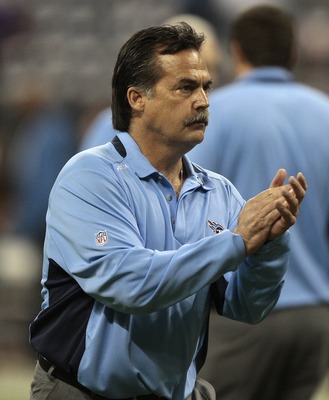 Bob Levey/Getty Images
This is the most likely outcome for the 2011 calendar year.
Without the burden of being an NFL head coach, Fisher can spend more time with his family, travel the world, and watch football of his couch.
He is someone that deserves to do this after being a head coach in the NFL for 17 years.
This vacation might be a short-lived one because he has not announced he has retired and because he might end up..
1. As a Head Coach of an NFL Team in 2012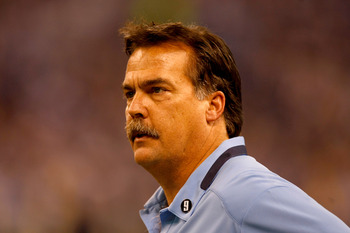 Scott Boehm/Getty Images
Because there are no vacancies in the NFL right now, Fisher will have to wait until jobs become open. After the 2011 season there should be a handful of job openings.
Jeff Fisher should be and probably will be at the top of each teams' wish list. So Fisher should definitely have an opportunity to coach again in the NFL if he wants to.
Although Fisher hasn't won a Super Bowl and has only won his division four times in his 17 years, he is still a great coach. A team in 2012 will have the chance to hire a great coach.
Fisher has plenty of doors that he has created for life outside of football. He can open and choose which ones he wants to and he will make the best decision for Jeff Fisher and his family.
These are just my thoughts and suggestions, what are yours?
Keep Reading

Tennessee Titans: Like this team?