Super Bowl 2011: 10 Reasons the Green Bay Packers Should be Favored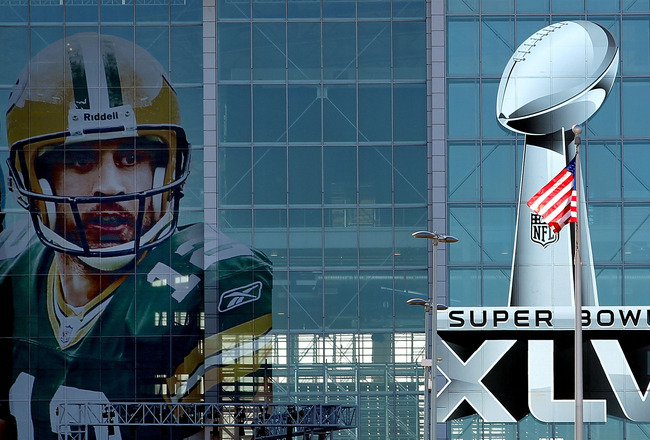 Ronald Martinez/Getty Images
Odds-makers have labeled the Green Bay Packers a three point favorite heading into Super Bowl XLV.
Some may compare records and question how it is that a 10 to six team is favored over the Pittsburgh Steelers who finished the season 12 to four and were given a bye in the first round of the playoffs.
While it will be a closely fought game, the odds-makers got it right on this one and here are 10 reasons why:
10. Confidence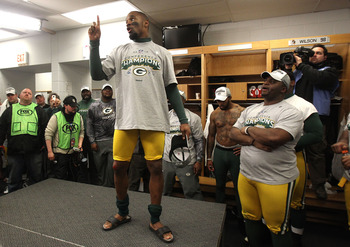 Jonathan Daniel/Getty Images
With only two teams remaining, Green Bay is arguably the hottest.
Getting to the BIg Game was no easy task for the Packers. Their road to Super Bowl XLV went through Philadelphia, Atlanta, and finally Chicago. Most experts had those three teams as the most likely to represent the NFC in Dallas before the playoffs started.
With some convincing victories over very good teams, the packers are full of confidence.
They now realize that they have all the tools to take out any team in the league, and yes, that includes the Pittsburgh Steelers.
9. Taking Care of the Ball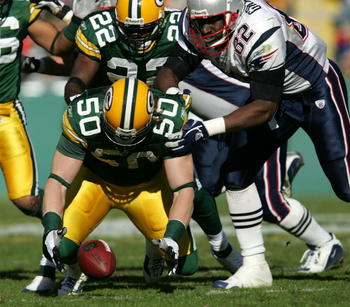 Jonathan Daniel/Getty Images
Super Bowls and other big games are often decided by whoever takes care of the ball. Last year's Super Bowl could have been won by the Colts had Manning not thrown a late game interception.
If this Super Bowl is decided by turnovers, the Green Bay Packers will be in good shape.
Over the course of the regular season they had a plus 11 turnover ratio. In three playoff games they are on track with only three turnovers and six takeaways.
8. James Starks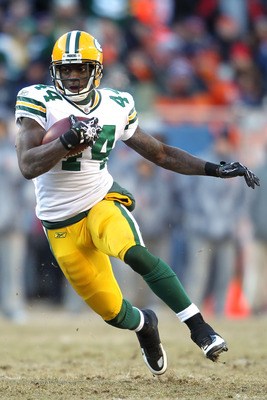 Andy Lyons/Getty Images
In a season where the Packers were without a feature back, James Starks has stepped up at a critical time.
While he is no Ryan Grant, the sixth round draft pick out of Buffalo is slowly making a name for himself.
Having been on the practice squad for much of the season, Starks will have fresh legs heading into Sunday's game.
Look for him to continue his solid playoff performance and give Green Bay a second dimension to their offense.
7. Defense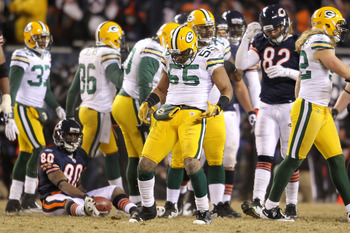 Andy Lyons/Getty Images
The Packer's defense has been as good as any thus far in the playoffs.
While the Steelers are known for their defensive play, the Packer's recent performances are more of a surprise.
Shutting down NFL starlet Michael Vick and Mr. Consistency, Matt Ryan is no easy task and the Packer's defense did it with ease.
Thanks to some key interceptions from Tramon Williams, and a stout run defense, the Packers find themselves in the Super Bowl.
Look out for the potential of the Packer's defense outshining their Steeler counterparts.
6. Maurkice Pouncey Injury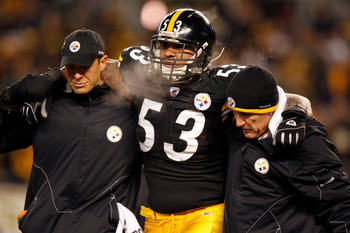 Gregory Shamus/Getty Images
No team ever hopes for their opponents to get injured.
That being said, the injury to Maurkice Pouncey is huge for the Green Bay Packers.
Pouncey is the only center on the Steeler's roster that has the ability to keep B.J. Raji in check. With him out, it will be a struggle to keep Radji out of the backfield.
This setback for the Steeler's will definitely hurt their run game, and may even get their quarterback sacked a time or two.
5. Clay Matthews Vs. Ben Roethlisberger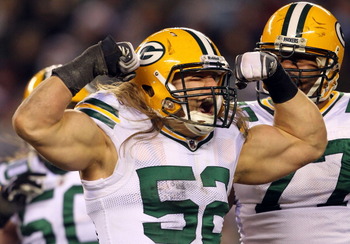 Al Bello/Getty Images
Clay Matthews will be a thorn in Big Ben's side all game long.
Matthews has the speed and strength to track down and sack Roethlisberger who makes a living off of extending plays.
If Matthews gets into the backfield, look for his ability to wrap up Big Ben and a Super Bowl victory for the Green Bay Packers.
4. Receiving Core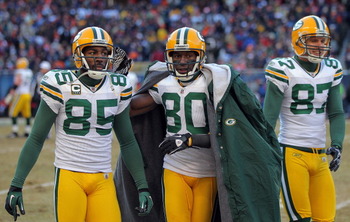 Doug Pensinger/Getty Images
The Packer's receiving core of Greg Jennings, Donald Driver, and Jordy Nelson are sure to challenge Troy Polamalu and the rest of the Steeler's secondary.
Jennings and Driver will get the majority of looks from quarterback Aaron Rodgers. He will get them the ball and it is up to them to catch it.
If the Packers can stretch the Steeler's defense with a solid aerial attack, they should be able to put up plenty of points.
3. Aaron Rodgers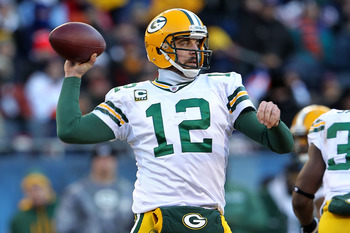 Jamie Squire/Getty Images
All the pressure will be on Rodgers come Sunday night. If he can lead his team to victory, he will forever be out from under the shadow of Brett Favre.
Rodgers has been putting up solid numbers all post-season, averaging 251 yards per game with six touchdowns.
Troy Polamalu and the rest of the Steeler's defense will be his greatest challenge yet.
However, Rodgers has twice in the last five games, led his team past a Chicago defense that on par with the Steelers.
While he may not put up the biggest numbers of his season, he will put points on the board and find a way to win.
2. Packers are the Newcomers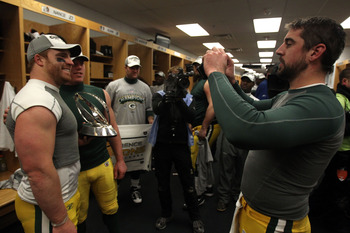 Jonathan Daniel/Getty Images
For many of the Packers, this will be their first Super Bowl. Normally, that would be something to worry about, but when facing a team that has won it twice in the last five years, there is the question of who wants it more.
Clearly the Steelers will want it, but will Roethlisberger be as hungry for his third title as Rodgers will be to get his first?
The Packer's sheer desire will overcome the Steeler's experience and earn them a victory in Super Bowl XLV.
1. Because Brett Favre Said So
Jonathan Daniel/Getty Images
Brett Favre is on the record saying that he expects the Packers to win, and that he will be rooting for them come Sunday.
If Favre says he expects his old team to win, I have a feeling it's for a good reason.
Chalk this one up as a sure thing.
Keep Reading

Green Bay Packers: Like this team?