Super Bowl Prop Bets 2011: Advice for 25 Tricky Bets
Tom Pennington/Getty Images
The Super Bowl is the largest sporting event in the world. Billions watch in anticipation. Parties are thrown. Beer is drank, often times to sickening excess, literally. It's a fun time, to be sure.
But the big game is about so much more than pomp and pageantry; it's also about greed and the green. More money exchanges hands on Super Bowl Sunday via bookies and bettors than during any other day on the calendar.
OK, I made that last part up, but there is a profit to made while you watch the Steelers and Packers. Follow my advice (not really, though) on how to cash in on some fantastic prop bets, and you'll be able to shed your recurring role of the guy who just lost his butt on a silly football game.
Each Team Will Commit One Turnover in the First Half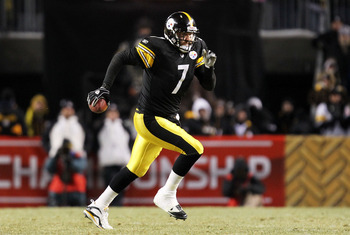 Ronald Martinez/Getty Images
Prediction: No
Reason: Neither team is in the red when it comes to turnover margin in the playoffs; the Steelers break even, while the Packers are plus-three despite seven fumbles. That said, jitters will mar each team's opening possession, but as the game progresses, the offenses will settle down en route to a mistake-free first 30 minutes.
Rashard Mendenhall's Longest Run from Scrimmage Will Be More Than 20 Yards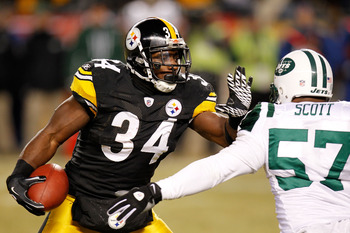 Gregory Shamus/Getty Images
Prediction: No
Reason: The impressive third-year back from Illinois has a long of 50 yards this season and has broken a run of more than 10 yards in all but four games, including dashes of 14 and 35 yards against the Ravens and Jets, respectively.
Still, Green Bay has the speed on the perimeter of its 3-4 scheme to keep the explosive Mendenhall from gaining the edge, as well as the bulk in the middle to limit any damage along the interior.
Aaron Rodgers Will Complete 63 Percent or More of His Passes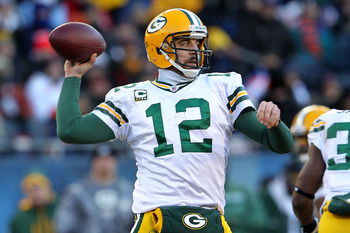 Jamie Squire/Getty Images
Prediction: No
Reason: This may seem like somewhat of a lofty goal, but Rodgers has completed 63 percent or more of his throws 12 times between the regular season and playoffs, including the otherworldly performance against the Falcons. The Packers need Rodgers to be good but not excellent, which he won't be against a Pittsburgh pass defense that held quarterbacks to an aggregate completion percentage of 61 during the regular season.
Shaun Suisham Will Account for at Least Seven Points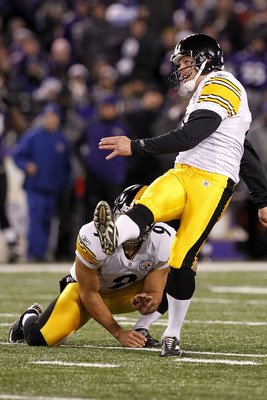 Geoff Burke/Getty Images
Prediction: Yes
Reason: Let's put it this way: If the Steelers are getting a considerable amount of points out of Suisham, that means the offense isn't getting it done. The guy has missed just once since being signed to replace Jeff Reed in November, but I'm sure Mike Tomlin would love to trot his kicker out there for PATs, and that's about it.
The Game Will Be Decided by Three Points or Fewer
Jared Wickerham/Getty Images
Prediction: No
Reason: By my count, the Packers have played six games this season decided by three points or fewer and the Steelers four. But in 45 years, only six Super Bowls have been decided by a field goal or less. At the end of the day Sunday, it will still be six.
James Starks Will Average More Than Five Yards Per Carry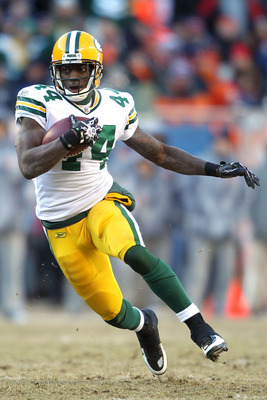 Andy Lyons/Getty Images
Prediction: No
Reason: The rookie Starks has averaged more than five yards a carry once in his career. I'm not calling for another Philadelphia-like performance from the sixth-round pick, but Starks will get plenty of touches, perhaps as many as 25. The Steelers run defense is simply too good, though, to allow such a bloated average.
Troy Polamalu Will Return an Interception for a Score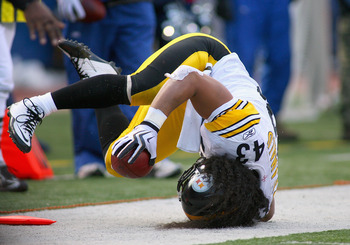 Rick Stewart/Getty Images
Prediction: No
Reason: Polamalu hasn't taken a pick back for a touchdown since early December, so something must be wrong, right? If there's one thing we've learned from the Pro Bowl safety, it's that he has a knack for making big plays at the most crucial times in huge games. He may make such a play against the Packers, only I get the feeling it may involve a sack or scoop-and-score.
John Kuhn Will Register 20 Total Yards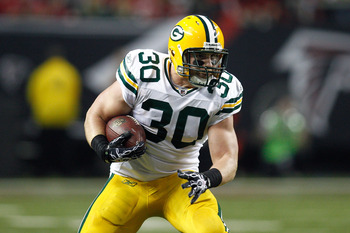 Chris Graythen/Getty Images
Prediction: No
Reason: Depending upon Green Bay's strategy of choice inside the red zone, I could see a scenario in which Kuhn touches the ball twice but scores both times. Recently, it's been all about quality over quantity with Kuhn, who has a touchdown amid six carries for eight yards this postseason.
James Harrison Will Record at Least Six Tackles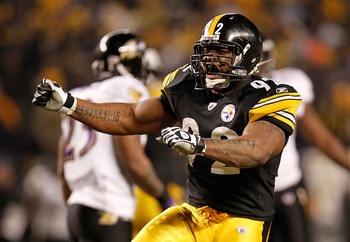 Gregory Shamus/Getty Images
Prediction: Yes
Reason: Harrison is too good of a player and much too terrorizing on the edge not to eclipse the six-tackle mark. Really, I'd be surprised if one or two of those weren't sacks. If Harrison manages even a semblance of his performance against the Ravens, a game in which he had three sacks among his seven tackles, the Packers offensive line could be in for a long evening.
The Opening Kickoff Will Be Returned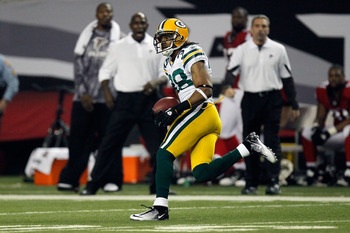 Kevin C. Cox/Getty Images
Prediction: No
Reason: Devin Hester ran back the opening kick just four years ago, so I think by rule it's not allowed to happen for another few decades or something.
Donald Driver Will Post 45 Receiving Yards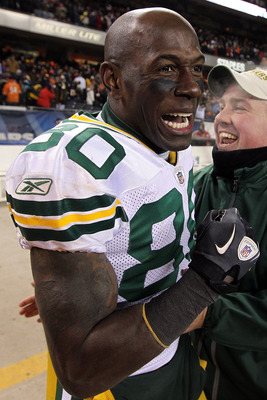 Andy Lyons/Getty Images
Prediction: No
Reason: The 35-year-old veteran caught 11 passes for 132 yards in the Packers wins over the Eagles and Falcons, but only one against the Bears. Don't expect such a low output against the Steelers. Driver won't crack the 75-yard barrier like he did against Atlanta, but 40 yards is doable, which would be ideal for the Packers.
Emmanuel Sanders' Longest Reception Will Be 20 or More Yards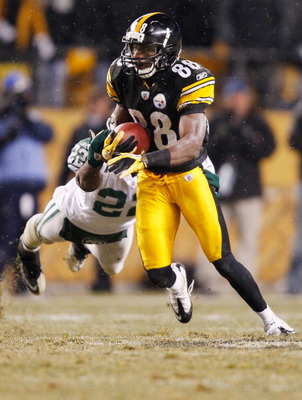 Jared Wickerham/Getty Images
Prediction: Yes
Reason: Having played a solid role during his rookie season, Sanders could very well be this Super Bowl's surprise difference-maker, a la David Tyree. His numbers seem modest (28 rec., 376 yards), but with firepower surrounding him in the Pittsburgh receiving corps, he may find a seam or two with which to work in the Green Bay defense, leading to the potential for a big play.
Greg Jennings Will Double Driver's Yardage Output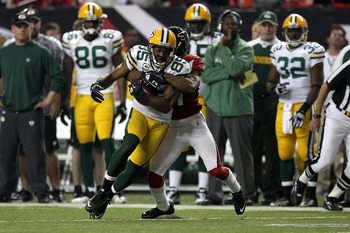 Streeter Lecka/Getty Images
Prediction: Yes
Reason: If not, it means one of two things: Either Driver played out of his mind, or Jennings, the league's fourth-leading receiver, was kept completely in check by the Pittsburgh secondary. My money, and yours, should be on option No. 1.
Ben Roethlisberger Will Complete More Than 20 passes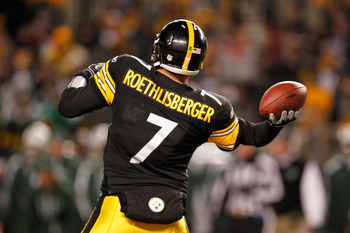 Gregory Shamus/Getty Images
Prediction: No
Reason: Seldom will Roethlisberger win any beauty contests with his stat lines. He did complete 60 percent or more of his throws nine times this season but was only marginal in the first two rounds of the playoffs in terms of accuracy, completing 59 and 52 percent of his passes against the Ravens and Jets, respectively.
Attribute the cold weather in Pittsburgh if you want, but that's what the gloves are for. Even in the climate-controlled environment of Jerry World, Roethlisberger is nothing more than his usual self, which isn't that bad, by the way.
More Points Will Be Scored in the Second Than Any Other Quarter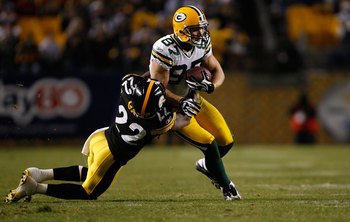 Jared Wickerham/Getty Images
Prediction: Yes
Reason: I don't expect either team to score more than 30 points, so the second won't exactly be reminiscent of Doug Williams and the Redskins' 35-point barrage in Super Bowl XXII against Denver. Rather, I would expect something along the lines of a 17-point explosion, once the offenses feel things out and begin to establish a game plan.
Heath Miller Will Catch More Than Five Balls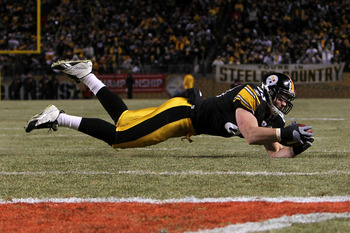 Nick Laham/Getty Images
Prediction: Yes
Reason: Miller was only 18th among tight ends with 42 catches during the regular season, and he was mostly absent against the Jets in the AFC Championship, hauling in just two passes. But Miller is a reliable target and is terrific at making himself available in the soft spots of a defense when a play breaks down.
When Roethlisberger begins to scramble, especially in short-yardage situations, Miller may be the first man he looks for, equating to plenty of chances for the veteran tight end.
James Jones Will Be Green Bay's Leading Receiver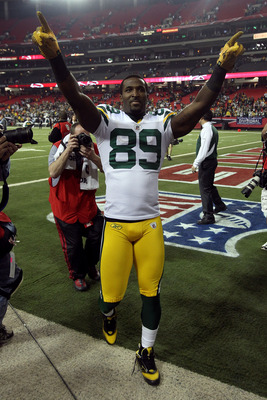 Streeter Lecka/Getty Images
Prediction: Yes
Reason: It's happened four times thus far this season, so why not in the most important game of them all? Not quite as explosive as Jennings but a far younger target than Driver, Jones is the perfect middleman, and he will make the Steelers pay if they pay too much attention to one of the other two cogs in the Green Bay passing game.
Hines Ward Will Nab His Second Super Bowl MVP Honor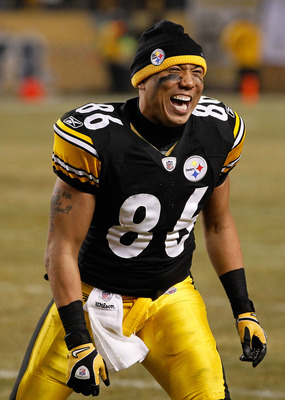 Gregory Shamus/Getty Images
Prediction: No
Reason: I have no stats to back this one up. Let's just chalk it up to bad odds, as in those linking Ward to the chances he joins Tom Brady, Terry Bradshaw, Joe Montana, Bart Starr as the only players to win the award more than once.
Aaron Rodgers Will Account for More Rushing Yards Than James Starks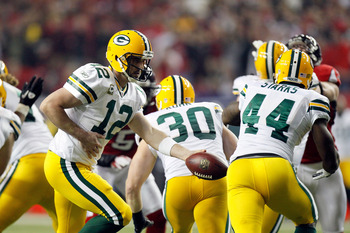 Kevin C. Cox/Getty Images
Prediction: No
Reason: The emergence of Starks renders this an improbability but not completely impossible. Three times this season, Rodgers has led the Packers in rushing and not once has he gained more than 51 yards. Additionally, seven times this season, the Packers leading rusher in a game has gained fewer than 40 yards.
Mike Wallace's First Catch Will Be More Than 20 Yards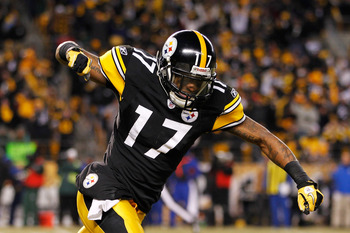 Gregory Shamus/Getty Images
Prediction: No
Reason: The Pittsburgh deep threat's longest reception of the season came in the first quarter, but the opening frame has largely been anticlimactic for Wallace. The second-year pro had five catches of 20-plus yards in the first quarter, far fewer than the second and fourth, when he combined for 17 such catches.
What's more, the first quarter is Wallace's least productive in terms of receptions and receiving yards. He caught 10 balls for 228 yards in the opening frame of games. The yardage number nearly doubles in the second (429), a quarter in which Wallace has caught four of his 10 touchdowns.
Each Defense Will Allow Less Than 100 Yards Rushing
Jared Wickerham/Getty Images
Prediction: Yes
Reason: You can take this one to the bank. The Steelers ranked first in the NFL in rush defense during the season and are allowing 52.5 yards per game in the playoffs. The Packers are right behind that average at 69.7. Mendenhall and James Starks may break a 15-yarder or two, but for the most part, expect real estate on the ground to be at an extremely high premium.
Ben Roethlisberger Will Attempt 31 Passes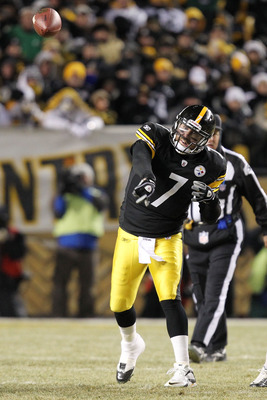 Ronald Martinez/Getty Images
Prediction: Yes
Reason: Roethlisberger has attempted 32 or more passes seven times this season, but his workload against Green Bay will largely depend on the effectiveness of Rashard Mendenhall and the running game. My guess is the Steelers find success on the ground, but Big Ben still is forced to throw an average of eight passes per quarter.
James Starks Will Rack Up 20 Yards Receiving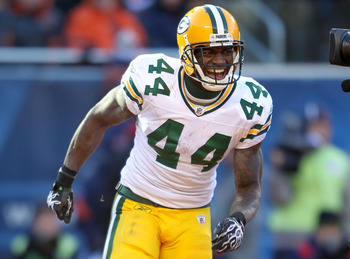 Andy Lyons/Getty Images
Prediction: Yes
Reason: I can't speak to how good the kid's hands are, nor can I express confidence in saying Starks may be any better than the fifth read in any given play. But he does have a career-long reception of 12 yards, so it's not as if he wouldn't make for a solid option in a check-down situation in the flat or underneath.
Both Quarterbacks Will Throw a Pick in the Third Quarter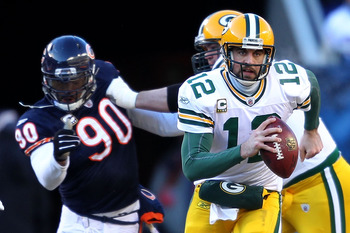 Andy Lyons/Getty Images
Prediction: Yes
Reason: Why not? Aaron Rodgers has thrown more picks in the third (four) than in any other quarter. And Ben Roethlisberger, though he's thrown just a single pick in the third quarter, isn't completely productive in the second half until the fourth, having thrown seven of his 19 touchdown passes this season in the final frame.
A Member of the Losing Team Is Named MVP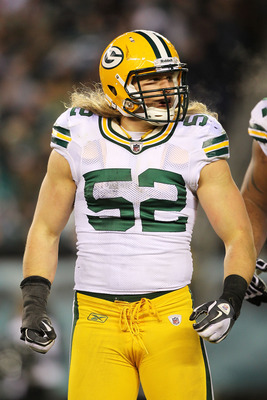 Al Bello/Getty Images
Prediction: No
Reason: Seemingly unthinkable, it has happened. Linebacker Chuck Howley is the only player in NFL history to have won the MVP as a member of the losing team, earning the honors in Super Bowl V while with the Oakland Raiders.
Is there a Chuck Howley in the crowd this year? Given the talent these two teams have, particularly on defense, this may be as good a chance as ever. But I still don't see it happening.
Keep Reading