Super Bowl 2011: 10 Betting Lines to Consider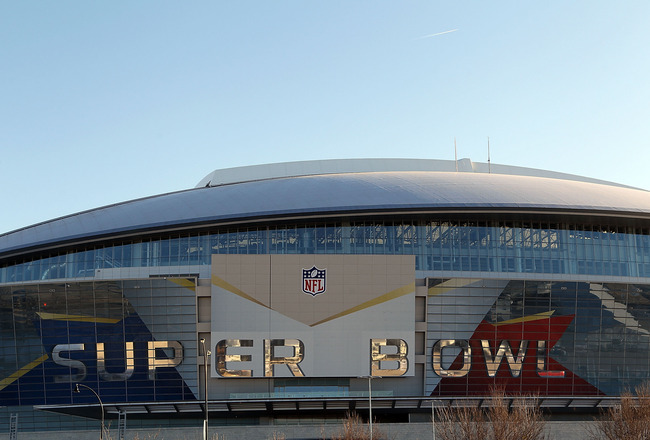 Ronald Martinez/Getty Images
Everyone knows the Super Bowl is the biggest game of the year on this planet.
There are tons of reasons to watch the Super Bowl.
Going to a party to watch with friends, being a fan of one of the teams in the Super Bowl, watching it for the commercials, hoping for a "wardrobe malfunction," or just being a football fan in general are all legitimate reasons millions of people gather around a TV to watch this huge game every year.
But like every other championship game in every sport, plenty of money is bet year in and year out on the Super Bowl.
It is estimated at least $90 million dollars has been bet on every Super Bowl for the last five years in some way, shape or form.
Now betting lines can continually come from anywhere and everywhere. For this article, I will be relaying lines and props from Sportsbook.com, just to avoid any controversy and confusion.
So where should you bet your money? Here are 10 Super Bowl lines you should consider looking into.
10. Coin Toss: Talk About 50/50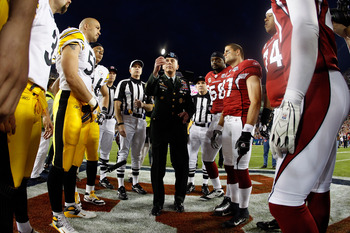 Inside the Huddle of a Super Bowl Coin Toss
Jamie Squire/Getty Images
This bet is easily the riskiest bet you can make.
You can bet if the coin toss is heads or tails, or if the Packers or Steelers win the coin toss.
Either way, you are betting completely blind.
This is a bet that you shouldn't put more than a few bucks on.
Pick heads/tails or Packers/Steelers, and stick with it. Wavering over this bet won't do you any good.
The best advice for this bet is very simple. Take a coin, flip it and go with whatever side/team you get on that one single flip.
Remember, this bet is as blind as can be, so have fun with it.
9. Most Rushing Yards: Mewelde Moore Vs. John Kuhn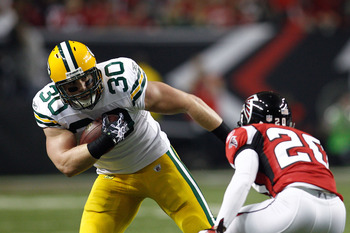 Chris Graythen/Getty Images
Sportsbook.com has this bet listed as a "pick 'em" bet. After looking over some numbers, it doesn't quite seem that way.
While both of these runners haven't seen more than three carries in one game in this year's playoffs, it could be a pretty easy bet.
I expect John Kuhn of the Green Bay Packers to win this line by just a few yards.
Even though it is tough to bet on runners who don't get many touches, John Kuhn is the more logical choice.
Going up against a tough and physical defense, Kuhn might get five carries in the Super Bowl if he is lucky.
Working in Kuhn's favor is that he is the goal line back, meaning he might pick up a few yards here and there close to the end zone.
Since Kuhn is such a big and bruising runner; expect him to get a few more carries than normal.
Mewelde Moore has only gotten three carries in two playoff games this year, good enough for nine whole yards. Third-stringer Isaac Redman seems to have passed Moore on the teams depth chart just last game.
Redman saw four carries for 27 yards, while Moore saw one carry for minus-3 yards.
Expect Kuhn to win this matchup, but not by much.
8. Most Receiving Yards: Greg Jennings Minus-15.5 Vs Mike Wallace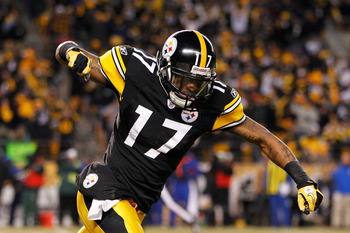 Gregory Shamus/Getty Images
This bet is one that can be pretty tricky. Both receivers possess big play ability, but only Jennings has displayed that in the playoffs.
Teams have definitely noticed what a big threat Wallace can be, so they have contained him to the max lately.
Wallace only has four catches for 26 yards this postseason, while Jennings boasts 17 catches for 239 yards.
Jennings has played one more game than Wallace, but it's hard to imagine Wallace could catch up to those numbers in just one game.
Also adding to Jennings case, his longest catch this postseason is only 30 yards. Which means he has played much more of a possession role than Wallace recently.
In the Super Bowl, where big time plays can be seldom, Jennings has a good chance of catching many short passes. While the short passes usually don't mean big yardage, they typically mean first downs.
If Jennings is able to make plays on short passes and get first downs, the Packers drives will stay alive, meaning more possible touches for Jennings.
Mike Wallace without a doubt is capable of winning this matchup, though. His explosiveness at the wide receiver position has been on wide display this regular season.
Explosive receivers like Wallace are very hard to keep contained for this long. In this game expect Wallace to finally break out.
He will probably be lined up across from Pro Bowl corner Charles Woodson, leaving many to assume he won't be able to get open down field.
But Woodson is 34 years old, meaning he doesn't possess the top-end speed he used to.
Take Wallace and the 15.5 yards, hoping that he will finally bust out a deep ball to cover this spread.
7. Kicker to Record More Points? Mason Crosby Minus-.5 Vs. Shane Suisham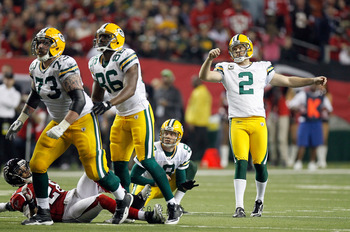 Kevin C. Cox/Getty Images
This is definitely a tough bet to take. Both teams have very potent defenses, which help and hurt kickers chances of getting field goal attempts.
Both of these guys have attempted three field goals this playoffs, and both have made two of them.
Crosby definitely possesses the bigger leg, while Suisham has been suprisingly accurate all year.
It's very hard to decide which of these kickers will get more field goal chances on Sunday, making it hard to say who will win this matchup.
Expect the kicker whose team scores more touchdowns to win this bet.
Go with the kicker on the team you anticipate winning the game, and don't look back.
6. Longest Touchdown of The Game: Over/Under 44.5 Yards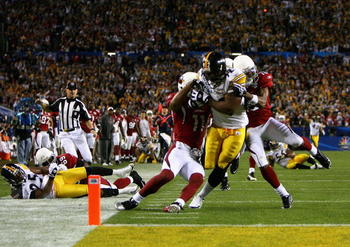 James Harrison makes it into the endzone for a Super Bowl record 100 yard interception return
Al Bello/Getty Images
There are easily two sides to this argument. Both teams have very stingy defenses, making it tough for even many first downs to happen.
Even though these defenses are very good, two Super Bowl statistics stick out in my when thinking about this bet.
First, in Super Bowl XL, Willie Parker of the Pittsburgh Steelers broke a Super Bowl record by running for a 75-yard touchdown.
Second, in Super Bowl XLIII, James Harrison broke a Super Bowl record for longest touchdown ever, a 100-yard interception return.
Sense a theme? In the Steelers' last two Super Bowl appearances, players have broke different records for longest touchdowns in the history of the Super Bowl.
The Steelers have plenty of playmakers who can continue the trend.
But don't forget about the Packers.
Both teams are chalk full of explosive guys, making this bet almost easy to bet on.
Take the "over" on this bet, and wait for the big play. Have faith—it will come at some point.
5. Longest Made Field Goal of The Game: Over/Under 43.5 Yards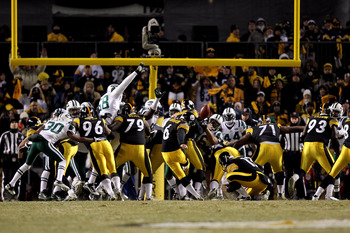 Al Bello/Getty Images
Unlike the other kicking line, this one won't be as close.
Let's take a look at the numbers to break down this bet.
Shaun Suisham's longest kick made this year is an unimpressive 48-yarder. But, remember that Suisham was signed before Week 11, so he has missed nearly half the season.
Also working towards Suisham's favor, the Steelers haven't even let him attempt a 50-plus-yarder. In the biggest stage of them all, anticipate the Steelers putting trust in their kicker, allowing him to kick a long one.
Now you might say "even though Suisham might get to attempt a 43.5 yarder or longer doesn't mean he will make it." That is very, very true.
But since joining the team in Week 11, Suisham is an impressive 8-for-10 from 40-plus yards, meaning he is more than capable of making the long kick.
Mason Crosby is without a doubt ready to kick anything the Packers let him try. Crosby's current season high kick is 56 yards, meaning he has plenty of leg to make the kick.
Although Crosby is only 2-for-5 on the year from 50-plus yards out, have some faith in the guy.
He is a very accurate 9-for-11 from 40 to 49 yards out, making him solid in the area he needs to cover to win this bet.
Go with the kickers on this one, and take the over on 43.5 yards on the longest made field goal.
4. Largest Lead of The Game By One Team: Over/Under 13.5 Points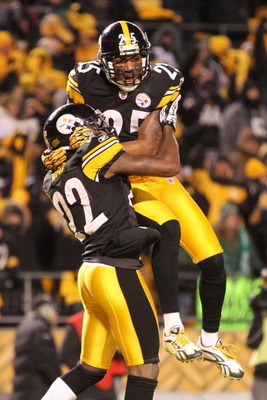 Ronald Martinez/Getty Images
As much as every casual fan wants the Super Bowl to be a close game, this one won't be.
I know. I know. On paper this looks like a great matchup, and most Super Bowls do.
But never in Super Bowl history have the fans been so spoiled lately by close games.
In the last nine Super Bowls, five of them have finished with a four-or-less point differential.
History suggests that Super Bowls aren't always that close. In fact, it wasn't until Super Bowl V that a game was even close.
Following that, the next Super Bowl that was decided by three points or less wasn't until Super Bowl XXV.
Sorry fans, but this one should be a blow out at some point in the game.
Take the over 13.5 points on biggest lead of the game.
3. Total Field Goals Made by Both Teams: Over/Under 3.5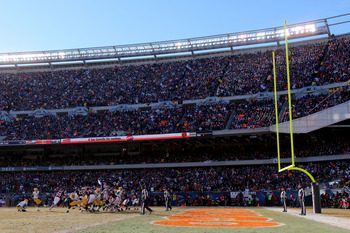 Doug Pensinger/Getty Images
Like this article keeps referring to, there is plenty about the kicking game that can be bet on.
Betting on kickers can certainly be an uneasy bet to make. But for this Super Bowl, a measly 3.5 field goals shouldn't be too hard to come by.
Look forward to plenty of big third-down stops to happen, meaning field-goal attempts in certain parts of the field.
Mentioned in previous slides, these Super Bowl kickers are consistently accurate.
So if the defenses can play like there supposed to, Crosby and Suisham will have their chances.
Even though both teams have down field threats, it will be hard to make those happen against such stout secondary's.
Bet on over 3.5 field goals, but crazier things have happened, so be careful with this one.
2. Most Completions: Aaron Rodgers Minus-3.5 Vs. Ben Roethlisberger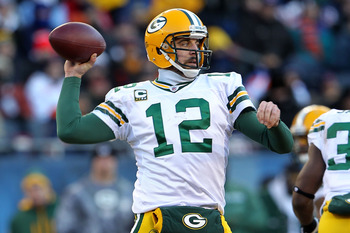 Jamie Squire/Getty Images
All right, let's break down the numbers on this one.
Through the regular season, Rodgers was averaging 20.8 completions an outing. Roethlisberger averaged 20 completions a game.
Many people would be surprised that these two were so close in the regular season, since Rodgers is regarded as much more of a passer than Roethlisberger is.
In the playoffs, the numbers are a little different.
Rodgers has upped his average to 22 completions a game in his three playoff games, while Roethlisberger has only completed 14.5 through two games.
Take out the fact that the Steelers played the Jets last week, and Roethlisberger put up 19 completions against a tough Baltimore defense.
This line seems to go right along with both quarterbacks season averages, so we must consider other factors heading into next weeks game.
Pittsburgh lost key offensive lineman Maurkice Pouncey, which means they might have to pass a little bit more.
Green Bay has had a serious lack of a running game this year, meaning they already will pass a lot.
Final prediction? I can see Green Bay playing from behind for quite a bit of the game. So expect Rodgers to be in the area of 33-37 pass attempts and at least 20 completions.
If Pittsburgh gets an early lead, expect them to run the ball more and try to control the clock. Anticipate Roethlisberger attempting 22-27 passes, and completing about 15 of them.
The folks in Vegas are good, so expect this to be a very close line by the end of the game.
But go with Rodgers, since he is already known as a more potent passer.
1. Super Bowl XLV Line: Packers Minus-3 Vs. Steelers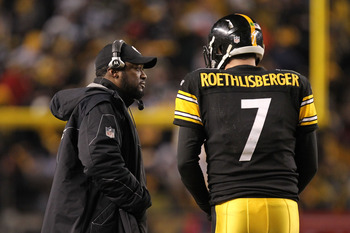 Ronald Martinez/Getty Images
Here we are. The biggest and most common bet in every game.
Picking the team that will cover the spread.
Let's get right to it. I like the experience and the playoff mentality of one team: the Pittsburgh Steelers.
I expect head coach Mike Tomlin to have his troops ready for this one.
Like mentioned earlier, way too many Super Bowls have been close lately, so don't expect this one to be.
One team will dominate this game in almost every facet, leaving many to believe the more experienced team will.
All of Green Bay's big-time players in Aaron Rodgers, Clay Matthews and B.J. Raji are very young and not quite mature enough to dominate on this stage.
Final prediction: Pittsburgh 30, Green Bay 13. If that score is remotely close to being right, Pittsburgh will cover by a long shot.
Have fun with your betting and enjoy Super Bowl XLV!
Keep Reading

Pittsburgh Steelers: Like this team?