Super Bowl 2011: 10 Reasons Aaron Rodgers Will Be Exposed By Steelers Defense
Andy Lyons/Getty Images
Aaron Rodgers has been the talk of the playoffs after leading the sixth-seeded Packers to a Super Bowl berth against the Steelers.
While I think Rodgers will be able to lead the Packers to a win in Dallas, here are 10 reasons why the Steelers could end up having the last laugh against the former Golden Bear.
Read on and be sure to tell us what you think: Is Rodgers going to be exposed or will he be able to knock off the Steelers defense?
10. Concussion Issue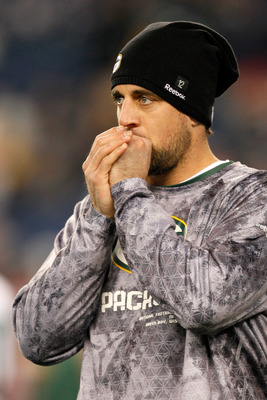 Jim Rogash/Getty Images
Concussions have been a hot-button topic for the NFL this season. Aaron Rodgers has suffered two concussions this year and he was forced to miss a Week-15 game against the Patriots.
If Rodgers is concussion prone, he will not have much fun playing against a hard hitting Steelers defense.
The Steelers could make it their goal to send Rodgers to the bench with his third concussion of the season. That would go a long ways towards ending Rodgers hot streak.
9. Bye Week to Prepare for Rodgers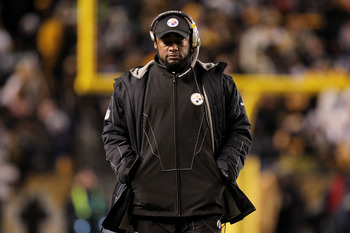 Ronald Martinez/Getty Images
The week off before the Super Bowl gives the Steelers a great opportunity to prepare for Rodgers. Instead of getting just a few days for film study and game planning, Pittsburgh gets to look at as much film as they would like to get a read on Rodgers.
The extra week gives the Steelers Coaching staff a chance to design a gameplan based on the way that the Packers have been playing in the playoffs.
8. Packers Offensive Line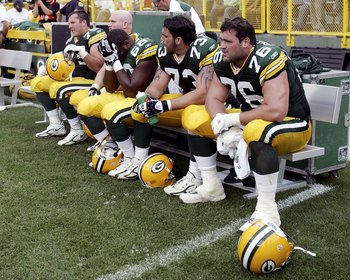 Elsa/Getty Images
The Packers offensive line has had tough moments this year. They have allowed Aaron Rodgers to be sacked 31 times this season.
Obviously the Packers deep passing offense could be considered a reason for the pressure on Rodgers, but if you compare those numbers to Tom Brady or Drew Brees they don't look good. If you compare them to either of the Manning brothers it looks astounding.
The Packers line has had a tendency to break down at times and the Steelers have a chance to get that to happen.
7. James Harrison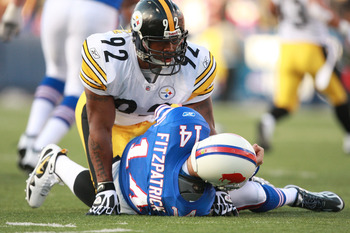 Karl Walter/Getty Images
Not only is James Harrison a terror coming off the edge, but he can also drop back into coverage as he showed the last time he was in the Super Bowl when he took an interception to the house for the longest play in Super Bowl history.
Harrison could end up forcing Rodgers to turn the ball over via sack/fumble or interception or he could end up knocking the Packers quarterback out of the game.
I am sure that Harrison wouldn't care about getting a fine for a hit in the Super Bowl as long as he gets a win in the game.
6. James Jones Dropsies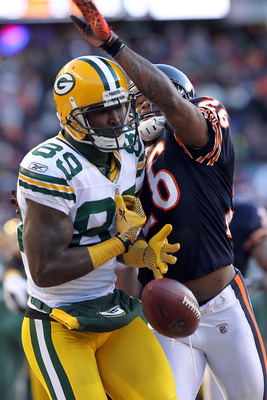 Doug Pensinger/Getty Images
James Jones has been known as much for his tendency to drop passes as his big play ability.
I understand it is hard to predict that someone is going to drop a pass and it is also hard to say that a drop is caused by defense, but I think the Steelers are going to do everything they can to get into James' head and try and get him to show his dropsies on the biggest stage.
5. Change up the Defensive Scheme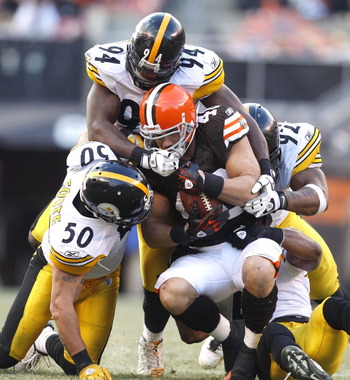 Matt Sullivan/Getty Images
I know James Starks has had a break out performance in the playoffs, but the Packers still are lacking consistency in the running game.
Because of the lack of consistent running game for the Packers, it seems like their best chance in the Super Bowl is to spread out the Steelers defense and attack them down field. However, that leaves them susceptible to blitzes.
I expect the Steelers coaching staff to come into the Super Bowl with quite a few defensive wrinkles that will catch the Packers off guard.
4. Lack of Offensive Running Game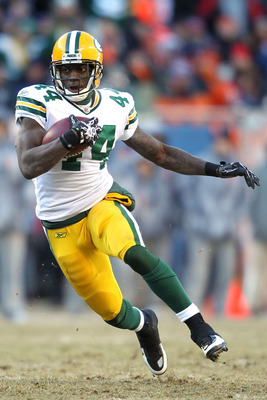 Andy Lyons/Getty Images
Like I said: James Starks has been a breakthrough guy in these playoffs, but I still need to see more from the Packers running game before I am ready to trust them on the ground.
With the lack of a running game, I think the Steelers could force the Packers to run the ball by running an umbrella defense to prevent the big plays that Green Bay loves. It would also force Aaron Rodgers to throw balls into small windows and make him risk turnovers.
3. Ball Control Offense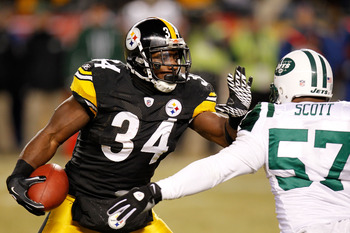 Gregory Shamus/Getty Images
Another strategy that the Steelers could implement is a ball control offense and limit the possessions for Aaron Rodgers.
Rashard Mendenhall is a very good young running back for the Steelers. He has a great ability to hang onto the ball and he is a power running back.
Ben Roethlisberger could also use the short passing game to control the clock.
2. Front 7 Pressure
Ronald Martinez/Getty Images
The Steelers have a great pass rush out of their 3-4 scheme. Along with James Harrison, LaMarr Woodley and Brett Keisel can cause a ton of problems for Aaron Rodgers getting time to throw the football.
If Rodgers is under pressure all night, it might spell trouble for the Packers.
Now I say might because against the Falcons, Rodgers still was able to kill Atlanta despite the pressure.
1. Troy Polamalu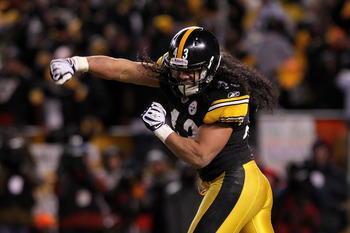 Nick Laham/Getty Images
The Steelers are simply a better team when Troy Polamalu is in the lineup.
I am not sure he is 100 percent healthy, but if he is even close he will do things to mess with Aaron Rodgers.
Not only will Polamalu help in pass defense, be he can also lay the lumber in the running game. If the Steelers have a chance to stop Rodgers, it will start and end with what Polamalu can do on defense.
Keep Reading

Pittsburgh Steelers: Like this team?