Super Bowl 2011: Power Ranking the Skill Players of Super Bowl XLV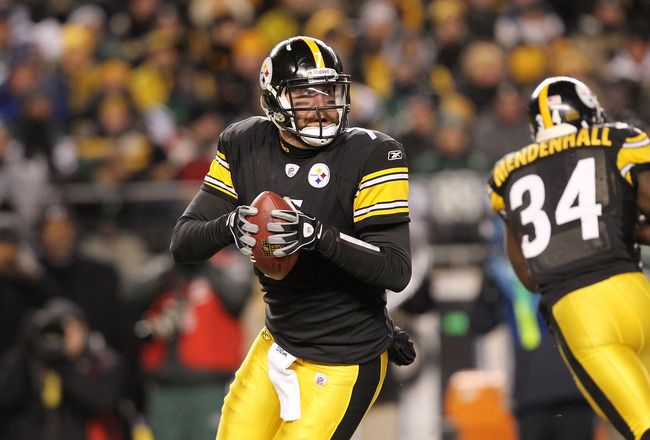 Ronald Martinez/Getty Images
Super Bowl 2011 is a week away, and the anticipation for the NFL's biggest game has steadily built since the Green Bay Packers and Pittsburgh Steelers won their way to Super Bowl XLV last weekend.
Since the matchup was set last Sunday, it's been all about closely analyzing how these teams stack up. We don't have a previous regular season meeting to look back to, so we're forced to take a step back and just look at the players each team will trot out there on Super Sunday.
Most compelling to compare between the Packers and Steelers' rosters are the skill players, the guys who will ultimately have the ball in their hands with a chance to make something happen on the world's biggest stage.
Many of the names are well-known to even the most casual NFL fan, but other key players on both teams may not be household fixtures.
Since we're always looking for a way to judge which team has an edge heading into the Super Bowl, I'll rank all of the key skill players between each team, in descending order from the player expected to have the least impact, to the guys who will play the biggest part in deciding who becomes Super Bowl champion.
No. 18: Matt Spaeth, TE, Pittsburgh Steelers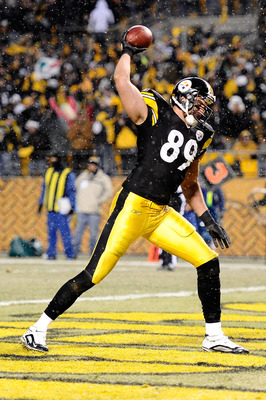 Karl Walter/Getty Images
Neither team in Super Bowl XLV is currently relying on major production from their tight ends in terms of catching passes. The least prolific of pass-catchers from the tight end position in the Super Bowl will be the Pittsburgh Steelers' Matt Spaeth.
Spaeth is a big part of the Steelers' offense, but it's as an extra blocker who neutralizes opposing pass rushers and opens up holes for Rashard Mendenhall out on the edge.
Spaeth was forced into extra usage in the passing game when Heath Miller, the team's starting tight end who is more involved offensively, was out with a concussion. Spaeth will be a part of the offense out there in Super Bowl XLV for the Steelers, but he's not someone to watch from a skill/playmaking perspective.
No. 17: Mwelde Moore, RB, Pittsburgh Steelers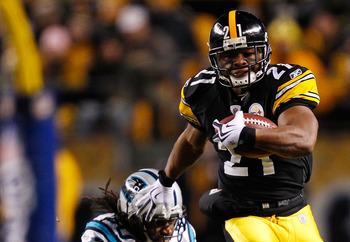 Jared Wickerham/Getty Images
Mewelde Moore is the second running back on the Steelers' depth chart, but Rashard Mendenhall dominates the Pittsburgh running game, leaving Moore almost an entire non-factor on offense.
He won't see much of the ball in Super Bowl XLV unless there's an injury to Mendenhall, and even in that situation Pittsburgh may look beyond Moore to install a replacement rusher.
He's low on the totem pole for impact skill players in the upcoming big game.
No. 16: Andrew Quarless, TE, Green Bay Packers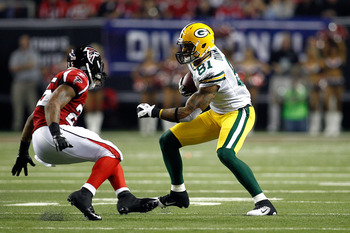 Chris Graythen/Getty Images
One of the Packers' many players injured and on IR this year was the dynamic tight end Jermichael Finley, a favorite target of quarterback Aaron Rodgers.
When Finley went down, shortly thereafter the team also lost the second-string tight end, Donald Lee, to a knee injury. So the depth chart at tight end was severely depleted for the Packers during the 2010 season.
The player who emerged as the top replacement tight end was Andrew Quarless, who remains the Pack's biggest receiving threat from the tight end position heading into the Super Bowl.
Quarless totaled 238 receiving yards during the regular season, never really breaking out as a go-to target in the passing game. He's caught four balls in the playoffs so far, with his longest catch going for 15 yards.
I don't expect Quarless to be a big factor in the Super Bowl, but if Pittsburgh bottles up Aaron Rodgers' wide outs, he could find some space over the middle working with Quarless.
No. 15: Antwaan Randle El, WR/PR, Pittsburgh Steelers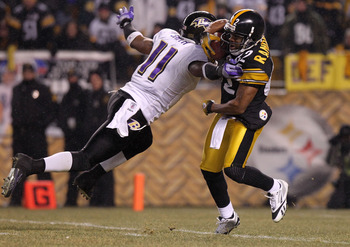 Nick Laham/Getty Images
The 31-year-old versatile wide receiver Antwaan Randle El is still capable of breaking off a big play, but his usage has diminished in the Pittsburgh offense quite a bit. He's still running back punts, but with little effect.
His role in the passing game is much diminished, as during the regular season, he only caught 22 passes for 253 yards and didn't break into the end zone.
Randle El has veteran savvy on punt returns, but he isn't expected to be much of a factor in the receiving game during Super Bowl XLV.
No. 14: Heath Miller, TE, Pittsburgh Steelers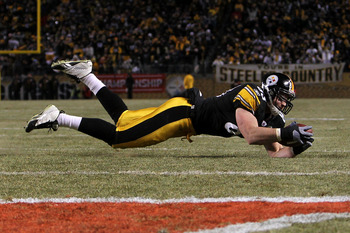 Nick Laham/Getty Images
Heath Miller is the most dangerous tight end that will be out on the field in Super Bowl XLV, despite seeing his receiving production dip from his 2009 career year.
Miller missed some time with a concussion suffered in the team's game against the Baltimore Ravens, but he's back and fully in the fold for the Steelers as they look to win yet another Super Bowl.
Miller is always a red-zone threat for Pittsburgh, as quarterback Ben Roethlisberger trusts the veteran tight end to haul in passes in tight spaces over the middle of the field.
Miller is also a vital part of the blocking game for Pittsburgh, and he's an important part of the Steelers' offense.
No. 13: Brandon Jackson, RB, Green Bay Packers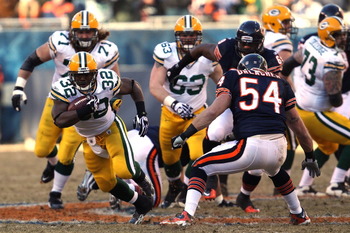 Jonathan Daniel/Getty Images
Brandon Jackson was the Packers' top running back, at least in name and overall production, during the 2010 regular season. He stepped in when Ryan Grant was hurt and ruled out for the season and went on to accumulate 703 rushing yards, as well as 342 receiving yards.
But Jackson was highly inconsistent out of the backfield, having some games nearing 100 yards rushing, and others where he barely saw the ball.
Now as we got to the last week of the regular season, as well as into the three rounds of the playoffs, Jackson's usage has been greatly downsized in the Packers' offensive gameplan.
James Starks has become the team's primary running back, meaning Jackson, despite his speed and potential elusiveness, is relegated to a low-impact player in Super Bowl XLV.
No. 12: James Jones, WR, Green Bay Packers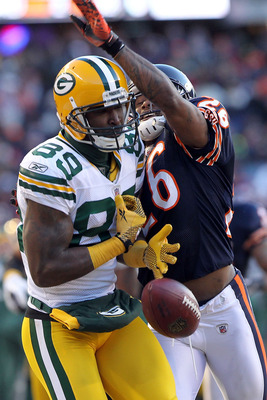 Doug Pensinger/Getty Images
James Jones is a big-play threat for the Packers, someone with great speed who's capable of stretching a secondary and burning a defense deep down the field. Jones' production is not consistent, so he's not on the level of his fellow Packers receivers.
Jones is also inconsistent in terms of actually catching the ball, as he's occasionally dropped open passes and missed out on breaking off big gainers due to an untimely drop.
Jones could make a big play in the Super Bowl, but Pittsburgh will no doubt be accounting for his blinding speed in an effort to avoid getting burned.
No. 11: Antonio Brown, WR, Pittsburgh Steelers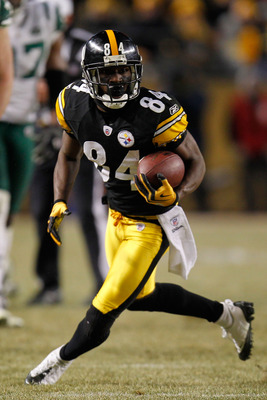 Gregory Shamus/Getty Images
The sixth-round draft pick out of Central Michigan has steadily become a more important part of the Steelers' passing game.
Antonio Brown had the biggest game of his career against the Baltimore Ravens in the Divisional round, making that unbelievable helmet-assisted catch late in the game during the Steelers' dramatic comeback.
Brown didn't have much of an impact at all early in the 2010 season; however, slowly but surely, the Steelers started working him into the mix more on offense, getting him more touches as he became more comfortable and confident in the offense.
Brown also pulled in the game-clinching catch at the end of the AFC Conference Championship game, and I expect him to have an important situational receiving role in the Super Bowl.
No. 10: John Kuhn, RB, Green Bay Packers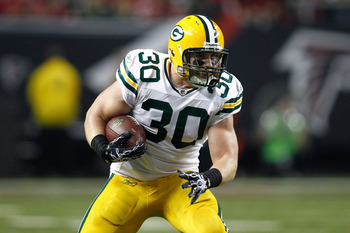 Chris Graythen/Getty Images
Goal line running backs can have big impacts and I think the Packers' John Kuhn will be a big part of their red-zone offense. Kuhn has shown the ability to get open when down near the goal line, and Aaron Rodgers has found him with increasing regularity in these vital goal-to-go situations.
Kuhn is a cult favorite, and even though he doesn't get a large number of touches, I expect him to be a go-to player if Green Bay drives deep into Pittsburgh territory. He has a nose for the end zone and I think Green Bay gives him the ball if they ever get in that situation in the big game.
No. 9: Hines Ward, WR, Pittsburgh Steelers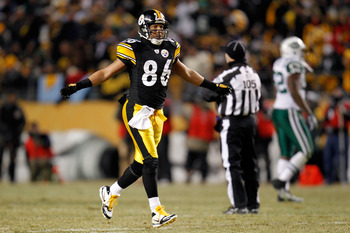 Gregory Shamus/Getty Images
The veteran wide receiver has accomplished so much in his career, it's impossible to not consider the fact that he might have a big impact on Super Bowl XLV. Ward already has two rings, and he's put together great seasons over the course of his decorated NFL career.
But his production has dropped in 2010, and in the playoffs, he hasn't been a major factor in Pittsburgh's offense. All that could change on the ultimate stage, but for now, Ward is not the same focal point of the passing game that he used to be.
I still think Ben Roethlisberger will look Ward's way in key situations in the Super Bowl, but Mike Wallace is clearly his preferred target at this point. Ward still could break out next weekend, but this could also be his swan song.
No. 8: Donald Driver, WR, Green Bay Packers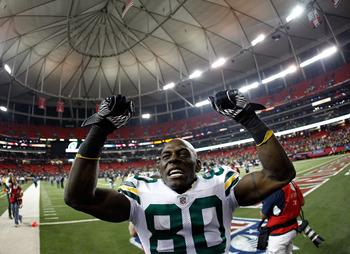 Chris Graythen/Getty Images
Donald Driver is in the same area of his career as Hines Ward. Still capable of making some plays, but not the same elite receiver he was back a few years ago.
The Packers' all-time leader in receptions, Driver struggled through a myriad of injuries this season and saw his production dip below his usual levels. He's 35 and his speed isn't what it used to be, but Driver is still a steady target for Aaron Rodgers in the passing game.
Driver is still looking for a ring, so this looks to be a huge game for the vet, and I expect him to be amped up and looking to get involved early on. I think he's still got a bit more in the tank when compared to his veteran counterpart Hines Ward.
No. 7: Jordy Nelson, WR, Green Bay Packers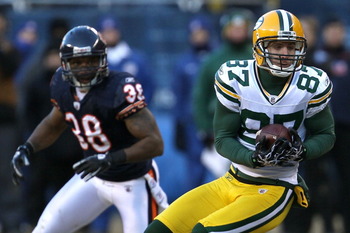 Jonathan Daniel/Getty Images
Jordy Nelson has become a huge part of Green Bay's offense, a steady target over the middle of the field for Aaron Rodgers. He has enjoyed two big receiving games back-to-back starting in the Divisional playoffs against Atlanta, and continuing against the Bears a week ago.
He's the hot hand as a receiving complement to Greg Jennings, as he finds the spaces in the over-the-middle routes and is often left unattended by opposing defenses.
I expect Nelson to be a big part of the Green Bay passing game in Super Bowl XLV.
No. 6: James Starks, RB, Green Bay Packers
Andy Lyons/Getty Images
James Starks has emerged as the Packers' No. 1 running back, getting 20+ carries in all three of Green Bay's playoff games to date.
The sixth round pick in the 2010 draft waited until late in the season to make his presence felt, and now he's the go-to runner for a Super Bowl team, and expected to play a huge role in the Packers' game plan for beating the Steelers.
Starks' best game was in the Wild Card round in Philadelphia, when he gained over 120 yards and averaged over five yards per carry.
He's going to have his work cut out for him against the Pittsburgh defense, which is notoriously stingy against the run. But Starks is clearly the primary running back for the Packers at this point in the year.
No. 5: Mike Wallace, WR, Pittsburgh Steelers
Gregory Shamus/Getty Images
Mike Wallace has struggled to find space so far in the NFL playoffs, but that's because he is the clear big-play threat on the Steelers' offense.
He is Ben Roethlisberger's new favorite target, as evidenced by his 1,257 receiving yards and 10 touchdown catches during the season.
He spent the AFC Conference Championship game stuck on Revis Island, and will have his work cut out for him against the Packers' Charles Woodson.
But Wallace is the clear must-cover receiver on the Pittsburgh roster, as he's capable of pulling in big catches and breaking a game open with a display of skill.
No. 4: Greg Jennings, WR, Green Bay Packers
Streeter Lecka/Getty Images
Greg Jennings is one step ahead of Wallace as a dangerous, explosive wide receiver, as he's Aaron Rodgers' favorite target and capable of making big plays at the drop of a hat.
Jennings and Rodgers seem to have extremely strong chemistry on the field, and Jennings' 12 touchdown receptions show that he's also a threat in the red zone, capable of getting open where it counts.
Jennings will be the focus of the Steelers' pass defense, but he's got the ability to break coverages and find spaces downfield. He is the player to watch on offense for the Packers, besides their quarterback, of course.
No. 3: Rashard Mendenhall, RB, Pittsburgh Steelers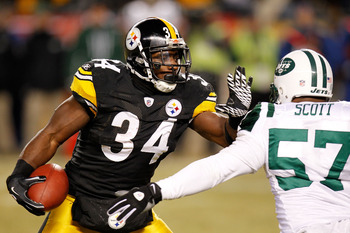 Gregory Shamus/Getty Images
Rashard Mendenhall was the engine that drove the Steelers to the Super Bowl during the AFC title game, as he ran all over a usually-strong Jets run defense to the tune of 121 yards, 4.5 yards per carry and a touchdown.
He also had two touchdowns against the Ravens in the Divisional round, while struggling to break off as much yardage.
Bottom line, the Steelers are at their peak when they're able to run the ball. They have the best running back in this game and it's not that close, as Mendenhall is elusive, powerful and explosive in the open field.
Green Bay has had good success shutting down running games thus far in the playoffs, and they'll need their stout defensive front to step up to another level if they're to stop Mendenhall.
I expect Mendenhall to be the focal point of the Pittsburgh offense, and think it will be his performance that ultimately decides if Pittsburgh captures another Super Bowl crown.
No. 2: Aaron Rodgers, QB, Green Bay Packers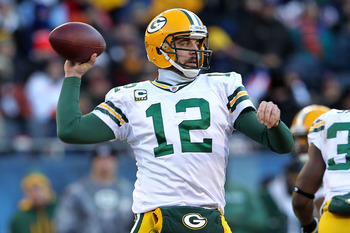 Jamie Squire/Getty Images
Since Aaron Rodgers came back from a concussion, his performance was largely otherworldly. He slumped a bit against the Chicago Bears in both Week 17 and in the NFC title game, but his performances against the New York Giants, Philadelphia Eagles and Atlanta Falcons were nothing short of breathtaking.
He was in a relentless rhythm and seemed to make the right pass on every drive.
When looking at his performance it's enticing to say that Rodgers is the best quarterback playing in this Super Bowl, but it's hard to go there as of yet.
He took a hard hit in the Bears game last week and his play dropped off quite a bit following the hit, his accuracy dipping and the Bears climbing back into the game.
The question will be how Rodgers deals with the physicality and the punishment he may take from the Steelers' hard hitting and relentless defense.
This game will test his toughness more than any other in his career, and it's his chance to plant himself firmly in the top echelon of current quarterbacks.
No. 1: Ben Roethlisberger, QB, Pittsburgh Steelers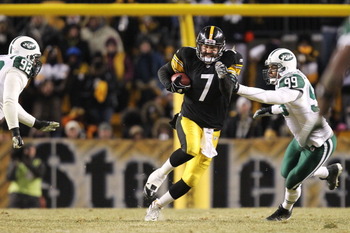 Ronald Martinez/Getty Images
Ben Roethlisberger has had quite the season, with the suspension, the return, and the strong, gritty performance to lead his team to the AFC North division crown.
It wasn't always pretty, and Roethlisberger endured some physical beatings in games against the Ravens in particular, but he's ultimately gotten his team in position for his third Super Bowl title since entering the NFL.
I think Roethlisberger is the top player to watch in this game, because he's been there before and he's capable of putting together a very strong game when his team absolutely needs him.
The Steelers would prefer to control the clock on the ground and let their defense go after Aaron Rodgers, but if they fall behind, Roethlisberger is the type of quarterback fully capable of orchestrating a comeback.
He's put great drives together, he's sustained brutal hits and bounced back, and he's made plays from situations that seemed hopeless.
Roethlisberger is a tough player to pick against in a Super Bowl, and that's why he's the top dog in this power ranking of the skill players set to take part in Super Bowl XLV.
Keep Reading