Cleveland Indians: What If The Tribe Had An Unlimited Budget?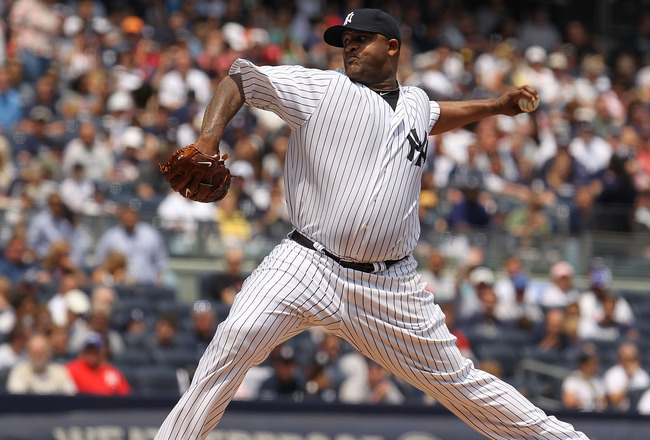 CC Sabathia headlines the list of former Indians players.
Al Bello/Getty Images
After only 65 and 69 wins in the past two years, it's not a stretch to say that the Indians have not had the best players in the majors of late. Watching some recent members of the Tribe play only reinforces that point. It's easy to forget the level of talent the Indians used to have on their roster.
With that, I present to you a roster of the top ex-Indians for the 2011 season. I've ranked them as to how much they are worth to a team this year, not on career achievements (for example, Franklin Gutierrez is better than Manny Ramirez). This roster is what the 2011 Indians could have looked like if the Tribe had an unlimited budget and re-signed all of these players.
(Note: In order to calculate the 2011 worth of these players, I took their last three season's wins above replacement (WAR) and averaged them. It's crude, I know, but it does give a decent idea of what to expect.)
Just Missed The Cut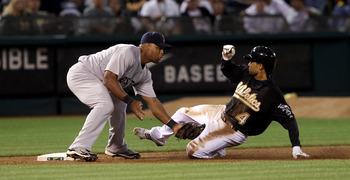 Coco Crisp just missed the cut.
Ezra Shaw/Getty Images
Some players that just missed the cut were:
OF Coco Crisp (1.4 WAR)
3B Kevin Kouzmanoff (1.4 WAR)
OF Ben Francisco (0.8 WAR)
2B/3B John McDonald (0.2 WAR)
SS/3B Omar Vizquel, no matter how much it pains me (0.1 WAR)
OF Jason Michaels (0.0 WAR)
P Danys Baez (-0.2 WAR)
P David Riske (-0.2 WAR)
P Bartolo Colon (-0.2 WAR)
C Josh Bard (-0.5 WAR)
P Jamey Wright (-0.7 WAR)
Starting Rotation: Sabathia, Guthrie, Lee, Pavano, Westbrook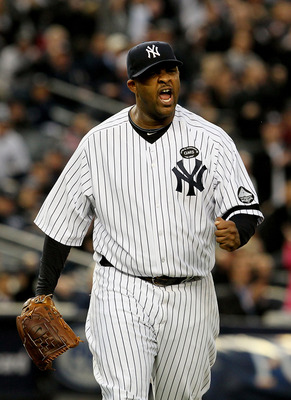 If the Tribe had unlimited money, they could've afforded to keep CC.
Jim McIsaac/Getty Images
A starting rotation of CC Sabathia (4.8 WAR), Jeremy Guthrie (3.5 WAR), Cliff Lee (1.8 WAR), Carl Pavano (1.7 WAR), and Jake Westbrook (1.5 WAR) sounds like a staff worthy of the Yankees. As it turns out, it's what the Indians have let go. This rotation isn't quite on the same level as the Phillies, but it's close. It easily would have been capable of taking the Tribe to the playoffs and beyond.
Bullpen: Betancourt, Millwood, Rhodes, Wood, Howry, Mujica, Cabrera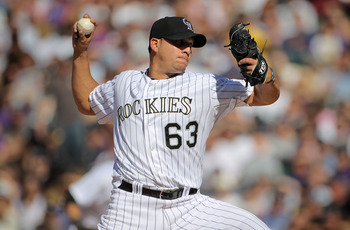 Rafael Betancourt would close for a solid, but not spectacular, bullpen.
Doug Pensinger/Getty Images
The bullpen isn't filled with overwhelming names, but it really isn't all that bad. Rafael Betancourt (1.5 WAR) closing, with Arthur Rhodes (1.3 WAR) and Kerry Wood (1.0 WAR) as set up men isn't too bad. Add in Kevin Millwood (1.5 WAR) for long relief and Bob Howry (1.0 WAR) as a 7th inning guy, and the bullpen isn't looking too shabby. Edward Mujica and Fernando Cabrera (-0.1 WAR each) aren't great, but no bullpen is perfect. As it is, this bullpen wouldn't fair too poorly, especially with the hypothetical starting rotation in front of it.
Starting Catcher: Victor Martinez
Victor Martinez would still be a star for the Indians.
Otto Greule Jr/Getty Images
This one comes as no real surprise. Carlos Santana may be doing a good job of helping Tribe fans forget about Victor Martinez (2.4 WAR), but V-Mart remains a star. He's still a middle of the order talent capable of helping a team win a championship.
Starting First Baseman: Casey Blake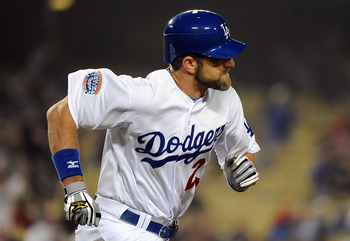 He may not be flashy, but Casey Blake gets the job done.
Lisa Blumenfeld/Getty Images
Casey Blake (3.4 WAR) was never fully appreciated for everything he did in Cleveland. He can play most positions on the diamond and does a decent job hitting. He's not a flashy player, but he does the dirty work and the little things. Blake is the glue that helps to keep a team together and the kind of player you want on your team.
Starting Second Baseman: Brandon Phillips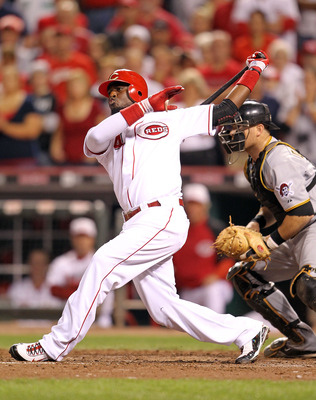 The Indians ran Brandon Phillips out of town a little bit too soon.
Andy Lyons/Getty Images
If only the Tribe hadn't given up on Brandon Phillips (1.8 WAR) so early. After moving to Cincinnati, Phillips developed into the star he was supposed to be in Cleveland. He's still got an attitude (see the Cardinals-Reds fights this year), but many of the all-time greats had some issues. Nobody's perfect, and Phillips would've been a much better player than some of the other second baseman the Tribe has put out there (Luis Valbuena, for example). There's hope for the future, but for now, Phillips would've looked good a little bit farther north in Cleveland.
Starting Shortstop: Jhonny Peralta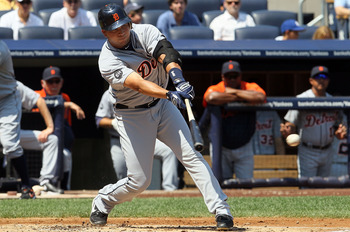 While he may not be the best, there are worse things than Jhonny Peralta at shortstop.
Jim McIsaac/Getty Images
Disclaimer: I don't like Jhonny Peralta. I wish the Indians had just kept Vizquel. There's no arguing, though, the Peralta is a decent player. The Indians don't have much in the way of former shortstops, and Peralta (1.3 WAR) is the best out there. I'm glad we've got Asdrubal Cabrera now, but Peralta is the best available for this team.
Starting Third Baseman: Mark DeRosa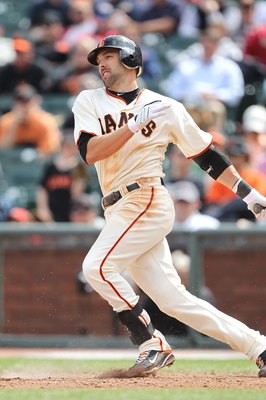 Like Blake, Mark DeRosa is another guy who gets the job done.
Jed Jacobsohn/Getty Images
He may not have been here long, but Mark DeRosa (1.8 WAR) made an impact on me. Like Casey Blake, DeRosa is a guy who can do everything and gets the job done. He may not have had the best of years last year, but he was a part of a World Series winner. That counts for something. A team with Casey Blake and Mark DeRosa on its corners is strong character-wise, something that especially helps with Jhonny Peralta and Brandon Phillips in the middle.
Starting Center Fielder: Franklin Gutierrez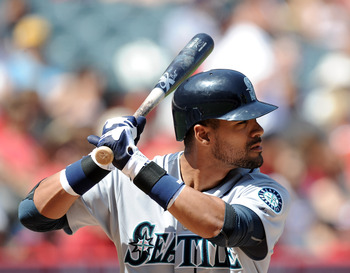 He may not hit well, but Franklin Gutierrez is a wizard in the field.
Harry How/Getty Images
I'm still trying to figure out why we traded Franklin Gutierrez (3.4 WAR). He may not hit well, but we gave up a player who won a Gold Glove for Luis Valbuena and Joe Smith. That trade has been far from showing benefits. Gutierrez is an young, elite fielder that would've really helped the Indians out going forward.
Starting Left Fielder: Manny Ramirez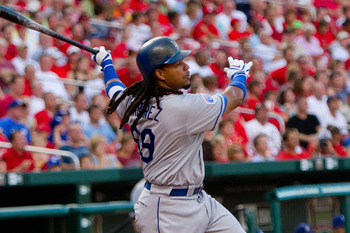 Did you miss Manny being Manny? You should have.
Dilip Vishwanat/Getty Images
That's right, Mannywood comes back to good old Cleveland for one last hurrah. It's true he's not what he once was, but Manny (3.6 WAR) still has something left in the tank. Despite his bad 2010 campaign, Manny has still not had an OPS+ below 100 since 1993, his first year in the majors. His defense is atrocious, but Manny being Manny brings enough back to Cleveland to justify his spot on this team.
Starting Right Fielder: Ryan Ludwick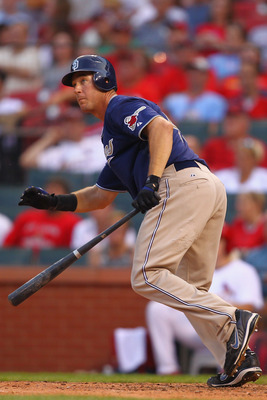 Ryan Ludwick would round out the Indians starting lineup.
Dilip Vishwanat/Getty Images
Ryan Ludwick (2.6 WAR) didn't do much during his time in Cleveland, but he did flourish with the Cardinals. While he didn't do well with the Padres at the end of the year. Ludwick is another player who isn't flashy, but gets the job done. He would be a welcome addition to this team.
Designated Hitter: Jim Thome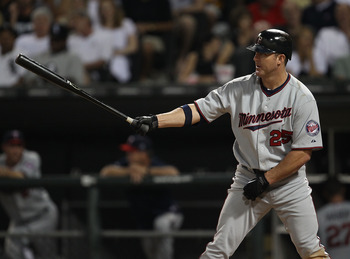 Jim Thome is more than worth being the DH on this team.
Jonathan Daniel/Getty Images
A little bit of a sentimental pick, but the numbers back it up too. Thome (1.5 WAR) has enjoyed a resurgence in these past couple of years. He's hit 159 home runs since 2006, an impressive feat for someone who was 35 years old at the start of that streak. He can't play in the field anymore, but he's one of the best DHs in the league. If only he'd never left Cleveland.
Bench Players: Shoppach, Branyan, Carroll, Bradley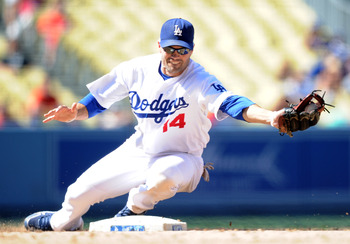 Jamey Carroll is a very good player the Indians should have kept.
Harry How/Getty Images
Having a bench Kelly Shoppach (1.3 WAR), Russell Branyan (1.5 WAR), Milton Bradley (1.8 WAR), and Jamey Carroll (2.2 WAR) would be a luxury, even for the Yankees. These players would be more than able to fill in for the starters when they need a break. In fact, it can be argued that Carroll should start over Brandon Phillips (2.2 WAR to 1.8 WAR), but given how crude my measure is, I'll defer to Phillips. Carroll still makes a great player off the bench.
Conclusion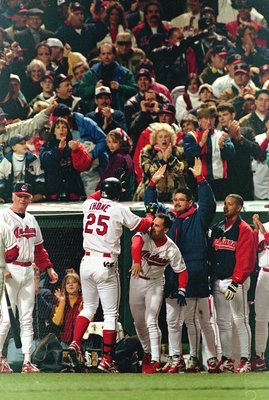 While this team is a pipe dream, it's still nice to dream.
Otto Greule Jr/Getty Images
When you look at it, it's amazing to think of the level of talent the Indians let get away over the years. I haven't done this for all 30 teams, but I don't think that it's a stretch to say that the Indians have the best set of ex-players out there, especially in starting pitching.
No matter how good this team is, though, it's a pipe dream to have wished that the Indians had re-signed all of these people. Adding up their 2011 contracts (and making some estimations for unsigned players, like Kevin Millwood), this team has a payroll of $141.46 million, $88.06 million more than the actual 2011 Indians estimated payroll. Interestingly enough, that figure is $55.84 million less than the Yankees, $23.14 million less than the Phillies, and $19.84 million less than the Red Sox. If the Dolans would spend the money, this team isn't actually that impossible. While it'll never happen, it's nice to dream.
Keep Reading

Cleveland Indians: Like this team?