Carson Palmer: Why He Fits/Doesn't Fit 9 Teams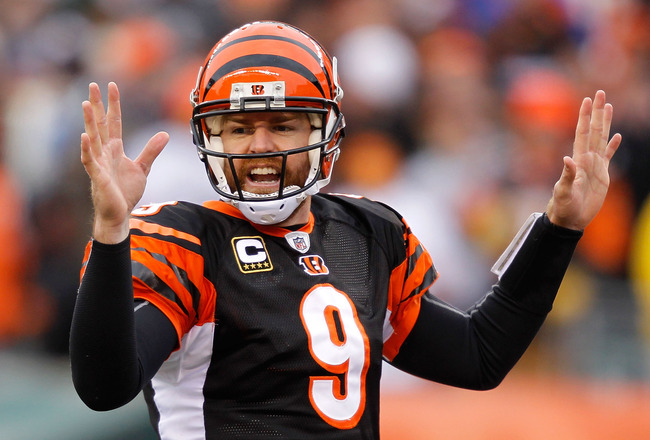 Matthew Stockman/Getty Images
Things are going from bad to worse for the Cincinnati Bengals.
On the heels of a first-to-worst 4-12 season, Carson Palmer is seriously talking about retiring rather than taking another snap for the Bengals.
If that wasn't bad enough, Palmer's trade demands come right as the uncertainty surrounding the NFL's expiring collective bargaining agreement (CBA) is coming to a head. That takes away a lot of leverage.
But assuming we get through that messy situation, the question remains—do you bet on the Bengals or the field?
Sadly enough, Carmelo Anthony's situation makes it clear that players are starting to become more proactive in engineering trades.
In honor of his uniform number, here are nine teams who might be seeing No. 9 in their future.
1. San Francisco 49ers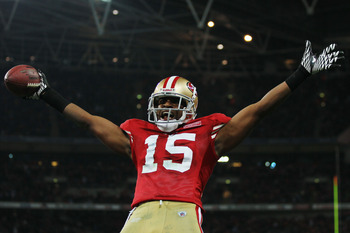 Chris McGrath/Getty Images
Why it could happen: The word on the street says this is where Palmer wants to go. And there are reasons to believe it.
This team has weapons in Michael Crabtree and Vernon Davis. They play in the very winnable NFC West.
What they need is stability at the quarterback position. Carson Palmer could bring that in spades.
Palmer to San Francisco also seems to click for other reasons—Palmer and new coach Jim Harbaugh have the same agent, David Dunn, and Palmer's spouse is from San Francisco.
Why it won't: Andrew Luck.
While it's true that a new coach often means a new quarterback, you have to think that Jim Harbaugh is looking at reuniting with his star quarterback in 2012.
With that in mind, the 49ers may not want to make the financial commitment on a veteran quarterback who should still have several years of productive play in front of him.
And speaking of the NFC West...
2. Seattle Seahawks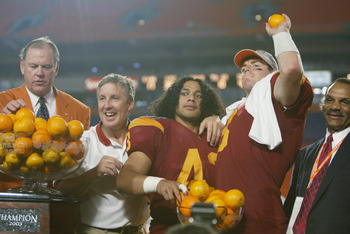 Carroll and Palmer in their glory days at USC
Eliot J. Schechter/Getty Images
Why it could happen: Simple—Palmer is reunited with Pete Carroll.
It's clear from his comments that Palmer is sick of losing, and Carroll's infectious enthusiasm may be just what Palmer needs.
If Carroll could turn around Mike Williams, imagine what he could do with Carson Palmer.
Plus, Matt Hasslebeck is 36 years old and a free agent. And while Carroll has not said anything that would lead you to believe Hasselbeck will not be the starter, he hasn't slammed the door shut.
Why it won't: The Seahawks just hired Darrell Bevell as their offensive coordinator. Bevell coached Hasselbeck for one year in Green Bay before Hasselbeck came to the Seahawks.
And since we seem to be on a roll here...
3. Arizona Cardinals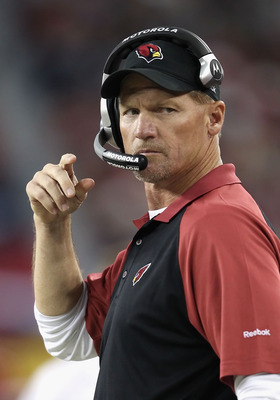 Christian Petersen/Getty Images
Why it could happen: Ken Whisenhunt is familiar with Palmer from his days as the Steelers offensive coordinator.
Whatever he may feel about the long-term prospects of John Skelton and Max Hall, they need some time.
The NFC West is oh-so-winnable with the right quarterback, and bringing Palmer in could entice Larry Fitzgerald to re-sign with the team.
Why it won't: From a fit standpoint, there's not a lot not to like. But economics could come into play.
Taking on a quarterback like Palmer and re-signing Fitzgerald may require a little more creativity than the future CBA may allow.
Thank you Sam Bradford. On to No. 4…
4. Miami Dolphins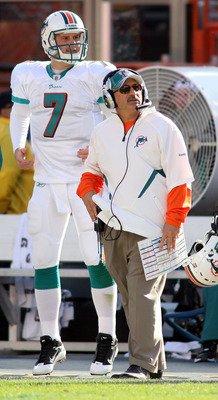 Marc Serota/Getty Images
Why it could happen: With their lukewarm endorsements, Jeff Ireland and Tony Sporano clearly are not sold on Chad Henne.
Bringing in Carson Palmer could be an upgrade until they figure out a longer-term option.
And since Ireland has said the Dolphins "need some new pieces," it would allow them to focus on other priorities to upgrade the offense in the draft.
Why it won't: While it's true that Palmer has had success dealing with mercurial wide receivers, does he really want to leave Chad Ochocinco (I mean, Johnson) only to wind up with Brandon Marshall?
Would the Dolphins and the 31-year old quarterback see eye-to-eye on a long-term contract?
5. Washington Redskins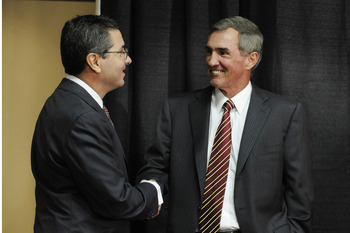 Mitchell Layton/Getty Images
Why it could happen: Daniel Snyder has always been willing to spend on free agents. The addition of a quarterback like Palmer could considerably narrow the gap between the Redskins and the rest of the NFC East.
Why it won't: After the Albert Haynesworth situation, it's possible that Snyder is intent on leaving the football decisions to Mike Shanahan.
After trying to make things work with Donovan McNabb, Shanahan may be looking to find his quarterback of the future in the draft.
6. Tennessee Titans
Jeff Gross/Getty Images
Why it could happen: Owner Bud Adams is apparently willing to part with Vince Young, leaving the Titans precariously thin at quarterback.
Still, with receivers like Justin Gage and Kenny Britt, this team could be seen as being one player away.
With quarterbacks like Peyton Manning and Matt Schaub in their division, Palmer could help even up the arms race.
Why it won't: The departure of Jeff Fisher changes everything for this team. And it may change Adams' mind about Young.
7. Minnesota Vikings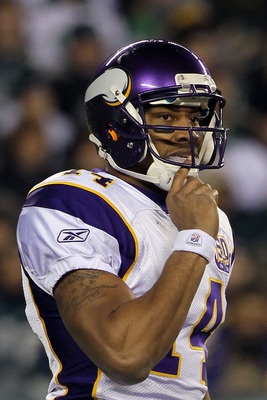 The Vikings are wondering if Joe Webb is the answer
Jim McIsaac/Getty Images
Why it could happen: The window is closing fast, but it's not shut. Palmer is not the long-term answer, but he could keep things going until they can evaluate what they have in Joe Webb.
Why it won't: Their priority is signing Adrian Peterson. The new CBA may make it prohibitive to sign both Palmer and Peterson.
8. Carolina Panthers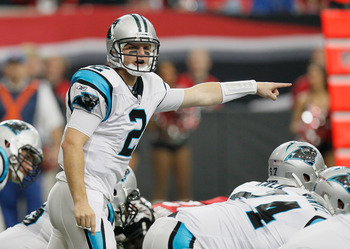 Will Jimmy Claussen get another chance to direct the Panthers?
Kevin C. Cox/Getty Images
Why it could happen: With Andrew Luck deciding to stay at Stanford for his senior season, the Panthers may see Palmer as a better option than any of the remaining quarterbacks in the draft.
Why it won't: The Panthers just hired Mike Shula as a quarterbacks coach, which may mean they haven't completely given up on Matt Moore or Jimmy Claussen.
With plenty of other holes to fill, it would be difficult to see Ron Rivera trading away draft picks.
9. Cincinnati Bengals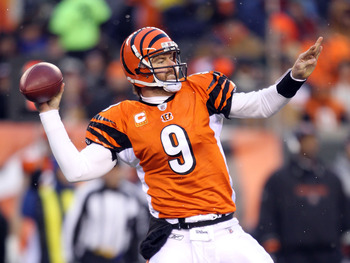 Andy Lyons/Getty Images
Why it could happen: The CBA takes a longer time to get resolved than anyone imagines. This would severely limit the Bengals' options.
This could be a situation where Palmer agrees to play one more year with an understanding that they will trade him, or allow him to become an unrestricted free agent.
Why it won't: If the players and owners reach an agreement, it's hard to see the Bengals wanting to keep a quarterback who doesn't want to play there.
And considering there is some speculation that Palmer's best days may be behind him, this may be the Bengals last chance to get high value for him.
Keep Reading