MLB Trade Rumors: Why Joe Blanton Would Be a Good Fit for the Colorado Rockies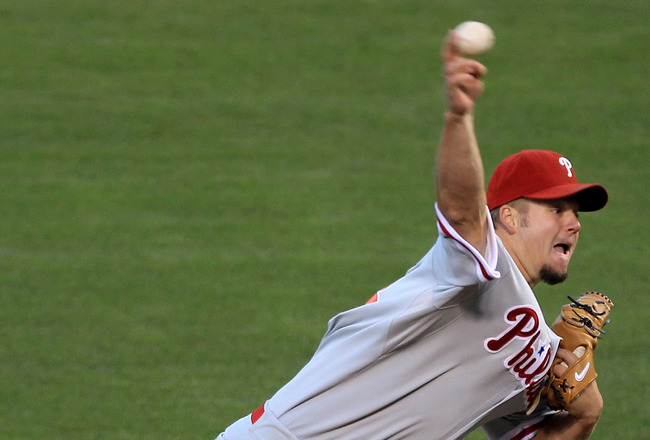 Ezra Shaw/Getty Images
There are rumors swirling that Joe Blanton of the Philadelphia Phillies is available for trade. The Phillies currently have the best rotation in baseball with Roy Halladay, Cliff Lee, Roy Oswalt, Cole Hamels, and either Kyle Kendrick or Blanton.
As a Rockies fan, I don't see us trading for Blanton, but I believe we should, and I would definitely welcome the move. Here's why.
Starting Pitching Depth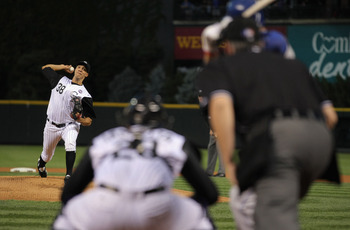 Doug Pensinger/Getty Images
The Rockies current pitching rotation is as follows:
Ubaldo Jimenez: 19-8, 33 GS, (one no-hitter) 2.88 ERA, 214 SO
Jorge De La Rosa: 8-7, 20 GS, 4.22 ERA, 113 SO
Jhoulys Chacin: 9-11, 21 GS, 28 games played, 3.28 ERA. 113 SO
Jason Hammel: 10-9, 30 GS, 4.81 ERA, 141 SO
Aaron Cook: 6-8, 23 GS, 5.08 ERA, 62 SO
Our depth in the bullpen and in Triple A consists of Felipe Paulino, Esmil Rogers, Franklin Morales and Greg Smith.
Paulino isn't that great, Smith was injured for all of 2009 and sucked in the eight games he did pitch in 2010 and Morales also sucks. Rogers could have potential.
Sure, Blanton isn't the greatest, but he's better than some of our starters—that's for damned sure.
Not a Huge Contract and Shouldn't Be Much To Give Up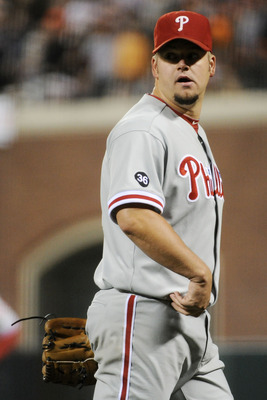 Harry How/Getty Images
Blanton signed a three-year, $24 million contract with the Phillies before the 2010 season. He made $3 million in 2010.
I know what you may be saying: "That might be too much!"
Look at Aaron Cook—he's making $9 million per season. If we got rid of Cook (which we almost did at the deadline last year), then Blanton would be a small investment, thus clearing up space.
Help in The Bullpen
Doug Pensinger/Getty Images
The Rockies have a solid bullpen and got rid of the players who screwed it up and got better depth.
Matt Belisle is our best player, and we had some guys have pretty solid seasons in the pen. Like:
Rafael Betancourt: 72 GP, 23 HLDS, 3.61 ERA
Joe Beimel (but he's not with us anymore): 71 GP, 20 HLDS, 3.40 ERA
Matt Lindstrom (with Astros in 2010): 58 GP, 4 HLDS, 4.39 ERA, 23 saves
And our closer, Huston Street: 44 GP, 3.61 ERA, 20 saves.
A move to the 'pen can always help, and it could help either Blanton or Cook. It also gives us better depth, as well as a long inning guy.

Blanton Would Be Fine at Coors Field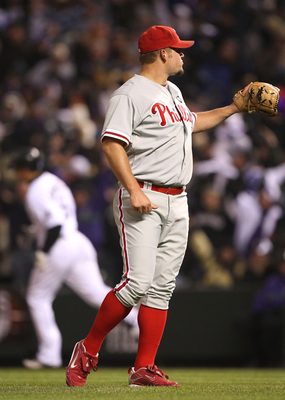 Jed Jacobsohn/Getty Images
Just like Coors Field, Citizens Bank Park is a hitter's paradise. Blanton actually had a 4.26 ERA at Citizens Bank last season and he sucked on the road. If he joined the Rockies, he would play three series each in the following cities every season: San Francisco, San Diego, and Los Angeles.
He would fit in just fine.
Keep Reading

Colorado Rockies: Like this team?