Tampa Bay Bucs: 5 Moves They Need To Make on Defense in the 2010 Offseason
Larry French/Getty Images
The Buccaneers' unexpected success in 2010 has set the stage for a potential return to relevancy, but Raheem Morris and Mark Dominick have some moves to make in the off-season. The defense is in dire need of a pass rush and stouter run defense, and the Bucs will need to attack the problem in both free agency and the draft.
1. Sign DE Mathias Kiwanuka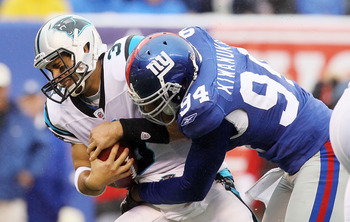 Jim McIsaac/Getty Images
It is no secret that the Bucs' pass rush has been a ghost for the past few years. Kiwanuka accrued 4 sacks in 3 games in 2010; he's looking to hit his pass-rush prime in the next year or so. As arguably the best free agent defensive end available, Kiwanuka will be in high demand so the Glazers will have to open their wallets a little bit (for a change).
Along with his pass rush abilities, Kiwanuka can bring versatility as a hybrid linebacker. Giants coach Tom Coughlin tried Kiwanuka out as a linebacker in 2008, but injuries forced him back to DE. Bet your petunias Morris would love to have a guy who can actually fit into his beloved 3-3-5 Redskins scheme, and, oh the zone blitzes!
Kiwanuka will be a difficulty commodity to acquire given how well regarded he is with the Giants organization. He also has a long history of injuries, including a herniated disc in his neck that put him in IR in 2010. Nevertheless, provided he gets healthy from his neck injury, the Bucs should turn to Kiwanuka to be the pass rush force they so desperately need.
2. Draft a Pass Rusher Early in the Draft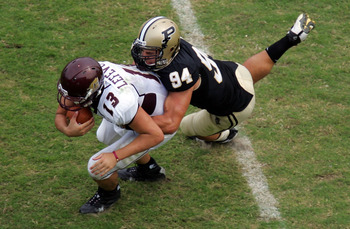 Ronald Martinez/Getty Images
Can the Bucs' need for a pass rush be stressed enough? Years of poor drafting and personnel management in general have left the Bucs without any depth at defensive end. Stylez White is probably gone; Michael Bennett is best used as a role player, while Tim Crowder is just serviceable. Why Kyle Moore was ever a starter is beyond me. The Bucs have to make more than one upgrade at the DE position.
Ryan Kerrigan is a favorite in the Buccaneers organization, justifiably. The Purdue DE had 25.5 sacks in two years and is highly regarded for his leadership skills, which is why it is likely Kerrigan will be off the board when the Bucs are up. Allen Bailey out of Miami or Wisconsin's JJ Watt are more likely selections. Any of them would give the defensive line a nice bookend to Kiwanuka.
Morris and Dominick should redeploy their strategy from last year's draft by taking two defensive ends. Guys like Texas' Sam Acho or Arizona's Brooks Reed will be available in the 2nd to 3rd rounds and could provide additional depth.
3. Re-Sign and Reassign Barrett Ruud, Or...

Al Messerschmidt/Getty Images
While it is likely the Bucs will allow Ruud to test free agency, it is not out of the question that he will re-sign with the team. Any team would benefit from his speed and intelligence, which is one of the reasons why, if the Bucs do re-sign Ruud, he must be moved to the weakside linebacker position. There, Ruud will be able to better utilize his speed and won't be forced to be the central run defender that he has proven he can't be. Moving Ruud over is the only way the Bucs can justify keeping him on the team. Otherwise...
4. Gut The Linebacker Corps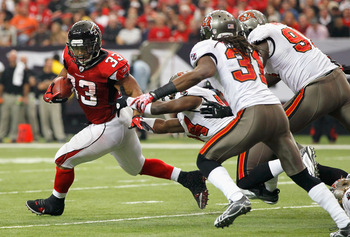 Kevin C. Cox/Getty Images
Gone are the days where the Buccaneers could hang their hat on the performance of Derrick Brooks. Now, the Bucs have Ruud, Geno Hayes and Quincy Black, who have not yet proven themselves as consistent playmakers. At this point, the key to improving the Bucs' linebacker play is to simply remove the pieces that don't work and adding straight playmakers, whether in free agency or the draft.
The Bucs like Texas A&M's Von Miller and UCLA's Akeem Ayers, and though they both look more like 3-4 OLBs, Morris needs to find playmakers rather than pieces that fit a particular scheme. There are also a lot of free agent linebackers that will be available in 2011, particularly guys like Chad Greenway and D'Qwell Jackson. Greenway is a stretch, but the Bucs could very well land Jackson.
Lest we forget, the Bucs have some players on the bench itching to prove themselves as starters. OLB Adam Hayward is a special teams standout who filled in nicely at the end of the season, as did Dekota Watson. Tyrone McKenzie could be the thumper at MLB the Bucs haven't had since Hardy Nickerson.
5. Hold Off On Ronde's 401K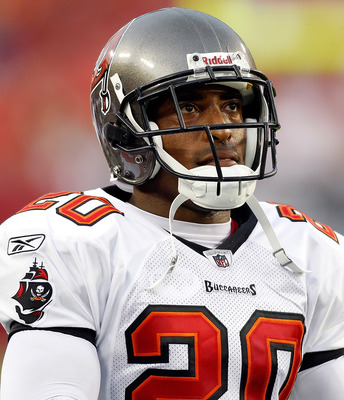 J. Meric/Getty Images
Ronde Barber won't play for any other team, and though he's facing retirement, you don't have to check Wikileaks to know Morris wants him back. Barber's play in 2010 confirmed that he still has gas in the tank, and it would in fact behoove the Buccaneers to sign him to a 1 to 2 year extension so can both play mentor and insurance policy for the defense.
Keep Reading

Tampa Bay Buccaneers: Like this team?