MLB Spring Training: Breaking Down the 6 Most Intense Outfield Position Battles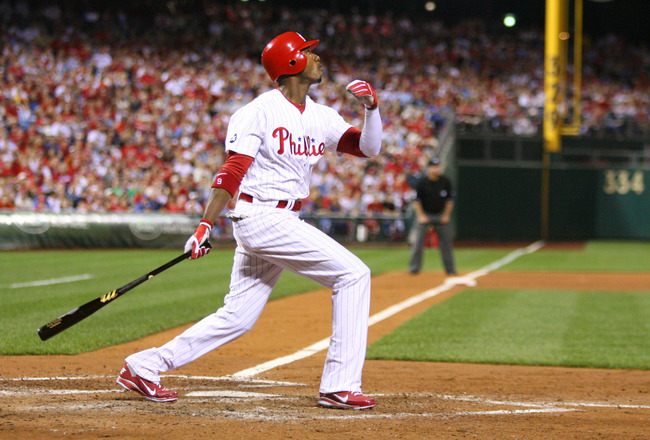 Hunter Martin/Getty Images
Spring Training is finally in full swing, which means the regular season is just around the corner. For some players, Spring Training is just a time to fine tune their skills before the season. But for others, it's a chance to earn a spot on a big league roster.
From rookies to free-agent signings, there are many players battling for positions around the majors this spring. Here is a breakdown of the six most intense outfield position battles.
Tampa Bay Rays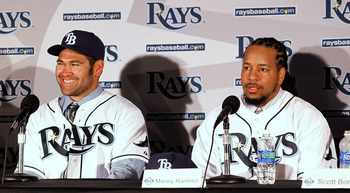 J. Meric/Getty Images
Players Involved: Ben Zobrist, Johnny Damon, B.J. Upton, Matt Joyce, Manny Ramirez
Key Battle: Joyce, Ramirez and Damon
The Rays made two surprising moves this offseason when they signed both Manny Ramirez and Johnny Damon on the same day. This move put a total of five outfielders on the active 40-man roster. Zobrist and Upton are thought to have center and right field locked up, which leaves left field open for the remaining three. Manny seems to be well past his prime in the outfield and will most likely become the DH for the team.
This leaves Damon and Joyce battling for the spot. Joyce had average numbers at the plate in 2010, hitting .241 with 10 homers and 41 RBIs. Damon was slightly better, posting a .271 average with eight home runs and 51 RBIs.
While Damon is no longer the threat on the base paths that he used to be, he brings more experience to the position and can contribute more at the plate.
Predicted Outfield: Damon, Zobrist, Upton
San Francisco Giants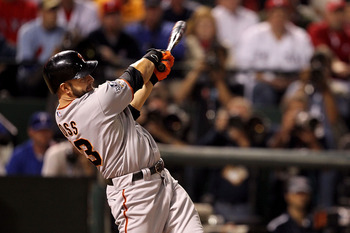 Ronald Martinez/Getty Images
Players Involved: Pat Burrell, Cody Ross, Jose Guillen, Aaron Rowand, Andres Torres
Key Battle: Burrell, Ross, Rowand
Jose Guillen and Andres Torres seem to have center and right field filled already, which leaves a big battle in left between Burrell, Rowand and 2010 hero Cody Ross.
Rowand is arguably well past his prime and his playing days seem to be coming to an end. Burrell, on the other hand, still had decent numbers in 2010, hitting 20 home runs in just 120 games. His speed in the field and on the bases though could hurt him.
Ross was a huge part of the Giants' 2010 World Series run and has quickly transformed into a fan favorite. Ross has shown that he has pop in his bat and he has more speed than Burrell. Burrell will get his playing time here and there but Ross will likely win out the final outfield spot.
Predicted Outfield: Ross, Torres and Guillen
Cincinnati Reds
Andy Lyons/Getty Images
Players Involved: Jay Bruce, Jonny Gomes, Drew Stubbs, Yonder Alonso
Key Battle: Bruce and Alonso
Yonder Alonso is in a tough position with the Cincinnati Reds organization. His primary position is first base, however, he is stuck waiting in line behind reigning NL MVP Joey Votto. Alonso doesn't have many options at this point in his career. He can either demand a trade, switch positions, or wait in AAA until an opportunity arises.
So far this spring, Alonso has seen action in left field, a spot he hopes land on the opening day roster. With little pop at the plate and a low run production in his short stint in 2010, Alonso has a long way to go before he will overtake any of these guys.
Predicted Outfield: Bruce, Homes and Stubbs
Seattle Mariners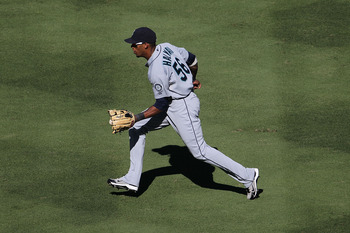 Ronald Martinez/Getty Images
Players Involved: Ichiro Suzuki, Milton Bradley, Franklin Gutierrez, Greg Halman, Michael Saunders, Jack Cust
Key Battle: Greg Halman, Michael Saunders, Jack Cust
This battle isn't so much for a starting position as it is just making the team. The Mariners have a strong outfield system setup much like the Cincinnati Reds do. Ichiro, Bradley and Gutierrez will make up the starting three positions barring any major setbacks to Gutierrez's examination back in Seattle.
Halman is a young prospect that brings a lot of power to the plate and has the ability to drive in runs. However, much like Ryan Howard, Adam Dunn and Mark Reynolds, he strikes out a lot. Cust and Saunders are both solid, reliable backups and have the most realistic chance of earning that fourth outfield position. Halman has a chance to make a lot of noise in Spring Training but unless he can cut down on the strikeouts he will most likely start the year out in AAA and work on his approach at the plate.
Projected Outfield: Ichiro, Bradley, Gutierrez and Saunders earning the backup role.
New York Mets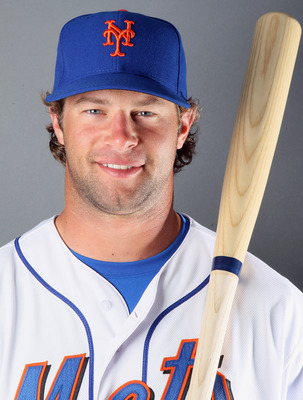 Elsa/Getty Images
Players Involved: Angel Pagan, Scott Hairston, Carlos Beltran, Jason Bay, Kirk Nieuwenhuis
Key Battle: Scott Hairston, Kirk Nieuwenhuis
Again a battle for the fourth outfield position spot to be had. Pagan, Beltran and Bay should be the starters in 2011. This leaves Hairston and Nieuwenhuis battling for the fourth outfield spot.
Nieuwenhuis is a talented young prospect who is battling to make the Major League roster. Hairston is a veteran who has had a solid career thus far. Beltran has just this season left on his contract. With him in the picture, Nieuwenhuis doesn't seem to stand much of a chance. Watch for him to take this spot next season but for now, expect him to at least start the year in the minors.
Predicted Outfield: Bay, Pagan, Beltran and Hairston as the backup
Philadelphia Phillies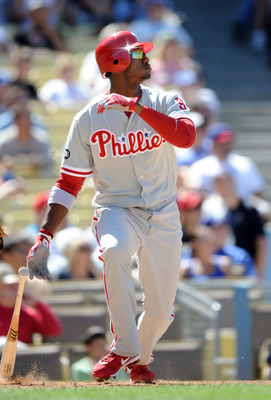 Harry How/Getty Images
Players Involved: Raul Ibanez, Shane Victorino, Ross Gload, Ben Francisco, Dominic Brown
Key Battle: Francisco, Gload and Brown
This is possibly the most talked about outfield battle this Spring Training.
Jayson Werth left a void in right field when he signed with the Washington Nationals this offseason. Many critics say that the highly-touted prospect, Dominic Brown, just is not quite ready for the majors yet. He is expected to start the year in AAA. Don't be too certain about that quite yet, however.
Francisco's name has been tossed around a lot lately as he is currently the projected starter in right field. He has good speed, some power, decent fielding ability and does not strike out often.
Brown, on the other hand, has a lot of power, tremendous speed and an outstanding arm in the outfield. Right now I would count Gload out of this battle and focus more on Francisco and Brown. This decision could come down to opening day before anything is finalized. Brown has a lot to play for this Spring Training and if he impresses people, he just may land himself that starting position in right field.
Predicted Outfield: Ibanez, Victorino, Brown
Keep Reading

Philadelphia Phillies: Like this team?