NFL Hot Seat is Getting Hotter: Six Head Coaches Who Should Have Been Fired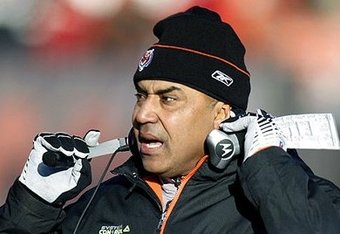 Being an NFL head coach is one of the toughest jobs in sports. Your employees make ten times as much as you, you work 100-hour weeks, and if you miss the playoffs more than two years in a row, you're unofficially on the hot seat.
The NFL experiences an overwhelming turnover rate among its head coaches. Of the 32 head coaches at the start of this past season, 13 had not been at the head coaching spot for that team two years prior.
Coaches are evaluated on their decisions they make—trades, free agent signings, draft picks—as well as the progress they have shown in leading the team, but ultimately it all comes down to one thing: wins and losses. And it's not enough to just win football games.
Ask Tony Dungy. As head coach of the Tampa Bay Buccaneers, he led the team to four playoff trips in five years, but his inability to advance past the NFC Championship Game resulted in his dismissal.
This season, the NFL saw four coaches get fired during the season—Wade Phillips of the Dallas Cowboys, Brad Childress of the Minnesota Vikings, Josh McDaniels of the Denver Broncos, and Mike Singletary of the San Francisco 49ers. With the exception of McDaniels, all of those head coaches were expected to reach the playoffs this season, and all came up drastically short.
After the season, several more NFL head coaches received the boot, namely John Fox of the Carolina Panthers, Tom Cable of the Oakland Raiders, and Eric Mangini of the Cleveland Browns. That's seven head coaches who are no longer employed by the team for which they started the season.
I would have added six more coaches to the list.
6. Tom Coughlin, NY Giants
Coughlin is the only one on this list to have won a Super Bowl, an achievement that normally guarantees a coach will be with a team for five more years or so. In reality, it's been three for Coughlin, and I think it's time for him to go.
Coughlin did a tremendous job down the stretch with the Giants in 2007, taking a team that barely qualified for the playoffs and getting an upset win over the previously undefeated New England Patriots in the Super Bowl. There had been talk before the season that he was coaching for his job and that certainly saved him.
Since then however, Coughlin's Giants have had late season collapses in all three years. The past two years, they managed to miss the playoffs after looking as one of the NFC's premier teams around the midway point of the season.
Following an 11-1 start in 2008, Coughlin's Giants dropped three out of four games to finish 12-4. As the No. 1 seed in the playoffs, his Giants were outplayed by the visiting Eagles in the divisional round, dropping a 23-11 decision.
A 5-0 start in 2009 established the Giants as arguably the NFC's best team, but the Giants lost eight of their last 11 games to miss the playoffs at 8-8. During that span, the defense gave up 357 points, a number that projects to over 500 for a full season. Five times Coughlin's Giants yielded 40 or more points to the opposing team.
This past year, the Giants were 6-2 and on top of the NFC East. Again, the Giants faltered in the second half, splitting their final eight games to finish at 10-6 and once again miss the playoffs. After a great season in 2009, Eli Manning seemed to regress, throwing an astounding 25 interceptions.
In seven seasons as head coach of the Giants, Tom Coughlin has won a playoff game in just one of those years. Fortunately for Coughlin, he won all four the year he did, including the Super Bowl, but it's unacceptable for a team with the talent of his bunch to underperform three straight years.
5. Tony Sparano, Miami Dolphins
Tony Sparano's rookie head coaching campaign was one for the ages, as he utilized a brand-new Wildcat offense take a one-win team to a division title. Following a disappointing loss to the Baltimore Ravens in the wild card round of the playoffs, Sparano seemed poised to turn around a Dolphins team that hadn't won a playoff game since 2000.
Since then though, the Dolphins have turned in consecutive 7-9 seasons. Chad Henne—who was drafted in the second round of the 2008 NFL draft as the franchise quarterback—struggled mightily this past year, throwing 19 interceptions while failing to provide any long-term hope. The running game for the Dolphins, once the team's strength with Ronnie Brown and Ricky Williams, ranked just 29th in the league in touchdowns and 30th in yards per attempt.
Neither Brown nor Williams has expressed interest in returning to the team next season, and whether it's Henne, a rookie QB, or a free-agent acquisition, I don't expect the Dolphins to challenge the Jets or the Patriots in the AFC East next season.
Unless managment manages to recruit LeBron to come play for them, it's likely going to be a long season for Dolphins fans in 2011.
4. Gary Kubiak, Houston Texans
In their nine-year history, the Texans have never made the playoffs. This past year, they were supposed to contend strongly for a playoff spot. Following a 4-2 start, the Texans' offense—with Pro Bowlers Matt Schaub, Andre Johnson, and Arian Foster—was clicking.
Then the team collapsed, losing eight of their final ten games to finish 6-10 and in third place in the AFC South. In 14 of the team's 16 games, Kubiak's defense allowed more than 20 points.
Kubiak's offense has always been his strong suit, as the team finished ranked in the top four in the league for the third straight year. It was his defense that struggled, as the Texans finished the year ranked in the bottom four in total yards allowed, points allowed, takeaways, passing yards allowed, and net passing yards allowed per attempt.
In five years as Texans' head coach, Kubiak has posted a 37-43 record but has yet to reach the playoffs with one of the most talented offenses in the league.
3. Norv Turner, San Diego Chargers
Norv Turner pulled off the unthinkable this season, managing to miss the playoffs with a team that ranked first in all of the NFL in yards on both offense AND defense. Turner won three straight division titles from 2007-'09, but had been unable to advance past the conference championship game with a team that included perennial Pro Bowlers in Philip Rivers, LaDainian Tomlinson, and Antonio Gates.
Turner has had a history of slow starts with the Chargers—a 4-8 start in 2008 still became a division title when the Chargers won four straight to win the AFC West at 8-8, and a 2-3 start in 2009 led to 11 straight wins and another AFC West title. The Chargers won just one playoff game during that span, and following his upset playoff loss to the Jets in '09, I thought Turner might be fired.
He stayed around for this season, starting the season 2-5 in a typically weak AFC West division. A strong finish wasn't enough to qualify for the playoffs, as a 9-7 finish fell a game behind the surprise Kansas City Chiefs in the AFC West race. Turner's special teams unit this season was historically awful and his team—which should have won 10.9 games with its plus-119 point differential—suffered an embarrassing late-season loss to the 4-11 Bengals, eliminating themselves from the playoffs.
In three of Turner's four seasons at the helm of the Chargers, his team has underachieved, according to Pro Football Reference's expected win-loss statistic. Simply put, a team that has ranked fifth, second, fourth, and second in the NFL in points scored should have a Super Bowl championship by this point—or at least an appearance.
2. Jack Del Rio, Jacksonville Jaguars
I remember writing an article before the season saying if Jack Del Rio didn't reach the postseason this season, he was as good as gone. Following an 8-5 start that had the Jaguars in first place as late as December 19, the Jags lost three straight to miss the playoffs.
Late-season collapses often result in the firing of head coaches. Mike Shanahan was fired for the Broncos in 2008 for the exact same reason—an 8-5 start followed by three straight losses and no playoffs. Same with Jon Gruden of the Bucs that year—his team started 9-3 and ended 9-7, missing the playoffs.
Why was Del Rio retained? Two playoff appearances and one playoff win in eight years is not very impressive. David Garrard made some strides at quarterback this season, but the Jaguars don't seem to be a promising playoff team for next season. Ticket sales are at an all-time low in Jacksonville. Del Rio and his career .508 winning percentage just doesn't seem to be the answer.
1. Marvin Lewis, Cincinnati Bengals
I'm starting to wonder if there is anything Marvin Lewis can do to get himself fired. I thought he was a dead man walking following the Bengals' horrific 4-11-1 season in 2008, a year that included the infamous tie with the Philadelphia Eagles, but apparently the team's three-game winning streak to end the season was enough for Lewis to keep his job in 2009.
Lewis overcame all odds to win a division title in '09, going 6-0 against a talented division that included the defending Super Bowl champion Pittsburgh Steelers and the Baltimore Ravens. He lost his only playoff game though, keeping his career playoff wins at zero.
This year, the Bengals' season was a lot like the history of their franchise—forgettable. The team started 2-11 and won two of their final three to finish 4-12. Apparently that was enough for Lewis to save his job, although there isn't much reason for optimism among Bengals fans. Carson Palmer wants out after eight productive seasons in Cincinnati, Terrell Owens likely won't be back, Cedric Benson declined after a Pro Bowl caliber '09 season, and Andre Smith, who was supposed to be the franchise left tackle after being selected fifth overall in the '09 draft, can't stop breaking his feet.
Have fun next year, Bengals fans.
This article is
What is the duplicate article?
Why is this article offensive?
Where is this article plagiarized from?
Why is this article poorly edited?