2011 NFL Mock Draft: Entire 1st Round Predictions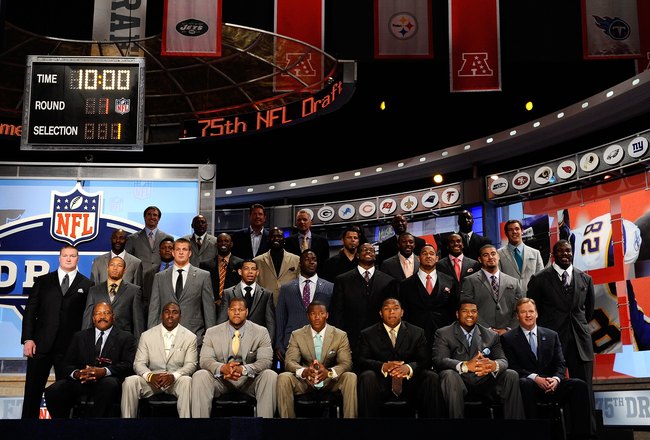 Last Year's top Draft Picks
Jeff Zelevansky/Getty Images
The 2011 NFL draft is going to be full of twists and turns that are going to leave die hard NFL football fans, excited, confused, anxious, but most of all, awaiting the play of the future rookies.
I have a sneaking suspicion this group of NFL goers is going to be breakthrough talent for a number of teams.
With that being said, the first pick in the NFL draft by the Carolina Panthers is....
Going to have to wait. Let's start with the two teams that are representing the AFC and NFC conferences respectively.
Oh by the way, you might want to tune in to my number 2 pick overall....I guarantee no person chose what I chose (Ha ha ha).
#32 Pittsburgh Steelers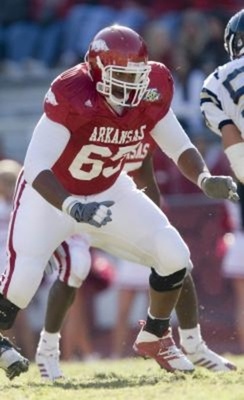 DeMarcus Love OT, Arkansas: This one's easy. Big Ben needs protection. With an aging Flozell Adamas and an out for the year tackle in Willie Colon headed into next season, the Steelers need to bulk up on their offensive line.
Let's do the math. Love blocked for a Quarterback similar to Roethlisberger's size in Ryan Mallett for the Arkansas Razorbacks. DeMarcus also played left and right tackle for the Razorbacks and did so impressively.
I can't think of any other tackle that the Black and Yellow would want to add on their team than this young talent who stands at 6'5 315.
#31 Green Bay Packers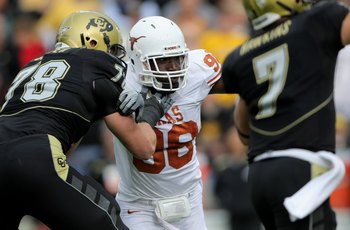 Doug Pensinger/Getty Images
Nate Solder, Offensive Tackle: Certain players are meant to go to certain teams. I firmly believe Nate Solder, the 6 foot 8 tackle and 2010 AP All American will fall right into the Packers lap.
This former high school TE/DE/LB has put on 85 pounds since proving he is much more than a No. 45 tight end just a couple short years ago courtesy of Rivals.com.
Solder's an offensive version of B.J. Raji and you know that Pack are down with that.
#30 New York Jets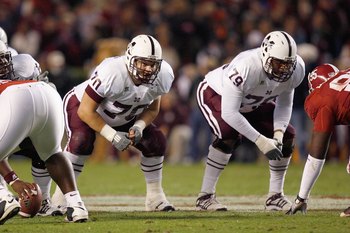 Kevin C. Cox/Getty Images
The Jets are pretty set in their ways with most of the Depth Chart that Rex Ryan manages. No one gives credit to Man-genius who lost that nickname long after his first firing, but the draft picks the ex-New York Jet head coach has accumulated back 5-6 years ago make this year's draft nothing but bulking up at any and all positions.
That's why Derek Sherrod the offensive tackle from Mississippi State looks to be an ideal fit for the Jets offensive unit.
Derek has lateral agility and excellent pass blocking which complements Mark Sanchez and his "stay in the pocket mentality" perfectly.
Look for the Jets to snag a tackle in the first round whether it's Sherrod or another first round hopeful at the offensive guard or tackle position.
#29 Chicago Bears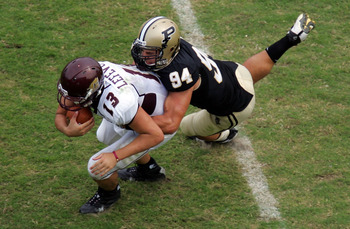 First pick in the draft "Excuse me"
Ronald Martinez/Getty Images
Chicago has an interesting decision to make at the number 29 pick. With an aging Julius Peppers the right thing to do is bulk up on the defensive line.
The Bears love their defense there's no denying that. I think they might be interested in Ryan Kerrigan Purdue defensive end.
Kerrigan led the nation in 26 tackles for a loss in 2010. His nicknames that teammates have called him include: "Superman", "Tarzan", and "the Beast".
Yeah, I think Urlacher's in favor on this one.
#28 New England Patriots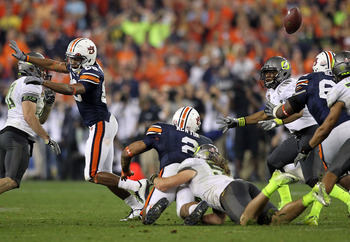 Whaaaaaaaaap
Jonathan Ferrey/Getty Images
No one would've thunk it but Casey Matthews has all the sudden become first round worthy for this Patriots team. He seems like a guy they have to have and because they have two picks in the second round, it works out.
Casey played out of his mind in the National Championship for the Oregon Ducks. There was a play where he knocked out a fumble on a fifteen yard rundown of Cam Newton that proved to me his athleticism and will to win. Guess it runs in the family.
Don't call this pick a stretch, call it an extremely underrated Belichick like move.
#27 Atlanta Falcons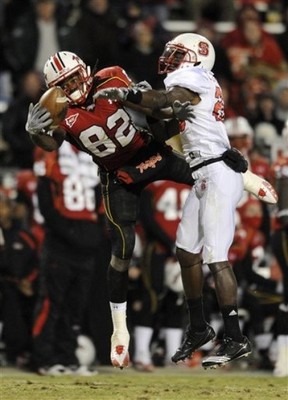 Yeah baby
Torrey Smith is a perfect piece to the puzzle that the Falcons need on offense. He's a Wide Receiver who's proved in college that he's got quickness of the line, and enough size to be a consistent threat to corners trying to cover him.
Smith is out of Maryland and I have a sneaking suspicion Mike Smith is going to go with the Terrapin who's got hands you swore he dipped in the "Little Giants" glue for stickiness.
Like butta'.
#26 Baltimore Ravens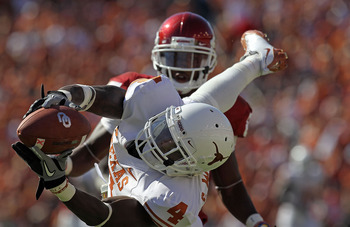 Swooped
Ronald Martinez/Getty Images
Believe it or not but the Baltimore Ravens have everything they need for a Super Bowl run. Let's face it folks, Ray Lewis is not going anywhere. As long as he's there, that defense is going to continue to build.
Aaron Williams is a perfect compliment to that Ravens secondary. Williams provides 4.4 speed, great instincts, and tackling ability that's a must if you play for Baltimore's defense. Look for Harbaugh to jump on this Big 12 talent.
#25 Seattle Seahawks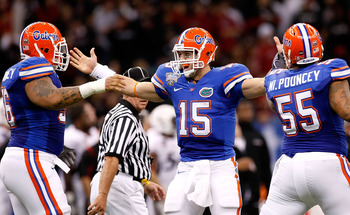 Brotherly Love
Kevin C. Cox/Getty Images
The Seahawks have several choices with the 25th pick in the draft. They could go Quarterback, they could go Wide Receiver, they could go a lot of other positions.
I think they do the necessary thing and draft a guard out of Florida in Mike Pouncey who's improved his draft stock significantly not all on his own.
Twin brother Maurkice Pouncey has made an immediate impact in the NFL for the Pittsburgh Steelers.
Now, brother Mike looks to get first round money from anyone that wants to invest in him. The 6'4 310 pound senior is sure to be a productive buy for Seattle to lacks interior presence on the offensive side.
#24 New Orleans Saints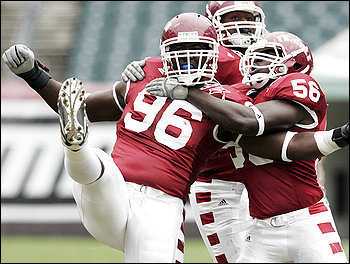 Ahhhhhhhhhh
The Saints are determined to get back to the promise land. A defensive tackle out of Temple who stands at 6 foot 5, 305 pounds and goes by the name of Muhammad Wilkerson looks to help them on their defensive front.
9.5 sacks for any defensive player is a lot, but 9.5 sacks for a defensive tackle says something.
Promising to come back and get his degree at some point also says something and the type of man Wilkerson has become makes perfect sense for a Sean Payton run team.
#23 Philadelphia Eagles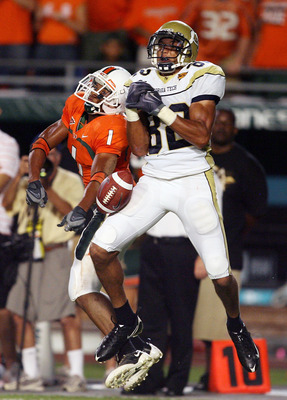 Not today Junior
Doug Benc/Getty Images
Philly used to have some of the best combination of corners in the league just a handful of years ago. Now, they have Asante Samuel and Brian Dawkins is long gone.
Harris seems to be an opportunistic defensive player who gets his hands on the ball either knocking it down or intercepting it.
That's what the Eagles love and at 5'11 195 Brandon Harris seems to fit right in.
#22 Indianapolis Colts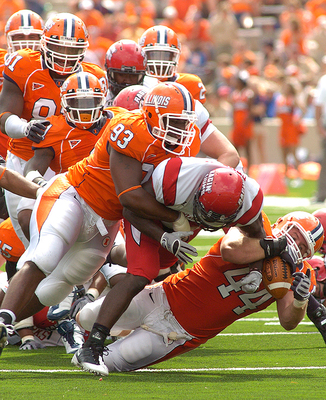 Timber
If there's one thing the Colts are it's legit. If there's one thing the defensive tackle from Illinois is, it's Liuget (pronounced legit).
Corey Liuget is a 6 foot 3, 300 pounder out of the Big Ten. He had 63 tackles last season and 4.5 sacks.
Mathis and Freeney can't do everything up front and a young pair of arms to swing at offensive lineman is exactly what 20 year old brings.
#21 Kansas City Chiefs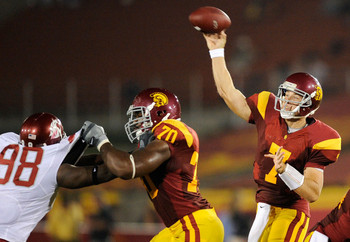 Nada
The Chiefs made a stellar turn around from the 2009 season and an AFC West title to show for it. They're not a complete football team, but they certainly are on the right track.
A big part of their problem against the Ravens in the first round of the playoffs was providing time for Matt Cassel.
What a perfect fit Tyron Smith out of Southern California would be to provide that extra time.
When there's a lineman that has size, balance and agility, you take him. Tyron Smith goes off the board at number 21 overall to the Kansas City Chiefs.
#20 Tampa Bay Buccaneers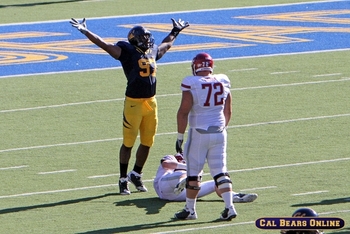 I feel good, nu nu nu nu nu nu nu, I knew that I would .....
Cameron Jordan the four year starter out of Cal is one of the few that I think can make an immediate impact for any team he goes to.
The Tampa Bay Buccaneers are a young talented team that would love to add anybody that has an impressive resume.
I think a collegiate career of 175 tackles (34 for a loss) 16.5 sacks, five fumble recoveries and two touchdowns meets Raheem Morris' quota.
#19 New York Giants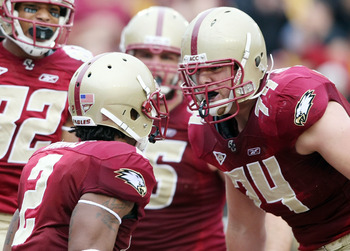 I pump my team up like Drew Brees
Elsa/Getty Images
The New York Giants had a heartbreaking season that ended in sheer frustration. The team is ready to rebound and get down to business.
Anthony Castonzo the 6 foot 7, 308 pound offensive tackle from Boston College looks to be a perfect fit in the Big Apple. Castonzo is everything consistent.
He started all 41 games dating back to 2007 for the Golden Eagles and was an All-ACC first team selection, and second selection during his 4 year career in the NCAA.
He's a beast. New York is looking for an offensive lineman, I think Anthony is a perfect fit to protect Eli.
#18 San Diego Chargers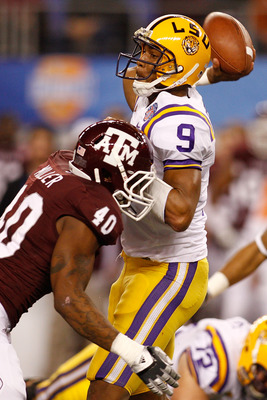 Chris Graythen/Getty Images
I am a San Diego native and know everything about this team and what they need.
A crafty defensive end will be a huge presence to a defense that statistically ranked in the top 5 in nearly every category in the 2010 NFL season.
Von Miller a defensive end from Texas A&M who runs an unofficial 4.5 seems to be that spark plug San Diego is looking for.
Miller weighs in at 253 pounds and could be a question mark due to the size of players he will be going against in the NFL but Von has all the makings of a new age Dwight Freeney if he lands on the right defense. Look for Von Miller to go #18 overall to the San Diego Chargers.
#17 New England Patriots (from Oakland)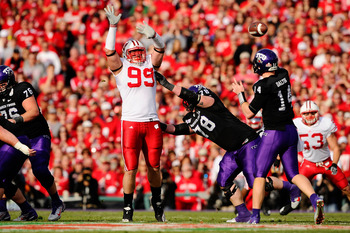 Ain't gonna happen Charlie
Kevork Djansezian/Getty Images
The Patriots secret to success certainly starts on the draft board.
Considering the team they have, the age the players are, and sheer numbers (mathematically speaking) a defensive end looks like a fit this season in the first round for New England.
I am confident J.J. Watt, defensive end for Wisconsin who stands at 6 foot 6 and 290 pounds is the answer to their equation.
Watt will forgo his final season with the Badgers and why not? He's NFL ready and the Pats are happy to welcome him to Foxboro.
#16 Jacksonville Jaguars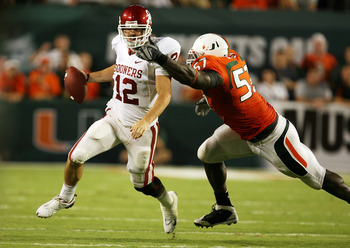 Doug Benc/Getty Images
The Jags have had an up and down roller coaster kind of ride the last couple seasons. They were within a games reach of the Indy Colts all the up until the last quarter of the season.
Jacksonville is not far off. I am confident another extremely impressive Miami Hurricane entering the draft will help the Jags start next year off with a vengeance.
Allen Bailey the defensive lineman from the U at 6'4 285 pounds looks to help Jacksonville tremendously.
You may not have heard Bailey's name all that often leading up to this point, but he certainly a low profile talent in this year's draft.
#15 Miami Dolphins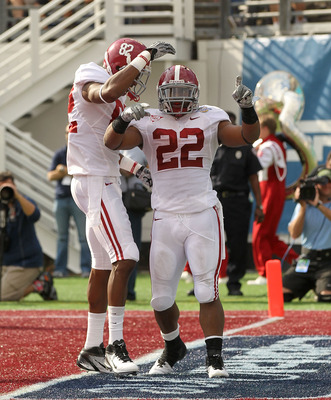 I'm a G
Mike Ehrmann/Getty Images
It's the Miami Dolphins lucky day.
Mark Ingram is going to fall to the 15th pick right into Miami's pocket and what a sweet story this is.
Ingram the 2009 Heisman Trophy winner, is one of the most complete backs in this years draft.
He has all the makings of a productive NFL back and the inconsistency of Ronnie Brown this season is enough for Miami to shed their dollars on the Alabama sensation.
#14 St. Louis Rams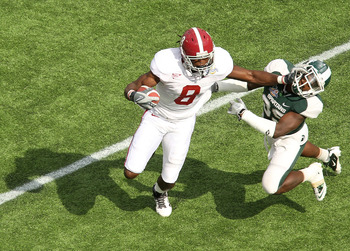 Knocked...what was the final score?
Mike Ehrmann/Getty Images
The Rams shocked the NFL world this year surviving all the way until the last regular season game played in the 2010 season getting a chance against the Seahawks to play for an NFC West division title.
What they lacked: A standout wide receiver.
What they need: A reliable receiver that brings size and skill to the position.
Who they should draft: The 6'4 220 pound Julio Jones out of Alabama.
This guy has been a playmaker dating back to when he was a freshmen reeling in 58 receptions. Since then, his numbers have gone up and the type of receiver Jones is is exactly what St. Louis needs.
A perfect fit for the up and coming Rams.
#13 Detroit Lions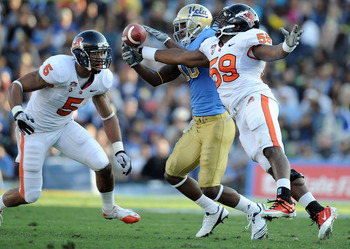 Harry How/Getty Images
It's weird to see the Detroit Lions in the middle of the draft order this season but I tip my cap to the Lions organization.
They've drafted well the last couple seasons and Ndamukong Suh has already become a top defensive threat for the Lions.
Detroit would be smart here to continue to add to the bulk of the front 7 on defense. The UCLA Junior All-American linebacker Akeem Ayers is an ideal choice for the team.
At 6'4 255 pounds, the number 1 defensive end coming out of high school on the West Coast has had a smooth transition into the linebacker role in college. Ayers is NFL ready, and could make an immediate impact for the Lions.
#12 Minnesota Vikings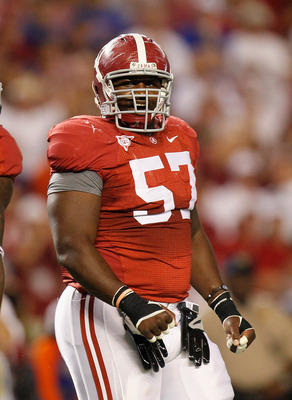 I didn't eat dinner and I am angry
Kevin C. Cox/Getty Images
The Vikings have a team that's determined to get back to a championship caliber game.
They have a tremendously exciting defensive line but an aging one at that. They could draft a corner, but I think the best player on the board when it's their turn will be defensive end Marcell Dareus the defensive tackle out of Alabama.
Dareus is a forced to reckon with at 6'3, 306 pounds and 4.8 speed. He looks like he could fit into the Williams-Williams operation that runs the middle of the line for the Vikings.
A solid pickup for Minnesota.
#11 Houston Texans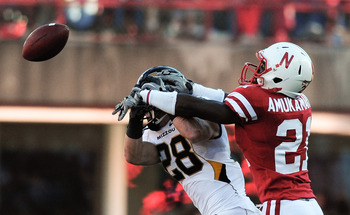 Not today, or tomorrow
Eric Francis/Getty Images
The Texans hired Wade Phillips this offseason and it's about time they figured it out. Defense wins championships.
Prince Amukamara out of Nebraska is a shut down cornerback that this Houston Texans defense lacks.
Prince forced Jake Locker an awful 4-for-20 passing day in this year's bowl game between the Huskies and Cornhuskers.
Prince, a former high school running back (2,106 rushing yards, and 24 touchdowns as a senior) at 6 foot 205 pounds is a must grab for Houston if available.
#10 Washington Redskins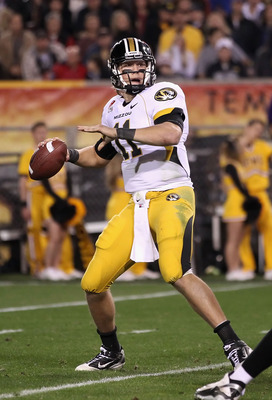 Christian Petersen/Getty Images
The Washington Redskins had a horrific season under a completely new regime led by Mike Shanahan. He'll be there for a while so it's time to invest in a young quarterback for the future.
Unfortunately, I have Cam Newton and Ryan Mallett going before the 10th pick so the Redskins smartest decision is Blaine Gabbert out of Missouri.
He may not be a name most people recognize, but this 6'5 235 pound Quarterback looks to challenge any Quarterback for their starting spot in the NFL.
He was a top recruit in high-school and has improved on accuracy and pocket presence. Snyder will most likely go Quarterback, and in my mock draft, he's the wisest decision.
#9 Dallas Cowboys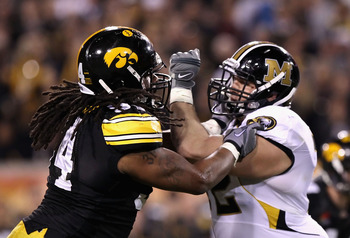 Now that I can make contact, here's a shot to the Dome!
Christian Petersen/Getty Images
The Cowboys went with a skill pick last season in the first round drafting wide receiver Dez Bryant.
This year it's a tough call at the number 9 slot but Adrian Clayborn the defensive end out of Iowa looks to be a smart call.
He's 6'3 286 pounds and an outstanding story. Clayborn was advised by doctors to avoid contact sports because of nerve damage suffered in his neck and arm during his birth process.
Since then, he's become a dominant pass rusher in college at with a violent approach to charging the football. He's got an explosive first step and I think Jerry Jones will be pleased if he goes with the Missouri native.
#8 Tennessee Titans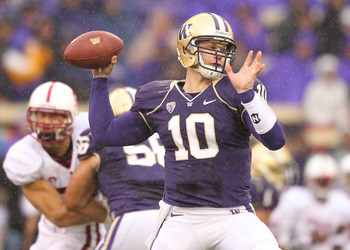 Otto Greule Jr/Getty Images
Jake Locker the four year starter from Washington looks to be a smart draft pick for Bud Adams and this Tennessee organization.
Locker is 6'3, 226 pounds and enters the draft with a ton of accolades he achieved in the Pac-10.
He may not be your Peyton Manning kind of Quarterback that hangs in the pocket and makes plays, but the athleticism combined with the brains behind the athlete could make for a very successful tenure in Tennessee under Jeff Fisher.
# 7 San Francisco 49ers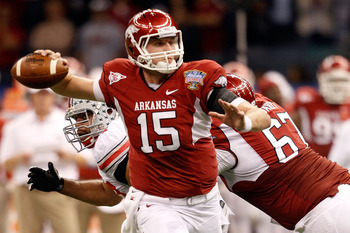 Matthew Stockman/Getty Images
6'6 238 pounds, and a throwing arm like a rifle. His name: Ryan Mallett.
He's got big play ability, the athleticism that every Quarterback needs to be successful at the next level, and like I said, an arm that you wouldn't forget.
Mallett is certainly a risk because of his lack of game experience, but the upside is tremendous. Five years later the Niners get another crack at a Franchise Quarterback. This time, I think they make the right decision.
# 6 Cleveland Browns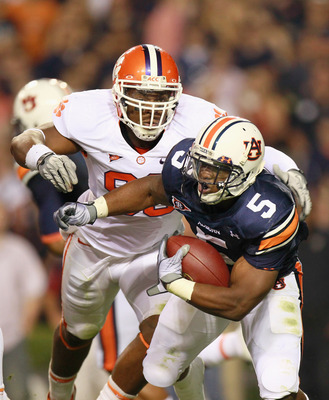 This ship is goin' down
Kevin C. Cox/Getty Images
The Cleveland Browns made a huge turnaround this season under Mike Holmgren. They drafted Colt McCoy, picked up Peyton Hillis, and won themselves some impressive football games.
They do have some holes to fill however. Da'Quan Bowers, the nation's leading pass rusher coming off a 15.5 sack season would be a treat for Cleveland to host on their football team.
He hails from Clemson at 6'4 275 pounds and comes from a 4-3 defense in college like the Browns run now. He's an All-American and should he slip to number 6, is a must for the Browns to draft.
# 5 Arizona Cardinals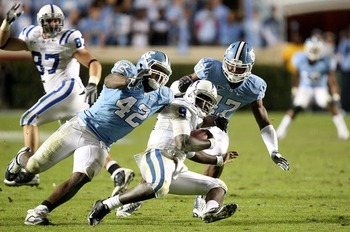 The Cardinals obviously need a Quarterback.
However, there are some older free agents on the board and I think Wisenhunt will probably side with an older guy as long as it's not Derek Anderson.
The Cardinals run a 3-4 and Clark Haggans and Joey Porter need some help. Robert Quinn the defensive end out of North Carolina could be a huge acquisition for the Cardinals. He's got tremendous quickness and the explosiveness off the line is accredited to the ferocity he brings to the table.
#4 Cincinnati Bengals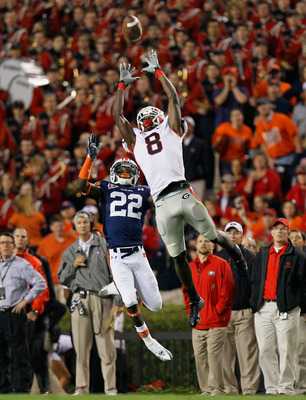 Like Mike
Kevin C. Cox/Getty Images
The Bengals had a bit of a rough season to say the least. With their Quarterback situation becoming a huge issue, drafting a supporting cast for Carson Palmer would be wise.
I think the SEC's most lethal receiver A.J. Green out of Georgia is extremely smart for the Bengals to invest in.
Terrell Owens might not be coming back as well as Ochocinco and depth at the wide receiver core currently lacks. Green has the size at 6'4, the hands, and the big play ability. Look for him to go to Cincinnati and make an immediate impact.
#3 Buffalo Bills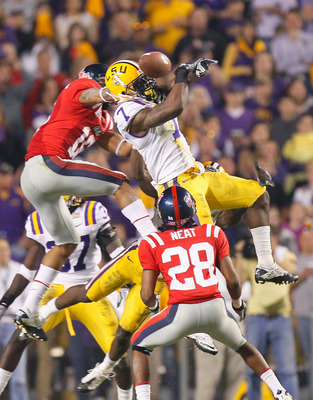 Isn't he the defender?
Kevin C. Cox/Getty Images
The Buffalo Bills will luck out in my mock draft and land one of the most talented athletes in the draft.
Patrick Peterson, cornerback out of LSU is high prospect for obvious reasons. He possesses great instincts for the position, can provide excellent man/zone coverage, and his closing/recovery speed has improved over the years.
His leaping ability and 6'1, 222 pound frame makes him a rare commodity at the position of corner. The Bills land a gem.
# 2 Denver Broncos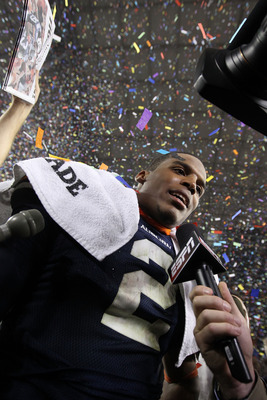 Yeah, I'd love to play with Tim Tebow on Denver
Christian Petersen/Getty Images
Call me crazy but I stand by my theory of a two Quarterback shotgun formation.
What do I mean by that? You can check out my article titled "Tim Tebow, Cam Newton, and the Denver Broncos have something for you" if you'd like to know more behind my science.
Long story short, my shocker of the NFL draft happens right away with the Denver Broncos drafting 6'6, 250 pound Cameron Newton.
Imagine: Tebow and Newton in the same shotgun formation. It's a stretch, but I am extremely confident in the Broncos becoming fond of my theory come draft day.
Congrats Cam, you are already a rich rich man in my eyes. Congrats Madden, you now have a new formation to work on. I call it: "The Duo".
#1 Carolina Panthers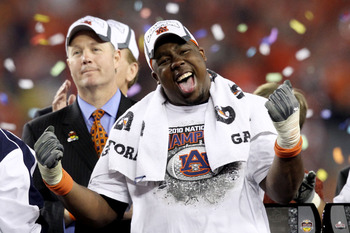 I win, again...
Christian Petersen/Getty Images
With the first pick in the 2011 NFL Draft, the Carolina Panthers select Nick Fairley, defensive tackle Auburn.
The Panthers are rebuilding there's no doubt about it. Fairley at 6'4 298 pounds is a highly-touted prospect. He has an explosive burst off the snap count, tremendous strength, and can bust up a play at any moment. I believe Carolina is convinced they are going defense with the first pick, and I'm convinced Fairley is their guy.
Ba ba ba ba ba, that's all folks!
Keep Reading