2011 NFL Draft: 8 Late Round Prospects the Redskins Should Consider Drafting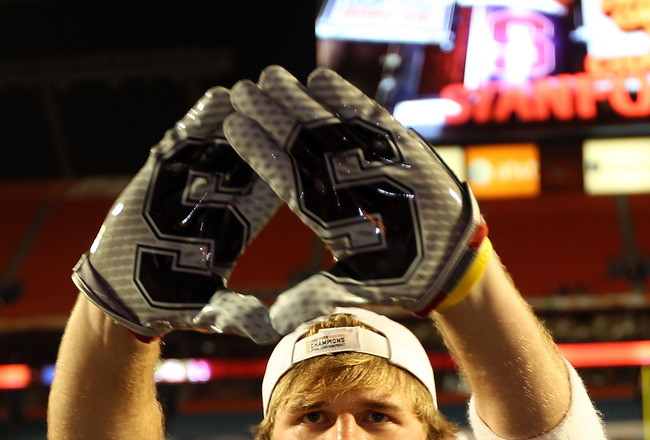 Mike Ehrmann/Getty Images
As the Senior Bowl rapidly approaches; as we dive head first into the Pro Days and eventually the Scouting Combine, there will certainly be people whose draft stock rises and lowers as the 2011 NFL Draft approaches.
When it comes to the Redskins, you continue to hear the exact same names brought up—Cam Newton, Jake Locker, Mark Ingram, Robert Quinn and Julio Jones.
All of these names are amongst the biggest in the draft, and about half of the them may not be on the board before the Redskins have an opportunity to snap them up.
The 'Skins will be without a pair of middle round picks, but for the sake of argument, one could assume disgruntled defensive tackle Albert Haynesworth and quarterback Donovan McNabb could get some trade value.
When it comes to head coach Mike Shanahan and the draft, it's not the first round I'm thinking about—it's everything after that.
While he's been called out for having a shaky draft history, one can't argue that when he hits on a player, he really hits on one. Usually he has success finding a late round gem. Terrell Davis may have never been drafted had Shanahan not taken him in the sixth round. T.D went on to have a legendary career in Denver.
Recently, another fifth round draft pick, running back Ryan Torain, made his presence known in the Redskins backfield, While one of his seventh round draft pick, running back Peyton Hillis, vaulted his way into Larry Czonka comparisons for the Browns.
Current Dolphins wide receiver Brandon Marshall was a fourth round draft pick, while Denver wide receiver Eddie Royal was a second round pick.
And perhaps the best example of Shanahan's seemingly insane ability to pick up talent out of nowhere is wide receiver Rod Smith. Smith went undrafted before joining the Denver Broncos. When Mike Shanahan arrived in Denver, he put Smith on the field.
Smith went on to be one of the best wide receivers the game has ever seen.
It's for this reason that I'm more interested in what the Redskins do in the later rounds, rather than the first round.
So, let's take a look at some of the late round (using the term "late" somewhat loosely) prospects that the Washington Redskins should take a strong look at in the upcoming NFL Draft.
RB Evan Royster, Penn State University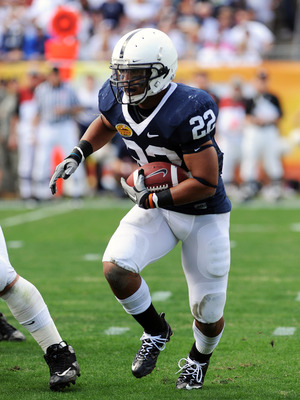 Al Messerschmidt/Getty Images
Had Evan Royster come out for the draft last year, it's likely he would've been drafted fairly high. Instead, he chose to stay at Penn State for another year, which hurt his draft stock. Especially when he showed up for camp, heavy and out of shape.
Legendary Penn State coach Joe Paterno actually called him out on it.
Royster worked himself back into shape and finished his senior season strong, becoming Penn State's all time leading rusher.
Royster isn't a fast, game-breaking type of back, but he is the kind of back Mike Shanahan loves—one cut, hit the hole, and truck anyone in your path.
He's a tough, downhill back, who is probably faster than anyone will give him credit for. But more important than speed, is his quickness.
Sometimes, it's the quicker guys who win, and though he won't dazzle you with a juke, he can run through you, if need be.
I've said it before, and I'll say it again—the Redskins don't need anymore running backs.
They have plenty.
But this is Shanahan we're talking about, and more than anything—Shanahan loves competition.
Royster could give any of those running backs a run for their money.
FS DeJon Gomes, Nebraska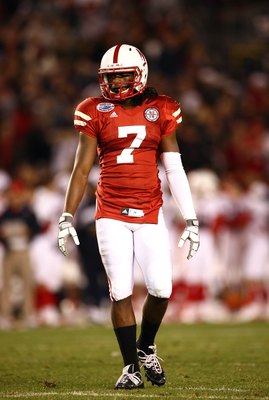 Donald Miralle/Getty Images
I'll say it time and time and time again, the Redskins need a free safety. This isn't a request—it is an absolute need. There is no way the Redskins can continue to play Kareem Moore at the free safety position.
So I'm highlighting another safety that could help the Redskins D.
DeJon Gomes had a solid season at Nebraska. He has good size and seems to have good instincts, is a hard hitter, and with a little refinement, could become at least a solid addition, if only until the Redskins can draft a stud.
Basically, I'm going to keep mentioning free safeties until the Redskins find one that is better than Kareem Moore and hope for the best.
NT Siona Fua, Stanford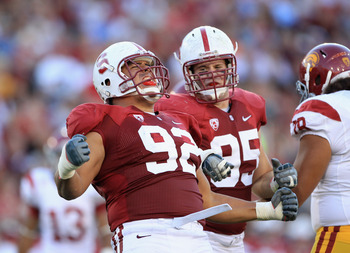 Ezra Shaw/Getty Images
As you will hear ad naseum until the draft, the nose tackle position is what makes a 3-4 defense work. If you don't have a nose tackle, you might as well say hello to a season of mediocre defensive statistics—which is precisely what happened to the 'Skins.
With Albert Haynesworth off to annoy some other football team and Ma'ake Kemoautu not even worth being a back-up in most cases, the Redskins desperately need to address the position.
Journeyman Anthony Bryant has performed relatively well in his times starting (as in the defense actually kind of worked and didn't look completely terrible), but he's not a starter in most cases.
While free agents like Chris Hoke and Aubrayo Franklin will be amongst the most sought after players, the 'Skins need to draft another nose tackle and Sione Fua is as solid a pick as they come.
Fua played nose tackled all four years for Stanford, including his senior season, in which he racked up an impressive five sacks.
The 'Skins would do well to spend a draft pick on a nose tackle instead of simply hoping free agents work, and Fua seems to have the talent and ability to succeed on the next level.
FB Charles Clay, Tulsa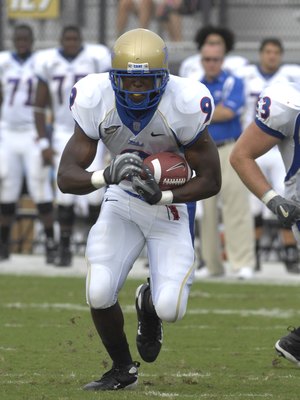 Al Messerschmidt/Getty Images
Staying with the backfield, a position that the Redskins would be wise to address in the upcoming draft is—fullback. Current fullback Mike Sellers has been great in his time in the burgundy and gold, but one would be lying if he said that Sellers hasn't lost a step. He's still a solid blocker and even a receiving threat, but it seems likely that Sellers best playing days are likely behind him.
The only other fullback currently on the roster is Darrel Young, who was converted from linebacker. Young performed admirably when called upon this season—his first ever snap for the Redskins was a touchdown pass from Donovan McNabb—but he's relatively unknown as far as how great he'll turn up.
The Redskins could use an upgrade at this position, and that upgrade could very well be Charles Clay from Tulsa.
As a fullback, Clay is a solid change of pass back who can pound the ball and can even break it for big time yardage, while also playing solid in the run blocking.
More impressive than that?
In 2010, he had 43 receptions for 526 yards and seven touchdowns.
In 2009, he had an even better season, rushing for seven touchdowns and catching five.
In Clay, Shanahan could find his next Peyton Hillis, a true late round gem who took the AFC North by storm.
The 'Skins can never have enough weapons, and if Clay can contribute in the same way on the next level, he could be a great weapon to have.
OC Chase Beeler, Stanford
Jonathan Daniel/Getty Images
If the Redskins don't address the offensive line this offseason through the draft, Redskins fans are likely to riot. There will be picket lines at FedEx Field every week. It doesn't matter who the quarterback is, if the o-line isn't addressed, none of that matters.
One of the issues the Redskins have to address is their center. Current center Casey Rabach has been a starter for a long time, but his best football is behind him.
Guard Kory Lichensteiger was originally drafted by Mike Shanahan to be center and looked good at the position during his snaps, but once again, it never hurts to have depth and foster competition.
Chase Beeler has done a pretty good job as the center for standout quarterback Andrew Luck.
In most other systems, he'd be a tiny bit undersized, but Shanahan tends to like the smaller guys that have good feet to work in his zone blocking scheme. Beeler stills gets good push and can help to open holes in the run game.
QB Ricky Stanzi, Iowa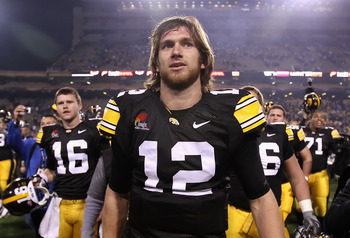 Christian Petersen/Getty Images
In Mike Shanahan's autobiography, the head coach remarked that when he was with the 49ers, he made a pitch to draft Elvis Grbac in the 1994 NFL Draft, despite the fact that the Niners were stacked at the position.
Grbac went on to help the Niners get to the Super Bowl. Which tells you that the coach isn't going to be shy about taking a guy late in the draft, if he's talented enough.
If the Redskins do decide to draft a quarterback early in this years draft, I wouldn't be shocked if Mike Shanahan chose to use one of his multiple draft picks in the later rounds to pick up University of Iowa quarterback Ricky Stanzi in an effort to spur him on and inspire competition at the quarterback position.
Stanzi has put together a couple of successful season in college, but there are questions about his upside.
He's seen as someone that does everything good, but nothing great, which hurts his draft stock. Still, he's a solid project quarterback and could potentially be a better backup than current backup John Beck.
If, for some reason, the Redskins choose not to extend Rex Grossman (a move I feel would be a mistake), they'd need to bring another quarterback onto the squad and Stanzi has the pedigree to at least be a viable backup in the future, if nothing else.
Shanahan does have a way of taking ordinary players and suddenly making them really good, though...
RB Jacquizz Rodgers, Oregon State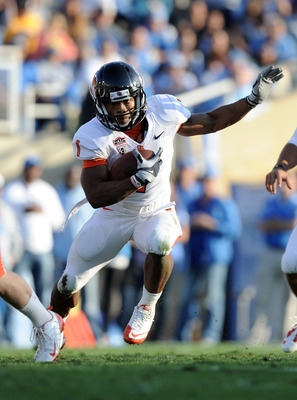 Harry How/Getty Images
Of course, if you ask your average Redskins fan, the one thing they'll say the Redskins need in the backfield is speed. While it's been proven that you don't have to be the fastest back in the league in order to work in Mike Shanahan's system, the amount of speedy running backs who are tearing up the league are enough to make Redskins fans cringe when they see how "slow" their backfield is.
Like Brandon Banks before him, you'd be hard pressed to find a 'Skins fans who wouldn't cheer their butts off for the diminutive Jacquizz Rodgers, especially if he wore the burgundy and gold.
Rodgers is a great one cut back, but he also has game-breaking speed. Give Rodgers a hole and green grass ahead of him and he's a threat to take it to the house every time.
He's elusive and can make a guy miss in space, but also isn't afraid to lower his head and truck a guy on his way to the end zone.
The biggest knock of Rodgers is going to be his size—he stands at all of 5'7", which will raise questions about his durability over time. This makes it unlikely that he'd be an every down kind of back.
I see him in more of Patriots running back Danny Woodhead's role; a change of pace back that you can split out wide and can also catch the ball out the backfield and break it for a big gain at any moment.
And imagine, if you will, a situation in which both Rodgers and Banks were returning kicks for the Redskins.
Talk about russian roulette on where to kick the ball.
WR Ryan Whalen, Stanford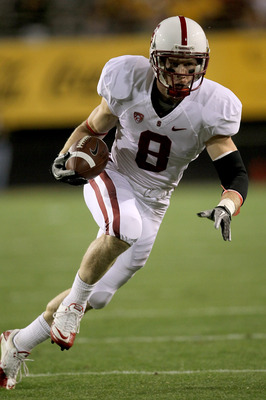 Stephen Dunn/Getty Images
With all the talk of the Redskins needing a No. 1 receiver, no one seems to remember the Redskins have another problem, namely, the need for a solid possession receiver.
The Redskins have a lot of speed on the offensive side of the ball, but they don't have the one, solid, chain moving wide receiver to compliment all of that speed.
Anthony Armstrong acquitted himself very well as a game-breaking deep threat that can get open in a hurry, but he tends to have trouble in press coverage. At times, his hands can be inconsistent.
The 'Skins could use a guy like Houston's Kevin Walter; he's never going to beat Andre Johnson in a foot race, but he's a chain mover that can fill in for the No. 1 guy when necessary.
Ryan Whalen is that guy.
He's not a guy who is going to shatter records at the combine, but he can be that No. 3 or No. 4 guy who can keep the chains moving, along with having the height and the solid hands to be a real threat in the red zone.
A crisp route runner who can catch footballs in traffic, Whalen is the kind of guy who ends up being an unsung hero on a football team. A guy who always contributes and probably contributes in more ways than the bigger name guys, but a guy who fans cheer for and appreciate none the less.
HTTR
Keep Reading

Washington Redskins: Like this team?