MLB Power Rankings: Evaluating the Offseason Moves of All 30 Teams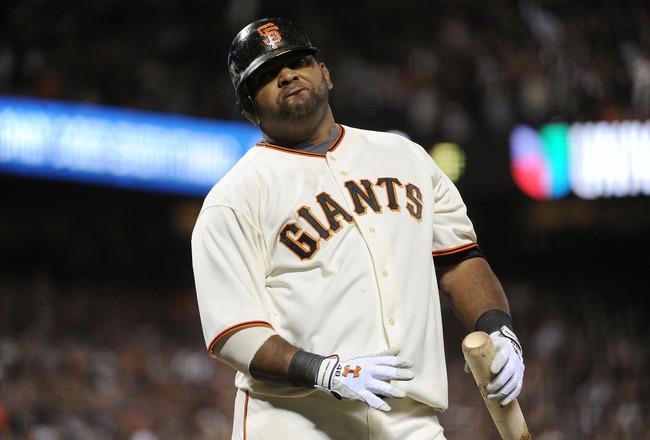 Harry How/Getty Images
With just three short weeks remaining until pitchers and catchers report, it's nearly time to dust off the rust and shed those unwanted winter pounds (I'm looking at you, Pablo Sandoval).
While most players have been staring longingly out the window of their winter cottages, waiting for spring's arrival, most GMs have remained active, retooling rosters or adding a missing piece, all with an eye toward making a championship run. Unfortunately, some GMs have stagnated more than the first two years of Barack Obama's presidency.
To find out which category your team falls under, forge ahead to find the most impactful off-seasons around the major leagues.
No. 30 Cleveland Indians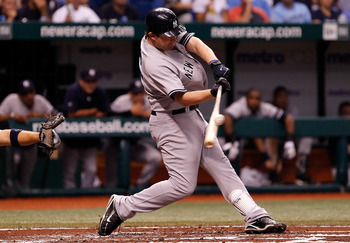 J. Meric/Getty Images
Cleveland signed exactly one major leaguer over the off-season, which is exactly one more than you did. Worse yet, the major leaguer was Austin Kearns, who GM Chris Antonetti signed to a one-year deal in December. If this seems like déjà vu, it's because the Indians made the exact same move last year. Nothing against Kearns, but it might be time for the Indians to think outside the box a little. At 31, Kearns' breakout year might have already broken. Best case scenario for Kearns to have a solid first half, allowing the Indians to trade him to the Yankees for prospects.
What can be said in the Indians' favor is that they only lost one free agent, Andy Marte (who signed with the Pirates), ending a run of bidding farewell to key free agents over the last few years. That's addition by non-subtraction, which suffices for success for Antonetti, who is so cash-strapped that the Indians might be eligible for federal bailout money.
No. 29 Arizona Diamondbacks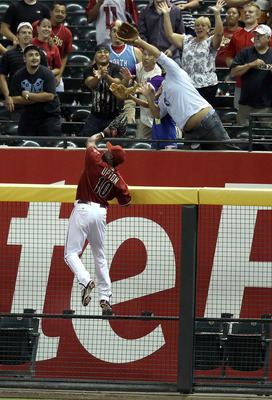 Christian Petersen/Getty Images
The Diamondbacks spent the off-season acquiring veterans J.J. Putz, Zach Duke, Xavier Nady and Melvin Mora, proving that it is possible to be in last place and get older at the same time. Duke will fit in the rotation behind Ian Kennedy, Barry Enright, and Daniel Hudson, while Putz will shore up a weak bullpen. By trading Mark Reynolds and letting Adam LaRoche leave via free agency, new GM Kevin Towers demonstrated his vow to assemble a team that can throw strikes and not strike out. This is a departure from their previous philosophy, which was evidently the exact opposite.
The Diamondbacks are coming off consecutive last place finishes for the first time in team history, and only a strong emergence in the rotation or a collapse by the Padres will likely keep them from finishing there again.
No. 28 Houston Astros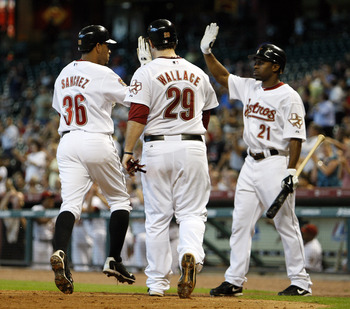 Bob Levey/Getty Images
The Astros may have been the only team that didn't attend the Winter Meetings. With five regulars from the 2010 squad receiving raises, the Astros had only enough payroll flexibility to add infielders Bill Hall and Clint Barmes—which means they actually had no flexibility.
The Astros' off-season was only interesting if you're an accountant, and you really like the Astros. The club re-signed CF Michael Bourn and utility man Jeff Keppinger. They traded offers with Hunter Pence and Wandy Rodriguez, both of whom seem headed for arbitration.
Having dealt face-of-the-franchise stars Roy Oswalt and Lance Berkman in the last year, the Astros are rebuilding around a rotation that will start with Brett Myers, Rodriguez, and J.A. Happ. Unfortunately, they'll begin the season facing the Philles, who have also rebuilt their rotation.
No. 27 Pittsburgh Pirates
Jared Wickerham/Getty Images
If you're excited about the Pirates in 2011, consider the questions of who will bat cleanup and who will pitch on Opening Day. Garrett Jones or Pedro Alvarez? Paul Maholm or James McDonald? Then look at the answers to those questions for the other five teams in the division.
In years past, the Pirates have made it their policy to trade away veterans for prospects whenever possible. However, this off-season, the Pirates had no veterans worth trading, with the lone exception being Zach Duke. The key additions were Kevin Correia and Lyle Overbay, who will not fill holes and will almost certainly be dealt if they are remotely effective.
As their off-season silence would suggest, the Pirates' hopes for 2011 are tethered to top-of-the-order bats Andrew McCutchen, Jose Tabata, Neil Walker, and Alvarez.
No. 26 Seattle Mariners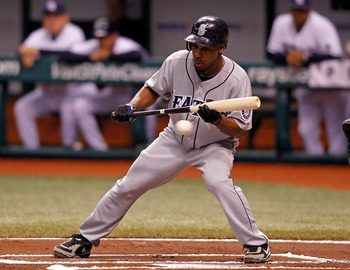 J. Meric/Getty Images
After signing Chone Figgins and trading for Cliff Lee prior to 2010, the Mariners were picked by many to win the AL West. Let's just say things didn't work out. The Mariners lost 101 games and finished out of the postseason for the 9th consecutive year.
The losing continued in the off-season, when the Mariners lost their closer to labrum surgery, their second baseman to the Rockies, and maybe their right fielder to jail (Milton Bradley was arrested last Tuesday). The M's do have the reigning Cy Young winner in Felix Hernandez and the top second base prospect in Dustin Ackley, among a solid nucleus of soon-to-be-ready prospects.
However, the year since the Cliff Lee trade has been historically preposterous for the Mariners. The team scored a total of 513 runs in 2010, the lowest total in the American League since the inception of the DH in 1973—by a lot. I'll give you a moment to wrap your head around that number (remember, 162 games). To add punch to a punchless roster, GM Jack Zduriencik added DH Jack Cust, Brendan Ryan and Miguel Olivo, and that's about it.
No. 25 Washington Nationals
Mitchell Layton/Getty Images
The Nationals off-season unfolded like a congressional filibuster—they managed to be both very active and fail to achieve their stated goals. The Nationals hoped to add a frontline starter and middle-of-the-lineup pop. In pursuit of the first goal, they could only muster Tom Gorzelanny. And while the Nats signed Jayson Werth and Adam LaRoche, they lost Adam Dunn to free agency and Josh Willingham to Oakland.
Werth's contract dominated the Nats' off-season, and could dominate the off-seasons in Washington for the next seven years. It was surely the highest contract ever given to a career .272 doubles hitter with a nice beard. The back-loaded deal will pay Werth in excess of $20 million over the final four years of its lifespan, during which he'll be in his mid to late thirties and slightly less hairy.
The Nationals improved by ten games in 2010, and it's hard to envision the same jump following this disappointing off-season. However, it isn't hard to imagine a ten-game jump in 2012 ,when Stephen Strasburg will likely return and top draft pick Bryce Harper could debut.
No. 24 Kansas City Royals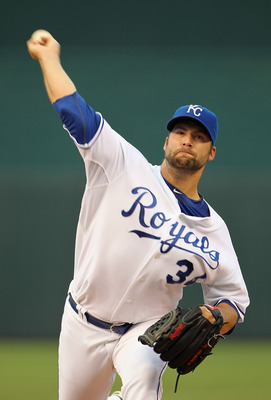 Jamie Squire/Getty Images
The Royals purged the salaries of Zack Greinke, Jose Guillen, Kyle Farnsworth, Juan Cruz, Rick Ankiel, Gil Meche, and David DeJesus in the last year, and yet they added only two veteran free agents this off-season, Jeff Francoeur and Jeff Francis. The Royals are once in again in full-fledged youth movement mode, and have said publicly that they would avoid signing stop-gap free agents that would take playing time away from their prospects.
While this sounds something like taking the twenties out of your wallet to make room for the ones, the Royals are flush with prospects, including Brewers castoffs SS Alcides Escobar and CF Lorenzo Cain, and former Atheltic SP Vin Mazzaro. Throw in slugging 3B Mike Moustakas and 1B Eric Hosmer, and the Royals might be two years away from almost finishing close to .500 again.
Pardon the cynicism, but the Royals have just one winning season in the last 16. They are the poster franchise for MLB contraction. Anyone remember when the Rays were the worst franchise in the American League? By failing to add veteran help to the pitching staff this off-season, their rotation will feature Luke Hochevar, Francis, and Sean O'Sullivan at the top.
The Royals have proven to be experts at two things—getting younger and losing.
No. 23 Los Angeles Angels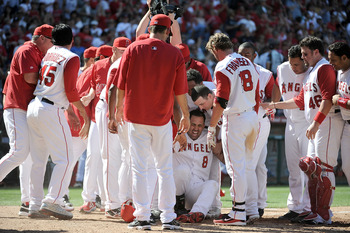 Harry How/Getty Images
The Angels quiet off-season thudded horribly with the team's acquisition of aging, massively overpaid Vernon Wells last week. Maybe the Angels weren't desperate after losing out on Carl Crawford and Adrian Beltre, but dealing two starting position players for the declining Wells seems needier than Bret Michaels on VH-1's Rock of Love. The Wells deal might have transpired to shore up the team's defense and to provide another run producer, but it also might be a desperate cry for help. Wells contract will guarantee him another $86 million, and could handcuff the front office for the next four years.
Despite doing little to improve the club this off-season, the Angels feature a roster full of 2010 underachievers and will benefit from the return of team leader Kendry Morales. Not one starting position player exceeded his career OPS last year, representing an amazing team decline for one year. If only a third of the roster returns to form (especially Morales), they could compete for the division title, in spite of their lackluster off-season.
No. 22 Baltimore Orioles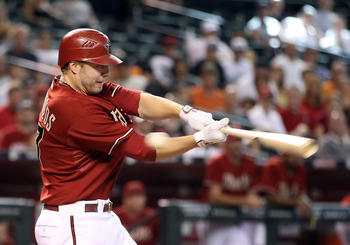 Christian Petersen/Getty Images
The growth of the Orioles' young players, the additions of a couple of key veterans, and the arrival of a fiery manager who led the club to the second-best record in the AL after his arrival have many O's fans anticipating a rise in the stacked AL East. The Orioles lost no key contributors off of a 2010 club that finished strong and could be primed for strong push this spring.
However, a closer look shows that the 2011 off-season is much like the 2010 off-season was, only more fiery (thanks, Showalter). Mark Reynolds will play third and hopefully hit his weight this year, while Derrek Lee will play first and think about the other teams he would have preferred to sign with. Last year, it was Garret Atkins, Miguel Tejada and Kevin Millwood surrounded by a cast of post-hype phenoms and second-tier prospects. This year, the O's feature different names and more post-hype, none of which can keep them from their 14th consecutive losing season.
No. 21 Tampa Bay Rays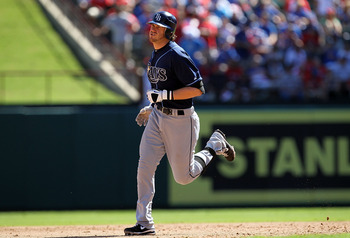 Ronald Martinez/Getty Images
It's difficult to fully assess the damage from this off-season for the Rays, much like it is immediately following any natural disaster. The list of departing names is overwhelming when strung together: Carl Crawford, Carlos Pena, Jason Bartlett, Joaquin Benoit, Dan Wheeler, Matt Garza, Chad Qualls, Rafael Soriano, and Grant Balfour—throw in Dioner Navarro and Gabe Kapler and it's more than a quarter of the Rays 40-man roster from a year ago.
If the additions of Johnny Damon and Manny Ramirez seem like Band-Aids to a leaky dam, it's because they are. The middle of the order will likely feature Ben Zobrist and Dan Johnson, plus one of the two former Red Sox teammates.
But it could be worse for the Rays, who remain flush with young pitchers, sport a lineup anchored by Evan Longoria, and added a slew of prospects and draft picks this offseason.
No. 20 Los Angeles Dodgers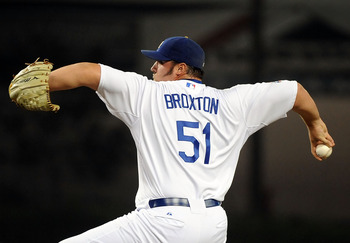 Lisa Blumenfeld/Getty Images
What's worse than struggling for years to develop talented pitchers at the major league level? How about having the team that is best at doing so be your arch rivals, and then having that talent leading them to a World Championship?
Worse yet for the Dodgers, the days of throwing money at top free agents appears to have ended, and there's not much help at the top levels of the minor leagues. Instead the Dodgers added a glut of mid-level veterans to help compete with the Giants, including John Garland, Matt Guerrier, Marcus Thames, Tony Gwynn Jr., and Juan Uribe. Best move the Dodgers could have made but didn't? Divorce mediation.
Unfortunately, the Dodgers failed to add defense, and could wind up with the worst defensive outfield in baseball if they start Andre Ethier, Matt Kemp, and Marcus Thames, as expected.
No. 19 Colorado Rockies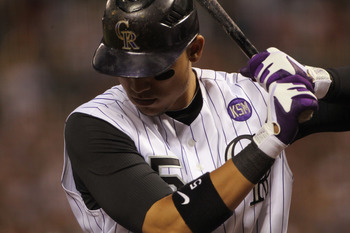 Doug Pensinger/Getty Images
After signing Carlos Gonzalez to a long-term extension, the Rockies have $210 million locked up in CarGo and Troy Tulowitkzki—this on a team with the third most runs scored in the National League in 2011.
But the pitching will have to improve for the Rockies to return to the top of the NL, as they did in 2007. The Rockies added only one veteran arm (Matt Lindstrom from Houston) to a pitching staff that was near the bottom in nearly every team pitching category. Clearly, the front office is relying on the return to form of Aaron Cook and Jason Hammel, along with the continued development of Jhoulys Chacin.
No. 18 New York Mets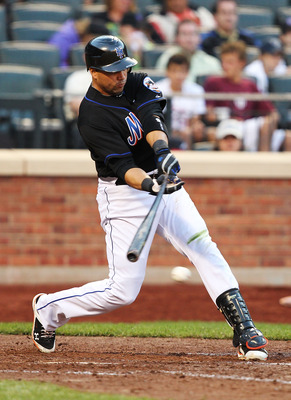 Al Bello/Getty Images
The list of 2011 Mets' payroll commitments is longer than the line for the 7 train before a Mets game. The Mets payroll will likely have jumped $10 million just through contractual raises to returning players. The Mets' lagging results and ballooning payroll left them able to sign only a handful of veteran free agents this off-season, the most promising of which are Chris Young and Scott Hairston.
The Mets are the Washington Redskins of the major leagues. The only moves left to the club this off-season were to change the coach and the front office, which the Mets did by naming Sandy Alderson the new GM and fire-breathing Terry Collins as new manager. This is what happens when the team can no longer add overpriced veterans. What will happen next for the Mets? Most likely they will alienate their franchise quarterback and ostracize their $100 million dollar defensive lineman.
The Mets also lost no starters or position players off of a 79-win team, seeming to consign them to another run at .500.
No. 17 New York Yankees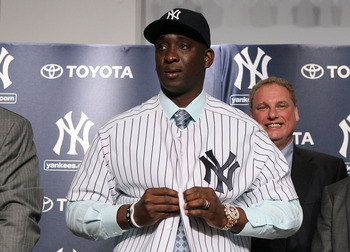 Jim McIsaac/Getty Images
How bad did it get in New York this off-season? The Yankees went from losing out on the Cliff Lee sweepstakes to losing out on the Carl Pavano sweepstakes. Re-signing Pavano would have been less popular in New York than re-signing Rick Kotite to coach the Jets. Maybe Yankee fans shouldn't have heckled Lee's wife during last year's playoffs after all.
When has a team's fan base been more disappointed with mid-level free-agent signings? Rafael Soriano has 72 saves over the last two years and Russell Martin is a two-time All-Star behind the plate. The Yankees are still a year removed from winning the World Series and return nearly the entire core from that team.
But perhaps Yankees fans are right to be concerned. There's never been a team constructed like the Yankees—with roughly $74 million tied up in their infield and a rotation that might feature Sergio Mitre and Ivan Nova. If it's June and the Yankees are behind the Rays with that rotation, their 2011 off-season could be considered one of the most disastrous ever. However, this is the Yankees, and they cover up mistakes better than Bill Clinton in the Oval Office.
No. 16 San Diego Padres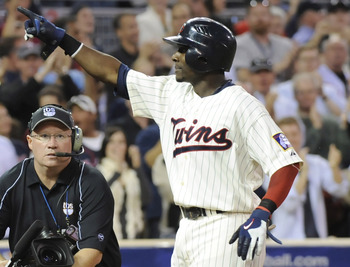 Hannah Foslien/Getty Images
The Padres did trade away their most valuable piece in Adrian Gonzalez. However, they made moves that improved their roster at three positions (Orlando Hudson, Jason Bartlett, and Cameron Maybin) and added a starting pitcher, all while keeping the payroll under $44 million.
The Padres are the little engine that could. They have unstable ownership, a terrible local television contract and play in one of the smallest markets, yet they won 90 games last year. Most teams would have sold off veterans to retool with prospects. The Padres managed to reload and should be competitive in the NL West again.
For perspective, the Cubs made one trade, signed a couple veterans and called it a success this off-season, after winning 15 fewer games than the Padres last year, with a payroll nearly four times bigger.
No. 15 Chicago Cubs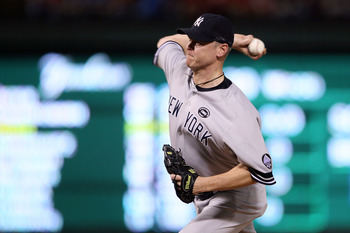 Elsa/Getty Images
GM Jim Hendry set three goals for the winter at the end of the 2010 season—add a power-hitting first baseman, a top-of-the-rotation starter, and a righty set-up man. He achieved all three, adding Carlos Pena, Matt Garza, and Kerry Wood, while operating with a budget tighter than the Chicago Public Schools system.
Why does it feel like the Cubs guaranteed themselves fourth place? They lack a leadoff hitter, don't have a real Opening Day starter, and have huge question marks in the middle of the lineup. Let's just say there are three teams in the division that don't have the same concerns. The Cubs will shed $50 million in payroll after 2011, by when they'll have answered significant questions about their young players (Tyler Colvin, Geovany Soto, among many others). Unfortunately for the Cubs,it's still the beginning of 2011.
The Cubs had only one key loss this off-season: pitching coach Larry Rothschild, who left to take the same position in New York. Rothschild helped guide Carlos Zambrano back from a case of the crazies. The Cubs will need the post-tirade Zambrano (unless they trade him) if they are going to compete this year.
No. 14 Atlanta Braves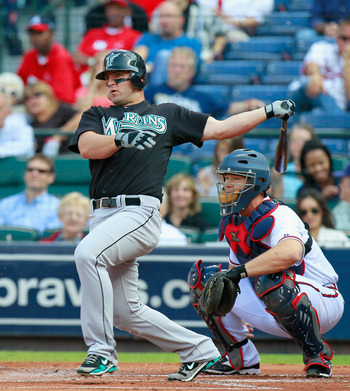 Kevin C. Cox/Getty Images
The Braves approached the off-season like a playoff team that might be a couple players removed from a championship. Whether they are or not is another story. The Braves added Dan Uggla to the middle of the lineup and Scott Linebrink and George Sherrill to the bullpen. But the losses far outweighed the gains this off-season, with Takashi Saito, Derrek Lee, Billy Wagner, Omar Infante, Mike Dunn, Rick Ankiel and Matt Diaz all playing elsewhere (or retiring, in Wagner's case) in 2011. No playoff team lost more contributing pieces than the Braves.
The roster will be replenished by the return from injury of veterans Martin Prado and Chipper Jones, and the likely emergence of rookie Freddie Freeman. The continued development of Jason Heyward and potential closer Jonny Venters--and not the team's 2011 off-season--will give the Braves a chance to compete with the Phillies in the NL East.
No. 13 St. Louis Cardinals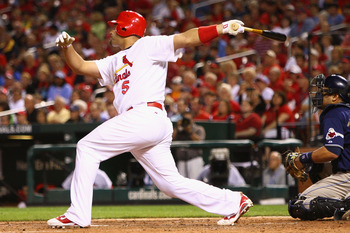 Dilip Vishwanat/Getty Images
The Cardinals off-season results hinge entirely on negotiations between the club and free-agent-to-be Albert Pujols. Pujols has made it clear he wants to remain a Cardinal, and the Cardinals have made it their top priority to re-sign him. The question dominating these negotiations, and the Cardinals' long-term future, isn't whether or not they can afford to sign him—it's whether or not they have the money.
St. Louis is re-loaded for another run at the NL Central crown, having added Lance Berkman on a motivation-heavy one-year deal (the Vladimir Guerrero contract) and re-signing Jake Westbrook. The Cards' rotation won't quite rival the Phillies and their lineup might not match the Reds; but their overall depth has them near the top of the NL Central list of expectations heading into 2011.
But could this be Pujols' last year in St. Louis? His representatives have set February 19 as a deadline by which a deal can be consummated before the season begins. If a deal is not in place, the entire Cardinals season will be shadowed by uncertainty.
No. 12 Texas Rangers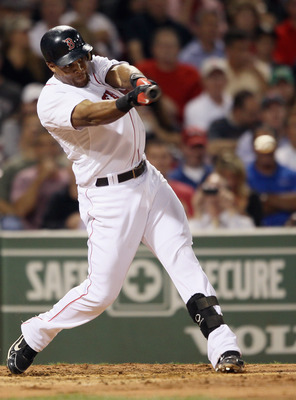 Elsa/Getty Images
The Rangers entered the off-season as the hunted, and not the hunter, for the first time ever in the American League. They had three self-pronounced priorities: a clean-up hitter, a catcher, and a frontline starter. They filled two out of three, by adding Adrian Beltre and Yorvit Torrealba. Let's just say they didn't fill the third one.
The Rangers will try to fill the Grand Canyon-sized hole in their rotation following the departure of Cliff Lee with some combination of Brandon Webb, Neftali Feliz, and free agent Yoshinori Tateyama, shifting pressure to front-of-the-rotation pitchers C.J. Wilson and Colby Lewis.
As loud as any move the Rangers have made this off-season is the silence involved in negotiations between the team and arbitration-eligible Josh Hamilton. The Rangers have a long history of signing arbitration-eligible players, but Hamilton is not just any player. On one hand he's the reigning AL MVP and helped lead the team to their greatest season. On the other, he brings a lengthy history of injury problems and substance abuse, raising questions about the 30-year-old's endurance.
No. 11 Minnesota Twins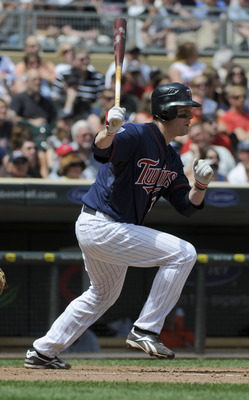 Hannah Foslien/Getty Images
The Twins' most significant off-season moves will happen in the trainers' room, as Justin Morneau and Joe Nathan are both expected to be healthy at the start of spring training after missing significant time in 2010. The Twins added only one other player this off-season; former Japanese Pacific League standout and hit machine Tsuyoshi Nishioka. The club also re-signed free agents SP Carl Pavano and DH Jim Thome.
Otherwise, the Twins stood pat this off-season. In doing so, they watched the majority of their bullpen leave via free agency (Jesse Crain, Matt Guerrier, Jon Rauch, and Brian Fuentes are all gone) and division rivals Chicago and Detroit make a flurry of additions designed to dethrone them from the AL Central perch.
Nonetheless, raises to returning stars will push the Twins' 2011 payroll in excess $100 million for the first time in team history, increasing for the fourth consecutive year. This off-season signaled the official end of the Twins status as a small market underdog.
No. 10 Oakland Athletics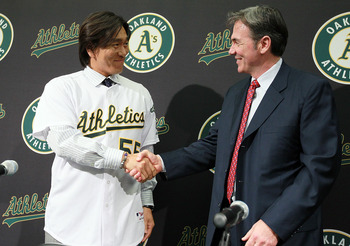 Justin Sullivan/Getty Images
The Athletics' off-season moves have yielded optimism that 2011 could be their first over .500 since 2006. Oakland added Brian Fuentes and Grant Balfour to team with Andrew Bailey on the back end and Hideki Matsui, David DeJesus, and Josh Willingham to form a new heart-of-the-order.
While none of these names is worthy of a press guide cover, the reason for the optimism is the dead weight each player is replacing: Matsui replaces the free-swinging Jack Cust, while DeJesus and Willingham replace Ryan Sweeney and Rajai Davis. Fuentes and Balfour will likely replace Craig Breslow and Michael Wuertz, making non-A's fans wonder how this team could have won 81 games last year.
The answer is pitching and the A's have it. Sub-par off-seasons in Anaheim and Arlington have many experts picking the A's as favorites in the AL West.
No. 9 Florida Marlins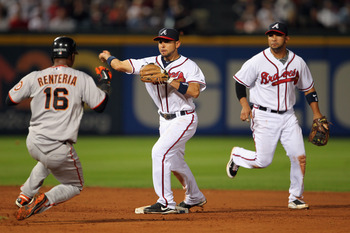 Jamie Squire/Getty Images
The Marlins had a busy off-season, adding Javier Vazquez and re-signing Ricky Nolasco to strengthen an already-strong rotation. They added Edward Mujica and Randy Choate to their equally strong bullpen and Omar Infante and John Buck to their lineup.

However, they traded away their all-time homerun leader Dan Uggla who, along with Fredi Gonzalez, seemed to be the two Marlins best equipped to keep Hanley Ramirez focused on the field. They also traded one-time top prospects Andrew Miller and Cameron Maybin. Finding a replacement for Uggla while youngsters Logan Morrison and Chris Coghlan continue to get acclimated to the major leagues could be a year-long challenge in Florida.
No. 8 San Francisco Giants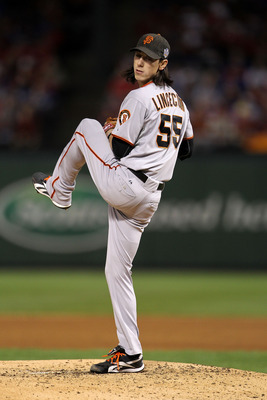 Doug Pensinger/Getty Images
Rarely has a World Series champion had so many players under contractual control for the following season, including all five starting pitchers, four of whom never missed a start last year. Six players were arbitration-eligible and each signed before heading to arbitration, meaning the Giants' payroll will be $20 million higher in 2011 . But by how much did their revenue increase after winning the World Series?
The lone departures from last year were Edgar Renteria, Juan Uribe, and Jose Guillen. The first two were World Series heroes, and the latter is the subject of a federal HGH investigation, and so might be departing to jail.
The only additions are Miguel Tejada, who'll play the role of over-aged shortstop that Giants always seem to have (since Rich Aurilia left the first time in 2003) and Mark DeRosa who returns from wrist surgery. Enjoy the ride, Giants fans.
No. 7 Detroit Tigers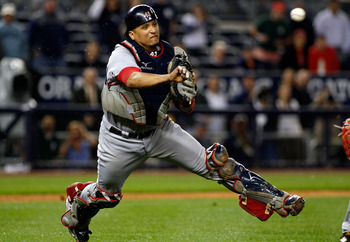 Mike Stobe/Getty Images
The Tigers entered the off-season with money to spend like a Goldman Sachs executive at Christmastime. They added Victor Martinez to DH, Joaquin Benoit to strengthen the back end of the bullpen, and Brad Penny to get hurt around June. They also re-signed everyone possible (except Johnny Damon), leaving them fully loaded for a 2011 playoff push.
The signings of Martinez and Benoit were bargains compared to the lavish contracts the top free agents received this off-season, leaving the Tigers with the leverage to bring back Brandon Inge, Jhonny Peralta, and Magglio Ordonez. Their organizational stability this off-season is gutsy at best and myopic at worst, given their third place finish last season, 13 games behind Minnesota and eight behind the White Sox.
The pressure could fall toward GM Dave Dombrowski and manager Jim Leyland this year, both of whom are in the final year of their contracts. The Tigers have compiled three straight disappointing seasons, and with the 2011 payroll tipping the nine-figure mark, the expectations will be higher than ever.
No. 6 Cincinnati Reds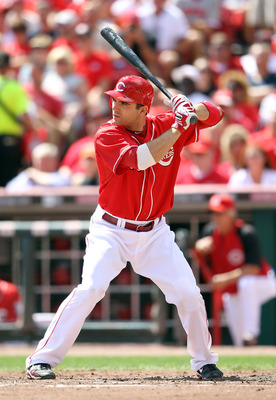 Andy Lyons/Getty Images
The digits are flying in Cincinnati, where the Reds gave multi-year deals to four core players (Jay Bruce, Joey Votto, Bronson Arroyo, and Johnny Cueto) totaling $151 million, guaranteed. The days of Cincinnati being a small market are long gone, replaced by the days of Clevelend being a small market. Aside from the extensions, the Reds remained quiet, adding only SS Edgar Renteria and OF Fred Lewis, while they lost long-time ace Aaron Harang.
It's been since the early '90s that the Reds developed players at this pace. This season four or five regulars and five out of six potential starting pitchers are homegrown players. What more could a fan want than to see a team develop high-level major league talent and lock them up to long-term deals early in their careers?
No. 5 Chicago White Sox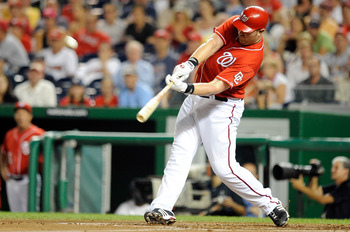 Greg Fiume/Getty Images
The numbers are eye-popping on the South Side: Adam Dunn (4 years, $56 million), Paul Konerko (3 years, $37.5 million), Jesse Crain (3 years, $13 million). The free agent contracts are the latest in a string of spending largesse that includes Jake Peavy ($16 million per year) and Alex Rios ($12 million per), both added since 2009. The White Sox payroll will top a whopping $130 million for 2011, for a team who has seen attendance drop in each of the last five years since winning the World Series. The only key losses this off-season were Bobby Jenks, J.J. Putz, and Oney Guillen's self-respect.
The White Sox are the anti-Cubs. They recognize the need to spend money to win, and the need to win to make money. To prove the point further, they've thrown in high-profile prospects for good measure (imagine if their rotation included Daniel Hudson and Clayton Richard). However, their roster will have almost as many high-priced veterans as the Yankees and Red Sox, and consequently the expectations will soar in 2011.
No. 4 Toronto Blue Jays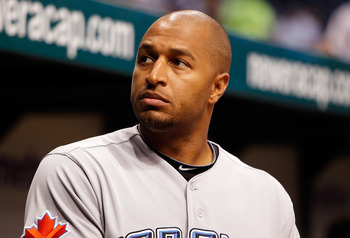 J. Meric/Getty Images
History may show that the Blue Jays actually had the best off-season in MLB, after miraculously finding a taker for Vernon Wells' massively overpriced contract (4 years, $86 million remaining!). The Angels' trade for Wells might surpass the Nationals' signing of Jayson Werth for the Worst Deal for a Thirty-Something, .280 Career-Hitting, Corner Outfielder Ever category.
Last week's trade concludes a furious off-season for an 85-win team. The Jays added Rajai Davis, Jon Rauch, Octavio Dotel, stud prospect Kyle Drabek (to a rotation relying on Ricky Romero, Brett Cecil and Brendan Morrow), and new manager John Farrell, in addition to Mike Napoli and Juan Rivera. They shed substantial payroll by ditching Lyle Overbay, Shawn Marcum, Kevin Gregg, Scott Downs, and Wells, giving ample room for the Jays' young players to develop and lead them…maybe to third place in the stacked AL East.
No. 3 Milwaukee Brewers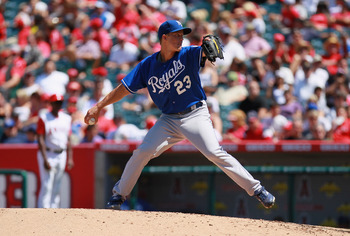 Jeff Gross/Getty Images
In addition to overhauling the rotation by adding Zack Grienke and Shawn Marcum, the Brewers re-signed Prince Fielder to a one-year $15.5 million dollar deal, the highest ever for a non-free agent. The deal is a $5 million raise from last year, and it follows a down year for Fielder in which he hit .261 with only 83 RBIs. The common belief is that GM Doug Melvin listened to offers for Fielder but decided to keep the slugging first baseman at least for one more year when he was underwhelmed.
Think the Brewers might be poised for a run in 2011? Fielder and Greinke now have the two highest salaries in Brewer history. Along with Yovani Gallardo and Marcum, the Brewers' rotation will feature three 2010 Opening Day starters. They lost no one from last year's everyday lineup, which was among the most productive in the National League.
The other hand is 2012, when Fielder could be playing elsewhere and top prospects Alcides Escobar and Lorenzo Cain (dealt to Kansas City for Greinke) could be rising stars. Some teams can compete every year and some teams are the Brewers, whose off-season could point them toward contention in 2011.
No. 2 Philadelphia Phillies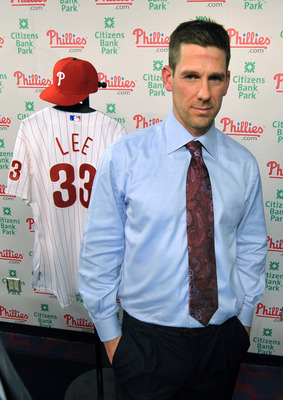 Drew Hallowell/Getty Images
It's likely that no major league team will have less turnover from last season than the 2011 Phillies. The Phillies attacked the off-season like they were one player away from a championship, which they might have been, considering the player in question was Cliff Lee.
With four straight division titles, the Phillies own the NL East like the ocean owns the color blue. Their only off-season departure was Jayson Werth to the Nationals, which may hurt the Nats more than the Phillies in the long run, considering that Werth will be paid over $20 million in each of the final four years of his contract to play late-30s, awesome-beard-having, doubles-hitting right field.
The Phillies are banking on Dominic Brown to assert himself in right field, though Ben Francisco could start there on Opening Day. The Phillies prudently passed on veteran OFs like Jeff Francoeur and Matt Diaz, choosing to stick with Brown. However, considering the three aces the Phillies will throw to start the season in Houston, the right field question seems inconsequential.
No. 1 Boston Red Sox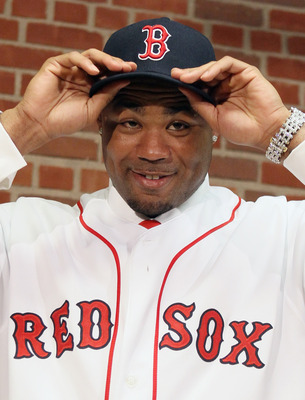 Elsa/Getty Images
After adding Carl Crawford, Bobby Jenks and Adrian Gonzalez, most observers believe the Red Sox may have had the best off-season prior to 2011. But they may have added more with the return to health of several key players, including Jacoby Ellsbury, Dustin Pedroia, and Kevin Youkilis.
The Red Sox' disappointing 2010 was actually an 89-win campaign that would have been a triumph for most teams. However, the Red Sox dealt with the aftermath like Rocky dealt with a loss to Apollo Creed. GM Theo Epstein went all Steinbrenner-y on the rest of MLB and now the Red Sox are favorites to topple the Rangers in the AL.
It just so happens that the Red Sox' hellacious off-season ends where the 2010 AL crown was decided; Opening Day 2011 will be in Texas.
Keep Reading