Senior Bowl 2011: Top 20 Prospects To Watch on Saturday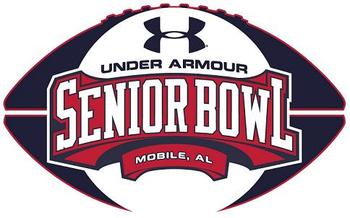 The 2011 Senior Bowl is upon us, as the entire NFL travels to Mobile, Ala., to scout the premier NFL Draft prospects. Although the NFL Draft Combine gets a lot of hype, there is no better place for players to improve their stock than Senior Bowl week.
The talent pool is very strong this year, but as always, a handful of players have pulled out of the game, some like Drake Nevis and Daniel Thomas because of injuries.
Other prospects are advised not to play in the game by their management teams.
You can watch Senior Bowl practice all week on the NFL Network. Practice is important because of the one-on-one battles that take place. This is where offensive and defensive linemen can earn millions of dollars.
Last year Brandon Graham, Mike Iupati, Sean Weatherspoon, and Kyle Wilson were four of the prospects who used the Senior Bowl to solidify first-round picks.
Here are the top 20 prospects I will be tuning in to watch this Saturday.
Follow me on Twitter @JohnLorge
20. D.J. Williams, TE, Arkansas
Chris Graythen/Getty Images
Senior Bowl Measurements: 6'1 7/8", 236

Pros: Very good receiving option, caught 149 balls in his career, which is impressive for a tight end. Hands catcher who is dangerous after the catch. Community role model.

Cons: Size limits him because he doesn't create an instant mismatch downfield. Had a killer drop in the final drive against Ohio State, which raises question marks about clutch ability.

Draft Prospectus: A creative offensive coordinator will like Williams in the H-back role. Should be a second-day pick, but might slide to the third day depending on 40 time.
19. Leonard Hankerson, WR, Miami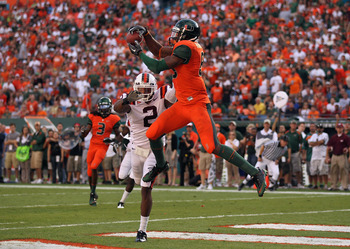 Mike Ehrmann/Getty Images
Senior Bowl Measurements: 6'1 5/8", 205

Pros: Super productive receiver by Miami standards, ranks among Michael Irvin and Andre Johnson in record books. Good frame allows him to body defenders and he attacks the ball with his strong hands.

Cons: Has struggled with drops throughout his career, which comes back to concentration. Isn't known for beating man coverage with clean routes.

Draft Prospectus: Slept on entering the draft process but was one of the stars in Monday's practice. Finishing the week like he started will lock him in Day 2 with second-round potential.
18. DeMarco Murray, RB, Oklahoma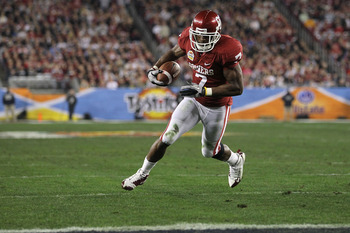 Ronald Martinez/Getty Images
Senior Bowl Measurements: 6'0", 214

Pros: Built a lot like Adrian Peterson. Hard runner with good blend of size, power, and speed. One of college football's best receiving backs, caught 157 passes for 1,571 yards and 13 TDs in four years.

Cons: Simply not a great running back, Murray was given plenty of opportunities to shine but never could find the spotlight as a rusher. YPC tanked in final two years at Oklahoma.

Draft Prospectus: Could have a Chester Taylor-type career. Third round looks like his ceiling, but being an experienced receiver really helps his stock.
17. Kendall Hunter, RB, Oklahoma State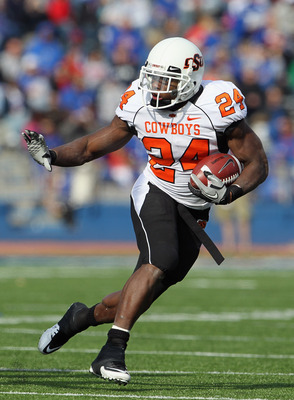 Jamie Squire/Getty Images
Senior Bowl Measurements: 5'7 1/4", 199

Pros: Thick lower half makes him less of a "little guy" and more of a "pocket Hercules." Uses his vision and patience well. Has long arms from a man his size and catches the ball naturally. Three down back.

Cons: He's not weak but he won't move any piles. Isn't a violent runner. Did miss time in 2009 with an ankle injury.

Draft Prospectus: Doesn't have the same upside that Ray Rice or Maurice Jones-Drew had coming out, so second round seems like a reach. Size will turn some teams off, so he might fall to the fourth or even fifth round.
16. Kelvin Sheppard, LB, LSU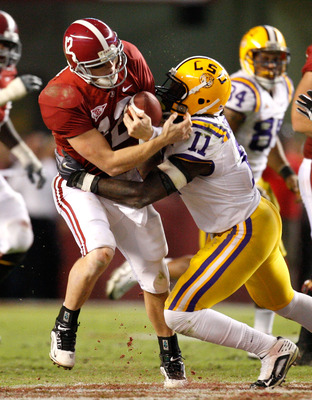 Kevin C. Cox/Getty Images
Senior Bowl Measurements: 6'2 1/8", 250

Pros: Looks the part of a NFL linebacker. Uses body mass to lay the boom whenever possible. Plays the entire field. Has desired leadership skills and is experienced on special teams. Has put his hand on the ground at times.

Cons: Doesn't do a great job of shedding blockers. Instincts are average. Misreads can leave him out of assignment.

Draft Prospectus: Scouts feel Sheppard is best as a 3-4 inside backer. Very solid prospect but doesn't flash specialness. Displaying leadership in Mobile should land him a Day 2 pick.
15. Greg Jones, LB, Michigan State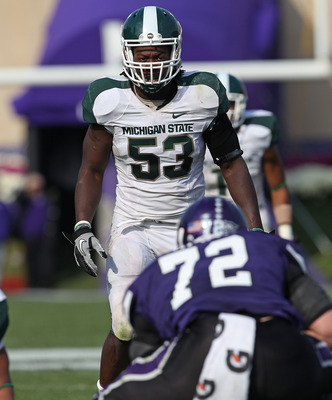 Jonathan Daniel/Getty Images
Senior Bowl Measurements: 5'11 7/8", 240

Pros: Great production, over 400 career tackles and notched 9 sacks as a junior. Has great instincts and covers the entire field. Can be used in coverage or blitzing in third-down situations.

Cons: Lacks prototypical height and appeared to be carrying a few extra pounds at weigh-ins. Not a great athlete, which takes him out of plays where he's out of position.

Draft Prospectus: Analysts are making too much of Jones' height; it does lower his draft stock but it won't prevent him from making plays in the NFL. A good week in Mobile could land him in the late second round to a team like New Orleans, but most mockers will project third round now due to size concerns.
14. Allen Bailey, DE, Miami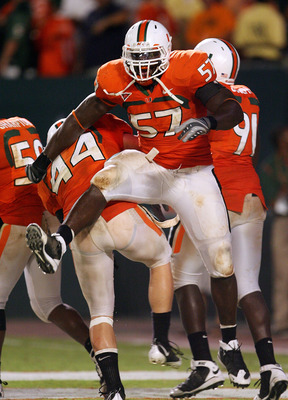 Doug Benc/Getty Images
Senior Bowl Measurements: 6'3 1/4", 278

Pros: Freak. Wins the beach body award for the 2011 Senior Bowl. Plays both the run and pass very well but isn't considered dominant at either. Can line up at several positions on the defensive line.

Cons: When you're strapped together like Bailey, it raises the question of why he wasn't more productive in college.

Draft Prospectus: His diligence in the weight room will earn Bailey a lot of hype, but in a post-Vernon Gholston world, teams know better than to be caught up in looks. Sound be a second-round lock.
13. Derek Sherrod, OT, Mississippi State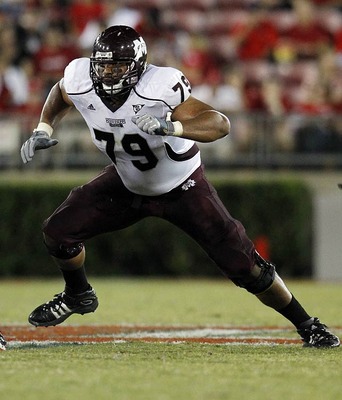 Senior Bowl Measurements: 6'5 5/8", 312

Pros: Great physical makeup. Longest arms and biggest hands at the Senior Bowl. Pass pro skills should allow him to be an early contributor at right or left tackle in the NFL. Shined against Michigan.

Cons: Too inconsistent. Needs to play lower and with more overall drive. Reserved personality turns some football types off.

Draft Prospectus: The offensive tackles are the most unsorted position group of the 2011 NFL Draft, but the Senior Bowl should help with that. Sherrod has a first-round ceiling and a late second-round floor, doubt the Seahawks or Bears would let him get to the third round.
12. Owen Marecic, FB/LB, Stanford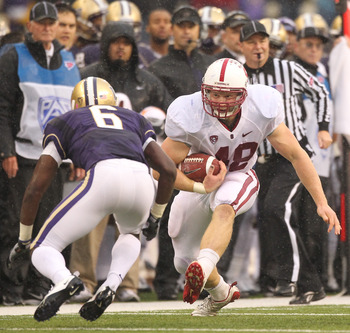 Otto Greule Jr/Getty Images
Senior Bowl Measurements: 6'0 3/8", 246

Pros: Three-way players in college means phenomenal conditioning and rare understanding of the game. Projects as a better fullback than linebacker. Loves contact and comfortable being used as a rusher or receiver.

Cons: Doesn't seem like a real threat on offense, more of an afterthought.

Draft Prospectus: I absolutely love Marecic, but my ranking does not reflect his draft status. For a fullback slipping in the second round would be a major coup, most feel he will come off the board in the fourth or fifth round. Don't be surprised if San Francisco takes him in the middle of the draft.
11. Rodney Hudson, G/C, Florida State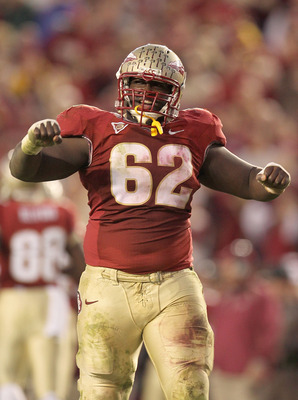 Mike Ehrmann/Getty Images
Senior Bowl Measurements: 6'2 1/4", 291

Pros: One of the most accomplished offensive linemen in Florida State history. Looks like a great guard prospect and might be tried at center. Stud in the run and pass game because of his awareness and execution.

Cons: Body type is far from ideal. Raw strength is questionable.

Draft Prospectus: Scouts noted Hudson looked sloppy at weigh-ins but my guess is he has already started bulking to add strength and eliminate size concerns. Guard isn't a premier position and without being a beast, Hudson looks primed for the second round.
10. Phil Taylor, DT, Baylor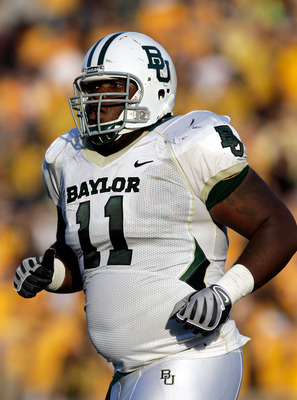 Jamie Squire/Getty Images
Senior Bowl Measurements: 6'3 1/2", 337

Pros: One of the few true nose tackle prospects in the draft. Carries his near 340 pounds well. Stud against the run with ability to collapse the pocket on passing downs.

Cons: Red flags go back to his Penn State days, possibly earlier. Weight management and overall conditioning is a concern.

Draft Prospectus: Taylor really needs the Senior Bowl to affirm what we saw against Illinois in the Texas Bowl. Fringe first-rounder (Jets?) who could slide a round or two depending how interviews go.
9. Anthony Castonzo, OT, Boston College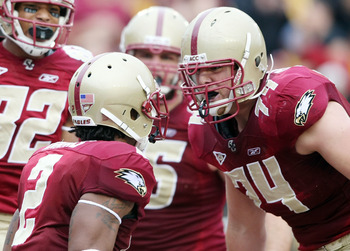 Elsa/Getty Images
Senior Bowl Measurements: 6'7 1/8", 305

Pros: Ideal makeup for the position. Great experience at left tackle. Overall very sound pass blocker and does a good job of getting in position on run plays. Biochemistry major.

Cons: Considered a finesse blocker because he isn't overly physical.

Draft Prospectus: Should be a starting tackle for 10 years in the NFL with Pro Bowl potential if he lands on a winning team. Hard time seeing him fall out of the first round.
8. Jake Locker, QB, Washington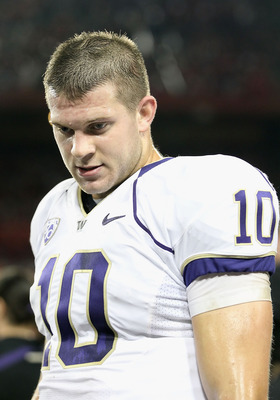 Christian Petersen/Getty Images
Senior Bowl Measurements: 6'2 1/4", 228

Pros: Big time arm. In the pocket he might be the best prospect from a mechanics standpoint. Knows how to pick up first downs and touchdowns with his feet. Competitor.

Cons: Either plays too robotic or too cerebral; either way he comes off as trying too hard instead of letting the game come to him. Lacks NFL accuracy. Didn't show enough improvement in final year of college.

Draft Prospectus: I will give Locker one excuse for his poor performances at Washington, there was a major lack of talent on the roster. Even without NFL caliber options to feed, I have a hard time seeing any of the other top three QBs being this unsuccessful at Washington. Locker's ceiling seems like the Redskins in the first round, but if he doesn't go there, he might not hear his name until Day 2.
7. Stephen Paea, DT, Oregon State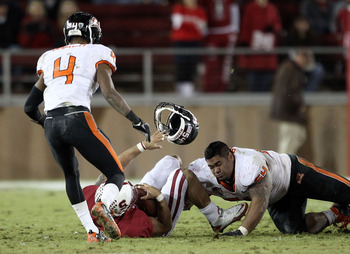 Ezra Shaw/Getty Images
Senior Bowl Measurements: 6'1 1/8", 295

Pros: Weight room stud. Has a frame that could assume pounds but at his current playing weight, he can be a disruptive force against the run and get behind the LOS.

Cons: Doesn't look like a plug-n-play nose tackle. Doesn't have the same height as other first-round DT prospects.

Draft Prospectus: Paea is one of the most heavily debated prospects in the draft. He has a high first-round ceiling and a low second-round floor. Personally, I think he has a long, versatile career ahead of him and I love his demeanor on the field.
6. Nate Solder, OT, Colorado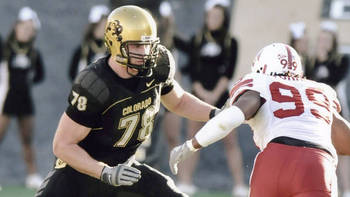 Senior Bowl Measurements: 6'8 1/4" 314

Pros: One of the leanest 314-pounders you will find, can easily add pounds. Former tight end is a great athlete. Has high football and traditional IQs.

Cons: Accused of playing high, but hard not to at that height. Isn't the meanest guy on the field.

Draft Prospectus: Solder shouldn't slip past the early 20s, but he does have potential to crack the top 10.
5. Mark Herzlich, LB, Boston College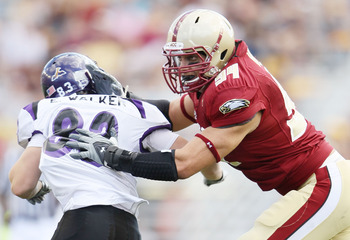 Elsa/Getty Images
Senior Bowl Measurements: 6'3 5/8", 250
Pros: Unquestioned character. Prototypical size, impressed scouts in weigh-ins. Can get to the passer and really shines in coverage. Skill set reminds me of Mike Vrabel.

Cons: Health is a major concern.

Draft Prospectus: Considered a first-round prospect at the end of the 2008 season who ended this season with a third-round grade. I think the first-round potential is still there; possibly a team like KC or NE would take him. Shouldn't get out of the second round.
4. Cameron Jordan, DE, California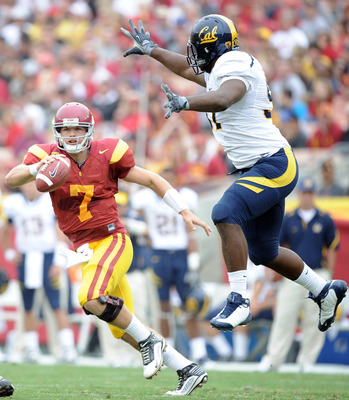 Harry How/Getty Images
Senior Bowl Measurements: 6'4 1/8", 287

Pros: NFL pedigree. Blend of size and athleticism make him a great fit for a three- or four-man front. Made plays without superstars around him. Run stuffer and makes plays in the backfield.

Cons: Isn't an all-star pass rusher.

Draft Prospectus: Jordan doesn't have many haters in the NFL Draft world. Even in a strong defensive end class, mockers are considering him a first-round lock.
3. Gabe Carimi, OT, Wisconsin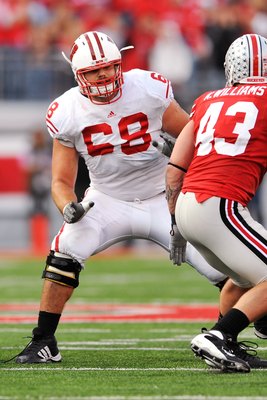 Jamie Sabau/Getty Images
Senior Bowl Measurements: 6'7 1/8", 315

Pros: Hog in every sense of the word. Isn't as pretty as some of the tackle prospects, but there isn't another tackle in the 2011 draft class I would rather run behind. Has displayed starting pro left tackle pass skills too.

Cons: Questioned quickness. Entering the season, "experts" tagged him as a right tackle-only prospect.

Draft Prospectus: Carimi owned practice on Monday. Teams who favor athletic tackles may pass on him, but teams who favor winning football games won't.
2. Ryan Kerrigan, DE, Purdue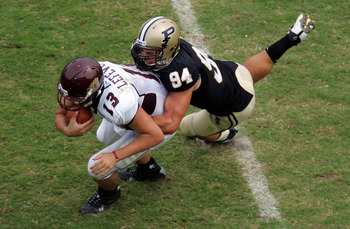 Ronald Martinez/Getty Images
Senior Bowl Measurements: 6'3 7/8", 255

Pros: Double-digit sack production in back-to-back seasons. Came into Mobile about 10 pounds lighter than expected, but not in a bad way. He is making a point to 3-4 teams that he can be their OLB.

Cons: Carries an injury history. Good but not great athleticism will turn some teams off in the top half of the first round.

Draft Prospectus: If Kerrigan can post a Brian Orakpo combine he could slide in the top 15 but it doesn't look like he will. Posting a Brandon Graham Senior Bowl week could do the same thing, though. New England has to be watching him at 17, with a long list of 3-4 teams hoping he slides after that.
1. Von Miller, LB, Texas A&M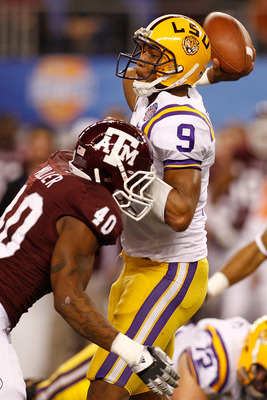 Chris Graythen/Getty Images
Senior Bowl Measurements: 6'2 5/8", 237

Pros: Three-down linebacker who is best on third down because he is fluid in coverage and is a terrific pass rusher. Has coveted speed coming off the edge. Big enough to play the edge in a 3-4 and a great fit in the 4-3 as well.

Cons: Doesn't have the bulk of a traditional blue chip OLB prospect. Can get too far upfield on run plays.

Draft Prospectus: Long-armed linebacker can have a James Harrison impact on games. Early in the season mockers thought he was a fringe first-rounder but right now it doesn't look like Miller will leave the first round. Tennessee and Detroit are the top candidates.
Keep Reading