True Grit: Top 10 Gutsiest Performances in Sports History
Mike Powell/Getty Images
With the media, the fans, current and former football players criticizing the physical toughness of Chicago Bears quarterback Jay Cutler after he left Sundays NFC Championship game with a knee injury which prohibited him from returning to the field, we must remember the Bears were not suppose to be in this position in the first place, according to the "experts."
Before the season even started, critics proclaimed the Bears would finish nothing better than 7-9, and Lovie Smith would eventually be fired. For the Bears to have finished where they did, every media outlet and fan should be grateful the Bears even had a chance to make it to the Super Bowl.
In the mist of all the craziness questioning Cutler's heart and toughness, let's not forget, without him, the Bears would not have had a chance at all to compete in their division.
Heck, being a player in Chicago, you have to develop some type of toughness playing in front of a ruthless fan base and the vultures in the media.
Aside from the current turmoil in the Chicago Bears organization, there have been astonishing performances from athletes in sports history who persevered through injuries. These athletes used will and determination to carry them to finish line. These athletes toughness will never be questioned after an inspirational performance.
Here are the top ten gutsiest moments in sports history.
10. Curt Schilling and the Bloody Sock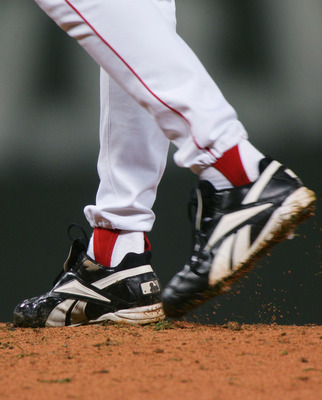 Jed Jacobsohn/Getty Images
In Game Six of the American League Championship series in 2004, Curt Schilling was on the mound with a trip to the World Series on the line for the Boston Red Sox. Back in Game One of the ALDS, Schilling tore his tendon sheath in his ankle. He still managed to suit up for Game Six of the ALCS against the New York Yankees as doctors found a way to keep his tendon in place with a series of stitches.
While Schilling was pitching during Game Six of the ALCS, blood began to soak up in his sock from the sutures used in the medical procedure to protect the tendon in his ankle. Despite the constant pain, Schilling dealt with the pain from pushing off of his ankle. He managed to throw seven sensational innings, giving up just one run, one four hits, and striking out four.
His sock was placed into the Hall of Fame after Boston's victory over the St. Louis Cardinals in the World Series.
9. Philip Rivers Plays on a Torn ACL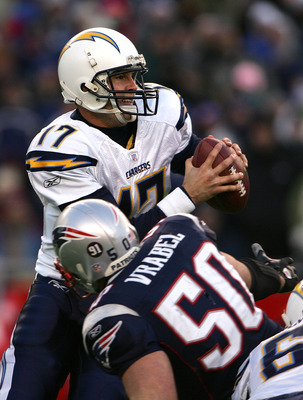 Chris McGrath/Getty Images
In the 2008 AFC Divisional game against the Indianapolis Colts, Philip Rivers suffered a knee injury and he was replaced by Billy Volek, who eventually led them to a victory over the Colts to take them to the AFC Championship game.
The following day, reports came out Rivers had suffered a torn ACL and he was deemed doubtful against the Patriots in the AFC Championship game. However, Rivers insisted that he would find a way for him to start in this game.
Rivers found a way and he played on one knee. While wearing a knee brace against the Patriots, with a trip to the Super Bowl on the line, Rivers gave it his all. The Patriots ended up defeating the Chargers, but the media and players everywhere respected Rivers dedication to the game.
His torn ACL would later force him to have surgery.
8. Brett Trautmann Puts His Neck on the Line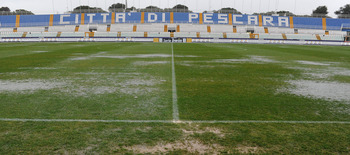 Giuseppe Bellini/Getty Images
Bert Trautmann was a goalkeeper for Manchester City during the 1956 FA Cup Final.
During the game, Trautmann broke his vertebrae in his neck with less than 15 minutes to go in the game.
Trautmann would stay in the game and he would grab two more saves in a 3-1 victory.
.
7. Bob Baun Scores Winning Goal Despite Skating On One Leg
In Game Six of 1964's Stanley Cup finals, Toronto Maple Leafs Bob Baun took a slap shot to his foot with less than ten minutes left to play in the game.
Baun had to be carried off in a stretcher, but he returned in overtime to score the game winning goal to defeat the Detroit Red Wings.
After the game, X-rays indicated Baun had a broken bone in his leg.
6. Tiger Woods: Man Of Iron Captures 14th Major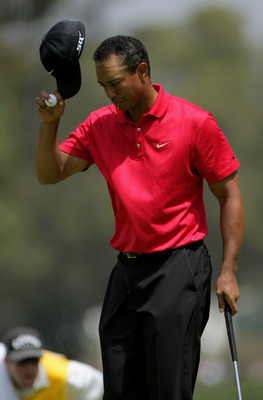 Doug Pensinger/Getty Images
In 2008, Tiger Woods fought his way through 91 holes at the U.S. Open, just two months after he had arthroscopic knee surgery.
At numerous times, Woods appeared to be in excruciating pain as his knee buckled on him before the final round. However, he managed to birdie on the 18th to tie Rocco Mediate. Woods would eventually defeat Mediate in sudden death to capture his 14th major.
Two days later, he announced that he would undergo reconstructive knee surgery. He would miss the rest of the season.


5. Ben Hogan Limps to Victory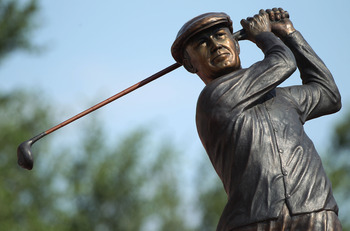 Scott Halleran/Getty Images
Ben Hogan is telling Tiger Woods, "Oh yeah, look what I can do."
Hogan was involved in a terrible car accident that left him with a broken collarbone and rib, fracture of the pelvis, and a fractured ankle. After a year passed, a visibly injured and courageous Hogan, took the green for the 1950 U.S. Open.
Hogan forced a playoff on the final hole, where he would eventually win.
4. Emmitt Smith Shoulders the Load for the Dallas Cowboys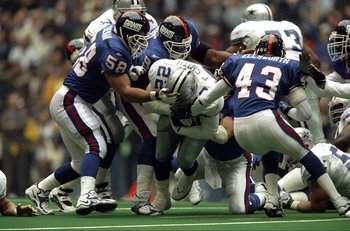 Stephen Dunn/Getty Images
With 1:58 left in the first half against the New York Giants, a game in which the Cowboys had to win in order to clinch the NFC East title, Emmitt Smith separated his shoulder on a tackle by Greg Jackson.
Smith was asked by the Cowboys medical trainer on how he felt. Smith responded the pain was so bad, he couldn't even describe it. But when Kevin asked him if he wanted to come out, Emmitt told him, 'I'm not coming out. I've got to play."
Smith finished the day with 229 total yards, including 168 rushing yards to help the Cowboys clinch the NFC East crown in 1993. He was able to secure his third consecutive rushing title with his performance.
Smith was able to do all of this even though he could not carry the ball in his right hand, reach out for a pass, or even pick himself off of the ground
3. Kirk Gibson's 1988 World Series Home Run
"I don't believe what I just saw! I don't believe what I just saw! Is this really happening?," responded Jack Buck after an improbable batting performance from Kirk Gibson in the 1988 World Series between the L.A. Dodgers and the Oakland Athletics.
Bothered by a stomach virus and injuries to both of his legs, the Dodgers Gibson was not expected to play at all. Between innings, Dodgers coach Tommy Lasorda would repeatedly ask Gibson how he was feeling. Gibson continued to give him the thumbs down signal.
All of the sudden, in the ninth inning, Gibson approached Lasorda, telling him he could bat for him if Lasorda needed him. In the bottom of the ninth, with two outs and a man on first with the Dodgers trailing 4-3, Gibson was called off the bench to make his first, and only World Series appearance, to pinch hit.
Gibson limped to the home plate as he dug in to face one of the most dominating closers in the game, Dennis Eckersley. Eckersley ran the count full, but it was clear who had the upper hand in this matchup as Gibson appeared lost at the plate.
On the very next pitch, in what looked like a swing with one arm, Gibson launched the ball over the right field fence.
Gibson hobbled painfully around the bases and pumped his fist, as his teammates and the fans were in a frenzy. The Dodgers won the game, 5–4, and would go on to win the World Series, 4–1.
2. Brett Favre Does It For His Father
One day after his father passed away with a heart attack, Brett Favre spoke to his teammates in an emotional meeting and he guaranteed them he would suit up to play against the Oakland Raiders. On December 22, 2003, with a heavy heart, Brett Favre showcased why he is considered one of the greatest athletes to ever play professional football.
Brett Favre passed for four touchdowns, threw for 399 yards, completed 73 percent of his passes, and he had a passer rating of 154.9, which would be the highest of his remarkable career. The Packers ended up defeating the Raiders 41-7.
Favre had the whole world in awe and tears at the inspirational play he displayed on the field.
After the game, Favre was asked how his father would have feel about his performance today. Favre answered with,"I knew that my dad would have wanted me to play," Favre said. "I love him so much, and I love this game. It's meant a great deal to me, to my dad, to my family, and I didn't expect this kind of performance. But I know he was watching tonight."
And he was smiling down at you, too.
1. Kerri Strug's Gold Medal
In what is one of the most memorable sports moments in American history, Kerri Strug's determination in the 1996 Atlanta Olympics showed what inner spirit and will people possess.
The U.S. gymnastics team needed Strug to earn a 9.5 or better to secure a gold medal for the U.S. After two consecutive falls for the Americans, Kerri Strug's attempted her vault, but only to make the same mistake. However, she appeared to have twisted her ankle as she attempted to land from her vault.
Strug was noticeably injured as she limped around for a couple of seconds, hoping she could shake off any injury before she makes her next attempt.
Strug gathered herself and she prepared for her next attempt. What happened next would be the image for perseverance for years to come. She landed her vault on one leg and she earned a 9.712 to clinch the gold medal.
She instantly became an inspiration to anyone who had any type of obstacle to overcome and she showed that if you just believed in yourself, anything is possible.
Keep Reading