2011 NFL Mock Draft: Is Todd McShay An Idiot Putting Jake Locker at No. 8?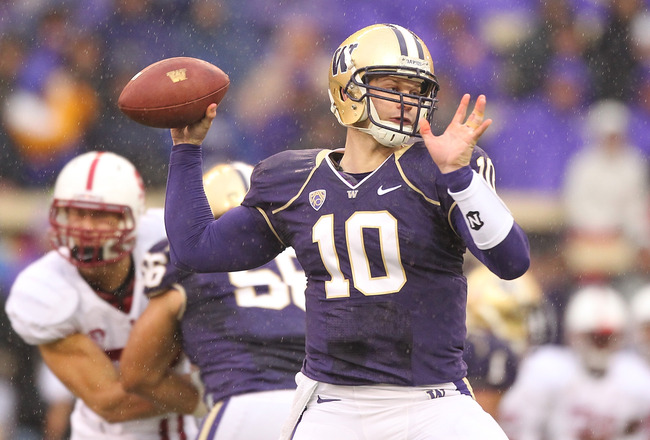 Otto Greule Jr/Getty Images
2011 NFL mock draft is here and we're breaking down all 32 picks, but one of the players we'll be sure to focus on is Washington quarterback Jake Locker.
As we all know, Locker would have been the first pick in the draft last year, but came back to Washington for one more year and his draft stock fell to pieces. ESPN's Todd McShay has Locker going eighth but is that the way it's going to be?
We'll find out if I agree with McShay inside.
If you agree or disagree make sure to let it be known in the comments.
No. 1: Carolina Panthers — Nick Fairley, DT, Auburn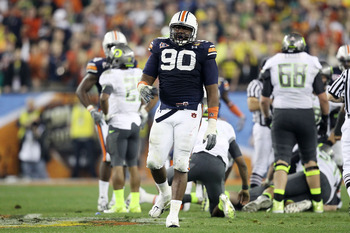 Christian Petersen/Getty Images
It looks like Nick Fairley is going to be the guy at the top for the Panthers.
Carolina could really use a quarterback here, but there is no one worth taking at the top spot and Fairley is a dominant defensive lineman who has a motor that never stops. He'll have to shake the reputation of being dirty, but he's got a lot of tools.
I think he'll dominate at the NFL level with that motor.
No. 2: Denver Broncos — Da'Quan Bowers, DE, Clemson
Kevin C. Cox/Getty Images
Denver struggled mightily in trying to pressure the quarterback this year and Da'Quan Bowers would be a great fit.
Bowers is a beast of a player that can fit into the 4-3 that John Fox will run in Denver and will be an athletic player that the Broncos can use off of the edge, sort of like how Fox used Julius Peppers in Carolina during his prime.
He's certainly in the mix for Denver with the second pick.
No. 3: Buffalo Bills — Patrick Peterson, CB, LSU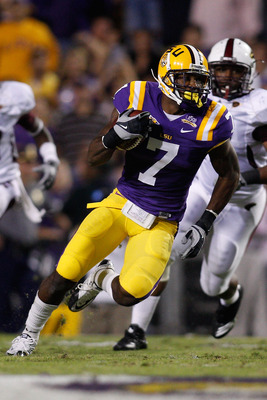 Chris Graythen/Getty Images
Patrick Peterson is arguably the best cornerback in the draft and a guy Buffalo would love to have at this spot.
The choice would be between Peterson and Prince Amukamara of Nebraska and it's really going to come down to the combine, pro days and interviews with both players, along with preference within the Buffalo coaching staff.
You can't go wrong with either, but I think it's going to be Peterson.
No. 4: Cincinnati Bengals — A.J. Green, WR, Georgia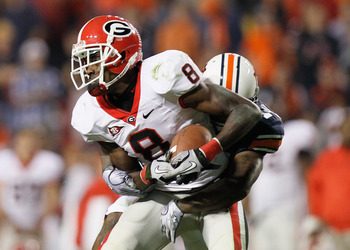 Kevin C. Cox/Getty Images
Terrell Owens is a free agent and Chad Ochocinco could be out in Cincinnati so the Bengals have to replace that somehow.
Enter A.J. Green, a physical freak who could step in and be the guy for the Bengals in the passing game. Sure, Carson Palmer might not be there next year, but there isn't a quarterback worth taking at this point in the draft.
Green is by far the best wideout in the draft and should be taken in the top five.
No. 5: Arizona Cardinals — Robert Quinn, DE, North Carolina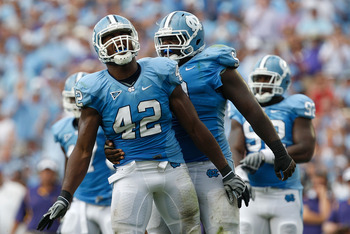 Streeter Lecka/Getty Images
Even a year away from football can't stop Robert Quinn from being a top draft pick.
Quinn was suspended for the entire 2010 season by the NCAA, but he's going to be taken early on in this draft and it's because of his physical gifts. He's a guy who can get after the passer and bolster that Arizona defense.
Don't be surprised to see a quarterback taken here, either. This pick could change a couple of times before the draft.
No. 6: Cleveland Browns — Marcell Dareus, DE, Alabama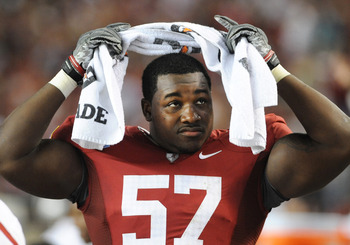 Al Messerschmidt/Getty Images
Cleveland needs to keep building that defense up and Marcell Dareus is the guy that can help do it at this point in the draft.
Dareus is a playmaker and he knows what it's like to play dominant, shut-down defense and can really make an impact for the Browns. Cleveland needs a playmaker on defense and if they pick Dareus, they will certainly have that.
The Browns have their quarterback, now it's time to lock down the defense.
No. 7: San Francisco 49ers — Prince Amukamara, CB, Nebraska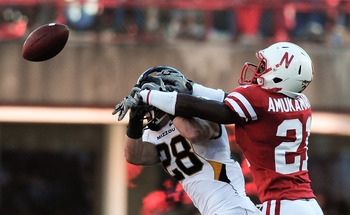 Eric Francis/Getty Images
Prince Amukamara could be one of the top picks in the draft and if San Francisco got him here, it would be a steal.
Amukamara is a stud cornerback and would bolster any defense he was placed into. He's a guy that you can just put out there every Sunday in his rookie year and watch him turn into a total shutdown cornerback in the NFL.
He's got so much talent and he looks like a sure thing coming out of Nebraska.
No. 8: Tennessee Titans — Von Miller, LB, Texas A&M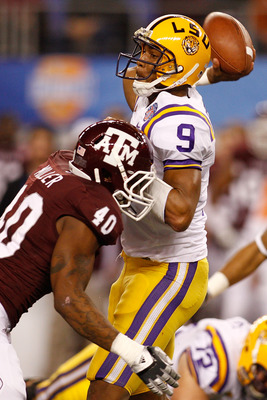 Chris Graythen/Getty Images
Let's be blunt—the Titans' linebackers are terrible.
Tennessee's linebackers struggled mightily in coverage and really couldn't pressure the quarterback. Von Miller fixes both of those things.
He's a guy that is shooting up the draft board and the Titans could really use a player like him to help rebuild that defense.
A quarterback may be an option here, but you never know.
No. 9: Dallas Cowboys — Ryan Kerrigan, DE, Purdue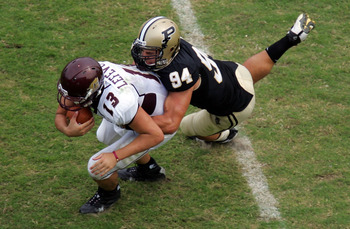 Ronald Martinez/Getty Images
The Cowboys would have loved a cornerback here, but they aren't in the position for one.
Ryan Kerrigan could be a guy who can come in and pressure the quarterback with DeMarcus Ware and give the Cowboys a lot of pressure up front, making the quarterback get rid of the ball a lot quicker than he wants to.
He can get after the passer and help lessen the pressure on that weak secondary.
No. 10: Washington Redskins — Blaine Gabbert, QB, Missouri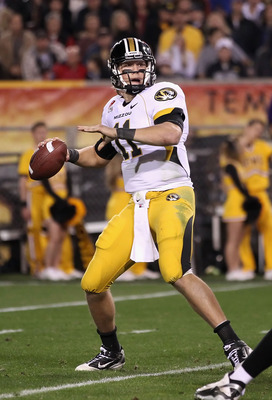 Christian Petersen/Getty Images
Blaine Gabbert may be the best quarterback in the draft and the Redskins certainly need a franchise player.
Donovan McNabb is going to be shipped out of town one way or another and Washington has to replace him somehow. This pick is right in the range of where you can start to see quarterbacks going off of the board in this draft.
Gabbert has a lot of tools and should be looked at as one of the top players at his position.
No. 11: Houston Texans — Aldon Smith, DE, Missouri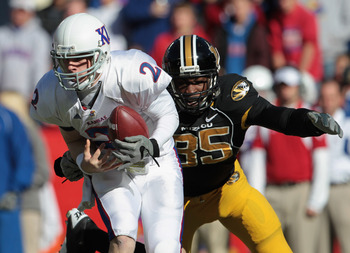 Jamie Squire/Getty Images
Aldon Smith is an athlete. That's the best way to put it.
He just makes plays and even though he doesn't have much in the way of polished technique, he's a guy who has all of the skill to be molded into a great lineman and someone who can give opposing quarterbacks trouble on a weekly basis.
He's been rising up the draft board and he could make a huge splash in the right system.
No. 12: Minnesota Vikings — Jake Locker, QB, Washington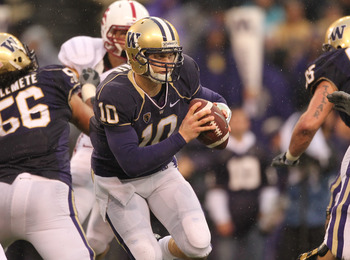 Otto Greule Jr/Getty Images
Now, Vince Young may be an option after the hiring of Young's former quarterback coach Craig Johnson, but I doubt it.
There's too many red flags with Young to make him a viable option to be anyone's starting quarterback at this point.
I think Minnesota will look to the draft to fix the quarterback position, and why not Jake Locker? He's got plenty of upside, even if his accuracy is an issue.
I think he can be molded into a great pro player and could be a steal for the Vikings.
No. 13: Detroit Lions — Akeem Ayers, OLB, UCLA
Harry How/Getty Images
Jim Schwartz is a defensive-minded coach and it's time to keep fixing that Detroit defense.
It improved a lot last year, and although the Lions could really use a cornerback to help fix an otherwise weak secondary, there is no one available at this point thanks to Detroit's success towards the end of the season.
Ayers is a guy who can make a big impact from the linebacker position and cause havoc for opposing offenses.
He would fit nicely into Detroit's defensive game plan.
No. 14: St. Louis Rams — Julio Jones, WR, Alabama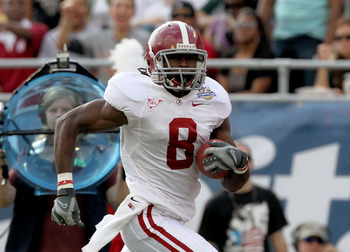 Mike Ehrmann/Getty Images
Sam Bradford needs someone to throw to, that much is obvious.
If you're going to have a franchise quarterback, you need to put him in the best position possible to make plays, and picking up a guy like Julio Jones will do that for the Rams.
Jones is a guy who can be a number one wideout and he will make plays for Bradford down the field.
Bradford can only get by with the guys that he had in the lineup for so long.
No. 15: Miami Dolphins — Cam Newton, QB, Auburn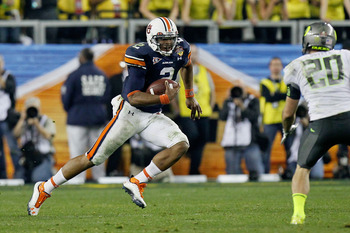 Kevin C. Cox/Getty Images
Now Mark Ingram is a possibility, but with Miami's quarterback situation, I had to go with Cam Newton.
Newton is a work in progress, that's for certain, but he's also a guy who can make plays and will create a lot of buzz around a team that could sorely use it after a rough start to the offseason. There cannot be another year of Chad Henne, so why not Newton?
He could be a steal or a colossal bust, but either way, Miami may take the risk.
No. 16: Jacksonville Jaguars — J.J. Watt, DE, Wisconsin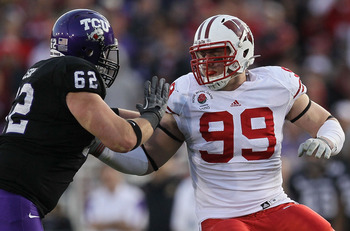 Stephen Dunn/Getty Images
The Jacksonville Jaguars need to keep working on that defense and J.J. Watt is a game-changer.
Watt is a guy who can get after the quarterback and has great physical tools that will impress a lot of scouts around the league. He is also someone who can really turn the Jaguars defense into a dominant one.
Watt is a guy that offenses have to account for and that should help Jacksonville's weak secondary.
Watt would be a great pick-up at this point in the draft.
No. 17: New England Patriots (Via Oakland) — Cameron Heyward, DE, Ohio State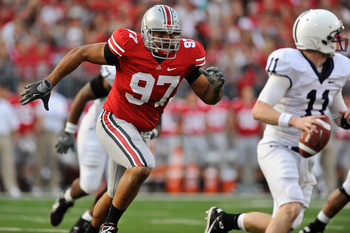 Jamie Sabau/Getty Images
This is the first of New England's two picks in the first round and look for the Patriots to keep building their defense.
Cameron Heyward out of Ohio State would be a nice pick at this point in the draft. He was a beast all year long, especially in the Sugar Bowl against Arkansas, where he took the game over singlehandedly. He's been inconsistent at times but I think Bill Belichick can get the most out of him.
Heyward could make that secondary look even better by putting constant pressure on the quarterback.
No. 18: San Diego Chargers — Adrian Clayborn, DE, Iowa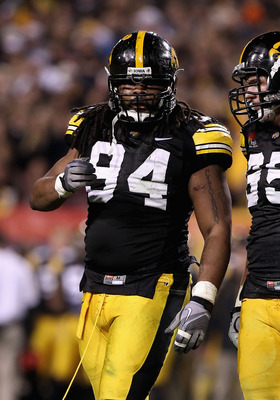 Christian Petersen/Getty Images
I don't think we need to worry about San Diego's offense, we realized that last year.
The defense, on the other hand, could use some work.
That's where Adrian Clayborn comes in as a pass rusher. He's a guy who could help the Chargers disrupt an offense's timing and get the ball back in Philip Rivers' hands.
San Diego didn't do that enough last year and that's why the Chargers missed the playoffs.
No. 19: New York Giants — Stephen Paea, DT, Oregon State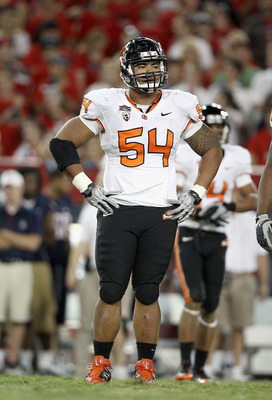 Christian Petersen/Getty Images
When you think of the New York Giants, you think of their defensive line.
It's the unit that helped bring New York a Super Bowl, and a year after adding Jason Pierre-Paul on the end, it's time to address the tackle position with Stephen Paea.
He's a big, strong guy who can clog up the middle and draw some attention off of the ends, freeing up the pass rush.
It's a move that would make a lot of sense for New York.
No. 20: Tampa Bay Buccaneers — Justin Houston, OLB, Georgia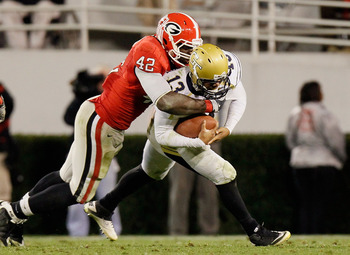 Kevin C. Cox/Getty Images
A lot of mocks have Adrian Clayborn going here, but since he's off the board in this version, Justin Houston slides up to take his place.
Houston can play both defensive end and linebacker, so that makes him a very valuable piece for a very young defense that was coming into its own at the end of the season.
There's a lot of talent there and Houston can help put the Bucs over the top.
He's an intriguing prospect to say the least.
No. 21: Kansas City Chiefs — Jonathan Baldwin, WR, Pittsburgh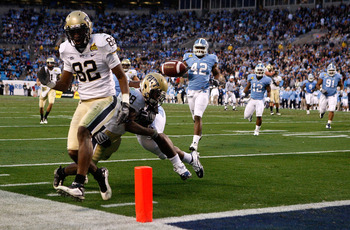 Streeter Lecka/Getty Images
One thing was perfectly clear when watching the Kansas City offense this season—the Chiefs need another wideout.
Sure, Dwayne Bowe is awesome, there's no denying that, but other than him there is no wideout that can really draw attention in the passing game.
The Chiefs already have the running game locked down and have a top wideout. Adding Baldwin would give Matt Cassel options and make Kansas City dangerous.
An offensive lineman is another option at this point as well, but I think we'll see Baldwin go off of the board here.
No. 22: Indianapolis Colts — Nate Solder, OT, Colorado
Doug Pensinger/Getty Images
If you watched the Colts at all this year, there is no questioning that Indianapolis needs to fix their offensive line.
Nate Solder is a guy who can be a rock on that line for years to come and protect Peyton Manning after he signs a big, fat contract in the offseason.
Of all the areas that Indy struggled in this year, the offensive line was by far the worst unit.
Solder would fix that issue in a hurry and give Manning plenty of time to throw.
No. 23: Philadelphia Eagles — Brandon Harris, CB, Miami
Kevin C. Cox/Getty Images
An offensive lineman is definitely in play here, but I like Brandon Harris for the Eagles.
Philadelphia doesn't have a lot of depth in the secondary behind Asante Samuel and we saw that time and time again this season as guys like Mario Manningham and Kenny Britt ate the Eagles secondary alive during games.
Bringing in Harris would help stabilize the unit and get some needed depth in there.
No. 24: New Orleans Saints — Cameron Jordan, DE, California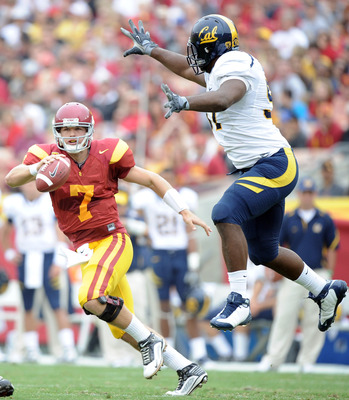 Harry How/Getty Images
The New Orleans Saints did not get a lot of pressure on the quarterback this season and that has to change.
Here's where Cameron Jordan comes in. He can get in there and get after the passer and help get the opposing quarterback to throw the ball to some of New Orleans' playmakers on the defensive side.
He would be a nice pickup and would do a great job of complementing Will Smith on the defensive line.
No. 25: Seattle Seahawks — Ryan Mallett, QB, Arkansas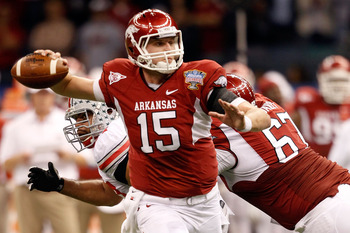 Matthew Stockman/Getty Images
Ryan Mallett plummeted down the board in this mock and it's because of some off-field concerns.
Mallett has been drawing some comparisons to Ryan Leaf, and that's one thing you never want to hear about a quarterback. He's got a big, strong arm and he's very accurate, and those are the things that are going to get him drafted.
Seattle really needs a quarterback of the future and he may make a lot of sense.
No. 26: Baltimore Ravens — Aaron Williams, CB, Texas
Ronald Martinez/Getty Images
The Ravens could really use a cornerback and with Brandon Harris off the board, Aaron Williams becomes an option.
Baltimore's defense isn't what it used to be, but Williams would be a great infusion of youth to a secondary that doesn't have a lot of great names at the cornerback position. Chris Carr isn't bad, but he's not exactly great either.
Williams could help extend Baltimore's run a couple more years.
No. 27: Atlanta Falcons — Allen Bailey, DE, Miami
Doug Benc/Getty Images
Let's be honest, Atlanta's defense has some room for improvement.
By putting Allen Bailey, out of Miami, at the defensive end position, you can have a guy who can pressure the quarterback and make those cornerbacks that got abused by Aaron Rodgers in the playoffs look a little bit better.
It could be a nice little pickup and could help Atlanta get over the hump next year.
No. 28: New England Patriots — Mark Ingram, RB, Alabama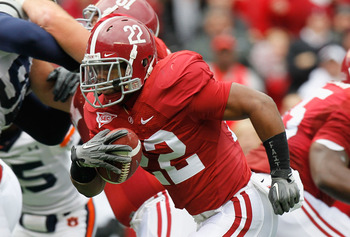 Kevin C. Cox/Getty Images
It's a long fall if the Miami Dolphins don't take Mark Ingram.
Ingram could go to the Dolphins in the middle of the draft, but if he doesn't, it's going to be a while before a team could be interested in his services.
The Patriots could be interested in teaming him with BenJarvus Green-Ellis and Danny Woodhead in the offense. The former Heisman winner could take over Fred Taylor's role in that offense and grind out the tough yards for the Patriots.
He could be a great pick-up for New England and a total steal.
No. 29: Chicago — Tyron Smith, OT, USC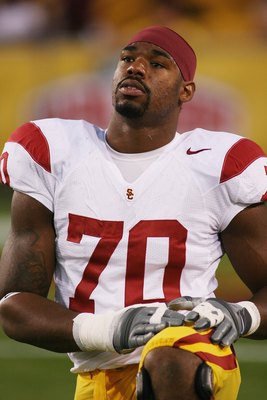 Jeff Golden/Getty Images
Do you think the Chicago Bears could use an offensive lineman?
Jay Cutler was pounded into the dirt behind that shaky offensive line and the Bears need to find a way to protect their franchise quarterback.
Tyron Smith could be the guy the Bears take here and if they do, they'll have a guy who can anchor the offensive line.
Some mocks have him going higher, meaning he could be a steal here.
No. 30: New York Jets — Drake Nevis, DT, LSU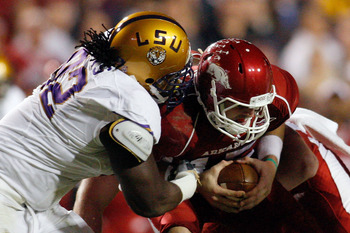 Chris Graythen/Getty Images
When you get deep into the playoffs, sometimes your options in terms of a draft pick are limited.
The Jets could be in the market for a defensive lineman and that's where Drake Nevis comes in.
He's a big guy who can stuff the middle and make plays for the Jets on defense. With Kris Jenkins injured again this year, a defensive tackle could be a good pick here.
He's not a bad option at this point in the draft.
No. 31: Green Bay Packers — Corey Liuget, DE, Illinois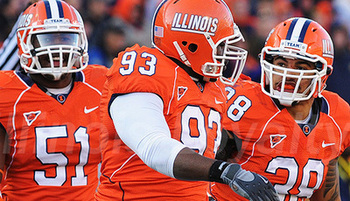 When you get to the Super Bowl, sometimes your options in terms of a draft pick are limited.
The Packers could use some extra depth on the defensive line and Corey Liuget could really fill the gap.
He had a good career at Illinois and he's moving up the draft board and could become an option for the Packers.
You could certainly do worse than Liuget at this point in the draft.
No. 32: Pittsburgh Steelers — Mike Pouncey, G, Florida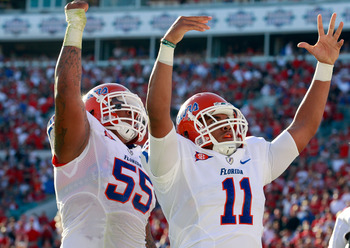 Sam Greenwood/Getty Images
After having great success after drafting his brother, Maurkice, why not get Mike Pouncey, out of Florida, and bring them together in Pittsburgh?
The Steelers certainly could use an offensive lineman and that's been the case for a couple of years now. It's time to protect Ben Roethlisberger and keep him upright under center for Pittsburgh. I know he's a huge player, but the Steelers can't keep letting him get hit back there.
It's something that would be a great move for the Steelers.
Keep Reading