Vince The Viking: Eight Reasons The Vikings Should Sign Vince Young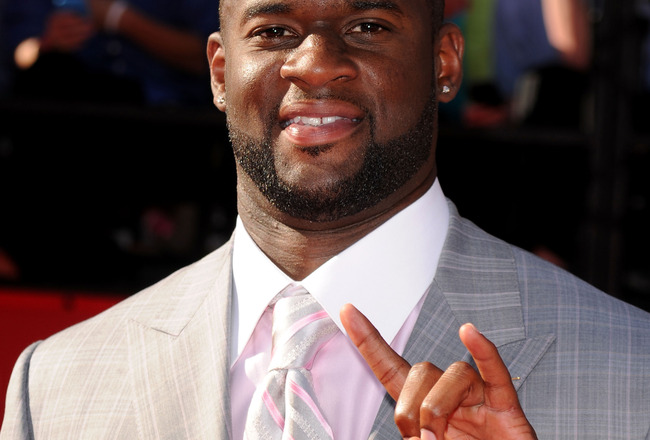 Hook em Vikings?
Jason Merritt/Getty Images
It is no surprise that the Minnesota Vikings are one of several teams in search of a starting NFL quarterback. The Brett Favre experiment is mercifully over......we think. Chilly is ...well chillin somewhere and the Leslie Frazier era is officially here. One of the most critical decisions that Frazier and Company will make this off season is who will be the starting quarterback for the Vikings next year. The right decision and this Viking ship has the chance to sail to NFL glory. The wrong decision and they might not even make it out of the harbor. Speculation abounds as to who might man the offensive oars of this ship. And so now here it is again Viking fans: The case for and against Vince Young. Hook 'em Vikings?
SHOOTING STAR?
8. SHOOTING STAR? Despite his highly publicized difficulties with former coach Jeff Fisher, Young's on the field performance had been on a significant uptick since his reemergence as the starting QB for the Titans in 2009. Over that time span he posted a 12-4 W-L record as a starter, a passer rating of 90, throwing for 20 touchdowns and 10 interceptions. He also threw for over 3100 yards in an offense that is built on running the football. The magnificent 99 yard drive that he engineered against the Arizona Cardinals in November 2009, converting three fourth down passes including the game winner as time expired is testament to his ability to deliver in the clutch reminiscent of his days as a collegian and his rookie year in the NFL.
THE PRICE IS RIGHT
7. THE PRICE IS RIGHT. 27 year old former first round QBs with Young's pure athletic ability and experience as a starter don't grow on trees. The Vikings would likely not have to surrender any draft picks and would be able to sign him at a significant discount to a two or three year contract as a free agent. While the situations are not exactly comparable, the Eagles were able to parlay Michael Vick's off the field difficulties into a relatively inexpensive short term investment in a future starting QB. Young will never be a cheaper acquisition than he is right now. So Vince Young, Come on down. You may be the next quarterback of the Minnesota Vikings!
BOMBS AWAY!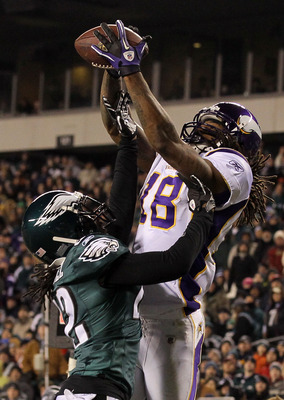 Young to Rice 2.0. It could happen.
Jim McIsaac/Getty Images
6. BOMBS AWAY! While Vince Young has struggled with throwing the short swing passes for most of his career he has demonstrated relatively good efficiency throwing the long ball over the past two seasons. This aspect of Young's game would complement a Viking offense with an explosive runner in Adrian Peterson, and down the field playmakers in Sidney Rice, and Percy Harvin. Lets just call it Young to Rice version 2.0. It could happen.
RUN VINCE RUN!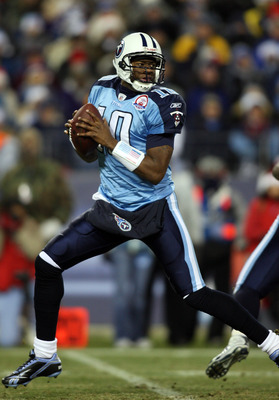 Rex Brown/Getty Images
5. RUN VINCE RUN! Young's mobility paid huge dividends for the Titan running games over the years. Titan running backs enjoyed far more success when Young was behind center than when he was not. Because of Young's ability to make plays with his legs as well as him arm , defenses were often forced to assign spies and hold the edges which opened up running lanes for the likes of Chris Johnson, Lendale White and even Travis Henry in Young's early years. One only has to look at the two quarterbacks in this year's Super bowl to understand the value of mobility in and out of the pocket.
Vince Young: Villain Or Victim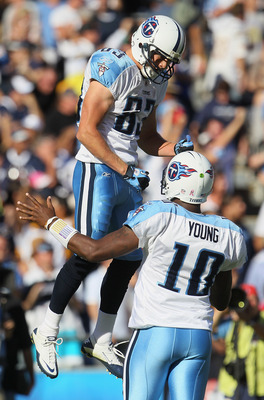 Young had great repoire with former teammtes
Jeff Gross/Getty Images
4. VILLAIN OR VICTIM? The truth is Vince Young has been both. Young's primary off the field issues are well publicized incidents including an off season confrontation with a drunken heckler and the season ending confrontation with Titans Head Coach Jeff Fisher which would indicate still some level of immaturity. There were also questions and conflicting reports as to how hard he worked at film study and game preparation. The first low point of his tenure in Nashville came in the first home game of 2008 when Young initially refused to reenter the game after being booed by fans. He later reentered the game only to suffer an injury on the next play. He was benched in favor of veteran QB Kerry Collins for the remainder of the 2008 season. To his credit he played the role of supportive teammate well the rest of the season
He was in part the victim of his own early success. On the heels of winning 2006 NFL Offensive Rookie of the Year, Young failed to fully recognize what it would really take to reach his potential as a QB in the NFL.
Vince Young: Villain Or Victim?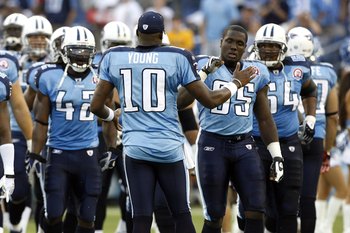 Joe Murphy/Getty Images
4. However he was also the victim of a dysfunctional relationship with a Head Coach who it is now clear was less than fully supportive. Twice during Young's time as a Titan, Coach Jeff Fisher insisted on starting veteran Kerry Collins despite poor season starts(0-3, 0-6) until instructed to play Young by owner Bud Adams. Young played well and the team responded with strong finishes. And why especially given Young's history would you reassign the experienced QB coach with whom the young QB had great repoire and was beginning to have success and replace him with a guy who has never even coached quarterbacks at the collegiate level?
In general, Young was regarded as an easy going guy who was well liked by most of his teammates.
If Not Vince Young Who?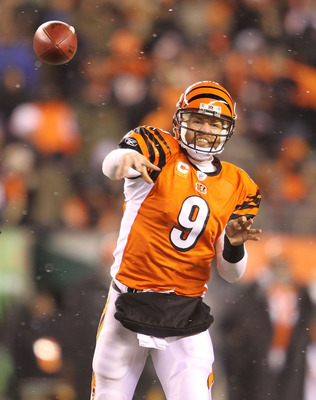 Andy Lyons/Getty Images
3. If not Vince Young who? The free agent NFL QB cupboard is relatively barren. The Vikings are otherwise currently built to win now. That pretty much precludes relying on a QB in the draft. The alternatives are to trade and overpay for Carson Palmer who appears to be on the downside of his career, or trade for the promising but yet relatively untested Kevin Kolb. Kyle Orton who played in the NFC North just two years ago is another potential QB who might be on the move. The smart move for the Vikings would be to sign Young to a two or three year deal and draft a QB if there is one to their liking still available in the second or third round of the draft.
Vikings Quarterback Coach Craig Johnson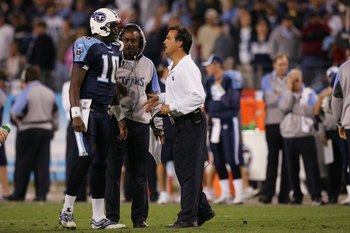 Jim McIsaac/Getty Images
2. Vikings QB coach Craig Johnson. Craig Johnson, Young's former QB coach was literally the man in the middle of the five year relationship fireworks between Young and head coach Jeff Fisher until he was reassigned to fill the unexpected vacant position as running backs coach just before the start of the 2010 season. He is an individual who knows Young as a person and player probably better than anyone in the NFL. He also has intimate knowledge of the dynamics that were present in that Titan locker room that led to Young's planned release. In an interview with the Tennessean he essentially gave Young an endorsement for the Viking QB job. Although it is ultimately not his decision, if he is willing to give Young the same endorsement privately with his new team that should speak volumes.
JUST WIN BABY!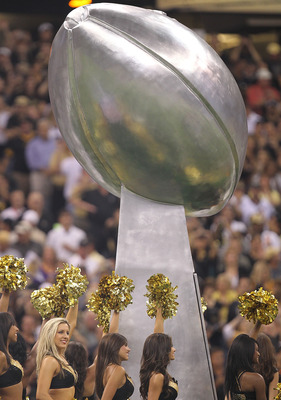 Ronald Martinez/Getty Images
1. You play to win the game! The one statistic that trumps all other statistics in all of sports is wins. Vince Young for whatever his shortcomings has found a way to win at every level. No, he has not yet won a playoff game or Super bowl but a 65% winning percentage as a starting QB in the NFL is nothing to sneeze at. Those percentages if they hold true will get you to the playoffs and opportunities to win the big one.
Keep Reading

Minnesota Vikings: Like this team?