Senior Bowl 2011: 10 Players Primed To Boost Their NFL Draft Stock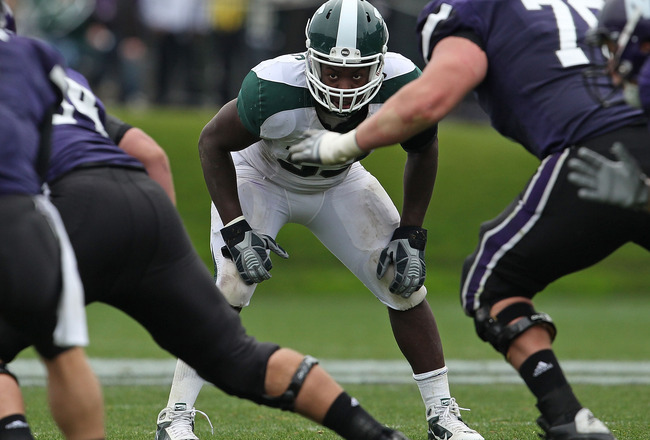 Jonathan Daniel/Getty Images
Other than next month's scouting combine, there is no better stage than the 2011 Senior Bowl, to be played next Saturday in Mobile, Alabama, for players to separate themselves during the pre-draft evaluation period.
So what names will rise to the cream of the crop?
Between now and the draft in April, there is bound to be many, but here are 10 likely candidates to make an impact next weekend.
Jake Locker QB Washington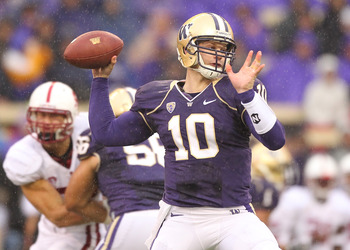 Otto Greule Jr/Getty Images
Maybe Jake Locker should have forgone his senior season at Washington, but hindsight is 20/20. Locker puts on a strong showing for NFL scouts in Mobile, where he will absolutely be a closely-watched prospect on the field.
As has been tirelessly stated, Locker has every tool, so he is all but guaranteed of being selected in the first round. However, with many top teams looking for help at the position, a series of strong pre-draft workouts could easily propel Locker into the top 10. He was once considered a shoo-in after his junior season.
Derek Sherrod OT Mississippi State
Kevin C. Cox/Getty Images
The 6'5", 303-pound Sherrod is light for an NFL tackle, but reviews regarding his ability to protect the edge are favorable. He has long arms and quick feet and he is instinctive in pass protection, but scouts are wary about his hesitancy in the running game.
Sherrod (No. 79 at left) takes a back seat to the Nate Solders and Anthony Castonzos of the world, but several mocks have him going as high as midway through the first round, which is certainly a possibility should he be able to work out some kinks between now and then.
Stephen Paea DT Oregon State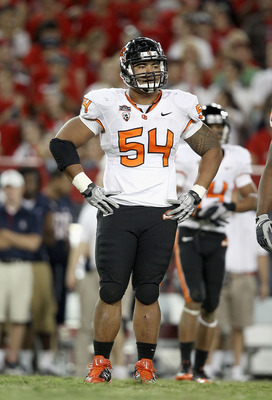 Christian Petersen/Getty Images
In a draft class loaded with hyped defensive tackles, Paea is making a name for himself, but there is definitely room for improvement. The former Oregon State standout is first-round material, but he needs to quell concerns that his ability to rush the passer is considerably weaker than his skills against run.
Paea may not have the best skill set among the tackles expected to go early in the draft, like Nick Fairley and Marcell Dareus, but his true value lies in his toughness and high motor, both of which have received high marks from scouts.
Ras-I Dowling CB Virginia
Kevin C. Cox/Getty Images
The fourth-rated corner on the board, Dowling may be an echelon below Patrick Peterson and Prince Amukamara, both of whom are expected to be top 10 picks, but he's got huge upside.
At 6'1", 202 pounds, Dowling has elite size and the strength needed to play the run in the NFL. Scouts love his length and ability to use his athleticism to play in space, but Dowling needs to use the Senior Bowl to prove he can man up consistently against top-level receivers one-on-one.
Lance Kendricks TE Wisconsin
Jonathan Daniel/Getty Images
Despite leading all Big Ten tight ends in receiving a season ago, the former Wisconsin Badger faces some stereotyping in the NFL.
Kendricks (6'2", 238) is bit of tweener, meaning he fits that mold of a hybrid wide receiver and tight end, and the list of weaknesses includes holding water against bigger, tougher defenders and possessing enough straight-line speed to stretch defenses vertically.
That said, Kendricks has terrific hands and has been heralded for his ability to block, which is a combination few teams in a position to take a tight end within the first few rounds will be willing to pass up.
Mark Herzlich OLB Boston College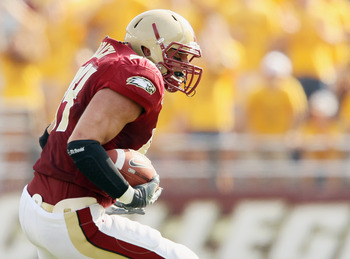 Elsa/Getty Images
I mentioned Herzlich in an article the other day, but he does, in my mind, have the most to gain of all the outside linebacker prospects between now and draft day.
A former Defensive Player of the Year in the ACC, Herzlich won his bout with Ewing's sarcoma, a rare form of cancer, and returned to the field in 2010, recording 65 tackles and four interceptions.
As unfair as it may seem, teams will have concerns about Herzlich's durability, but his overall skill set is as good as any other prospect at the position and the intangibles he brings to the table are off the chart.
Mike Pouncey C Florida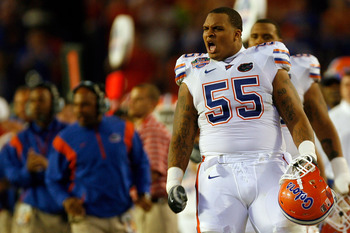 Eliot J. Schechter/Getty Images
The future is bright for Pouncey. He battled through some early-season snapping issues upon taking over at Florida for his twin brother, Maurkice Pouncey, now the center with the Pittsburgh Steelers, but he enters the pre-draft evaluation period as the top-ranked player at his position.
Pouncey may not necessarily play center in NFL, but that's only because he also excelled at right guard for the Gators, where he started 28 consecutive games alongside his brother after the making the switch from defensive tackle.
Greg Jones ILB Michigan State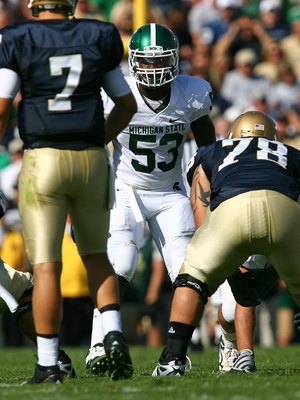 Jonathan Daniel/Getty Images
A mainstay in the middle of the Michigan State defense, Jones recorded 106 tackles in 2010 to cap a career in which he led the team in that category in each of his four seasons as a starter.
Jones is built like a bowling ball (6'1", 240), and he shows fantastic aggressiveness when playing the run, whether it's in the hole or in pursuit from sideline to sideline.
Currently the third-ranked inside linebacker, Jones could possibly go as high as the second round with a strong performance in Mobile, where he will be the one of the biggest names at the position.
Andy Dalton QB TCU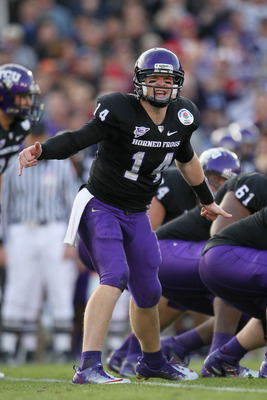 Jeff Gross/Getty Images
In my humble opinion, Dalton could be the ultimate sleeper selection in the draft, but where he lands is anybody's guess. If I had to put money on it, I would say he goes in the middle of the third round. He is dense, has a better-than-average arm and possesses the leadership qualities of a quarterback.
Of course, the Senior Bowl could change things for Dalton, who threw for 50 touchdowns versus only 14 picks in his final two seasons at TCU. If he plays well, it is not altogether foolish to think he could leapfrog either Ryan Mallett or Christian Ponder and steal a spot in the early portions of the second round.
Jerrel Jernigan WR Troy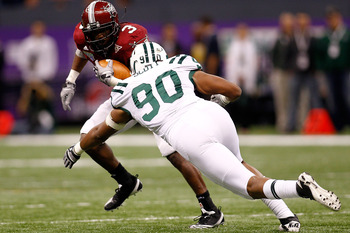 Chris Graythen/Getty Images
This is not the first time I have mentioned Jernigan, nor will it be the last.
The Sun Belt career receiving leader is not just a threat in the passing game, but at Troy he excelled running the ball and returning kicks, displaying the versatility that could possibly land him in the first round come April.
Oh, and the dude is fast. Jernigan, who is not the biggest target at 5'9" and 190 pounds, claims to have run a 4.28 40-yard dash at his school's pro day a year ago.
Keep Reading