MLB Power Rankings: The 10 Most Clutch Hitters in Baseball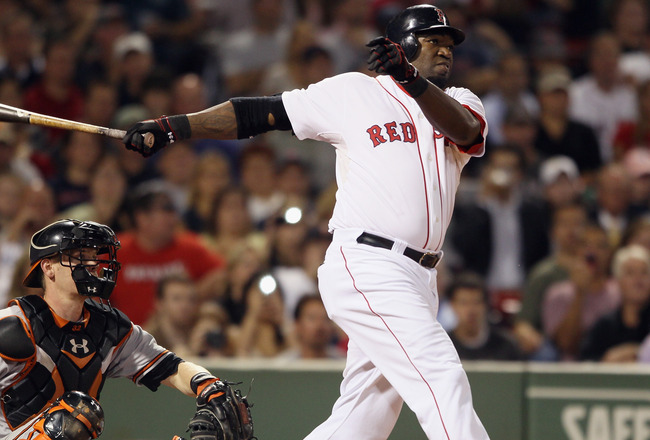 Elsa/Getty Images
Baseball purists and new-age sabermetricians have argued about the existence of "clutch" hitting ever since statistical evaluation became possible. But whether you believe in the advanced metrics or not, you can't deny that certain players have a penchant for coming through when it matters the most.
Here are the 10 last hitters than an opposing pitcher wants to see in the bottom of the ninth inning with the winning run on base.
10. Lance Berkman
Jim McIsaac/Getty Images
Berkman was once among the ranks of the best hitters in baseball. At 34 he's taken a step or two back, but he still delivers when it matters.
He records a productive out, defined as advancing a runner with none out or driving in a baserunner with the second out of the inning, an outstanding 40 percent of the time (league average is 33 percent). He rarely swings at a bad pitch and is regularly among the league leaders in walks. He's also terrific in the playoffs, with a career .320 batting average and 1.001 OPS.
Berkman doesn't offer much in the way of speed, and he's only bunted once in his career, but the fact that he's a switch-hitter makes him a tough out every time he comes to the plate.
9. David Ortiz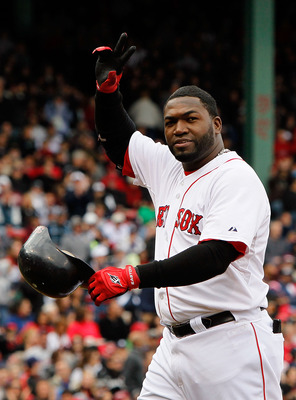 Jim Rogash/Getty Images
A few years ago and Ortiz would have been the consensus No. 1 choice for this list. He's struggled in the last three seasons, at least by Ortiz's standards, but anybody with that number of game-winning hits still belongs on here.
He was unconsciously hot during the 2004 playoffs when the Red Sox came back from 3-0 to win the ALCS, with Ortiz hitting three home runs and slugging .742. He was also an instrumental part of the offense in each Boston championship, batting .321 with a 1.013 OPS in eight World Series games.
He strikes out a little too much and has zero speed, but there isn't anybody else in baseball with as many big hits as Ortiz.
8. Chipper Jones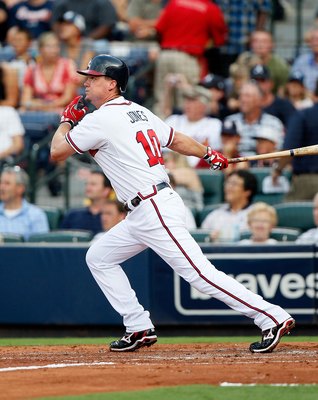 Kevin C. Cox/Getty Images
Chipper doesn't get nearly as much attention as he deserves for being one of the game's best hitters, but take a look at these numbers.
His career OPS is .941 and he has 436 home runs, 147 steals and 2,490 hits in his 17 years in Atlanta. He has a 13.2 strikeout percentage, a 14.5 walk percentage and a 18.7 AB/HR rate. He led the Braves to the playoffs 10 seasons in a row and batted .288 in 92 postseason games.
Chipper's power numbers are down, but at 38 years old, that's not too surprising. He's still got enough left in the tank to make an opposing pitcher regret pitching to him late in the game.
7. Ryan Howard
Harry How/Getty Images
Howard may strike out more than anybody else on this list, but he might also have the most power.
The Phillies monster first baseman has a .944 career OPS and 253 home runs in just 875 games, and his postseason numbers are about in line with his regular season numbers. He's been worth 21.1 situation wins and has added 226.7 runs over the course of his career. He's also the active leader in at-bats/home run with 12.8.
The only thing keeping Howard from being higher on this list is his high strike percentage and relatively low 66 contact percentage, well below the MLB average of 80 percent.
6. Dustin Pedroia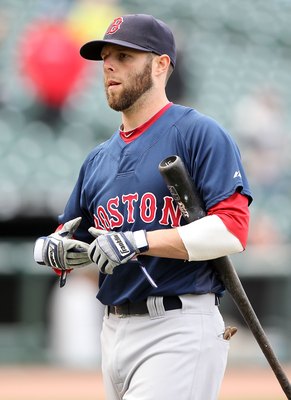 Jed Jacobsohn/Getty Images
Pedroia has developed quite a reputation for coming through in the clutch despite his 5'8" frame. He went on a torrid stretch during his MVP season in 2008 where he batted cleanup for the Red Sox in a lineup that also featured Manny Ramirez and David Ortiz.
He's one of the hardest hitters in baseball to strike out, with a miniscule 7.5 strikeout percentage. He's a perfect hitter for the No. 2 spot and is especially adept at advancing runners because of his ability to hit to all fields and bunt.
He's struggled a bit in the playoffs, hitting only .252 in 28 career games. But his three home runs and 1.200 OPS in the 2008 ALCS is pretty tough to top.
5. Vladimir Guerrero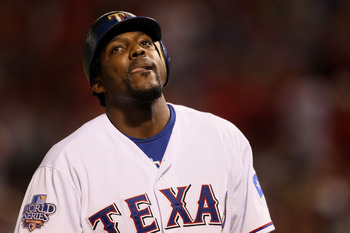 Elsa/Getty Images
Even at 35, Guerrero is one the scariest hitters on the planet.
His contact percentage is an unreal 80 percent and that includes swinging at pitches that are way out of the zone. He has the power and bat speed to hit pretty much any pitch in any location. He also does a terrific job of staying at the plate, striking out in only 11 percent of his at-bats.
This may not be the same Guerrero who was MVP in 2004, but ignoring his injury-shortened 2009 season, he hasn't hit less than 25 home runs since 1997 and hasn't batted under .300 since he was a rookie.
4. Chase Utley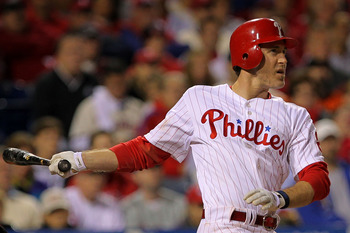 Doug Pensinger/Getty Images
The Phillies second baseman is about as complete of a player as there is in baseball, and he's an especially lethal hitter.
There's the .894 career OPS. There's the power and speed. There's the contact rate (83 percent) and plate discipline (151 walks in the last two seasons). There's even the 22.6 career situation wins.
The only gray mark on Utley's resume is his so-so postseason performance. He's a .243 career hitter in the playoffs and only 24 RBI's in 41 games. But he does still have a World Series ring, so he gets a pass.
3. Ichiro Suzuki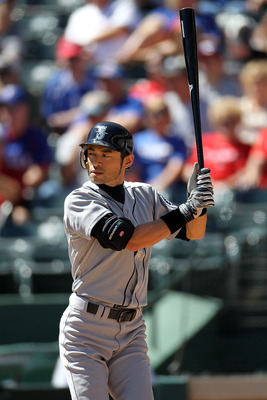 Ronald Martinez/Getty Images
Anybody who holds the single-season record for hits definitely belongs on this list.
Ichiro hasn't developed much of a reputation as a clutch hitter since his team is rarely competitive, but he's still as good of a hitter as there is in baseball. His 89 career contact percentage is among the best in the history of the game.
His speed and bunting ability makes him an even bigger threat, and he's next to impossible to strike out, fanning in only 9.3 percent of his at-bats. Whoever said you had to hit a home run to have a big hit?
2. Derek Jeter
Jim McIsaac/Getty Images
Jeter has made a living out of coming through when his team needs him the most, and he's still one of the smartest and best all-around hitters in the game.
He's a career .314 hitter and has hit at least 10 home runs and stolen at least 10 bases in 15 consecutive seasons. He strikes out in less than 15 percent of his at-bats and is a fantastic bunter with ability to hit both lefties and righties.
Then there's his postseason track record. Jeter has played in 14 divisional series, nine league championship series and seven World Series. In all those games he has a career .309 batting average with an .850 OPS, which is well above his career average of .837. He's scored 101 runs in the playoffs, among the most of all time.
How many World Series championships would the Yankees have without Jeter's heroics?
1. Albert Pujols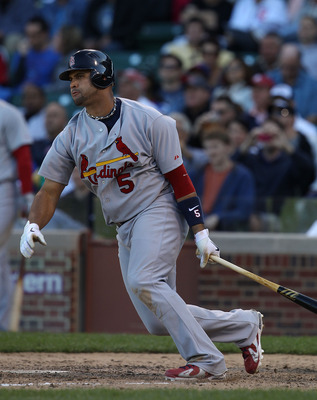 Jonathan Daniel/Getty Images
Pujols is the best hitter in baseball, so it should come as no surprise that he's also the best clutch hitter in baseball.
It doesn't matter what metric or reasoning you want to use—Pujols is the clear No. 1.
He's batted .322 with an obscene 1.009 OPS in 12 postseason series. He's produced a productive out in 43 percent of his at-bats, with baserunners scoring 19 percent of the time. Pujols has led the league three times in a stat called base-out runs added, which measures how many runs the batter added to each play. The league average is zero and Pujols has added 624.3 runs in his career, not finishing outside of the top five in the category since 2003.
He's terrific at advancing the runner and he can hit it to anywhere on the field, or out of it. He has power, speed and a knack for making contact. There isn't a more dangerous hitter alive today.
Keep Reading