Baltimore Ravens: Five Potential Free Agents For A Ravens' Super Bowl Run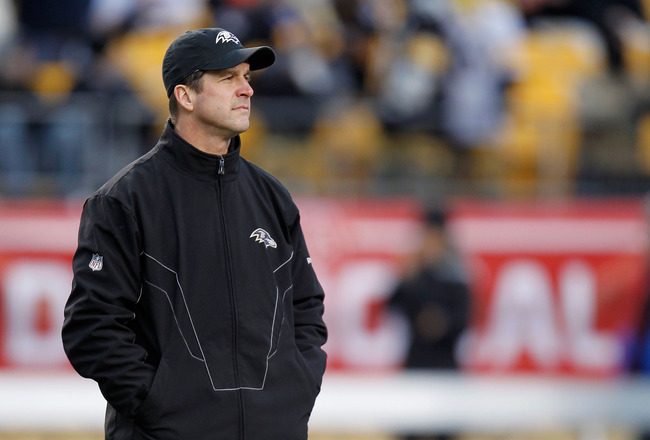 Gregory Shamus/Getty Images
On the day when the New York Jets and the Pittsburgh Steelers will battle in frigid conditions for a trip to Dallas, Ravens fans will turn away from their televisions around 6:30 EST.
Maybe they'll clean the garage, read a book, or have a family board game night (whatever that is). But more than likely they will think about what their Ravens can do to be great next season.
Regardless of what happens with the CBA, there is going to be an NFL draft in April and rather than discuss unproven rookies, I want to address a few of the free agent signings that would make the most sense for Baltimore. This slideshow highlights several key additions that could take the Ravens to the promised land next season.***
***Disclaimer: I passionately hope that the NFL can avoid a lockout in 2011. This will be my only acknowledgement of the possibility that there might not be football next year.
Pass Rusher: Tamba Hali, Kansas City Chiefs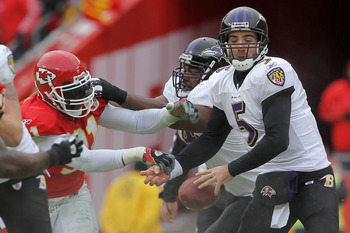 Doug Pensinger/Getty Images
I think the picture above says it all. The Ravens need to add another pas rusher to help Terrell Suggs, who had a monster year. Hali is that guy. He terrorized the Ravens in the playoffs this year and had 14.5 sacks. He will have a large price tag on his head after a career season, but the Ravens might be willing to pay. Hali would make opposing QBs quiver.
Other Notable Pass Rushing Free Agents:
Ray Edwards: Minnesota Vikings
Matt Roth: Cleveland Browns
Richard Seymour: Oakland Raiders
Jason Babin: Tennessee Titans
Cornerback: Johnathan Joseph, Cincinnati Bengals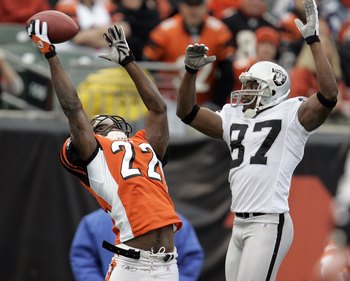 David Maxwell/Getty Images
I know. Ravens fans are going to be screaming for Asomugha. But Asomugha will be the top unrestricted free agent this offseason. Joseph is well acquainted with the Ravens, having played for the Bengals in his first four seasons. The former first-round pick is bigger than any of the Ravens' corners at 5'11" and 190 lbs, and has tremendous ball skills. Is he the shutdown corner that Asomugha is? No. Would he be a significant and important signing for the Ravens? Absolutely.
Other Notable Conerback Free Agents:
Ike Taylor: Pittsburgh Steelers
Antonio Cromartie: New York Jets
Drayton Florence: Buffalo Bills
Carlos Rodgers: Washington Redskins
Fullback: Naufahu Tahi, Minnesota Vikings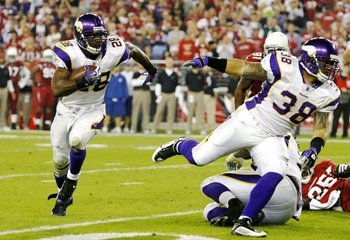 Christian Petersen/Getty Images
A fullback? Really? While I understand your disdain, Le'Ron McClain has essentially declared his desire to move on and the Ravens need a fullback who understands his role. With two very skilled runners in Ray Rice and Willis McGahee, Baltimore needs to find a dependable fullback who can clear out linebackers and safeties. Tahi is huge (254 lbs.) and has demonstrated his worth by blocking for Adrian Peterson in Minnesota. This would be like buying the best new tires for your car. Not a glamorous purchase, but extremely important.
Other Notable Fullback Free Agents:
Vontae Leach: Houston Texans
Heath Evans: New Orleans Saints
Vertical Threat: James Jones, Green Bay Packers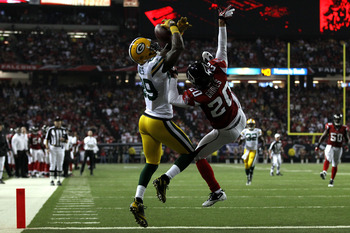 Streeter Lecka/Getty Images
A great deal of press was dedicated to the Ravens' improvement at wide receiver during the 2010 offseason. The additions of Anquan Boldin and T.J. Houshmandzadeh gave Joe Flacco skilled, reliable receivers who could move the chains. What they didn't give this offense was a downfield threat. I personally think that cliched moniker is overemphasized, but it's a must in a Cam Cameron offense. Jones would not need to be the number one receiver in Baltimore and would assume a role similar to where he is now in Green Bay. Jones can make big plays downfield and would come relatively cheap.
Other Notable Field Stretchers:
Devin Aromashodu: Chicago Bears
Santonio Holmes: New York Jets
Jacoby Jones: Houston Texans
Offensive Tackle: Matt Light, New England Patriots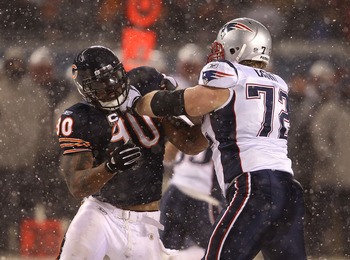 Jonathan Daniel/Getty Images
Question: What does Tom Brady have that Joe Flacco doesn't?
Answer: Besides a couple of Super Bowl rings and MVP trophies, Brady has one of the most consistent offensive lines in football. Matt Light is a cornerstone of that line and could be the most important pickup of the Ravens' offseason.
The Ravens allowed six sacks to the Pittsburgh Steelers in the game last week. As I noted in my last slide, Cam Cameron's offense depends on later developing vertical routes that stretch the defense. If the offensive line struggles in pass protection, however, the quarterback can become vulnerable to pressure. Light would solidify the Ravens' outside and be a major improvement to a beleaguered unit. The addition of Light would allow the Ravens to shuffle their personnel around at the offensive line to improve their overall protection. This is going to be key if Baltimore expects to make a legitimate Super Bowl run in 2011.
Other Notable Tackle Free Agents:
Jamaal Brown: Washington Redskins
Jermon Bushrod: New Orleans Saints
Sean Locklear: Seattle Seahawks
Keep Reading

Baltimore Ravens: Like this team?