NFC Championship Game "Pre-Review": Chicago Bears Vs. Green Bay Packers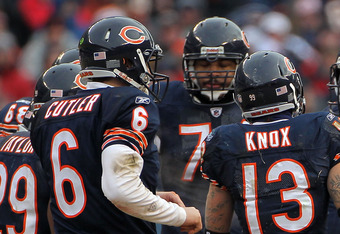 Doug Pensinger/Getty Images
Pre-review? What did you call me? Ohh, a pre-review. I've heard of that. Is that when you guess a score? What, exactly, is a pre-review?
Thanks for asking. For a better idea of what, exactly, a pre-review is, please refer here http://bleacherreport.com/articles/265431-ncaa-football-pre-review-17-miami-hurricanes-vs-8-oklahoma-sooners
First quarter
Green Bay receives the ball to start the game.
The Packers immediately go to the air. Aaron Rodgers finds Greg Jennings on a couple short routes.
After two incompletions, the Bears stop the drive when Rodgers is sacked by Tommie Harris at the Green Bay 49-yard line.
Chicago takes over at the 20 after Devin Hester cannot even sniff the punt, which lands in the corner of the end zone.
Chicago is able to get Matt Forte going on the first drive. This opens up a play-action fake pass to Greg Olsen streaking across the field for a 32-yard gain.
After stalling on the Green Bay's 14, Robbie Gould knocks in a 31-yard chip-shot FG.
The Packers do not abort the game plan and continue firing the ball. The Bears expect this and they stop Green Bay on three downs after a near interception by Brian Urlacher.
The Bears receive the ball at their 43-yard line after another Packers punt easily eludes Hester, this time sailing out of bounds.
Chicago is able to drive the field against Green Bay via Forte catch and runs and Olsen short routes.
With 2:20 left in the quarter, Forte is able to register a TD on 1st-and-goal from the 1. The Bears earned that field position after Tramon Williams interfered with a Jay Cutler to Hester deep route in the end zone.
End of 1st: Chicago 10, Green Bay 0
Second quarter
The Packers begin their first drive of the quarter hoping to run the ball.
The Bears expect this, and force a 3rd-and-13 after two rushes net minus-3 yards. Rodgers finds Donald Driver in the middle of the field for an important 1st down.
The Pack starts to feel momentum as they are able to get rookie James Starks open for a couple screen passes.
Chicago, on their heels, tighten up and sack Rodgers on 1st down from the Bears' 15.
After a holding penalty backs them up, Green Bay settles for a 43-yard FG attempt, which sails wide right and leaves the Packers scoreless with 9:18 left in the half.
Looking to capitalize on the missed FG, the Bears start their drive with a reverse to Hester, which nets 27 yards.
Green Bay bends but does not break while Clay Matthews, Jr. is able to get his first real pressure on Cutler and sacks him for a 9-yard loss.
Chicago is unable to move forward, but pins the Packers inside the 10-yard line with a beautiful punt and cover.
Green Bay starts to spread their wings. Rodgers completes three straight passes to move the ball to Chicago's 45-yard line. After gaining six yards on a Brandon Jackson run, Rodgers is able to take advantage of a play-action fake and finds Jennings on a fly pattern down the sidelines for a 39-yard TD with 3:19 left in the half, cutting the lead to 10-7.
Chicago and Cutler execute the two-minute offense to perfection with a couple short gains followed by a Johnny Knox 23-yard reception.
The drive stalls at Green Bay's 5-yard line, and Chicago elects to kick the FG to close out the half.
Halftime: Chicago 13- Green Bay 7
Third quarter
The Bears receive the second-half kickoff.
As they have all game, the Bears move down the field with a nice mix of Forte and Olsen.
After driving to the Packers' 19-yard line, Chicago settles for their third FG of the game, extending the lead to 16-7 with 11:01 left in the third.
Green Bay hopes to build on their last offensive possession and continue throwing the ball. The biggest play of this opening drive comes on a John Kuhn 24-yard screen pass to the Bears' 13-yard line.
Two plays later, a pump-faking Aaron Rodgers connects with TE Andrew Quarless in the back middle of the end zone.
Chicago's offense starts to sputter as they are forced to punt after three plays net 3 yards.
Down only 16-14 with 4:20 left in the quarter, Green Bay now feels that this game is theirs for the taking.
A couple of runs by Jackson and another screen to Kuhn put Green Bay on the Bears' 29-yard line.
The Pack seem to be clicking until a well-timed zone blitz confuses Rodgers and forces him to blindly collide with Danieal Manning, forcing a fumble which is recovered by Julius Peppers and returned to the Green Bay 36-yard line.
End of 3rd : Chicago 16, Green Bay 14
Fourth quarter
After exchanging punts to end the third and start the fourth, Chicago takes over at their 33-yard line with 12:12 left in the game.
Chicago's punishing OFFENSE is wearing down the Pack.
Forte rushes three straight plays, gaining 19 yards. This opens up another play action pass to Olsen cutting across the field.
A couple more running plays leads to 3rd-and-3 from Green Bay 10-yard line. A quick screen to Hester produces a TD. The extra point gives Chicago a 23-14 lead.
Soldier Field is rocking.
Green Bay takes over with 8:03 left in the game and, perhaps, their season.
Rodgers connects with Donald Driver on the outside for 12 yards, followed by a 15-yard strike to Driver down the middle.
A 10-yard rush up the middle for Starks keeps the Bears honest. It also sets up a play-action fake pass to TE in the middle of the field for a 22-yard gain.
The Packers feel more comfortable now that they find themselves deep in Chicago territory with 3:54 left in the game.
Three consecutive passing plays, however, gain zero yards and Green Bay takes the points on 38-yard FG.
The Packers elect to kick the ball rather than go for the onside kick with over three minutes left and two timeouts remaining.
Unfortunately for Green Bay, Chicago is able to pick up a couple 1st downs with Olson 3rd down catches, allowing the Bears to run out the clock.
Final: Chicago 23, Green Bay 20
Summary
Chicago proves that home field is still an advantage, especially with a menacing defense led by Brian Urlacher, Julius Peppers and Tommie Harris.
The Bears' offense controlled the tempo, keeping the dangerous Green Bay offense on the sidelines for much of the game.
Notable stats:
Chicago
Jay Cutler: 20-29, 239 yards, 1 TD 0 INT
Matt Forte: 20 rushes, 102 yards, 1 TD
8 receptions, 65 yards
Greg Olsen: 6 receptions, 76 yards
Devin Hester: 3 receptions, 57 yards, 1 TD
Green Bay
Aaron Rodgers: 19-35, 213 yards, 2 TD 2 INT
Greg Jennings: 5 receptions, 87 yards, 1 TD
This article is
What is the duplicate article?
Why is this article offensive?
Where is this article plagiarized from?
Why is this article poorly edited?

Chicago Bears: Like this team?