NFL Report: Giant Super Villain Tiki Barber Goes Off On All Time NFL Backs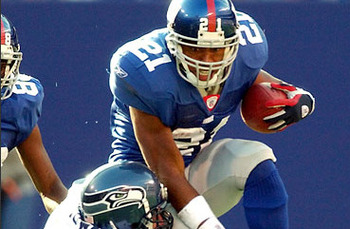 Dear New York Giant Fan,
We're writing you today on behalf of former star running back Atiim Kiambu Hakeem-Ah, (or as he was better known), 'Tiki' Barber.
You must remember him, #21, he came to the Giants out of the University of Virgina, started out as a bit of a fumbler but went on to put together some of the most incredible seasons from the running back position the NFL has ever known.
Unfortunately, since his seeming premature retirement after the 2006/2007 season, (or even a year earlier in the aftermath of a 23-0 playoff wipeout at the hands of the Carolina Panthers and ex Giant Defensive Coordinator John Fox when he and a couple of other outspoken teammates threw Giant coach Tom Coughlin and his staff under the proverbial bus), Tiki has more so suffered from fumble-itus of the mouth if not an altogether implosion of his once ultra-bright public persona, and at the New York Giants recent Ring Of Honor ceremony he was the only former team star roundly booed by the fans in full blown half time attendance.
Of course, he did make some very unfriendly remarks toward Eli Manning considering only months before the opening of the 2007 season they had been sharing the same offensive backfield.
He referred to the young Louisianan's leadership skills as "almost laughable", which might have been an opinion shared by others, even numerous others within the ever wide Big Blue universe, except he was the one to say it out-loud, he was the one who appeared to quit on the team prior to the season by retiring with plenty of juice left in the tank, and he also happened to be persona very non grata at the scene of Super Bowl XLII where the self same Son Of Archie led the NY Giants to one of the great upsets in Championship Game History by defeating the then unbeaten New England Patriots 17-13.
As history indelibly recounts, Eli won the MVP of that epic contest. Tiki's once shining star had by then begun to rapidly diminish and then on top of everything in the most public way possible he had to go and dump his very pregnant wife of eleven years, Ginny, for a 23 year old baby sitter/model, Tracy Lynn Johnson, (okay she was also an intern at NBC), and from there the resulting impact to his football playing legacy has been something very close to slow, impending death.
All that having been said though, lately, especially in lieu of this past, turnover plagued Giant season, we, or I, found myself once again thinking of Tiki Barber the football player.
How great he was, how big he came up when huge games seemed lost. The amazing cutback runs, and all the punishment the 5-10, 200 pound back took as a last resort, over the middle receiving option for Eli Manning when holding onto the ball meant he would almost undoubtedly be on the receiving end of a bone crunching tackle from behind.
He kept getting better as his career progressed and his final three seasons, 2004-2006, those we should really be remembering him by, (for whatever his misdeeds, it's not like the guy committed Lawrence Taylor like boo boo's involving drugs, wife beating, and underage girls in very seedy motels), amidst an overall seven year peak period from 2000 - 2006 that measures up exceedingly well even when stacked against the best NFL backs ever to step on the gridiron.
So in an effort to rehabilitate Tiki's standing in the New York Football Giant community, at least to the extent it can be done, we've put together this comparative exhibit in the form of a slide show spectacular which features, amongst other things, video highlights of each runner accounted for on our personalized list of the ten best National Football League running backs of all time.
If nothing else it should bring back some very fond memories,
DR
Our Top Ten With a Special Dispensation For The Great Gale Sayers
Our group is not meant to resemble exactly the top ten cumulative rushers of all time, although naturally several of those great backs are posted below.
More so it is a combination of enduring greatness, mixed in with peak performance that in many cases revolutionized the game itself. In each case we'll take some aspect of the individual legends career (as seen below) and measure a comparable aspect of Tiki's playing days to put his own standing in the All-Time community in perspective.
First up ....
1) Jim Brown
2) Barry Sanders
3) Walter Payton
4) Emmit Smith
5) LaDainian Tomlinson
6) Tony Dorsett
7) O.J. Simpson
8) Eric Dickerson
9) Marshall Faulk
10) Jerome Bettis
** Gale Sayers
| Rank | Player (age), + - HOFer, Bold - Active | Yds | Years | Teams |
| --- | --- | --- | --- | --- |
| 1. | Emmitt Smith+ | 18,355 | 1990-2004 | 2TM |
| 2. | Walter Payton+ | 16,726 | 1975-1987 | chi |
| 3. | Barry Sanders+ | 15,269 | 1989-1998 | det |
| 4. | Curtis Martin | 14,101 | 1995-2005 | 2TM |
| 5. | Jerome Bettis | 13,662 | 1993-2005 | 2TM |
| 6. | LaDainian Tomlinson (31) | 13,404 | 2001-2010 | 2TM |
| 7. | Eric Dickerson+ | 13,259 | 1983-1993 | 4TM |
| 8. | Tony Dorsett+ | 12,739 | 1977-1988 | 2TM |
| 9. | Jim Brown+ | 12,312 | 1957-1965 | cle |
| 10. | Marshall Faulk | 12,279 | 1994-2005 | 2TM |
| | | | | |
| 12. | Marcus Allen+ | 12,243 | 1982-1997 | 2TM |
| . | | | | |
| 14. | Thurman Thomas+ | 12,074 | 1988-2000 | 2TM |
| | | | | |
| 18. | O.J. Simpson+ | 11,236 | 1969-1979 | 2TM |
| | | | | |
| 22. | Tiki Barber | 10,449 | 1997-2006 | nyg |
Gale Sayers 'The Kansas Comet'
You can't have an all time NFL list of running backs without including the mercurial Gayle Sayers.
Like a lot of things in the crazy 1960's his ability to juke on the fly seemed other-worldy, and it may have accounted for his career shortening knee injuries as he was maneuvering on two legs in a way that had never been previously accounted for in the NFL or any other walk of life.
In the overall Sayers hindered five year prime run covered 64 games during which time he gained 6200 yards from the line of scrimmage, carried for 5 yards a pop, and with kick return yardage gained a cumulative 9,362 yards.
If you want to try to make a comp statistical comparison, in Tiki Barbers final four years, 2003-2006, covering the same number of games, 64, he gained a total of 8,290 yards from the line of scrimmage, (no return yardage), and carried for just under 5 yards per rush.
You've already had the chance to check out Tiki on the move, check Sayers now and see if you detect any similarity in their respective breakaway styles.
Jerome Bettis, 'The Bus'
First of all how many people even remember Bettis started off his career with the Los Angeles Rams in 1993, (and rushed for 1400 plus yards), and ended up being swapped to Pittsburgh in '96 for what amounted to little more than an exchange of picks, (Jerome and a #3, for the Steelers #2 and an ensuing #4.)
Of course Steeler fans do and are eternally grateful of it as 'The Bus' played an integral part in the teams success over a 10 year span highlighted by the Super Bowl XL run in 2005 and pursuant victory over the Seattle Seahawks.
(The Seattle Seahawks? Man my memory is failing!)
How do you compare two nimble footed running backs separated by about fifty pounds? Take Jerome's best six year stretch beginning in 1996 when he was 24 years old, a total of 7,785 yards rushing at an average clip of around four yards per carry and press the totals up against Tiki's best six year stretch beginning in 2001 at the age of 26.
8,508 yards rushing, nearly five yards per pop.
Marshall Faulk
Faulk could easily be higher on our top ten list. As a multi dimensional back there was nothing he couldn't do on the football field. He ranks #2 on the all time single season yards from scrimmage list.
#3? Tiki Barber.
Here's a look at all time top five:
Eric Dickerson
A touchdown waiting to happen! You're no doubt familiar with the phrase and that pretty literally described the astonishing break-away ability of former Ram (and Indianapolis Colt) back Eric Dickerson who took it to the house 34 times his first two nearly indefinable seasons in star studded L.A.
As a rookie, in 1983, Dickerson shocked the league with 1808 yards rushing, but performed an even more astonishing feat in 1984 when he averaged an incredible 131 rushing yards per game en route to a then NFL record 2105 yards for the season.
His biggest similarity to Tiki?
Well aside from their mutual ability to gain forward yardage and thrill the home fan base, Dickerson was also quite an epic fumbler early in his career, losing hold of the pigskin an enervating 49 times in his first four seasons. (1583 running and receiving touches though ... that's an awful lot, nearly 400 per year!)
Tiki's worst four year stretch?
2000-2003 when he fumbled 35 times in 1241 touches.
O.J. Simpson
Obviously his life after football, Hertz Commercials and Naked Gun movies has gone awry but oh what a beginning.
Tiki's life hasn't imploded to the extent O.J.'s has but give him time, he's still young.
Tony Dorsett
Dorsett was an epic Giant killer, a similar sized back to Tiki, (5-11, 190), exceptionally fluid with great break away speed.
In eleven seasons, (173 games) this Hall Of Famer accumulated 16,293 yards from scrimmage, or 94 yards per game.
Tiki?
15,632 total yards from scrimmage in ten seasons, (154 games), or just over 100 yards per game.
Ladainian Tomlinson
It seemed like the 5-10, 221 pound Tomlinson was en route to breaking every rushing record in the book but he's slowed considerably these past several years and barring a miracle rejuvenation Emmit Smith's career mark of 18,335 yards appears safe.
L.T.s best individual rushing year? 1815 yards, (5.2 per carry) in 2006 when he set an NFL record with 31 T.D.'s.
Tiki's best individual rushing year? 1860 yards, (5.2 per carry) in 2005.
Emmitt Smith
At 5-9, 210 pounds almost identical in size to Barber but much more of a power runner. Career rushing leader we'll compare his first seven seasons with Tiki's final seven.
Smith 10,166 yards rushing, 4.4 yards per carry, 348 receptions, 2200 yards & 109 T.D.'s (Wow!)
Barber 9,514 yards rushing, 4.9 yards per carry, 444 receptions, 3927 yards & 58 T.D.'s.
Now I ask you, how good was Tiki Barber?
Walter Payton, 'Sweetness'
There's the general reference to one of a kind, and then there's Walter Payton. His combination of power, speed, dexterity & astounding leaping ability makes him an athlete carved out of a type of stone that will never be revisited.
It's not that you can't throw some Barber accomplishments out and compare them to Payton's, (who passed on in November of 1999 after struggling for several months with the rare liver disease primary sclerosing cholangitis), but it feels disrespectful to do so.
In some cases character is everything.
Barry Sanders
No back in the history of football made you say "holy bleep did you see that" more times than the 5-8, 203 pound, Barry Sanders.
Like Barber he retired after ten NFL seasons with what appeared to be several prime years left in the tank.
Unlike Tiki, Sanders rode off into the sunset with his mouth closed and team first reputation in tact even though his level of frustration having played for the woeful Lions for the entirety of his career clearly weighed on the mind and spirit of this magical runner.
Sanders ran for 5097 yards in his final three seasons.
Barber, 5040 yards, at a pretty identical 5 yards per clip.
It doesn't mean Tiki was as good as Barry Sanders, certainly not over the full breath of their respective careers, but it does mean for a truncated, but not insignificant period, (especially in running back years), Barber was lugging the ball at a pace that few NFL backs have ever dreamed of approaching.
Jim Brown
About a year ago I was walking around in the market with my son when I glanced up and did a double take because I realized I was looking at Jimmy Brown.
Now I'm no autograph seeker or celebrity hound but I did grab my son and very respectfully approach the NFL legend and ask him if he wouldn't mind shaking the kid's hand.
He still looked strong, but just a tiny bit wobbly on his feet. I asked him if he was doing okay and he said he was. Jimmy Brown couldn't have been nicer to my son, Brock, asked him a few questions and then bid us a good afternoon.
I think about that day fairly often. The day we got to shake hands with not only one of the greatest athletes this country has even known, but one of the most remarkable men.
Not perfect. Nobodies perfect. Not Jimmy Brown, and certainly not Tiki Barber either.
But as Giant fans Tiki gave us a lot of thrills. He played his heart out, left everything he had on the field, and every off season he worked his behind off to improve.
He's one of the greatest players ever to pull on a Giants jersey when you get right down to it, and while that doesn't mean you're going to want to grab your kid and ask him to shake his or her hand, it does mean that we can cut the guy a little bit of a break.
That we can look past his faults and remember what he gave us. Ten pretty incredible years of football.
It's at least got to be worth one very big round of applause.
That's it for today,
DR
Keep Reading

New York Giants: Like this team?