New York Mets: Offseason News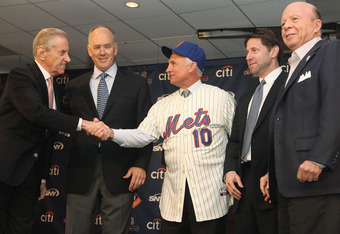 The new, improved, NY Mets brass
Chris McGrath/Getty Images
It has been quite some time since I have wanted to write about the Mets.
Bleacher Report used to be my avenue to talk everything Mets, so much so, that I was once one of the original Mets featured columnists here on Bleacher Report.
That changed last season, as the Mets seemingly sleepwalked through another losing year, causing me, in utter disgust, to cease writing about them. My frustration with my favorite team, in my favorite sport, just would not allow me to continue to cover them, especially when I could barely stomach watching them.
In my mind, there was only so many ways to say "you stink."
Unfortunately, I cannot lose my love for the Mets like—I did my featured columnist title—although sometimes I wish I could. Time and time again, the Mets have found ways to break my heart, and yet, I always return.
I guess that's what fans, real fans anyway, do. They stick by their team through thick and thin, or in the case of Mets fans, thin and thinner. This is especially true during the winter months, when the fumes emanating from the hot stove intoxicate us into believing that our team, despite the odds, has a chance at winning a championship.
The same can be said for my fellow Flushing Faithful, that is, until this offseason.
Dilip Vishwanat/Getty Images
The Mets started out strong, taking a very deliberate approach in selecting a new general manager, Sandy Alderson, giving the franchise more structure and discipline than they've had in years.
Then Alderson and the rest of the teams management set out to find a manager for the team. In another long and thorough process, Terry Collins was named manager of the Mets.
Collins, who has not managed in the Major Leagues since Mo Vaughn was still a feared slugger, was not the sexiest name available, or the fan favorite choice, but his reputation is similair to Alderson's, so fans reluctantly accepted the decision.
Management was finally in place for the Mets, and then...
Well, actually we are still waiting, and that's the problem.
It is not even so much the fact that the Mets, have not done anything this offseason to improve the team, but it's adding insult to injury watching the Phillies reacquire ace Cliff Lee, knowing the Marlins and Braves young teams are only getting better, and the fact that the Nationals are spending money to get better.
The best announcement the Mets have made this year is the fact that they signed Chris Young.
No, it is not the uber-talented Arizona outfielder, but the oft-injured San Diego pitcher who has started only a total of 36 games over the past three seasons, including a work horse-esque 4 appearances in 2010.
This is the first time in years that the Mets have stood pat when the team has so many holes to fill. There will be no big name coming to Queens this year to mask the sobering reality that we are now the worst team in the NL East.
To be fair, Sandy Alderson's patience is probably the best-suited approach for the Mets in the long term, but it still won't make supporting this team in 2011 any easier.
So for now, we Mets fans will have to savor every minor announcement from our "Amazin's," be it ticket prices being slashed, Terry Collins announcing his lineup, or Mike Pelfrey being named the Mets opening day starter...in January.
Looks like it is going to be another long season that will not be worth writing about for the Mets. So much for reclaiming my featured columnist spot.
This article is
What is the duplicate article?
Why is this article offensive?
Where is this article plagiarized from?
Why is this article poorly edited?

New York Mets: Like this team?