NFL Free Agency 2011: 10 Reasons Randy Moss Could Help a Contender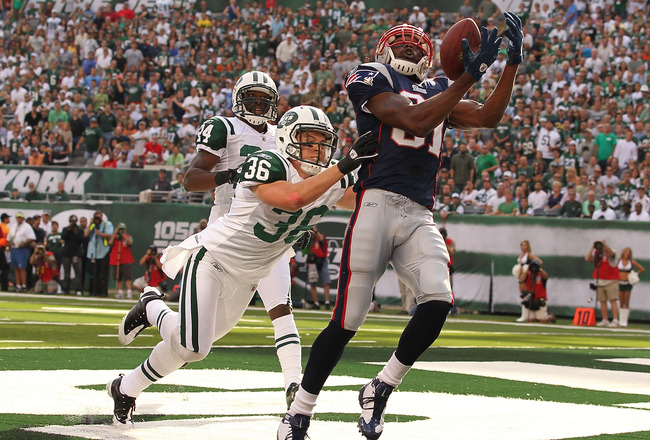 Al Bello/Getty Images
Randy Moss is one of the more intriguing players in football today.
The 34-year old wide receiver's skills are certainly diminishing, but this season did not do him any justice whatsoever.
Moss is still better than what he showed us this season, and after getting shipped out of New England, released by Minnesota, and wallowing in Tennessee, its likely he could come out this season with anger and fight like when he left Oakland.
Now don't get me wrong, he's not that young player anymore who will instantly catch 20-plus touchdowns next season like he did with New England, but he could still be a completely viable threat to almost any team in the NFL.
Make no mistakes about it, the New England Patriots did not miss Randy Moss during the regular season, but they certainly could have used him in the playoffs.
Here are 10 reasons why Randy Moss can still be an effective player for a contending team...if he wants to be.
10. Depth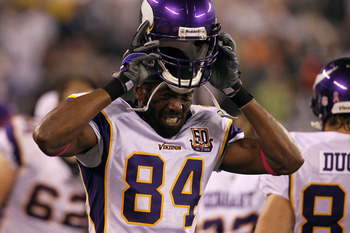 Jim McIsaac/Getty Images
At the very least of it all, Randy Moss is another body to put on the field.
We see receivers come and go with injuries like almost no other position in the league.
If worst came to worst, and Moss was not even in the starting lineup, he is still a proven football player that can step in for an injured teammate at second's notice.
Depth, at the very least.
As for motivation, well...
9. Teacher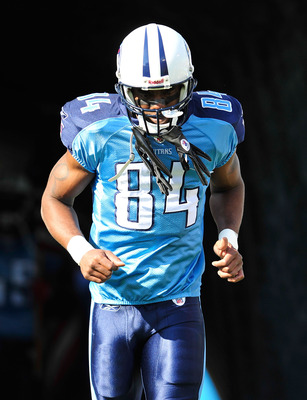 Grant Halverson/Getty Images
Moss only caught six passes in eight games as a Tennessee Titan.
He did very little to help the Titans, as they lost all but one game with him on the roster.
He was, however, the ideal picture of success to a young, blossoming wide receiver such as Kenny Britt.
Britt had this to say of Moss' time in Tennessee, "He's always watching me. He's always critiquing me, what I can do better or I did a good job, stuff like that...He's always trying to keep my head high and keep us focused through the end of the day."
Randy Moss may not have been the picture of production or a nice guy to everyone he crossed paths with last season, but any wide receiver in the NFL could stand to learn a thing or two from him.
Britt also hit the nail on the head when discussing Randy's conditioning and drive to be a better football player.
"He's been doing it for such a period of time that it's just natural to him to go kill a workout in the weight room and go out there and have a 40-play period practice and things like that," Britt said.
Moss can help any contending team's receivers.
8. Motivated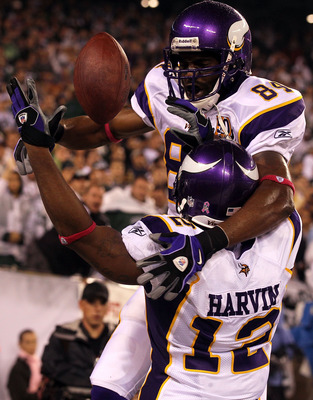 Jim McIsaac/Getty Images
Playing for a contender will be Randy Moss' No. 1 priority.
He has done everything else he could possibly do in his career but is still missing a Super Bowl Championship.
Ironically enough, his two best chances were thwarted by the New York Giants: Super Bowl XLII and the NFC Championship Game 2001, so avoiding the NFC East may be a help to him.
Yet, playing for a true contender could spark a fire under Moss and bring out the best of him.
He still has tremendous talent and a lot to offer a squad with the right setup.
A motivated Randy Moss could be a force next season, and a motivated Randy Moss brings a lot of things to the table.
7. Moss Effect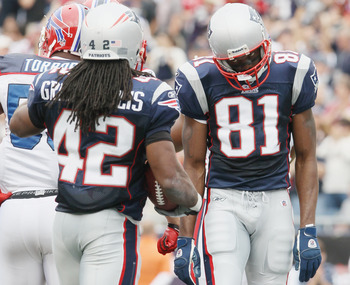 Elsa/Getty Images
Now this is not the same as it used to be, but Moss' presence on the football field can change how opposing defenses handle his team.
Safeties and corners are less aggressive in the run game with the threat of Moss going deep.
Safeties may also have to focus their coverage to his side of the field rather than playing in their traditional alignments.
And defensive coordinators have to account for his whereabouts almost every play.
As for Moss' team, well, the running backs typically don't have to deal with eight-man fronts and get the luxury of larger and more opportunistic running lanes to run through.
Other wide receivers benefit by receiving less attention; tight ends and slot receivers typically benefit the most from Moss' presence.
6. Blocker
Jim Rogash/Getty Images
Randy Moss is very much a willing blocker on the outside.
Coaches and running backs alike will always allude to the fact that big runs cannot happen unless a wide receiver on the outside does his job.
Moss is very good at getting in the way of cornerbacks and safeties downfield and underneath.
He's not going to knock someone's block off, or take cheap shots like Hines Ward, but he does more than enough to set up big runs down the field.
5. Quarterback Friendly (On The Field)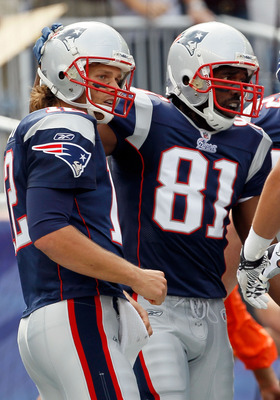 Jim Rogash/Getty Images
Moss can be a quarterback's best friend on the football field, assuming he likes his quarterback, of course.
But when plays breakdown or a quarterback gets off a bad ball, Moss is more than likely able to remedy the situation.
With elite jumping ability and a shrewd sense of route running; Moss can make any defensive back look silly and any quarterback look great.
Not every ball has to be on point, and quarterbacks can have faith in knowing he can out jump virtually anyone for a high ball.
4. Veteran Savvy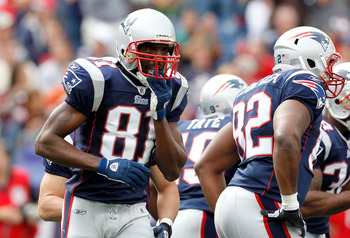 Jim Rogash/Getty Images
Believe it or not, Randy Moss has a brilliant football mind.
Everything from practice habits to in-game ability; Moss is head and shoulders above his peers in understanding the game and his opponent.
Like his helping out younger receivers, and possibly even quarterbacks, Moss is a wealth of knowledge.
Titans receiver Kenny Britt had more interesting things to say about Moss, citing his ability to refocus a film session by simply keeping things lively and also discussed his "little black book."
Moss apparently keeps note of the defenders he has faced over the years to keep track of the moves and tricks they used against him.
3. Deep Threat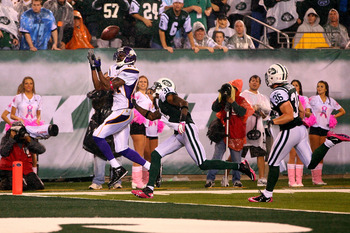 Andrew Burton/Getty Images
Since the day he joined the league, Moss has been a threat to stretch the field vertically; that has not changed.
His deep-threat status, as reviewed in the "Moss Effect," is a huge advantage for his offense.
Now, if the defense he is playing does not want to honor that, Moss can simply get behind his defender once and put it back into action.
In four of his first five games this season, he had catches of 32, 34, 35 and 37 yards.
Moss' ability to go deep can still effectively alter a game.
2. Red-Zone Threat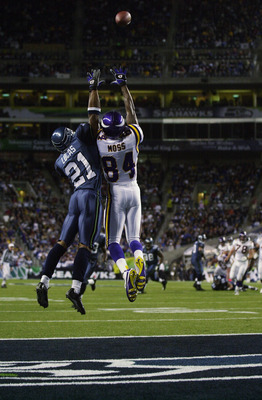 Otto Greule Jr/Getty Images
Moss' leaping ability is not just a deep-ball threat, but a huge red-zone threat as well.
His presence on the outside still needs to attract the attention of a potential double team every time.
If left one-on-one, Moss will almost certainly win the battle for a well-thrown jump ball.
His presence in the red zone also factors into the "Moss Effect," thus giving his teammates more opportunities as well.
With an extra player focused in his direction, running backs have one less guy to worry about and other receivers have an easier time getting open.
1. Decoy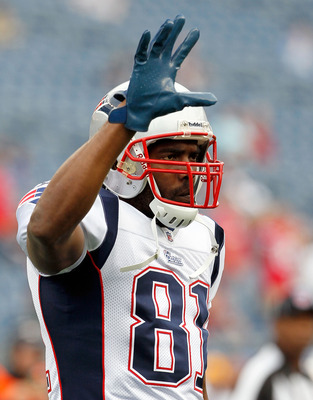 Jim Rogash/Getty Images
His presence can still be enough of an impact to generate interest from any defender.
Even if he's not playing well or does not want to play hard, he still has to be covered by someone.
But if Moss is playing well, and wants to succeed, he could be the best decoy ever.
The 6'4" Moss blazing down the sideline with his hand up can make anyone look twice.
It all depends on what Moss wants to do, but for all the aforementioned reasons, he does have a ton of upside to bring to a contending team in 2011.
Keep Reading