2011 NFL Mock Draft Round One: Nick Fairley Or Da'Quan Bowers to The Panthers?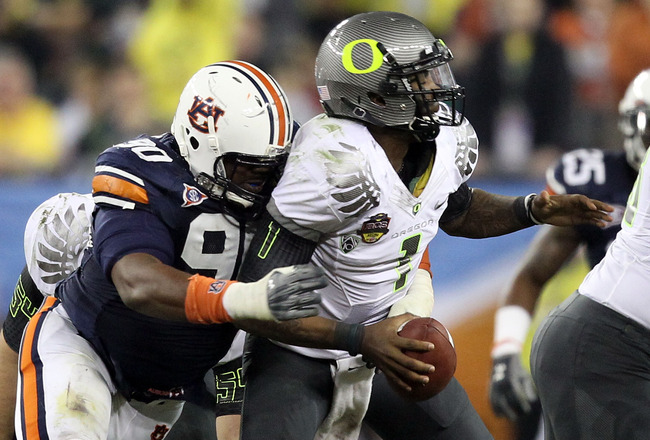 Christian Petersen/Getty Images
With just over four months to go until the 2011 NFL Draft, I'm starting to want to write mock drafts every single day, but that would become annoying.

That said, I haven't posted a mock draft in over a month, so I suppose it's about time I update my picks.

As we all know, Andrew Luck is going back to school. While it is a foolish choice, his life is his life, and we must let him do as he chooses.

But with Luck out of contention, who will the Carolina Panthers select when they are on the clock with the first pick?

They could elect to take a receiver to possibly replace an aging Steve Smith, which is something that wouldn't surprise many.

They could possibly take Nick Fairley, a dominant defensive lineman who helped the Auburn Tigers win the BCS Championship.

They may also choose to take Da'Quan Bowers, who is a pass-rushing phenom who put up double-digit sack numbers with the Clemson Tigers this past season.

With the first pick in the 2011 NFL Draft, the Carolina Panthers select...
1. Carolina Panthers- Nick Fairley, Defensive Lineman, Auburn Tigers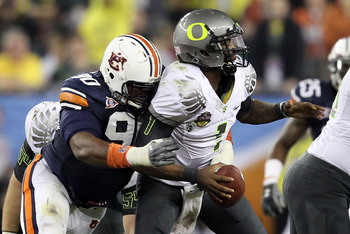 Christian Petersen/Getty Images
The pick is Nick Fairley. While Bowers and Green are both tremendous players, Nick Fairley fits the need Carolina needs to address most on the defensive side of the ball.

John Fox liked to draft big and dominant linemen to play on the defensive line. Well, John Fox is now in Denver.

Nick Fairley is an absolute monster who could play an either a 3-4 or 4-3 defensive scheme. No matter what, Fairley would fit in right away with the Carolina Panthers.
2. Denver Broncos- Da'Quan Bowers, Defensive End, Clemson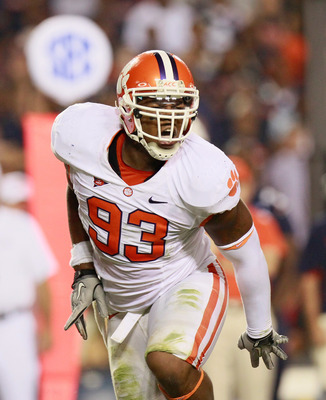 Kevin C. Cox/Getty Images
Many Denver Broncos fans want either Nick Fairley or Patrick Peterson, but with John Fox now in Denver, as I mentioned before, a monstrous defensive end like Da'Quan Bowers is high on the board.

Remember, John Fox drafted Julius Peppers with the second pick in 2002, and he traded a first-round pick for Everette Brown just a couple of years ago.

Da'Quan Bowers may have only had one great season at Clemson, but his potential is undeniable. He will pair nicely with 2009 sack leader, Elvis Dumervil.
3. Buffalo Bills- Patrick Peterson, Cornerback, LSU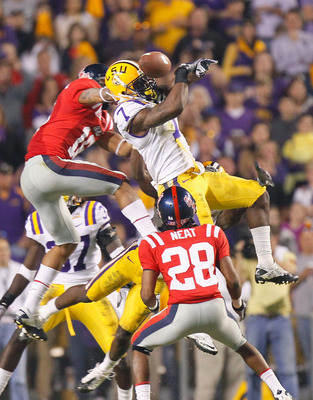 Kevin C. Cox/Getty Images
With their top option off the board in Nick Fairley, the Buffalo Bills will look to address their secondary by drafting shut-down cornerback Patrick Peterson.

Terrence McGee can very rarely stay healthy. He's already missed 12 games in the past two seasons, and he's 30 years old.

Patrick Peterson could very well replace McGee from Day 1.
4. Cincinnati Bengals- A.J. Green, Wide Receiver, Georgia Bulldogs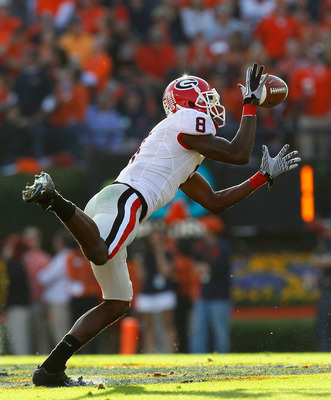 Kevin C. Cox/Getty Images
This pick shouldn't really be a difficult one for the Bengals. If A.J. Green is available, Cincinnati has no choice but to take him.

Both Chad Ochocinco and Terrell Owens are scheduled to be free agents, and it's very likely that neither one will be brought back.

A.J. Green is the best wide receiver prospect since Randy Moss. He'll be a Pro Bowl-caliber receiver by his second year in the league.
5. Arizona Cardinals- Robert Quinn, Hybrid Linebacker, North Carolina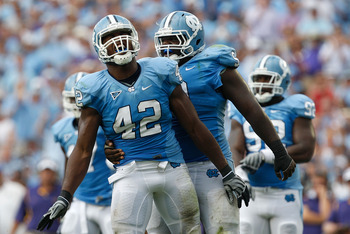 Streeter Lecka/Getty Images
I get that the Arizona Cardinals' quarterback situation isn't that good, but I'm certainly not giving up on John Skelton, and neither should anybody else.

Arizona's only other position to address this early is their poor pass rush. They didn't even reach 30 sacks on the entire year.

Robert Quinn may have skipped this past season with the Tar Heels, but he will make up for it with a great combine. He'll fit in wonderfully in Arizona.
6. Cleveland Browns- Marcell Dareus, Defensive Lineman, Alabama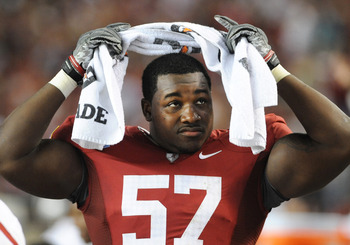 Al Messerschmidt/Getty Images
If A.J. Green were on the board, he would be going to the Browns. Cleveland clearly needs weapons for Colt McCoy, but it won't happen in the first round.

I strongly doubt that Cleveland would reach for either Julio Jones or Jonathan Baldwin, thus I have them drafting Marcell Dareus.

Shaun Rogers is 32, and nearing the end of his career. The Browns will likely cut ties with the former Detroit Lion within the next year.
7. San Francisco 49ers- Prince Amukamara, Cornerback, Nebraska
Eric Francis/Getty Images
While Blaine Gabbert could very well go here, it doesn't make sense for the 49ers. Gabbert is in no way the type of quarterback for John Harbaugh's system.

San Francisco's secondary is one of the worst in the league. Nate Clements is due $7.25 million in 2011, which means he could be cut soon.

Prince Amukamara would likely become a Day 1 starter for the 49ers if they drafted him. While he's not as good as Patrick Peterson, he'll still be a great corner in the NFL.
8. Tennessee Titans- Von Miller, Hybrid Linebacker, Texas A&M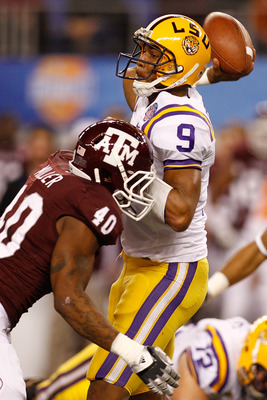 Chris Graythen/Getty Images
I've seen very few people going with this move, so I like to think I'm starting a new trend, but I'm sure many disagree with me.

Despite Vince Young going elsewhere this offseason, Tennessee will not draft a quarterback in the first round. With Jeff Fisher's job on the line, he'll start a veteran.

Von Miller can be the type of player who can play strongside linebacker for some plays, and then switch to defensive end for others. He'll be a great pick for the Titans.
9. Dallas Cowboys- Cameron Jordan, Defensive Lineman, California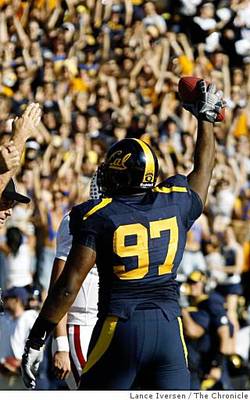 Don't get me wrong, I strongly believe the Cowboys will trade down, but if they don't, Cameron Jordan would be the pick here.

Jay Ratliff and Stephen Bowen will be studs on the Cowboys' defensive line for years to come, but Igor Olshansky isn't that young anymore.

Cameron Jordan has received a ton of praise lately, which is a great sign. With a strong combine, he will reach the top 10 like former Cal defensive lineman Tyson Alualu.
10. Washington Redskins- Blaine Gabbert, Quarterback, Missouri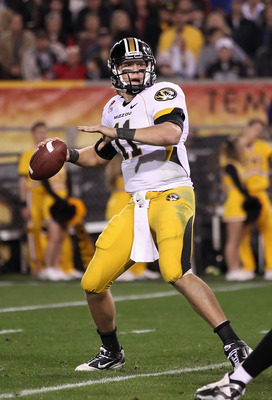 Christian Petersen/Getty Images
There are many doubters as far as Blaine Gabbert's game goes, but he's still the best quarterback in the draft, according to most.

Washington will likely part with Donovan McNabb in the offseason, which would be for the better of the franchise. He won't help them win a Super Bowl with that offense.

While Blaine Gabbert didn't throw that many deep balls at Missouri, he'll be a solid starting quarterback in the NFL.
11. Houston Texans- Ryan Kerrigan, Hybrid Linebacker, Purdue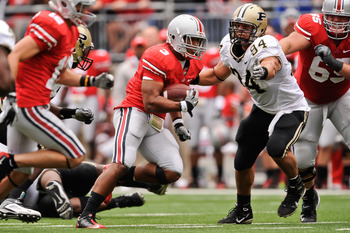 Jamie Sabau/Getty Images
With Wade Phillips as the new defensive coordinator of the Houston Texans, he will implement a 3-4 defense, which will require more rush linebackers for Houston.

Connor Barwin is almost a lock to be one of those two rush linebackers, but there's no real stud to consider for the other spot.

Ryan Kerrigan, who had 12.5 sacks in his senior campaign, will be a Day 1 starter for a Houston defense looking to improve.
12. Minnesota Vikings- Nate Solder, Offensive Tackle, Colorado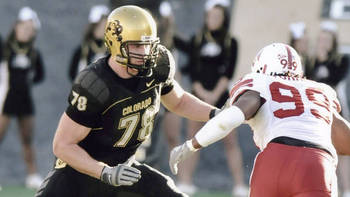 Despite Ryan Mallett, Cam Newton and Jake Locker all being available at this point, I don't believe Minnesota will draft a quarterback in the first round.

However, I see the Vikings drafting an offensive tackle to either replace Bryant McKinnie or Phil Loadholt. There's a good chance McKinnie could be gone within a years time.

Nate Solder, in my opinion, is the best tackle option available for the Vikings. He should fit in very well.
13. Detroit Lions- Akeem Ayers, Hybrid Linebacker, UCLA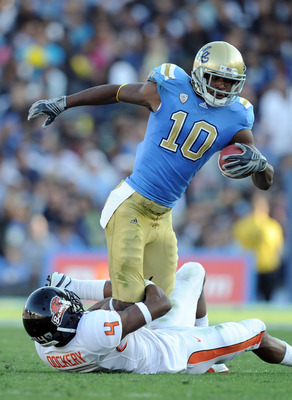 Harry How/Getty Images
Detroit, which is finally picking out of the top 10, doesn't really have a ton of needs to address, unlike years past.

The Lions recently informed Julian Peterson they would be releasing him, leaving a spot open at outside linebacker.

Akeem Ayers is a great rush linebacker with plenty of potential. He can play an either a 3-4 or 4-3 defensive scheme.
14. St. Louis Rams- Julio Jones, Wide Receiver, Alabama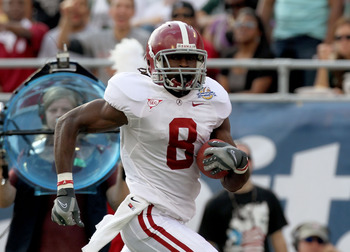 Mike Ehrmann/Getty Images
With the recent hiring of Josh McDaniels to become offensive coordinator, St. Louis appears to be a team that will primarily focus on offense.

Sam Bradford, who had a tremendous rookie season with the Rams despite missing the playoffs, needs more weapons to throw to.

Julio Jones, although he has inconsistent hands, is a great deep threat receiver. He'll be the Rams' No. 1 receiver from Day 1.
15. Miami Dolphins- Cameron "Cam" Newton, Quarterback, Auburn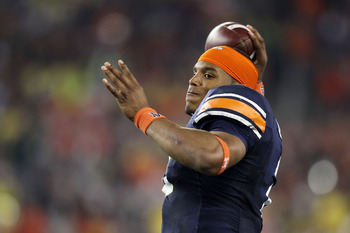 Christian Petersen/Getty Images
While members of the Miami Dolphins' organization want us to believe that Chad Henne is the future, he simply is not.

On the other hand, Cam Newton, the 2010 Heisman Trophy winner, could be the quarterback that Miami has been seeking for years.

He should fit right in with Miami's wildcat scheme, which should boost them back around playoff level in 2011.
16. Jacksonville Jaguars- Aldon Smith, Defensive End, Missouri
Jamie Squire/Getty Images
While Jacksonville did get some success out of Aaron Kampman, he's coming off his second ACL tear in two years.

The Jaguars need to find some talent to go on the defensive line. Jeremy Mincey is unproven, which could lead to Jacksonville taking Smith.

Aldon Smith is a tremendous pass rusher, but he missed much of his past season with the Tigers.
17. New England Patriots- J.J. Watt, Defensive Lineman, Wisconsin
Stephen Dunn/Getty Images
New England, with their first of two first-rounders, should look to take a great 3-4 defensive end like J.J. Watt.

Even with the return of Ty Warren to the defensive line next season, the Patriots could still use depth if somebody goes down.

Don't expect a ton from Watt from the get-go, but more often than not, Bill Belichick is able to make the most out of his defensive prospects.
18. San Diego Chargers- Cameron Heyward, Defensive Lineman, Ohio State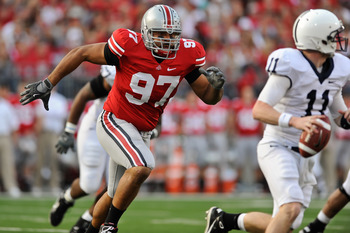 Jamie Sabau/Getty Images
Cameron Heyward has had a very roller coaster-like stock over the past year. He was a top 10 pick eight months ago, but his poor season at Ohio State dropped his rank.

With a great performance in the State Farm Sugar Bowl, Heyward elevated his stock back into the top 20 picks.

Jacques Cesaire is a free agent this offseason, and it's highly unlikely he'll be back in 2011. Heyward could wind up starting right from the start.
19. New York Giants- Tyron Smith, Offensive Tackle, USC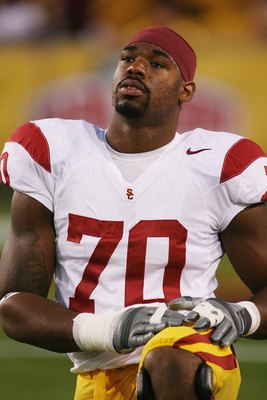 Jeff Golden/Getty Images
While the Giants are relatively set at each position, they could look to upgrade their mediocre offensive line.

William Beatty, who was once considered a first round prospect in 2009, has failed to star when he sees playing time on the field.

Tyron Smith, a 290-pound athletic offensive lineman, will be a great fit for the Giants.
20. Tampa Bay Buccaneers- Adrian Clayborn, Defensive End, Iowa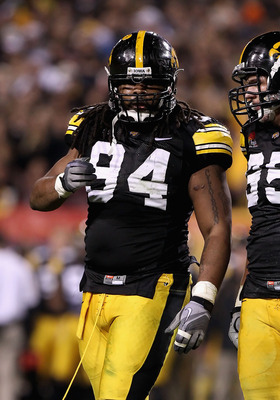 Christian Petersen/Getty Images
First off, I would like to congratulate the Tampa Bay Buccaneers on a 10-6 finish to the 2010 season. They truly garnered a lot of respect from many people.

Anyway, Tampa Bay's defensive line looks solid right now with Gerald McCoy and Brian Price as the future defensive tackles, but the defensive end situation looks up in the air.

Even with his difficult past, Clayborn is still one of the most talented defensive players eligible for the draft. He could help make the Buccaneers' defensive line one of the best within a year or two.
21. Kansas City Chiefs- Justin Houston, Hybrid Linebacker, Georgia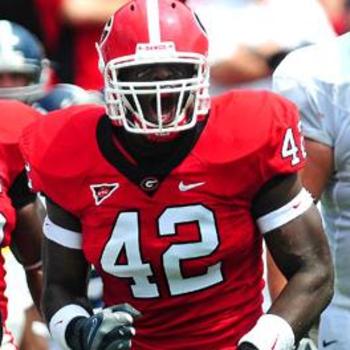 When you think of the Kansas City Chiefs' pass rush, you probably can only come up with Tamba Hali. To be honest, that's pretty much it.

While the Chiefs are improving on both sides of the ball, they won't be able to succeed on defense if they can't get pressure on the quarterback.

Justin Houston totaled 19.5 tackles for loss and 11 sacks in his junior season with the Georgia Bulldogs.
22. Indianapolis Colts- Derek Sherrod, Offensive Tackle, Mississippi State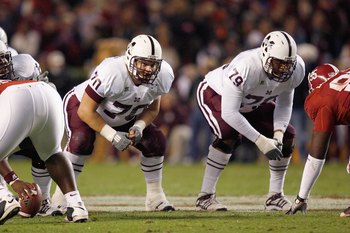 Kevin C. Cox/Getty Images
It's been shown in the past that when a ton of pressure is put upon Peyton Manning, he tends to throw interceptions, and the Colts usually lose.

Indianapolis has a decent offensive line, but Charlie Johnson is set to become a free agent this offseason. The Colts may elect to let him walk.

Derek Sherrod would be the perfect pick for Indianapolis. If they draft him, look for Charlie Johnson to go elsewhere.
23. Philadelphia Eagles- Gabe Carimi, Offensive Lineman, Wisconsin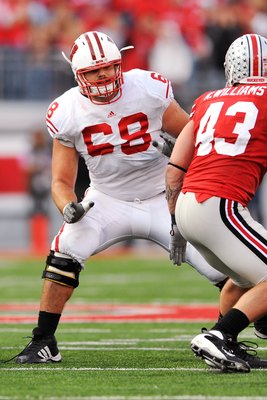 Jamie Sabau/Getty Images
Fact of the day: The Philadelphia Eagles gave up a total of 52 sacks during the 2010 season, with six of them coming against the Minnesota Vikings a month ago.

Michael Vick will definitely be back with the Eagles, but he won't be able to stay healthy if he can't stay upright.

Gabe Carimi is the perfect fit for Andy Reid's blocking scheme. Could be a Day 1 starter for Philadelphia.
24. New Orleans Saints- Stephen Paea, Defensive Tackle, Oregon State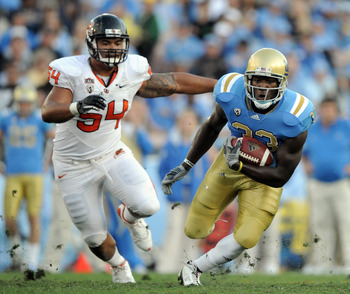 Harry How/Getty Images
The Saints are another team with very few holes on their roster, but they can afford to find a solid defensive tackle to pair next to Sedrick Ellis.

Stephen Paea, a 310-pound defensive tackle from Oregon State, had 11 tackles for loss and seven sacks on the year.

If the Saints don't go with a defensive tackle, look for them to either draft a rush linebacker or a safety.
25. Seattle Seahawks- Jake Locker, Quarterback, Washington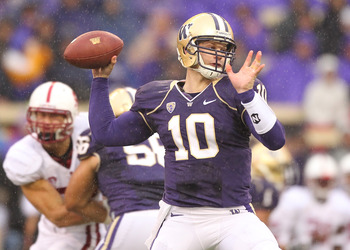 Otto Greule Jr/Getty Images
Despite the fact that Matt Hasselbeck has a great chance to be the Seattle Seahawks starting quarterback in 2011, he'll likely retire within the next two years.

Seattle could afford to address the secondary, but when a player as talented as Jake Locker is available, you take him.

Look for the Seahawks to roll with Hasselbeck, Whitehurst and Locker on the roster for next year. Whitehurst could end up being third-string.
26. Baltimore Ravens- Brandon Harris, Cornerback, Miami
Doug Benc/Getty Images
The Baltimore Ravens came up short, once again, on reaching the Super Bowl. Obviously, something must be done to get them to the next level.

Chris Carr, Fabian Washington and Josh Wilson are all set to become free agents this year. It's nearly a guarantee that one of the three won't be back.

Adding Brandon Harris to the Ravens' secondary would be very beneficial. Yet another seriously possibility for a Day 1 starter.
27. Atlanta Falcons- Jonathan Baldwin, Wide Receiver, Pittsburgh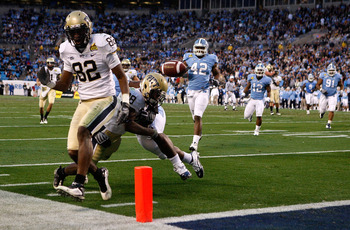 Streeter Lecka/Getty Images
The Atlanta Falcons were upset on the road in the playoffs this past weekend. Most of the blame should be put on Atlanta's horrible defensive performance.

Despite the Falcons' offense being much stronger than their defense, I see them going with an offensive player in the first round.

Roddy White is a great No. 1 receiver, but Michael Jenkins is far too inconsistent to be the No. 2.
28. New England Patriots- Stefen Wisniewski, Offensive Lineman, Penn State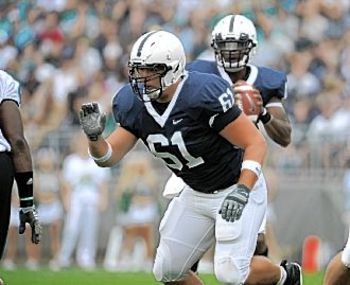 With the second of their two first-round picks, New England should look to address their aging offensive line.

Logan Mankins may very well not be back with the team next year, and Stephen Neal is already 34 years old. Neal also announced that 2011 will be his last season in the NFL.

Stefen Wisniewski will be a great project for the future who could take over for either Mankins or Neal when they're gone.
29. Green Bay Packers- Corey Liuget, Defensive Lineman, Illinois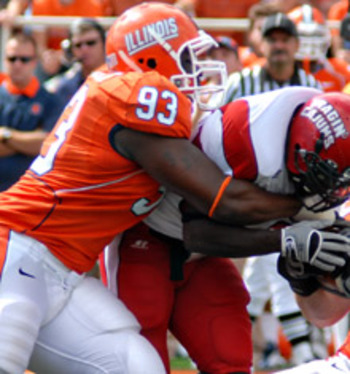 Even though Mike Neal has an unbelievable amount of potential, Green Bay still lacks depth on the defensive line.

Both Cullen Jenkins and Johnny Jolly will be free agents this offseason. Neither one should be brought back to the team.

Corey Liuget, who is one of the best players available at this point, will be a tremendous pick when all is said and done.
30. New York Jets- Muhammad Wilkerson, Defensive Lineman, Temple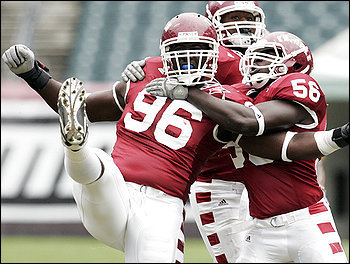 The New York Jets don't seem like a team that needs to address their defense, but taking a defensive lineman is the best option here.

Shaun Ellis will be a free agent this offseason, which means the Jets will need to have a solid player to step in for him.

Muhammad Wilkerson has risen up the boards quickly lately, but he should find himself right where he is come April.
31. Chicago Bears- Anthony Castonzo, Offensive Tackle, Boston College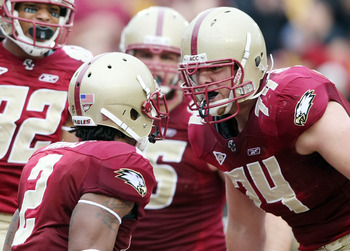 Elsa/Getty Images
The Chicago Bears are continuing to impress fans across the nation, but the Bears won't be able to get past the Packers if they can't keep Jay Cutler on his feet.

The Bears led the NFL in sacks allowed this season with a total of 58, which is nearly four per game. I think it's time for a change on Chicago's offensive line.

Castonzo, the best offensive tackle available, could be a big steal for Chicago.
32. Pittsburgh Steelers- Mike Pouncey, Guard, Florida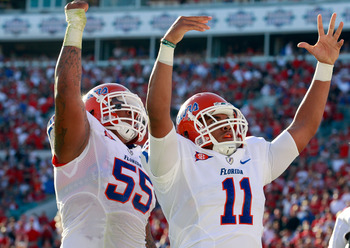 Sam Greenwood/Getty Images
With the final pick in the first round of the 2011 draft, I see the Pittsburgh Steelers doing something that's rarely done---pairing two brothers together.

Maurkice, Pittsburgh's 2010 first-rounder, is Mike's brother. The two played together at the University of Florida.

Maurkice will continue to start at center for years to come, while Mike would be right next door at the guard position. It will definitely be exciting to see if it happens.
Keep Reading