San Francisco 49ers: Ranking Jim Harbaugh and Every Coach in Franchise History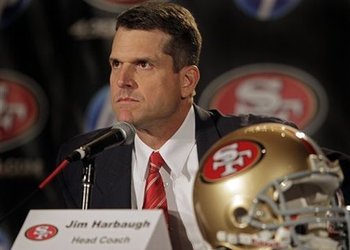 San Francisco 49ers: Power Ranking Jim Harbaugh and Every Coach in Franchise History
When I say San Francisco 49ers head coaches, who comes to mind?
Bill Walsh? I knew you'd say that. I'm what's called "bulimic."
Anyone think Dick Nolan? George Seifert? Buck Shaw? How old are you?
Maybe Mike Singletary? Mike Nolan? The pantsless motivator? The empty-skulled suit?
The new head coach of the San Francisco 49ers has an opportunity to erase these shameful coach caricatures from our memories and restore San Fran to greatness. But will he?
Considering the hype, you'd think Jim Harbaugh had already done it. His $25 million, five-year contract insinuates the same.
Had he accepted a reported $8 million per year salary from the Miami Dolphins, he would have become both the newest and the highest-paid coach in the NFL. Can you imagine Bill Belichick's contempt? He's been toting sleeveless sweatshirts since Harbaugh was a toddler at USD.
Nevertheless, Harbaugh is here to stay, and he's carrying big expectations. His brother coached the Ravens to the Divisional Round of this year's playoffs, and his father coached Western Kentucky to a DI-AA championship in 2002. As far as personal accomplishments go, Jim Harbaugh quarterbacked for the Colts from 1994 to 1997 and was the NFL MVP runner-up in '95.
He certainly has all the potential to be the next Bill Walsh, but he's not there yet. In the following slides, I'll rank Walsh, Harbaugh and every 49ers head coach in history. Where does Harbaugh stand?
16. Pete McCulley/Fred O'Connor (1978)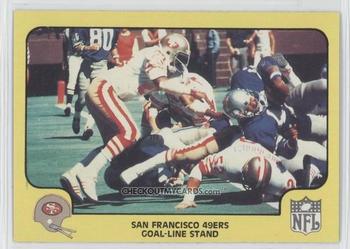 The 1978 San Francisco 49ers
Record: 2-14
Postseason record: 0-0
Win percentage: .125
As the worst coaches in 49ers history, it's only fair that neither gets his own slide. McCulley started the 1978 season by going 1-8 and was quickly fired. Offensive coordinator Fred O'Connor replaced him.
O'Connor finished the season by going 1-6. Since his win percentage is a whole two percent better than McCulley's, let's go ahead and proclaim McCulley the worst head coach in 49ers history.
Congratulations, Mike Singletary—it's not you!
Notable players coached: O.J. Simpson, Wilbur Jackson
15. Red Strader (1955)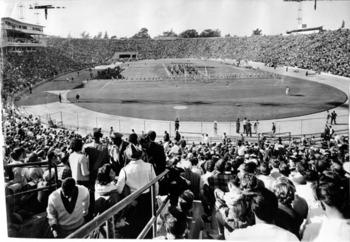 Kezar Stadium, 1955.
Record: 4-8
Postseason record: 0-0
Win percentage: .333
Before coaching the 49ers, Strader was a WWII lieutenant commander and a respected coach for the New York Yankees (an AAFC football team at the time). His tenure with them was marked by a 13-9 overall record and one losing playoff appearance.
Unfortunately, the Yankees got the best of him.
His 4-8 campaign with the 49ers was hardly an upgrade from Buck Shaw, Red's predecessor. Red died of a heart attack following his one year in San Francisco, although he would likely have been fired for the same reason Shaw was—failure to produce a ring.
Sorry, Red. No. 15 it is.
Notable players coached: Billy Wilson
14. Ken Meyer (1977)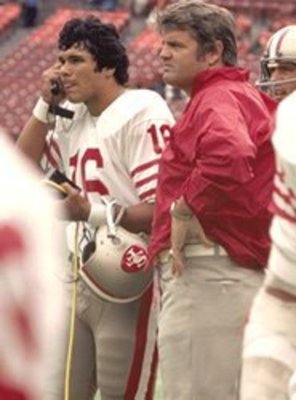 Jim Plunkett, 1977
Record: 5-9
Postseason record: 0-0
Win percentage: .555
Meyer's claim to fame is having groomed the collegiate Joe Namath into the Pro Football Hall of Famer he would eventually become.
Under Meyer, Alabama won two national championships between 1963 and 1968. If only his success had carried over to the NFL, he might be more fondly remembered. When Meyer and Namath were reunited in New York, they failed to rekindle their chemistry.
For some reason, he was still hired by the Niners in 1977. He was fired after only one season: a 5-9 disappointment.
Notable players coached: Jim Plunkett, Delvin Williams
13. Dennis Erickson (2003-2004)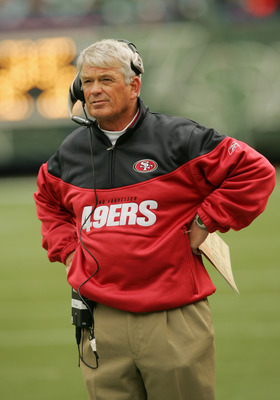 Dennis Erickson, 2004
Chris Trotman/Getty Images
Record: 9-23
Postseason record: 0-0
Win percentage: .281
In the same way that not all talented coordinators are cut out to be head coaches, some prodigal college coaches aren't constructed for the NFL.
Pete Carroll needs to be left out of this discussion. Dennis Erickson fits the bill perfectly.
Erickson won two national championships at Miami in 1989 and 1991. Erickson currently coaches for Arizona State and is well thought of at Idaho, Washington State and Oregon State.
Erickson's offensive schemes perplexed college defenses but hardly befuddled NFL coordinators. He spent three mediocre years with the Seattle Seahawks before bombing in two consecutive seasons with the 49ers. He hasn't been heard from in the NFL since.
Dennis, help yourself to Stanford or Cal, but please stay far far away from San Francisco—especially during draft season.
Notable draft picks: Kwame Harris, Rashaun Woods
Notable players coached: Terrell Owens, Julian Peterson, Jeff Garcia
12. Mike Nolan (2005-2008)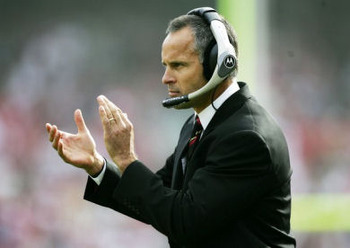 Mike Nolan
Record: 18-37
Postseason record: 0-0
Win percentage: .327
Doesn't he look professional? Like he knows what he's doing? Like he'd inspire confidence in players and fans alike?
Well, he did. But as it turned out, he knew next to nothing about football. Classic 49ers hiring oversight.
Mike Nolan coached three years with the 49ers and achieved a cumulative record of 18-37. He will be remembered for his impeccable style, competitive demeanor and ability to act the part of a coach.
He went 4-12 in 2005, improved to 7-9 in 2006 (thanks, Norv Turner!) and then regressed to 5-11 in 2007 before being replaced by Mike Singletary. To this day, nobody can explain how he lost eight in a row to miss the playoffs in his final year. Anybody can explain why he was let go.
He is currently the defensive coordinator for the Miami Dolphins.
Notable players coached: Alex Smith, Vernon Davis, Patrick Willis
Notable draft picks: Alex Smith, Vernon Davis
11. Jack Christiansen (1963-1967)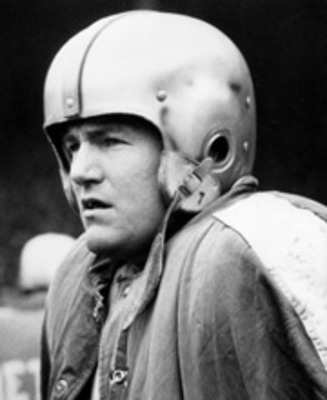 Jack Christiansen
Record: 26-38-3
Postseason record: 0-0
Win percentage: .406
Yet another breed of bad coach—Jack Christiansen was a great player who couldn't coach. Warning to Mike Singletary: Please read this warning, go back in time and turn down the 49ers head coaching job!
Christiansen played in five Pro Bowls over the course of an eight-year Hall of Fame career. He won three consecutive NFL championships, in '52, '53 and '54.
He co-owns the Detroit Lions record for most career return touchdowns (11) and is one of three players to ever return two punts for touchdowns in one game. Jack did it twice.
Maybe he should have been a special teams coordinator. In his four years with the 49ers, he won fewer than half his games. He went on to coach at Stanford University, where he recorded 30 wins and 22 losses.
Notable players coached: Ken Willard, Jon Brodie
10. Mike Singletary (2008-2010)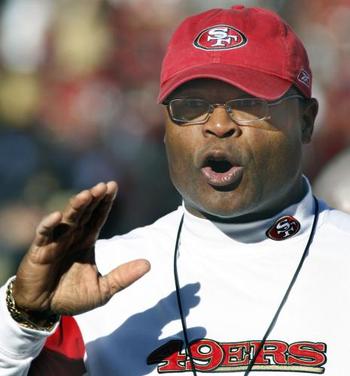 Record: 18-22
Postseason record: 0-0
Win percentage: .462
Mike Singletary:
A. The "heart" of the Monsters of the Midway for the Chicago Bears in the mid 1980s.
B. A unanimous Hall of Fame linebacker as of 1998.
C. http://www.youtube.com/watch?v=rXCNoDUxip0&feature=related
D. http://sports.espn.go.com/nfl/news/story?id=3673441
In summary, Mike Singletary was a great player, a loony orator and a questionable stripper.
All in all, an average coach. Most agree he will be better off as a defensive coordinator. Singletary was fired midseason by the 49ers in 2010 but will resume coaching in 2011 as linebackers coach for the Minnesota Vikings.
Notable players coached: Frank Gore, Patrick Willis
9. Red Hickey (1959-1963)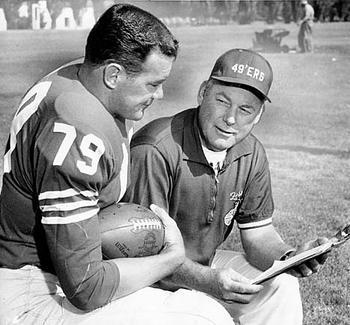 Record: 27-27
Postseason: 0-0
Win percentage: .500
Good riddance to coaches with losing records! Our No. 9 coach, Red Hickey, finished with a symmetrical 27-27 record after four years in San Francisco.
He is credited with the invention of both the shotgun formation and the "alley-oop" pass.
Immediately following the introduction of his shotgun wizardry, his Niners enjoyed a magical stretch. Hickey jinxed his luck by trading Y.A. Tittle to the New York Giants for offensive guard Lou Cordileone in 1961.
"A+" for innovation. "F" for roster management. No. 9 in 49ers coaching history.
Notable players coached: Y.A. Tittle, Billy Wilson, Bob St. Clair, Abe Woodson
8. Monte Clark (1976)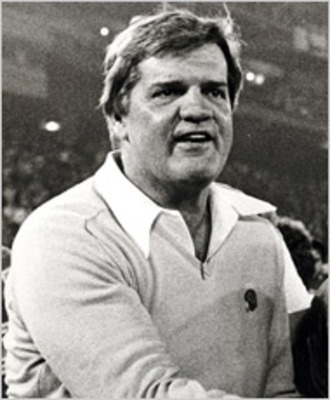 Monte Clark; Niners and Lions Head Coach
Record: 8-6
Postseason record: 0-0
Win percentage: .571
In Miami under Don Shula, Clark built an offensive line that was significantly responsible for the success of running back Larry Csonka. Not a bad beginning.
When he moved to San Francisco, he furthered his track record by sneaking Jim Plunkett out from under New England.
So what went wrong?
In 1977, the Niners franchise was sold to Eddie DeBartolo Jr. Clark butted heads with Eddie's GM, Joe Thomas, over personnel decisions and was consequently fired. DeBartolo's Niners finished 15-47 over the next four seasons.
I would say Monte got the last laugh, but he ranks only eighth on our list. Darn you, Eddie.
Notable players coached: Jim Plunkett, Delvin Williams, Tommy Hart
7. Frankie Albert (1956-1958)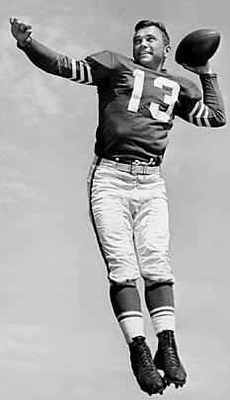 Record: 19-16
Postseason: 0-1
Win percentage: .542
Our first playoff coach on the list! Also the 49ers' first playoff appearance since Buck Shaw.
Albert was a left-handed scrambling quarterback in his playing days for the Chicago Bears, LA Bulldogs and, yep, the San Francisco 49ers. Warning to Michael Vick: Read this, go back in time and thank Albert for inventing the bootleg.
As a coach, Albert enjoyed three relatively successful seasons with the 49ers, including a heartbreaking playoff loss to the Lions in 1957. Owner Anthony Morabito died in the middle of the game.
Notable players coached: Y.A. Tittle, Dicky Moegle
6. Dick Nolan (1968-1975)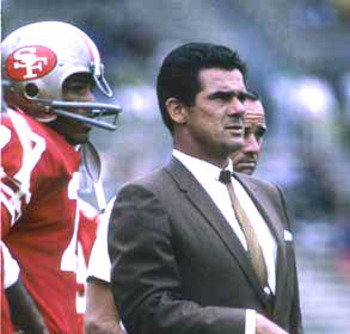 Dick Nolan, the inspiration for Mike Nolan's dress code
Record: 54-53-5
Postseason record: 3-2
Win percentage: .457
Richard Charles Nolan. Regal, don't you think? Unlike his son Michael Frankfurterstein (actual name: Mike), he had the talent to back it up.
In 1970, Dick was voted the AP's Coach of the Year. His Niners won the NFC West in the following three years, and in two of those years San Francisco nearly advanced to the Super Bowl.
Nolan can also boast six years of assistance to Cowboys legend Tom Landry, father of the "Doomsday Defense." Nolan inherited Landry's defensive expertise and was described by Landry as a coach by blood. When Nolan was a defensive back for Landry, he injured himself midseason and was immediately installed as a defensive coaching assistant.
Notable players coached: John Brodie, Gene Washington, Dave Wilcox
5. Steve Mariucci (1997-2002)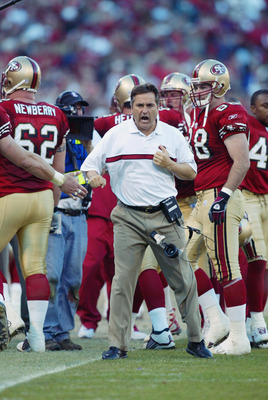 Donald Miralle/Getty Images
Record: 57-39
Postseason Record: 3-4
Win percentage: .594
Why Mooch is not universally beloved by the 49er faithful, I will never know. No fan should hold it against him that he's an annoying TV personality. Do feel free to begrudge him for coaching the Lions.
Nevertheless, I'm here to bust the myth that Steve Mariucci was anything less than a great coach.
Average coaches can have a few great seasons given the right roster. Great coaches perform regardless.
Mariucci did just that in his five seasons with the 49ers. His teams made the playoffs four out of five times, and in his final season, he engineered the second-greatest playoff comeback in history vs. the New York Giants. We all remember it—down 38-14, final score 39-38. Thank you Mooch, Garcia and T.O.
Tell me that Dennis Erickson, who went 9-23 in the two years following Mariucci's firing, could have done the same.
Little-known fact: Brett Favre wanted the Packers to hire Mooch in 1996. 'Nuff said.
Notable players coached: Jeff Garcia, Terrell Owens, Steve Young, Jerry Rice
4. Jim Harbaugh (2011-Unknown)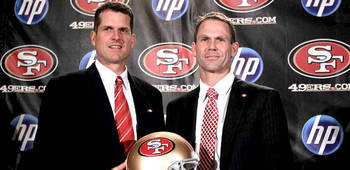 Harbaugh and new GM, Trent Baalke
Record: 0-0
Postseason record: Super Bowl No. 6?
Red flags
1. Harbaugh has never thrown one. He's an unproven coach coming up from the college ranks, just like...Dennis Erickson.
2. He's an ex-player. Could be a good thing, but then again, that's why we hired...Mike Singletary.
3. Coaching in the family. Who says he's unproven? His brother and dad coached, just like...Mike Nolan.
4. His no-nonsense, uber-competitive attitude. See Nolan and Singletary for details. In his very first press conference, he used the word "competitive" as often as he declared "losing is not an option."
5. Frothing-at-the-mouth intensity might work on Stanford students, but I'm not sure it's what Patrick Willis needs. The Niners need a brain, not a drill sergeant—someone to bench Alex Smith, not yell at him. Hopefully they've found their man.
Green flags
1. Incredible track record at USD and Stanford. Turned both programs from nothing into something.
2. Great quarterback coach. Can help us select and groom our quarterback of the future.
3. Can ensure Alex Smith will not be the aforementioned quarterback.
There is hope! Check back in five years to see if I've majorly overestimated him.
Notable draft picks: Blaine Gabbert? Cam Newton? Ryan Mallett?
3. Buck Shaw (1946-1954)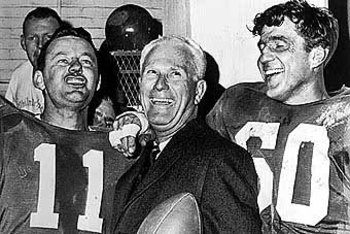 Record: 71-39-4
Postseason record: 1-1
Win percentage: .640
Seventy-one wins! That's seventy-one more than Jim Harbaugh.
Buck Shaw was the first ever 49ers coach and did everything possible to earn the honor.
Shaw coached the 49ers to second place in the Western AAFC four years in a row. In 1950, in part due to their success under Shaw, the 49ers (along with the Browns and Colts) merged with the NFL.
Shaw went on to coach the Eagles to an NFL championship, but he will always be remembered by 49ers fans as a fitting start to a winning franchise.
Notable players coached: Frankie Albert, Y.A. Tittle, Hugh McElhenny
2. George Seifert (1989-1996)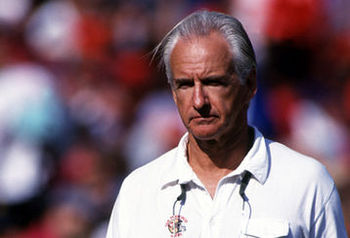 Record: 98-30
Postseason record: 10-5
Win percentage: .766
Many argue that George Seifert, the winningest coach in 49ers history, wasn't the exemplary leader he's remembered as.
He went 16-32 as head coach of the Carolina Panthers between 1999-2001 and rode largely on the coattails of a team coached and constructed by Bill Walsh. Walsh may or may not be featured on the following slide.
Still, as much as Seifert's success resulted from Walsh's accomplishments, Walsh's accomplishments benefited from Seifert's coaching.
Seifert was Walsh's defensive coordinator for six consecutive years; in all six years their defense was ranked in the top 10.
Seifert is one of 12 head coaches to win two Super Bowls, and he coached on five Super Bowl-winning teams in total. His teams were talented, but so are many without the same accolades to show for it. Congratulations George, you are second only to...
Notable players coached: Joe Montana, Jerry Rice, Ronnie Lott, Harris Barton, Brent Jones
1. Bill Walsh (1979-1988)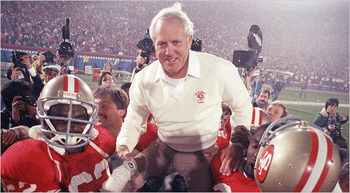 Record: 92-59-1
Postseason record: 10-4
Win percentage: .609
It's hard to know where to start. Here seems like a good place...
- Three Super Bowl titles (1981, 1984 and 1988)—more than Don Shula, Tom Landry, Bill Parcells or Vince Lombardi.
- Drafted Joe Montana, Ronnie Lott, Charles Haley and Jerry Rice.
- Popularized the West Coast offense. It was virtually unstoppable at the time and is still frustrating for defensive coordinators. Jim Harbaugh is one of many coaches who subscribe.
- Nickname: "The Genius."
- The 49ers were 2-14 when Walsh inherited them. They won a championship only two years later.
- Inducted to Football Hall of Fame in 1993 without having played a snap in his life.
- Inspired a football and coaching revolution. To be amazed, see tree of influence.
Do you agree Bill Walsh is unquestionably the No. 1 coach in 49ers history and the No. 1 reason to expect greatness from 49ers coaches? The reason not to tolerate mediocrity?
If Jim Harbaugh is unable to honor his legacy this year, 49ers fans will be content to wait for Walsh's eventual incarnation.
He is past; he is present; he is future. Possibly the best coach ever. Forever a San Francisco 49er.
Recognition
1981 Associated Press NFL Coach of the Year
1981 Sporting News NFL Coach of the Year
1981 Pro Football Weekly NFL Coach of the Year
1981 UPI NFL Coach of the Year
1984 UPI NFL Coach of the Year
Keep Reading

San Francisco 49ers: Like this team?