Atlanta Falcons Report Card: Final Grades By Position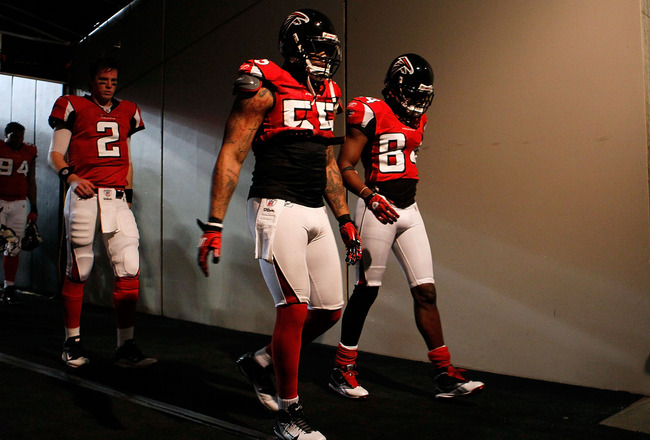 Kevin C. Cox/Getty Images
The Atlanta Falcons recently completed a memorable season that ended in tough fashion.
Winning the NFC South, being the NFC's No. 1 seed and owning a 13-3 record were all fantastic achievements, but many fans will be left with a bitter taste in their mouths after the team's playoff demolition at the hands of the Green Bay Packers.
Still, there's plenty to be excited about when looking to the future, and the 2010 season was one of the more enjoyable campaigns in the franchise's history.
Now that we're a little bit removed from the season and the postseason disaster, it's time to look back and hand out grades for each position.
We'll look at what went right, who made the biggest impact and where the team needs to improve.
Each player who saw significant playing time will be looked at, and every player's individual performance goes into the positional mark. Expectations also play a role.
So let's get to it. Here are the Atlanta Falcons year-end grades.
Quarterback: A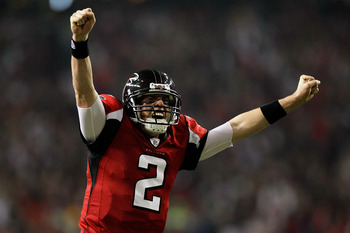 Kevin C. Cox/Getty Images
There wasn't really any question about what the grade here was going to be, right?
Matt Ryan continued his development as a signal caller and took a major step forward.
Games like the one he had against Baltimore, when he threw for 316 yards and three touchdowns, offer us a glimpse at the young man's potential, and his ability to run the no-huddle offense is ahead of where most third-year quarterbacks would be.
When comparing Ryan to two of the game's best, we can see just how good he is and how far he has come.
Ryan attempted the same number of passes as Peyton Manning did in his third year and had the same completion percentage. Manning did throw for more yards and touchdowns, but Ryan threw less interceptions and is in a a different type of offense.
Ryan's numbers are also better than Tom Brady's were in his third year as a starter, which only bodes well for the Boston College product.
He'll need to win a playoff game to take the next step, and the coaching staff should allow him to call his own plays more often, as the offense was very effective when he did so.
Running Back: B+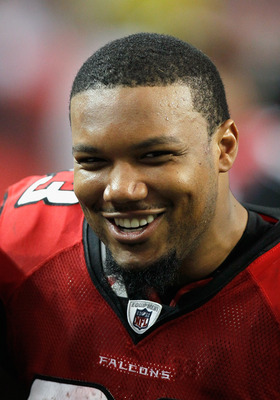 Kevin C. Cox/Getty Images
Michael Turner had a great year, rushing for 1,371 yards (third in the NFL) and 12 touchdowns. He faded down the stretch, though, averaging just 77 YPG over the last four weeks of the season.
The worry with Turner is that, like most running backs, the wheels will fall off without any notice and he'll be unable to make any impact whatsoever. "The Burner" seemed to lack a bit of his normal burst this year, although that could be the result of a groin injury he sustained in Week 2.
It's never been quite clear if it's the number of carries a back has over his career or simply father time that causes a runner to suddenly breakdown, as we've had numerous examples of both.
Jason Snelling has proven himself to be a reliable backup who is an above average receiver out of the backfield. Durability would be an issue when considering him as a long term solution, however, evidenced by his missing three games this year.
Fullback Ovie Mughelli is one of the best in the business. Turner and Snelling are able to be effective because Mughelli does the dirty work. Mughelli also showed some ability as a pass-catcher, and could become more involved in that role in 2011.
Atlanta will likely look to add a change of pace back to the roster, and DeAngelo Williams, who has been with the Carolina Panthers the past five years, is a name that has been brought up.
Wide Receiver: B+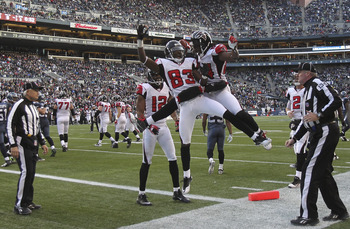 Otto Greule Jr/Getty Images
If we were going only on Roddy White's efforts, the group would be getting an A. We're not, though, and even Roddy didn't produce as hoped for in the team's last seven games.
Roddy led the league in receptions and was second in receiving yards, but didn't top 100 yards after Week 10.
Michael Jenkins stepped up to the best of his ability, and his crippling drops seem to be a thing of the past. Even though Jenkins never gained more than 100 yards or caught multiple touchdowns in a game, he still made a number of big grabs.
Harry Douglas was a disappointment. He got the chance to start at the beginning of the year and did nothing, then did even more of nothing when he was moved back to the slot. He could still be in the recovery period from the torn ACL he suffered in 2009, but he will need to do something significant next season.
Brian Finneran also made some tough grabs, although he'll never be a game-changer.
The Falcons need to add speed to their receiver corps. They need someone who can stretch the field and take the top off a defense. It would loosen things up for their running game, while also creating more space for White.
Tight End: B+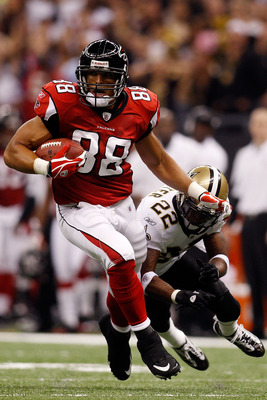 Chris Graythen/Getty Images
Tony Gonzalez is clearly near the end of his career. Still, he's more productive than a great number of tight ends currently in the league.
Gonzalez caught 70 passes for 656 yards and six touchdowns, but had more drops than he's probably had at any other point in his life.
No other tight end is ready to step up and become an impact starter, so the Falcons will hope that Gonzalez gives it one more year.
The 14-year pro had a dream of confetti falling from the sky just before he was traded to Atlanta two years ago. Maybe he can go out on top if he makes one last run at it.
Offensive Line: A-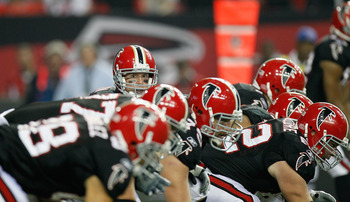 Kevin C. Cox/Getty Images
Atlanta's offensive line produced a 1,000 yard rusher and was also the third-best line in terms of sacks allowed. It's safe to say they're pretty good.
There are some holes, however, particularly Sam Baker at left tackle.
Baker struggled for much of the year in pass protection and with penalties. According to FootballOutsiders.com, the Falcons were in the middle of the pack when rushing to the left side, whereas they were in the top-12 when going up the middle or to the right. The left side, of course, is Baker's.
Maybe the coaching staff and front office believe this is just a part of Baker's development, or maybe they will look to draft or sign someone who can step in and fill the role.
Center Todd McClure is also getting up there in age, but the rest of the line is good in that department. There are no problems that should be too hard to fix.
Defensive Line: B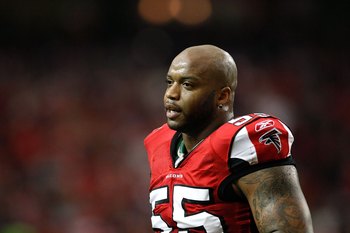 Kevin C. Cox/Getty Images
John Abraham (13 sacks) and Jonathan Babineaux were the only defensive line members to make a serious impact. Kroy Biermann had some nice plays, but was never terribly consistent.
The line also started out the season incredibly strong against the run before being gashed in the stretch run.
Of course, some of that has to do with the linebackers as well, but it all starts in the trenches.
The Falcons desperately need a pass-rusher to help out Abraham, and they could look to get another big body to help clog up the middle and get some penetration.
There have been no reports of this nature, but the team could look to get Albert Haynesworth on board, if they think they can get him to play hard every game.
It's a high risk/high reward scenario, and sometimes that's what it takes to win.
Linebackers: B+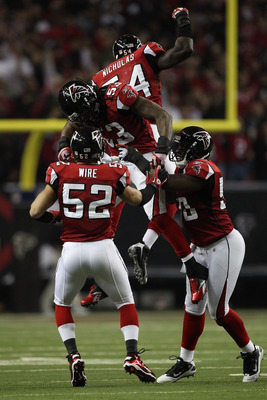 Streeter Lecka/Getty Images
The Falcons were led in tackles by linebacker Curtis Lofton, who amassed 118, along with two sacks an interception and three forced fumbles.
As a whole, the linebacker unit was very productive, accounting for several turnovers and getting a good number of hits in the backfield.
Mike Peterson didn't have a great amount of tackles, but he did get a sack, two interceptions and deflected five passes.
Sean Weatherspoon played well in the beginning of the season before going down with a knee injury, and Stephen Nicholas was very productive filling in for the rookie.
Weatherspoon should take a step forward in 2011, and it appears the Falcons are set at linebacker for many seasons to come.
Defensive Backs: B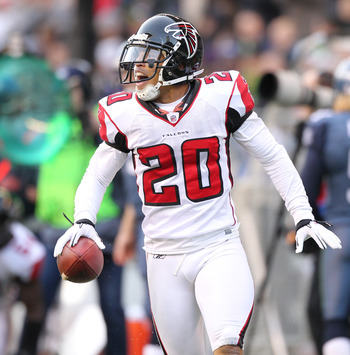 Otto Greule Jr/Getty Images
These guys are lucky Brent Grimes was back there. Without him, their overall grade would have been around a C, but his play was good enough to bump the group up.
Grimes was nothing short of fantastic this year, recording five interceptions and ranking second on the team in tackles with 87.
Dunta Robinson was a bitter disappointment, getting burned several times and missing tackles that led to big plays. Maybe the Falcons believe that after having had a year in the system he will improve dramatically next season, or maybe they should take a long, hard look at Nnamdi Asomugha.
William Moore also stepped up his play with five picks, although he too whiffed some in the open field.
Thomas DeCoud didn't make any particularly huge plays, although he is improving and his potential is off the charts.
Special Teams: A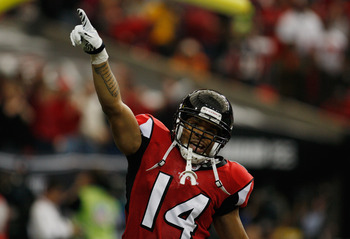 Scott Halleran/Getty Images
"Ryan, you doofus, special teams isn't a position, it's a unit!"
I know, but until Mike Smith gives me access to the coach's tape I won't be able to tell you which gunner was good and who needs to get better.
What I can tell you is that, after having some difficulties early in the year, the special teams came through big time in the second half of the season.
Kicker Matt Bryant was extremely clutch all year, and after giving up some blocked kicks and explosive run backs, the rest of the unit came together and was top notch.
Return man Eric Weems also exploded onto the scene, running back kicks and punts for touchdowns.
With the other areas the team needs to get better in, it's good to know that the special teams unit is just fine the way it is.
Coaching: A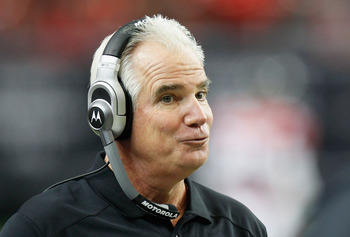 Kevin C. Cox/Getty Images
Many have been calling for the heads of the coaching staff after the humiliating playoff loss. That's not necessary, however, and we can't forget that the coaches got this team to 13-3.
Most experts predicted the Falcons would go, at best, 9-7 this year, so let's give credit where credit is due. The guys played hard for their coaches and were generally well prepared and ready to go.
Defensive coordinator Brian Van Gorder did the most with what he had, and offensive coordinator Mike Mularkey's role should decrease, at least in terms of play-calling, as Matt Ryan develops.
Head coach Mike Smith has a .660 winning percentage in three years on the job, and will learn from this season and the playoffs just like the players will.
Teams need stability in their coaching staffs. The Falcons should give it at least one more year with the current group.
Overall Team Grade: A-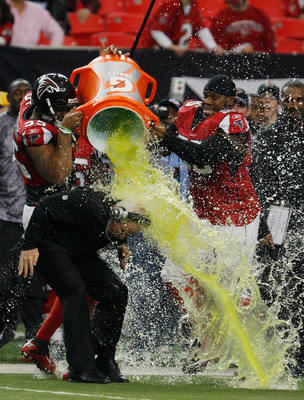 Scott Halleran/Getty Images
The Falcons went 13-3, won their division and were the top regular season team in the NFC.
Losing immediately in the playoffs was not the way anyone wanted the season to end, but it was still a success.
The team obviously needs to improve its defense and get more explosive on the offensive side of the ball. It's nothing that can't be fixed before next season, though.
They will need to deal with raised expectations, and the battle for the NFC South will be as hot as ever with New Orleans and Tampa Bay coming on strong.
As far as the 2010 season goes, thanks for an enjoyable 16 games Falcons. Let's get this thing done next year.
Keep Reading

Atlanta Falcons: Like this team?