NFL Playoffs: Pittsburgh Steelers vs. New York Jets Preview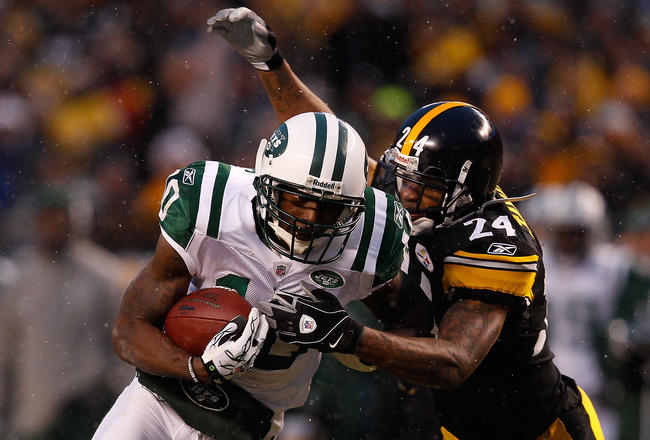 Jared Wickerham/Getty Images
There are many intriguing story lines in the the upcoming AFC Championship game even if Rex Ryan isn't talking about how "personal" this game is.
For the Jets, they have reached the AFC title game for the second consecutive year and are looking to break a 43-year championship drought.
The Steelers are in the driver's seat for their 7th Lombardi trophy, their third Super Bowl appearance in the last six years, and their eighth overall. While the media has been focused on the Bears-Packers meeting, I feel this game is a much more interesting match-up, so let's take a look...
Quarterbacks: Ben Roethlisberger Vs. Mark Sanchez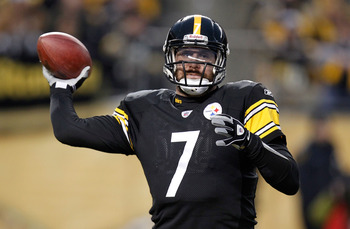 Gregory Shamus/Getty Images
We've pretty much driven the "how good is Big Ben?" debate into the ground this past week but hey, beating a dead horse never hurt anyone.
Ben Roethlisberger is a premiere quarterback in the NFL, there's no debating that. He has won games he's had no business winning and boasts a 9-2 career playoff record. The Steelers will only go as far as Large Benjamin takes them, and he's proven time and time again that he delivers in big moments.
Ben's 58-yard bomb to Antonio Brown on third and 19 against the Ravens is a microcosm of his entire career: Big plays in big moments.
Mark Sanchez might finally be coming into his own in New York. The fifth overall pick out of USC has already tied the NFL record for most postseason road wins by a QB (four) and was very efficient against the hated New England Patriots.
While his regular season stats are somewhat underwhelming, Sanchez has been good in the playoffs, completing 60% of his passes and tossing seven TDs with three interceptions.
Personally, he reminds me an awful lot of a young Ben Roethlisberger: Someone who gets the ball in the hands of his playmakers, can move around a bit and tries not to turn the ball over.
The only problem for the Jets is that Roethlisberger has already graduated past that portion of his career. Big Ben is a top three quarterback in the league and has proven he can make things happen in big games. Sanchez is still waiting for his signature moment.
Advantage: Steelers
Running Backs: Rashard Mendenhall Vs. LaDainian Tomlinson/Shonn Greene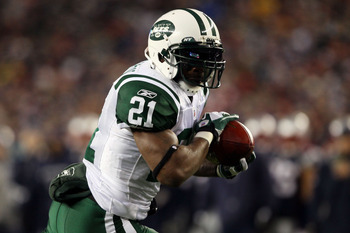 Elsa/Getty Images
To be fair to each running back, both the Jets and Steelers have absolutely awesome run defenses, and I don't expect anyone to top 80 yards in this game.
Mendenhall did not have the statistical day he wanted against the Baltimore Ravens, but he did score the game winning touchdown with a second (or third, or fourth) effort against a tough defense.
Rashard is going to need to get his motor running early and often to prevent the great New York defense from blanketing receivers like they did against New England. If Mendenhall can get going early, the Jets are going to have to respect the run and the Steelers can use the playaction plays that they love so very, very much.
Tomlinson, on the other hand, is in a completely different point in his career. Four years ago, LaDainian would have been the factor in this game. This year, however, he's averaging only about 60 yards per game, and his touchdown numbers have been cut in half from last year.
Make no mistake, however, Tomlinson is still definitely a threat. His pass-catching ability out of the backfield has big play potential, and he can still turn on the jets (har-har) when he's in the open field.
Shonn Greene is not the pass catcher than LT is and tends to run a bit more between the tackles. He's a pretty standard running back in the NFL, so don't expect too much out of the guy who averaged 50 yards per game in the regular season.
The sad part is, I don't think any of these guys is going to have a day to remember because, as they say, no one runs on the Steelers or the Jets.
Advantage: Push
Wide Recievers: Ward/Wallace Vs. Holmes/Edwards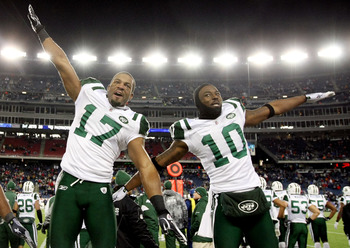 Al Bello/Getty Images
Well, well, well...looks who's come home to party. Santonio Holmes is quickly establishing himself as one of the best postseason receivers in recent memory. His Super Bowl MVP-winning catch in the 2008 Super Bowl has been replayed to death, but his catch last week against the Patriots in the end zone might have been more athletic.
Holmes has become one of Sanchez's favorite targets and for good reason. He's a threat to take the ball to the house every time he touches it. Santonio should be a hero in Pittsburgh for his legendary catch but don't count on a warm reception for the man from Ohio State.
Braylon Edwards seems to have overcome the case of the "dropsies" that plagued him earlier in his career and has the height and speed to be a big play threat. He was very effective against the Steelers in Week 15 when he caught eight balls for 100 yards and generally made life miserable for the Troy Polamalu-less Steelers secondary.
Hines Ward is definitely on the downside of his career but still managed to deliver a clutch touchdown last week against the Ravens. While he certainly isn't going to blow anyone away with his speed, he still has some great hands and is always a threat in the red zone.
The opposite of Hines Ward is Mike Wallace, the third-round pick who was very quiet last week in his playoff debut. It will be interesting to see if Cromartie or Revis lines up opposite Wallace because he is known for his breathtaking speed and ability to break a game wide open.
Advantage: Jets
Offensive Line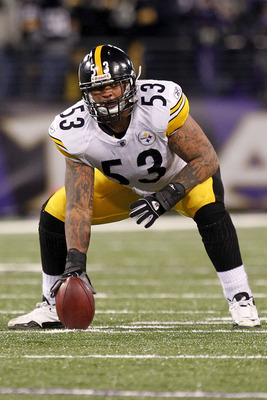 Geoff Burke/Getty Images
The Pittsburgh offensive line has been under scrutiny all year and for good reason. Their franchise quarterback was hitting the ground far too much. While that might have been fine against teams like the Browns, Panthers, and Bengals, the Ravens were a whole different animal (literally).
Against a fierce pass rush the line performed decently, although Terrell Suggs made life miserable for Big Ben coming around the corner. However, when the big moment arrived in the game, the offensive unit gave Roethlisberger the time he needed to march the Steelers down the field.
The task does not get any easier this week, since Rex Ryan will be counting on defensive line pressure and exotic blitz packages that will require solid communication and adjustments. Rookie center Maurkice Pouncey will have to continue to play like a 10-year vet if the Steelers want to move the ball successfully.
The Jets offensive line, possibly the best in football last year, also struggled a bit earlier in the season. However, Rex Ryan called his line out in the week leading up the Week 15 Pittsburgh match-up, and they definitely responded.
The Jets would definitely have the advantage here if not for one factor that could really hurt them. Star tackle Damien Woody tore his Achilles tendon against the Colts and was subsequently placed on IR. He was one of the main reasons why Sanchez's jersey stayed so clean in the Week 15 game and his loss hurts more than the Jets would like to admit.
So, it's going to be up to replacement Wayne Hunter to pick up the slack and block the relentless Pittsburgh linebackers. Will he be up to the challenge? Only time will tell.
Advantage: Push
Tight Ends: Heath Miller Vs. Dustin Keller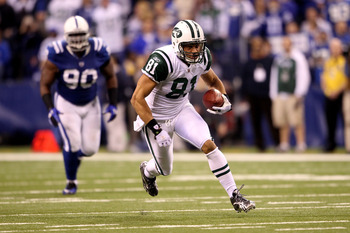 Andy Lyons/Getty Images
Here is yet another match-up where the two teams seem eerily similar. Keller had 13 catches and 150 yards more than Miller but also played in two more games. Both guys are consistent red zone threats and block well on running plays.
Miller did have a touchdown catch against the Ravens but was held somewhat in check other than that while Keller was limited to three catches in the Jets victory against the Patriots, so both have been underwhelming recently.
Neither Keller or Heath is going to stretch the field on you or catch the ball and run for 60 yards in this game. However, Keller did catch five of Mark Sanchez's 17 touchdowns during the regular season, proving himself to be a solid red zone guy. Miller had only two TDs in the regular season and both came against Cleveland.
Miller missed the Week 15 game against the Jets, which some Steelers fans have point to as the reason their team did not score on their final drive (replacement Matt Spaeth had two drops). If he can be a factor this week might decide who goes to the Super Bowl.
Advantage: Jets
Defensive Line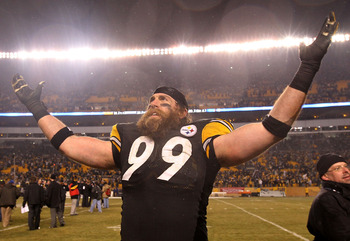 Nick Laham/Getty Images
This match-up here, I believe, will decide the game.
The Jets must get pressure with their defensive line if they want to contain Ben Roethlisberger. If they have to rely on blitzing corners and cover guys, they are in for a long day.
Shaun Ellis will have to get in Ben's face and the defensive ends are going to have to play contain contain contain. Roethlisberger hurts you most when he moves outside the pocket or dodges a blitz and has time to make a play out of nothing. They should be able to stop the Steelers run attack, so containing Big Ben should be priority number one.
The Steelers D-line is coming off a great game against the Ravens. In fact, the entire defense played amazing, allowing only 126 yards of offense on 53 plays, which is almost unheard of in the playoffs.
There are rumors circulating around Pittsburgh that Aaron Smith will be practicing and is trying to play in the game Sunday. The only problem with that is Ziggy Hood is finally maturing into the defensive end the Steelers thought he could be with five tackles and a sack of Joe Flacco last week. Do you risk sitting a young guy who is playing well for a vet who has just come off the injury report?
Like the Jets, the Steelers should contain the running attack as usual but they will have to knock the Sanchize around and keep the ball out of the hands of Holmes and Edwards.
Advantage: Steelers
Linebackers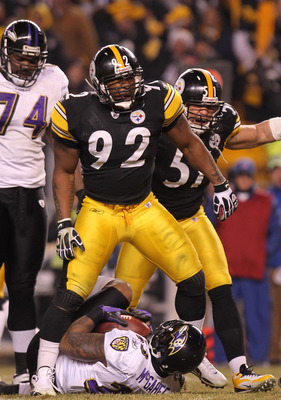 Nick Laham/Getty Images
Make no mistake about it, this Pittsburgh unit is the best linebacking corps in the league. Their dominance against Baltimore last week only confirmed that and rest assured the four starters will be ready come Sunday.
James Harrison and Lamarr Woodley will be rushing the passer as usual and replacement tackle Wayne Hunter is going to have his hands full all day long. If the Steelers can take advantage of the Damien Woody injury, Mark Sanchez might be running for his life all game.
On the other side, New York's David Harris had an awesome game against New England last week with 12 total tackles and a 58-yard INT of golden boy Tom Brady. If he can pull a big play out of his hat against Pittsburgh, it could decide the game.
Bart Scott isn't the pass rushing threat he was in Baltimore, but he can still get the QB very quickly and will have the ball on the ground before you know what hit you.
The NY linebackers are no slouches but, unfortunately for them, there isn't a unit better than the Steelers right now.
Advantage: Steelers
Defensive Backs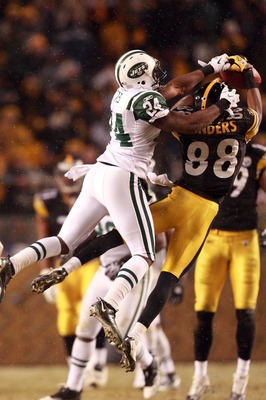 Karl Walter/Getty Images
This is where things get really interesting...
Darrelle Revis is without question one of the best cover corners in the league and the former Pitt star will absolutely shut down half the field on most days. Antonio Cromartie is a big, physical guy who can bump receivers off their routes and give the pass rush time to get to the QB.
The interesting part will be the match-ups that Rex Ryan chooses to use. Will he have Revis shadow the number one (Ward) or will he choose to try to shut down speedster Mike Wallace?
It was very obvious against the Patriots that Tom Brady had absolutely no one to throw to all day long and that changed the game massively. Will the Steelers, with three of their WRs being under 25, be able to find space against a great Jets secondary? It's tough, but it can be done.
The other interesting factor will be that Polamalu will be playing in this game as opposed to the Week 15 match-up. Troy is coming off a very lackluster game against the Ravens where he whiffed on two open field tackles, a rarity indeed. He certainly will be spending extra time in the film room this week, and I have confidence we won't see a repeat performance.
At the corners, Bryant McFadden left last week's game with an injury but is expected to play. However, if he can't go, that forces William Gay into the number two spot and Anthony Madison into the nickle spot. Watching last week, it was painfully obvious that Madison was the weak link out there, so Steelers fans better hope that McFadden can go.
Advantage: Jets
Special Teams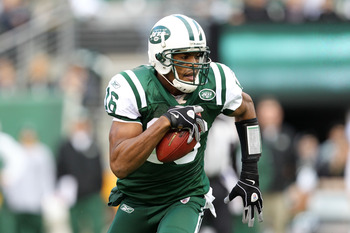 Michael Heiman/Getty Images
The unquestioned big play in the Week 15 game between these two teams was Brad Smith taking the opening kickoff for a touchdown. If the Steelers expect to win on Sunday, they absolutely cannot let that happen again.
With Smith slowed by a groin injury, CB Antonio Cromartie has filled in as kick returner and has actually done a great job in relief. Smith claims that he could have played last week against the Patriots but Ryan sat him down. It will be interesting to see who is back deep when the Steelers line up to kick.
Steelers kicker Shaun Suisham showed why he was available midway through the season and it's not because he is Adam Vinatieri. Suisham missed a makeable field goal against the Ravens, continuing his career postseason woes.
Not to mention the Steelers kick coverage, which again gave up a big play last week, allowing the Ravens a long opening kickoff return. Only a tackle by Shaun Suisham and a red challenge flag kept Baltimore from starting the game at midfield. The Steelers will likely be missing special-teams ace Will Allen, so other players are going to have to step up.
Advantage: Jets
Coaching: Mike Tomlin Vs. Rex Ryan
Jim Rogash/Getty Images
No, there aren't going to be any foot jokes in here, sorry. I've heard enough of them already.
The bottom line is that Rex Ryan is one hell of a coach. He came into New York running his mouth but backed that up with two AFC title game appearances. Ryan will definitely focus his defensive gameplan on stopping Ben Roethlisberger, something he struggled with as defensive coordinator of the Ravens.
Mike Tomlin already has a Super Bowl ring and has his team positioned for another. While he may have wasted both replay challenges too early last week, he kept his team together facing a 14-point deficit and they rallied for a comeback.
The one thing that concerns me: Did both coaches exhaust themselves emotionally against their biggest rivals last week? Which guy will be able to focus his team and reach the ultimate prize?
Advantage: Push
Prediction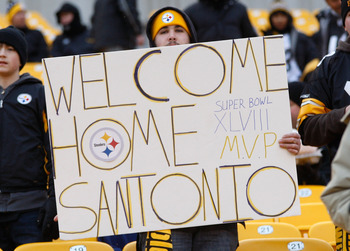 Jared Wickerham/Getty Images
The one thing that should concern the Jets is the Steelers defense. New England's D had been playing above their talent level for a long time, and it finally caught up with them last week. The Steelers have a much better defensive football unit than the Patriots, and the Jets have to be ready for them.
Just like the Steelers-Ravens game last week, this one is going to come down to the quarterbacks. Will the Jets be able to blanket the Steelers receivers as they did last week against the Patriots? Can Sanchez make the tough throws against a secondary that has Troy Polamalu in it? Which defensive line will get more pressure on the quarterback?
Last week, all the "experts" picked a low-scoring Pittsburgh/Baltimore game and a blowout in the New England/New York game. They were wrong on both counts.
So what happens here? Everyone seems to be pointing to a low-scoring affair with one or two big plays deciding who heads to Dallas.
I'm going to go the opposite way and say that one team will game plan just a little bit better than the other. The difference will come down to touchdowns vs. field goals in the red zone, and I think the Steelers D is just too much for the Sanchize to handle.
Don't be mistaken though, the Jets are a very, very good football team.
Steelers 21 Jets 13
Keep Reading

Pittsburgh Steelers: Like this team?