MLB Predictions: Power Ranking the 50 Best Players of the 2011-2020 Decade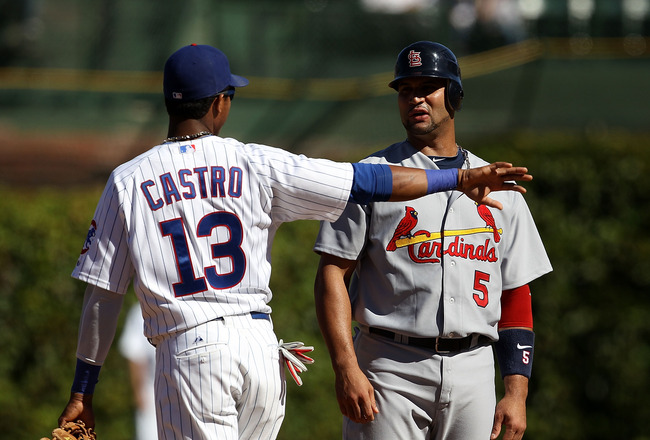 Jonathan Daniel/Getty Images
This new decade of ours is only one baseball season old, but baseball fans have already seen the future in some respects. Buster Posey, Jason Heyward, Starlin Castro, Mike Stanton and Stephen Strasburg each had huge rookie seasons, and they are not alone. Meanwhile, Albert Pujols shows no signs of slowing down as he enters his second decade of dominance over the league. Nor are CC Sabathia or Joe Mauer done building their Cooperstown cases.
Who else will emerge as elite talents of the future in the big leagues? Which big names of today will burn out? Which will rise to superstardom before the decade comes to a close? The answers to these questions can affect the prognosis for any franchise, not to mention the decision-making for keeper-league fantasy players.
Obviously, this is an exceptionally hard list to formulate: We are trying to predict nearly ten years into the future here, and the level of certainty is close to zero for most of these players. Nonetheless, it is a fun and thought-provoking question: Who will be the best? Read on for a power ranking of the guys the game will remembers as its very best of this young decade.
Honorable Mention: Players 51-60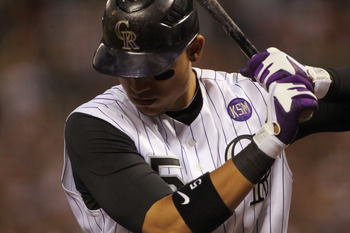 Doug Pensinger/Getty Images
51. Carlos Gonzalez, OF, Colorado Rockies: One great season in Coors Field does not a superstar make, but this kid can hit.
52. Michael Pineda, SP, Seattle Mariners: A minor leaguer with an electric arm, struck out 154 in 139.2 innings at 21 years old in 2010.
53. Ryan Bruan, OF, Milwaukee Brewers: A great hitter, but not a patient one. A fair defender, but at a non-premium position. Braun will be great through 2015, but it gets fuzzy for him after that.
54. Zack Greinke, SP, Milwaukee Brewers: Big acquisition for Milwaukee this winter, but the 2009 AL Cy Young is more workhorse than true ace.
55. Brian McCann, C, Atlanta Braves: Few know how good McCann really is, and fewer still know how young he is. Still, catching eventually wears on the body, and McCann catches a ton.
56. Daniel Bard, RP, Boston Red Sox: Relievers almost never compare with starters or position players, but Bard is a great future closer.
57. Ryan Kalish, OF, Boston Red Sox: He's the fifth outfielder for this ridiculously talented 2011 team, but would already be a starter on most of the other 29 clubs.
58. Mike Montgomery, SP, Kansas City Royals: The Royals have three players on the list proper, but southpaw prospect Montgomery deserves note too.
59. Justin Verlander, SP, Detroit Tigers: One of the underrated stud starters in the game today; if his arm holds up he will be worth just as much over the next five years.
60. Brett Jackson, OF, Chicago Cubs: Plate discipline, speed, defense in either center or right field and the potential to hit 25-30 homers. Jackson is a fair comp for Kalish.
50. Elvis Andrus, SS, Texas Rangers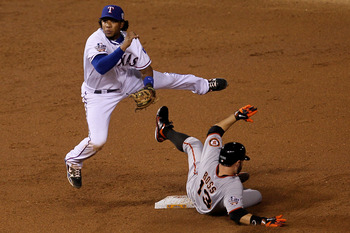 Stephen Dunn/Getty Images
Andrus may never hit enough to be an elite player, but he is a superb fielder and base runner who can realistically play shortstop at a Gold Glove level for the next 15 years. He will be to this decade as Omar Vizquel was to the 1990s, and that is saying something.
49. Joakim Soria, RHP, Kansas City Royals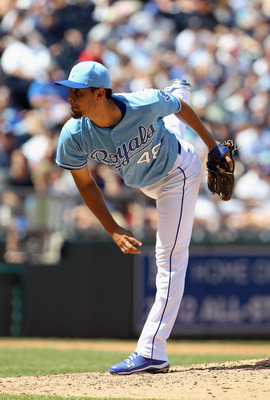 Jamie Squire/Getty Images
Don't expect to see many more relief pitchers on this list. In fact, don't expect to see any more. Soria is uniquely great, a strikeout pitcher with superb control who keeps the ball on the ground and has already shown he can close effectively. He might be the new Mariano Rivera, although he does not have the one utterly unhittable offering upon which Rivera could always rely.
48. Brian Matusz, SP, Baltimore Orioles
Greg Fiume/Getty Images
Matusz is the leader of a strong trio of very young Orioles hurlers, and while he fell far short of dominance as a rookie in 2010, he provided plenty of reason for optimism: His command seemed unusually developed for a man of his inexperience, and his stuff is clearly big-league level. It may be a year or two before he truly finds his potential in the vicious AL East, but success in that crucible is more valuable than it could ever be elsewhere. Matusz is a rising star.
47. Ubaldo Jimenez, SP, Colorado Rockies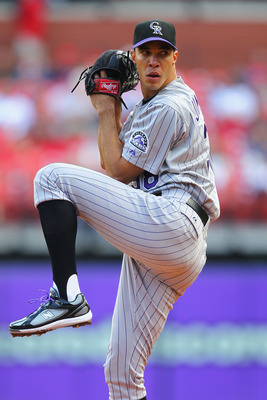 Dilip Vishwanat/Getty Images
After an historic start to the 2010 season, Jimenez cooled only insofar as he inevitably had to cool. He throws almost impossibly hard for a starting hurler, adds a cruel split-fingered fastball and does not even give opposing hitters the courtesy of taking advantage of Coors Field: He is among the league's best ground-ball pitchers.
46. Brett Lawrie, 3B, Toronto Blue Jays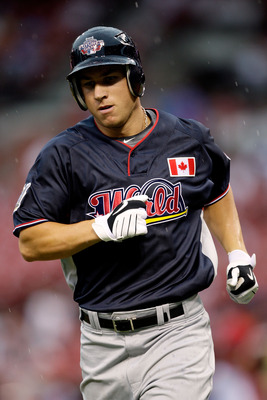 Jamie Squire/Getty Images
Lawrie was perhaps the gem of the Brewers' system before being dealt to Toronto in December for Shaun Marcum. It was a good deal on both ends, but Lawrie has the greater long-term value as the second baseman of the future in Toronto. He hit .285/.346/.451 at Double-A last year. That batting line just so-so for the average player at that level, but Lawrie was just 20 years old and playing his second season of pro ball when he did it.
45. Eric Hosmer, 1B, Kansas City Royals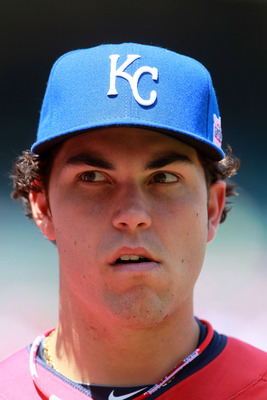 Jeff Gross/Getty Images
Injuries threatened to derail Hosmer for a stretch in 2009, but he batted .338/.406/.571 across two levels of the minors at age 20 in 2010, and that all came at age 20. He should be in Kansas City to stay by Opening Day 2012, at the very latest, and he could make Billy Butler expendable sometime this season. Hosmer is not even Kansas City's top prospect, though he would be the jewel of most other organizations.
44. Brett Gardner, OF, New York Yankees: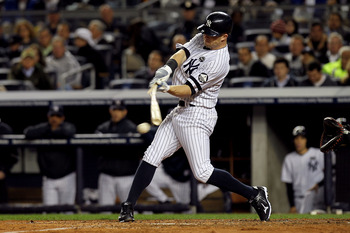 Nick Laham/Getty Images
Gardner's superb showing in the field over the past two seasons, coupled with a well-demonstrated on-base skill, makes him an underrated but irrefutably valuable player in every facet. Long, lanky pitchers owned the game in the 1960s. Workhorses and well-rounded athletes were the jewels of the 1970s. One-dimensional speed demons dominated the 1980s. Muscle-bound sluggers ruled the 1990s. Moneyball guys, the types with good control but no heat or who drew walks but could not field, became the hot things of the 2000s.
In this brave new world, with proprietary defensive stats popping up everywhere and with the home runs disappearing into a post-steroid haze as pitchers regain the upper hand, Gardner is the model ballplayer: An excellent all-around athlete who draws walks, brings his glove every day and runs like the wind.
43. Yovani Gallardo, SP, Milwaukee Brewers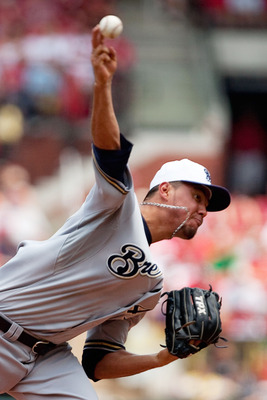 Dilip Vishwanat/Getty Images
Gallardo will turn just 25 in February, but already, he is a superb strikeout pitcher who keeps the ball on the ground (and therefore in the park) and whom hitters struggle to square up with any regularity. He has four pitches that an average hurler would gladly take for his own, and if the Brewers ever put a halfway decent defense behind him, Gallardo could run off a Cy Young or two in the next five years.
42. Freddie Freeman, 1B, Atlanta Braves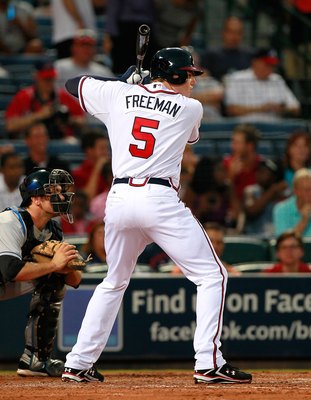 Kevin C. Cox/Getty Images
Back when the Braves had that triumvirate of impossibly excellent starters, they also had a knack that went too often overlooked: Almost every season, they brought forth a position player from within their system who turned into a solid regular or an All-Star. In the new Frank Wren era, they have begun to do it again: One year after Jason Heyward made the scene, Freeman will be the starting first baseman (in all likelihood) and could make an immediate impact. He is one of several good reasons not to crown the Phillies just yet in the National League.
41. Gio Gonzalez, SP, Oakland Athletics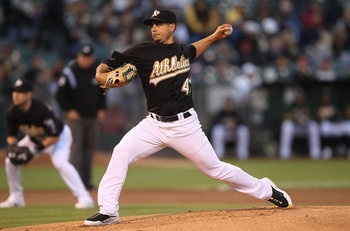 Jed Jacobsohn/Getty Images
Gonzalez had a great season in 2010. For a pitcher with well-documented control issues, it is hard to ask for much more than he gave: He dropped his walk rate by a factor of 20 percent, struck out even more batters than he had the year before and pitched over 200 innings. Gonzalez is the best long-term investment the A's could make in their starting rotation right now, as Trevor Cahill is a vulnerable sinker guy and Brett Anderson is too fragile to hold up past age 30.
40. Dustin Pedroia, 2B, Boston Red Sox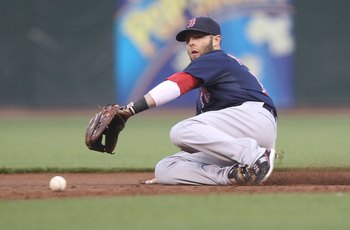 Jed Jacobsohn/Getty Images
One Rookie of the Year award, one MVP award, and two seasons devoid of hardware make it tough to project Pedroia as a long-term investment. His small build will work against him over time, and that will be especially true if he stays at second base. A move to third base or into the outfield would preserve his health, but would mitigate his value as slick fielder on the middle infield. Still, he has undeniable skills and is still young enough to play well throughout the balance of the decade.
39. Kyle Drabek, SP, Toronto Blue Jays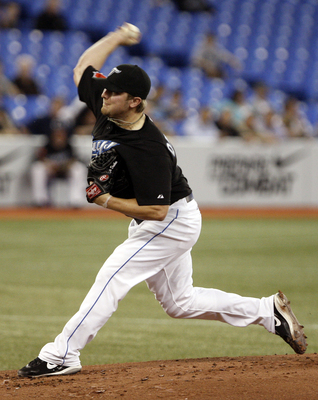 Abelimages/Getty Images
Drabek only made four big-league starts in 2010, but he will be in the spotlight from day one for the Jays in 2011, and the smart money says he will never look back. He throws what may be one of the league's best pure curves, can locate a two- and a four-seam fastball well enough to get outs and has a change-up he can trust against left-handed hitters. Drabek is the future for Toronto.
38. Adrian Gonzalez, 1B, Boston Red Sox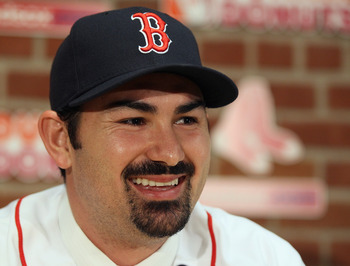 Elsa/Getty Images
A left-handed power hitter should not have the sort of tremendous success that Gonzalez had for years in San Diego's Petco Park, with its cavernous right field. Of course, Boston's Fenway Park offers little relief, but it is more reachable, and the wall in left-center (where Gonzalez drives the ball so well anyway) comes to his rescue. Gonzalez could 300 home runs over the life of the seven-year deal on which he and the Red Sox are currently at work.
37. Dustin Ackley, 2B, Seattle Mariners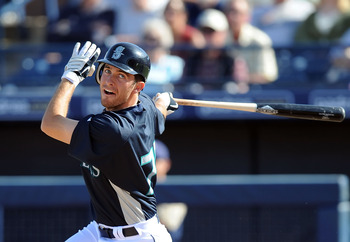 Lisa Blumenfeld/Getty Images
Scouts are unsure whether Ackley will remain a viable second baseman defensively in the long term, but he will find a way into Seattle's lineup soon, and he will be there to stay. Ackley projects as an on-base machine, a Craig Biggio or Pedroia clone with that kind of gap power, to boot. He stepped right into Double-A for his first taste of pro ball in 2010, and would hit a combined .267/.368/.407 between Double- and Triple-A over the course of the season.
36. Prince Fielder, 1B, Milwaukee Brewers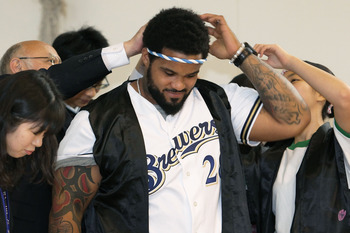 Kiyoshi Ota/Getty Images
One year away from free agency, Fielder should bust out in a big way this season in Milwaukee. He is just 26 and if he endeavors to keep himself in good shape, the next decade should see him hit 300 more home runs and approximate 500 for his career.
35. Starlin Castro, SS, Chicago Cubs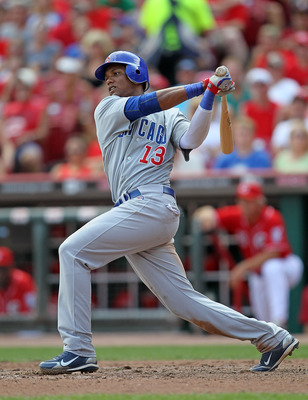 Andy Lyons/Getty Images
After batting .300/.347/.408 as a rookie at age 20, Castro looks like a supremely talented all-0around shortstop. He should develop some power and become a marginally better base-stealer, but he is primarily a terrific athlete at short and an above-average hitter. With the recent trade of prospect Hak-Ju Lee to the Rays, Castro figures to be the Cubs' shortstop for over half of the decade.
34. Jesus Montero, C/DH, New York Yankees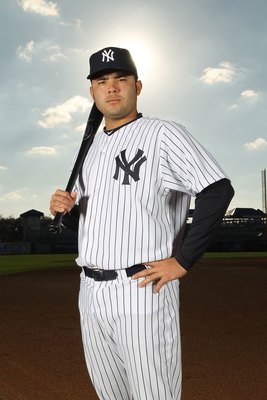 Nick Laham/Getty Images
One of the best pure hitters in the Minor Leagues right now, Montero will be in New York to stay before the end of 2011. In the meantime, people can continue to drool over his swing, his frame and his stat lines at Triple-A Scranton-Wilkes-Barre. Montero will not be a good enough defender to stay behind the plate for long, but his upside is 35 home runs a year, so the Yankees will not complain.
33. Martin Perez, SP, Texas Rangers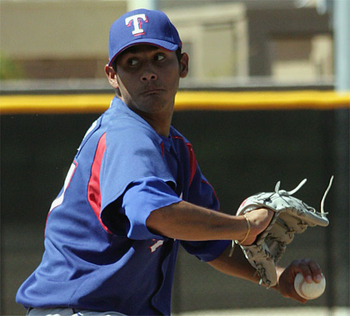 This might be the boldest and craziest entry on the list. Perez will not turn 20 until April, had a 5.96 ERA at Double-A last season and needs to rein in his command. He walked 50 batters in fewer than 100 innings last year.
On the flip side, though, Perez has a fastball that sits comfortably at 93 miles per hour and moves like the dickens. He also has a curve ball that can be exceptional someday soon, a change-up that comes in at about the same speed as the curve and therefore works as a change of pace for either the curve or fastball, and has a knack for striking batters out: He whiffed 101 last season even as he struggled to keep the ball inside the strike zone and inside the park. His ceiling is as high or higher than any recent Rangers pitching prospect, including Neftali Feliz.
32. Jeremy Hellickson, SP, Tampa Bay Rays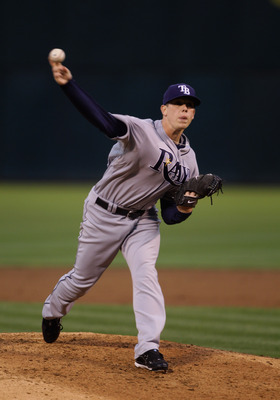 Ezra Shaw/Getty Images
It's very possible that Hellickson will immediately be the second starter in Tampa's rotation at the start of 2011, trailing only David Price for the honor of being staff ace. Hellickson's brief stints with the team in 2010 have to have inspired confidence, and with any luck, he will prove himself ready to replace Matt Garza before Opening Day.
31. Andrew McCutchen, OF, Pittsburgh Pirates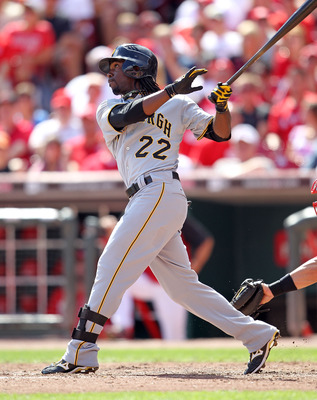 Andy Lyons/Getty Images
Blazing speed on the bases, the potential to develop into a great defensive center fielder and a modicum of both power and patience at the plate make McCutchen a delightfully versatile and well-rounded player. He has bounced around the top three slots in the Pirates' order since arriving in 2009, and he could probably be the right guy for any of those jobs in time. Whichever developmental path he chooses, he will be great.
30. Mat Latos, SP, San Diego Padres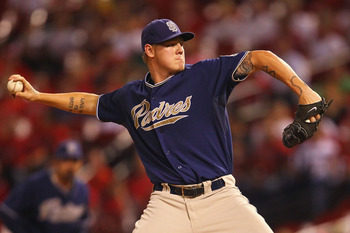 Dilip Vishwanat/Getty Images
In his first full season with the Padres, Latos looked not at all like an inexperienced pitcher. He used both sides of the plate, pitched aggressively and in good rhythm, and had hitters badly off-balance seemingly at all times. He could win a Cy Young before the decade is over, and even if he doesn't, he makes a fine case to be mentioned in the same breath as other dominant starters in his division like Jimenez, Bumgarner, Lincecum and Kershaw.
29. Domonic Brown, OF, Philadelphia Phillies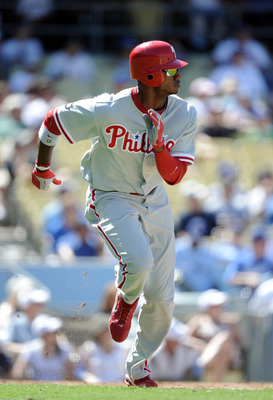 Harry How/Getty Images
Big and strong and smooth, Brown might well wind up being worth more over the life of Jayson Werth's seven-year contract than Werth himself. Brown adds no balance to a Phillies order with too many left-handed bats at its heart, but he adds even more power and should be a great fifth hitter behind Ryan Howard within a year or two.
28. Carlos Santana, C, Cleveland Indians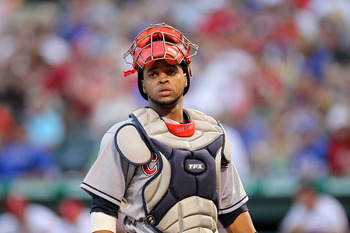 Ronald Martinez/Getty Images
Until his leg was broken on a vicious play at home plate mid-season, Santana looked every bit as much of a stud as Castro, Jason Heyward and Stephen Strasburg. Over the next decade, only Buster Posey and Joe Mauer figure to be better hitters from behind the dish than Santana. He bats from both sides of the plate, hits for power and drew 37 walks against 29 strikeouts in 192 plate appearances as a big-league rookie.
27. Mike Moustakas, 3B, Kansas City Royals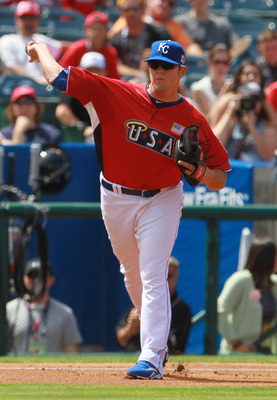 Jeff Gross/Getty Images
Moustakas is the crown jewel of a Royals system expert scout and tout Kevin Goldstein called "the best [farm system] I've ever seen." He hits the cover off the ball, and has done so at every level of the minors by now. If he is not in the big leagues by the end of spring training, he will be by the end of the season, and then it gets interesting. Ha and Hosmer may be bash brothers for the entire balance of the decade.
26. CC Sabathia, SP, New York Yankees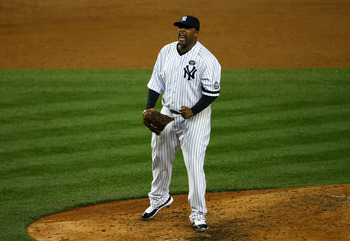 Andrew Burton/Getty Images
It's hard to project a guy Sabathia's age and body type to hold up for another nine years, but if anyone can do it, it is CC. He bears some of the Majors' heaviest workloads each year, yet he has not missed major time with injury in years. If anyone wins their 300th game during this decade, it will be Sabathia. The only cause for concern is that the Yankees, needing him more than ever after losing Pettitte and missing out on Cliff Lee, might ride Sabathia a bit too hard and cause an early breakdown.
25. Joe Mauer, C, Minnesota Twins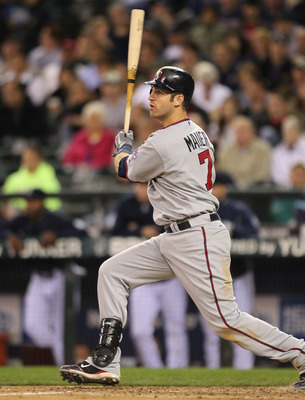 Otto Greule Jr/Getty Images
Already the best catcher of the last decade, Mauer will try to be the best of this one as well. He has a tougher task before him now with Santana and Posey vying for that honor, but Mauer's three batting titles and one MVP are a good start (even if they came before the decade began). A down year for Mauer seems to be an OBP of "only" .400, so perhaps the younger men really have the tough task: Go ahead and try to dethrone the king.
24. Tim Lincecum, SP, San Francisco Giants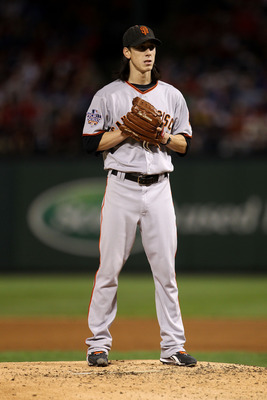 Doug Pensinger/Getty Images
Much has been made of Lincecum's lost velocity over the past couple seasons. Don't tell the Rangers. Lincecum's aging profile is a bit shaky: His mechanics are strange and could be the reason for his velocity drop, but he seems unlikely to adjust them given all the success they have helped him attain over the past few seasons. Still, he will remain an excellent strikeout pitcher against whom all batters are manifestly uncomfortable for the foreseeable future.
23. Clayton Kershaw, SP, Los Angeles Dodgers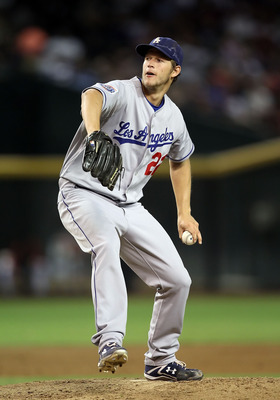 Christian Petersen/Getty Images
If the Dodgers do not ride him into the ground, Kershaw has the world at his feet. He strikes out opposing hitters as consistently and methodically as any starter in the game, and he is only 23. Pitching over 200 innings at such a young age in 2010 puts him somewhat at risk, but he really could be the best pitcher in the NL West for the next decade.
22. Julio Teheran, SP, Atlanta Braves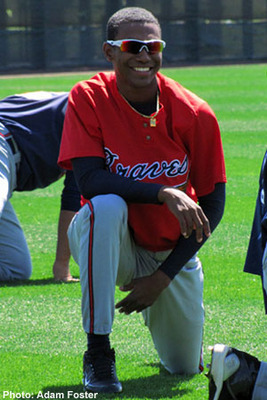 There may not be a more exciting pure pitching prospect in baseball than Teheran, who throws three pitches that could all be top-echelon big-league offerings someday. He struck out 159 against 40 walks in 142.1 innings this season, as he ascended from low Class-A to Double-A at the age of 19. He could probably step into a role in the Braves' pen right away, but they will smartly hold him back and make him a starter alongside Tommy Hanson in late 2011 or 2012.
21. Jon Lester, SP, Boston Red Sox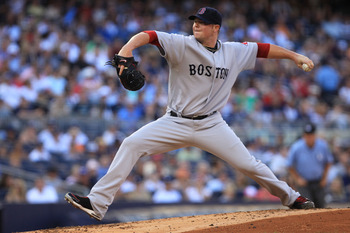 Chris McGrath/Getty Images
After surviving cancer, Lester has every reason to see the AL East as no big thing, and that has been exactly his approach over the past two seasons. It could be fairly argued that he has been better than Sabathia for the past two or three years already, and certainly, he has a chance to be the best southpaw of the decade in the division. Of course, David Price might have something to say on that subject.
20. Mike Stanton, OF, Florida Marlins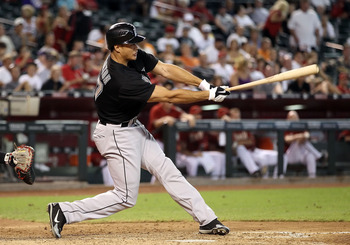 Christian Petersen/Getty Images
On top of hitting 43 total home runs between Triple-A and the bigs in 2010, Stanton looks like the smoothest and most natural right fielder in the NL East. Incidentally, if the Mets shift Angel Pagan to right in favor of Carlos Beltran in center, the right fielders of that division will be as follows: Stanton, Pagan, Jason Heyward, Jayson Werth and Domonic Brown. Not bad. At any rate, Stanton has ridiculous power, the kind that should produce 300 home runs without breaking a sweat between now and the end of the 2019 season.
19. Madison Bumgarner, SP, San Francisco Giants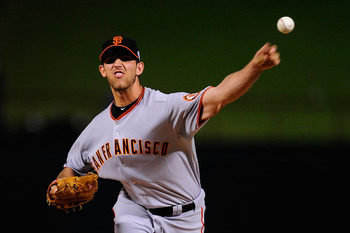 Pool/Getty Images
Bumgarner announced himself on a national stage by shutting down the Rangers in the World Series, but even before that, he had a marvelous season. He struck out 86 and walked only 26 in 111 big-league innings, and in total (playoffs included) he logged over 210 frames for the year. Just 21 entering 2011, Bumgarner may soon eclipse Lincecum as the Giants' ace.
18. Josh Johnson, SP, Florida Marlins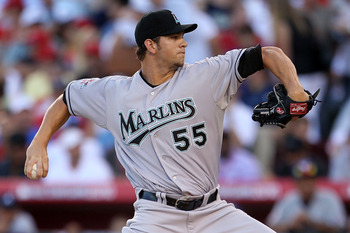 Jeff Gross/Getty Images
Given the difficulty of projecting even one year, let alone nine, into the future of baseball, the easiest way to make this list of the best of the decade was to have started it with an exceptional season in 2010. Johnson fits that bill, as he led the National League in ERA last season.
Johnson is the ace of a terrifically talented young Marlins staff. He struck out 186 and walked only 48 in 183.2 innings last season, and he's really tough to hit: Batters managed only 155 hits and seven homers off him all season.
17. Ryan Zimmerman, 3B, Washington Nationals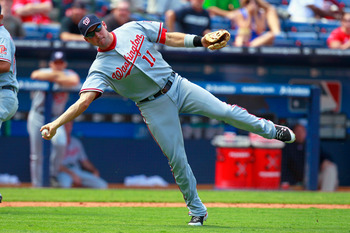 Kevin C. Cox/Getty Images
Zimmerman has already been the best or second-best hitter on the Nationals roster for five years running, but the buzz that constantly surrounds him is over what he can do if he can put it all together over the next few seasons. He will not turn 27 until September, so this could be his best season yet. Zimmerman is a poor man's Evan Longoria, and having him already in place helped lend real significance to the additions of Stephen Strasburg, Bryce Harper and Jayson Werth to this franchise.
16. Justin Upton, OF, Arizona Diamondbacks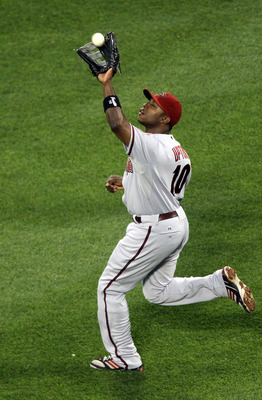 Jim McIsaac/Getty Images
There is no ceiling for Upton. He could hit .300 every year with 30 home runs and 30 stolen bases. Unfortunately, he could also be the next Reggie Sanders. So much seems uncertain, and Upton's struggles in 2010 were not exceptionally easy to correct: He expanded the zone more and more as the year went on, not only striking out 152 times but failing to tap into his power by hitting pitchers' pitches. Still, the potential is too great to ignore with him.
15. Tommy Hanson, SP, Atlanta Braves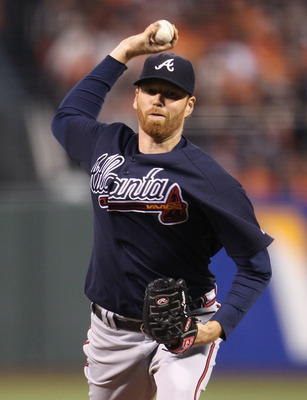 Ezra Shaw/Getty Images
He already looks the part of the grizzled veteran, but Hanson is just 24 years old. He eclipsed 200 innings in his first full big-league season, and struck out over three times as many batters as he walked. Hanson does everything well: He has good command, a biting breaking ball and the ability to pitch inside. He hit 14 batters last season, the most in the NL. He will be the Braves' ace for as much of the decade as Atlanta can afford to keep him.
14. Mike Trout, OF, Los Angeles Angels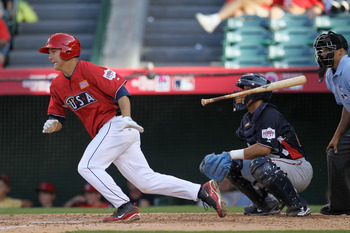 Stephen Dunn/Getty Images
If Brett Gardner is this decade's prototype, Trout is the fulfillment of that design: He has four of scouts' five favorite tools, only lacking true power, but that may yet develop. In the meantime, he has excellent plate discipline and is an exceptionally good pure hitter. Trout is the best prospect in the Angels' system and one of the two or three best in baseball.
13. Joey Votto, 1B, Cincinnati Reds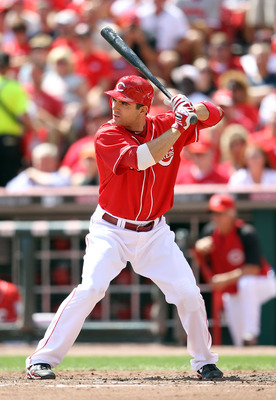 Andy Lyons/Getty Images
Again, though there are many ways to make it on this list, the best is to have started the decade with a bang, and Votto won the NL MVP in 2010.
He draws walks, hits for tremendous power and mans first base capably. His track record is relatively short and he is already 27, but Votto looks like he will be an even better version of Adam Dunn in Cincinnati for the foreseeable future.
12. Aroldis Chapman, SP, Cincinnati Reds
Jonathan Daniel/Getty Images
It might be tempting to imagine Chapman coming out of the bullpen forever, throwing 105 miles per hour and being generally unhittable. He would be, it's true.
A huge component of pitcher value, though, stems from volume. The best relief pitcher in baseball last season, according to Wins Above Replacement on FanGraphs, was the Cubs' Carlos Marmol at 3.1. That wedges him in at 47 on the overall WAR list for pitchers, between Carl Pavano and Dallas Braden.
Therefore, the Reds will not waste Chapman by using him as a set-up man or even as a closer. He will start, if not in 2011 then soon, and he will be just as good as a starter as he has looked in relief so far in the pros.
11. Bryce Harper, OF, Washington Nationals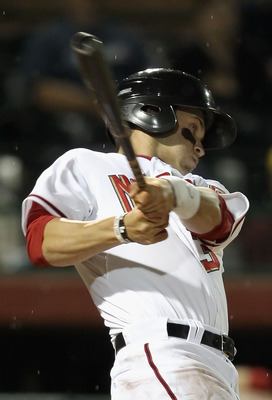 Christian Petersen/Getty Images
All this 18-year-old has done so far is dominate the Arizona Fall League with a 1.039 OPS in his first taste of pro baseball. He is the best hitting prospect in perhaps 25 years, and though he will not catch (as he did in high school) and doesn't figure to be an elite defender, he may post a top-five OPS for the decade.
10. Felix Hernandez, SP, Seattle Mariners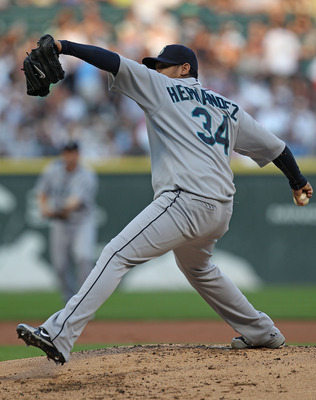 Jonathan Daniel/Getty Images
Hernandez might be the best pitcher in baseball right now. He throws strikes, he misses bats, he induces ground balls and he pitches more than anyone else in the American league. Hernandez is an ace in every sense.
The only cause for any concern is that the Mariners ride him very hard, and he will turn just 25 in April. If his arm felt undue pressure before it fully matured, we may see a tragic burnout from Hernandez. Seattle's AL West opponents can only hope so.
9. Hanley Ramirez, SS, Florida Marlins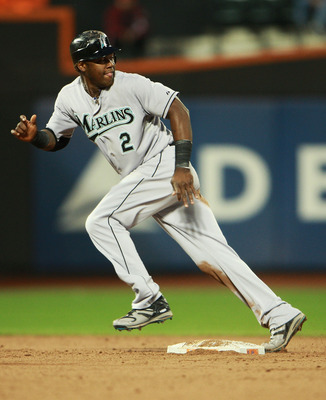 Andrew Burton/Getty Images
Ramirez was supposed to have his breakout, Hall of Fame, superstar season in 2010. Instead, he had his most disappointing showing as a big league player. Still, he hit 21 homers, stole 32 bases and batted .300 for the year. Not bad for an off year.
Ramirez might yet be the best shortstop of this decade, though, and needs only to improve his fielding to do so. He is as dangerous a hitter at that position as anyone not named Rodriguez in baseball history.
8. Evan Longoria, 3B, Tampa Bay Rays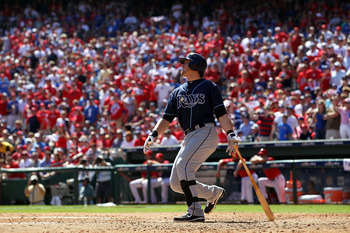 Ronald Martinez/Getty Images
There is an argument to be made for Longoria as the best position player for the long haul of the next nine years. He is patient and has great power, has shown remarkable consistency and leadership, and does the little things really, really well: He is one of the most efficient base runners in the league and the best defensive third baseman.
7. Jason Heyward, OF, Atlanta Braves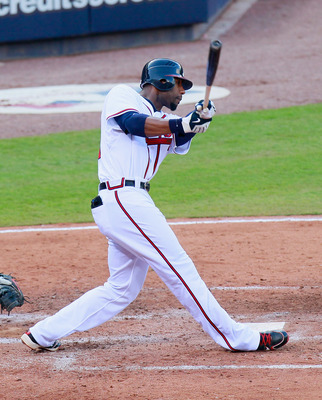 Kevin C. Cox/Getty Images
It may be too great a mantle to lay at anyone's feet, but if any player in the past two decades has born real similarities to Ted Williams as a hitter, it is Heyward. As a rookie, at 20, he had perhaps the best batting eye in the league from the first time he stepped into the box. He uncoils his swing so quickly and so viciously that one can hardly believe he stands 6' 5" and weighs 250 pounds. Pitchers just do not have a chance.
6. Buster Posey, C, San Francisco Giants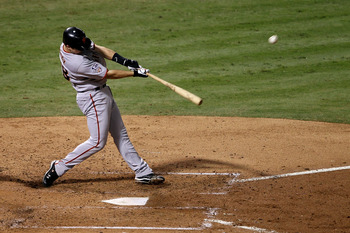 Elsa/Getty Images
He proved he could handle the league's best pitching staff behind the plate. He prove he can hit for average. Posey looks an awful lot like what everyone insisted Matt Wieters would be. He is not a switch-hitter, but he has one of the prettiest and most efficient swings for opposite-field power in baseball. Posey is already a superstar, and he will justify that over the next several years.
5. Troy Tulowitzki, SS, Colorado Rockies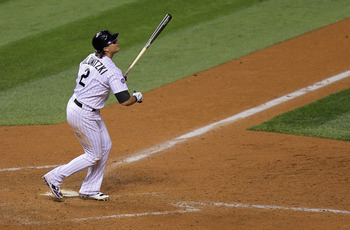 Doug Pensinger/Getty Images
The Rockies clearly believe Tulowitzki is going to be the best shortstop in baseball for a very long time; that alone can explain the massive contract extension they gave him this winter. Tulowitzki will make them proud, though, as he really will be the best shortstop in baseball for at least the next five seasons.
Tulowitzki's value is not merely in his bat, which is lightning: He hit 27 home runs in only 122 games in 2010. He is also the best defensive shortstop in the league right now, and figures to be at least top-tier at that premium spot for the next several years. His athleticism, defense and overall ability to hit the cover off the ball make Tulowitzki an animal, and the Rockies were right to ensure he will not get away.
4. Miguel Cabrera, 1B, Detroit Tigers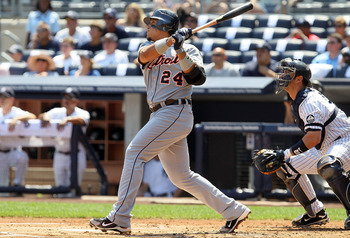 Jim McIsaac/Getty Images
Only Albert Pujols is a better hitter than Cabrera in all of baseball. Like Pujols, Cabrera got started so young that, despite having seemingly been around forever, he has plenty of good years left. He is only 27, and will turn 28 in April. He already has 247 home runs, which could well be 500 before the decade is over, and 2010 was by far his best season. If Detroit had performed a bit better and sneaked into the playoffs, Cabrera, not Josh Hamilton, might have been the AL MVP.
3. David Price, SP, Tampa Bay Rays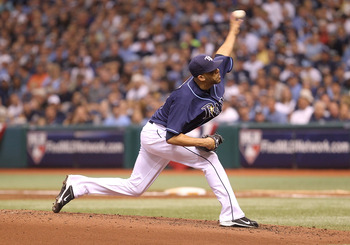 Mike Ehrmann/Getty Images
Price was great in 2010, but that success is not why he is here. Nor is it his youth, though he is just 25 and already has posted a 2.72 ERA over his only full season. Rather, he rates here because (in my estimation) his ceiling is still way, way above his head.
He has the stuff and the command thereof to utterly dominate. He is a workhorse who pitches aggressively, intelligently and artfully. Price got a bit lucky on the way to his great 2010 numbers, but thst does not mean he will not be the best pitcher in the American league going forward. In fact, he has a great chance to do just that.
2. Stephen Strasburg, SP, Washington Nationals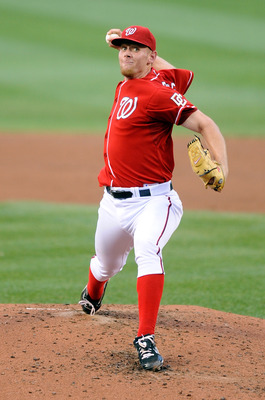 Greg Fiume/Getty Images
There can be plenty of fair debate over who rates as the best pitcher of the future in the Al, but on the senior circuit, one man stands far above the rest. Strasburg will not even pitch in 2011, and he only logged 68 big-league innings before going down in 2010. Therefore, he has essentially eight seasons to exceed the 10-year production of every other pitcher in baseball in order to merit this spot on the list. He will do it.
1. Albert Pujols, 1B, St. Louis Cardinals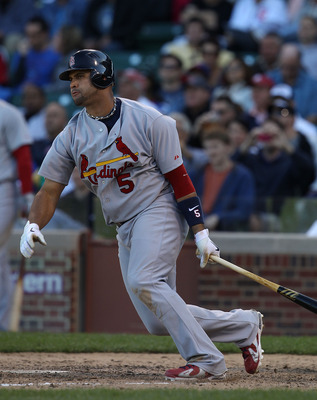 Jonathan Daniel/Getty Images
Pujols turned 31 last week, but if he is over the hill, I'm not going to be the one to tell him. In what has to be labeled a down year (his batting average came up 20 points shy of his career mark and he struck out more than he had since his rookie season), Pujols nonetheless led the league in homers, RBI and runs scored. He is so far and away the best hitter in baseball that, even accounting for some slumping production with age, he should still blow by 3,000 hits, 600 home runs, 2,000 RBI and a half-dozen other milestones well before the end of the decade.
Matt Trueblood is a B/R featured columnist on baseball and the Chicago Cubs. Follow him on Twitter, and check out his blog.
Keep Reading