With Brian Daboll Gone, Who Will Lead the Cleveland Browns' Offense?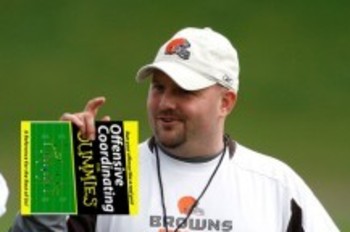 With Brian Daboll finally out, a lot of Cleveland Browns' fans wishes have been granted.
The man who led (and use that term loosely) the Cleveland Browns to a pair of the worst offensive seasons in team history is finally gone. He's landed in Miami, many miles from Cleveland.
Good riddance.
The real purpose of this article is to try and figure out who makes the most sense as the Browns' offensive coordinator going into next season.
There are several candidates right now, some of whom strike me as quality offensive coordinators who can come into Cleveland, make some changes for the better, and, hopefully, lead a resurgent offense into the 2011 season.
The main candidates, in no particular order, are: Pat Shurmur, Bill Musgrave and Jim Zorn, among others not presently known.
Let's take a look at the arguments for and against the candidates, and try to determine who makes the most sense!
Candidate #1: Pat Shurmur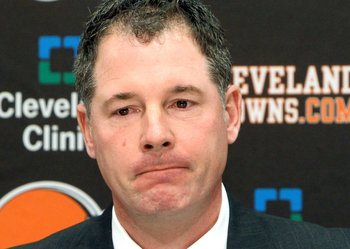 The Argument FOR Shurmur as the Offensive Coordinator:

Shurmur has two years of experience as an offensive coordinator, and his knowledge of the West Coast Offense should be attractive to Browns' general manager Mike Holmgren, who wants to implement the system in Cleveland.
Shurmur stated in his press conference that he planned on calling the plays as the head coach. That would give him the chance to work directly with Colt McCoy and allow him to develop the signal-caller exactly as he sees fit, instead of leaving it to another offensive coordinator and a QB coach.
As young players, Donovan McNabb and Sam Bradford were helped by Shurmur, who served for many years as Andy Reid's QB coach in Philadelphia. Shurmur's experience with young quarterbacks may benefit McCoy, as well.
The Argument AGAINST Shurmur as the Offensive Coordinator:
Coaching is hard enough as a veteran. As a rookie head coach with no previous experience, Shurmur's responsibilities as offensive coordinator could take him away from his tasks as the Browns' leader.
He is inheriting a team that has a LONG road to relevancy in the AFC North, and righting that ship is going to be a difficult task in the world's most competitive football league.
So why work as offensive coordinator as well?
As a first-year head coach, I think he would want someone with some experience to help him build.
As head coach and coordinator, Shurmur would be forced to watch practice, analyze players and oversee the organization while creating a game-plan each week.
Scary.
Shurmur and Reid may be similar, as many have suggested, but it is important to remember that Reid was NOT calling plays as a rookie head coach. Actually, he worked as an assistant head coach for two seasons before taking control, so Reid had some experience.
I don't like this.
Conclusion:
Turning around the Browns is going to be trying, and it isn't smart to distract the head coach with the reponsibilities of an offensive coordinator.
These circumstances seem similar to those in Denver, where Josh McDaniels worked as head coach and offensive coordinator. Now, according to the National Football Post, there are rumblings that Shurmur does not believe that McCoy is the right guy in Cleveland.
The similarities are daunting, but I digress.
Shurmur's Rams ranked near the lower-middle-third of the NFL in offensive production for consecutive seasons. Many are impressed by what he's done with Bradford, but the No. 1 overall selection in the 2010 draft was one of the most sound prospects to come along in a some time.
Was the improvement a surprise?
It shouldn't have been. St. Louis' schedule was the league's 25th-most difficult.
Add a guy like Bradford to the mix, and progress was basically inevitable.
In my opinion, Cleveland would be making a serious mistake to allow a rookie head coach to be the offensive coordinator, as well.
Candidate #2: Jim Zorn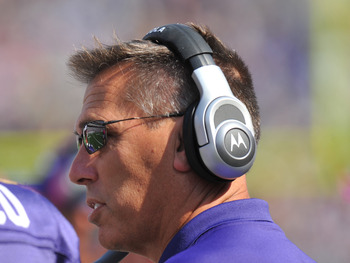 Larry French/Getty Images
The Argument FOR Jim Zorn as the Offensive Coordinator:
Jim Zorn is fluent in the language of the West Coast Offense like Speedy Gonzales is fluent in Spanish.
Zorn is tenured, his been on winning teams, and he has ties to Holmgren.
I think Zorn is a candidate that makes perfect sense for Cleveland.
We've acknowledged what Shurmur did with McNabb and Bradford, but let's not forget what Zorn has done with his QBs.
In 1998, Zorn was responsible for developing rookie Charlie Batch into a very proficient player for Detroit. Batch's 88.3 QB rating for his rookie season is still fourth highest in league history for a first-year player.
Zorn then worked in Seattle, from 2001-2007, where he developed a relationship with Holmgren and Seahawks' QB Matt Hasselbeck.
In 2003, when Matt Hasselbeck set the franchise record for passing yards and QB rating in Seattle, he was under the tutelage of Jim Zorn. And he was also under Zorn's watch in 2007, when he earned his third Pro Bowl appearance.
Then, in 2010, Zorn was hired as the QB coach in Baltimore and worked with Joe Flacco, who had the best season of his career, throwing for 3622 yards, 25 TDs and only 10 INTs in 489 attempts.
Coincidence? I think not.
Zorn's experience is by far the most intriguing aspect of his candidacy. There's nothing that could happen personnel-wise that Zorn wouldn't be equipped to handle, and, unlike Daboll, there's no defensive scheme that he probably couldn't figure out how to get around.
Interestingly, Zorn has experience in the AFC North, having coached in Baltimore this season. That should help.
The Argument AGAINST Jim Zorn as the Offensive Coordinator:
If there is one knock on him, it would be how he performed in Washington as the head coach and offensive coordinator.
In his first season, he did an admirable job, but was eventually relieved of his offensive play-calling duties in October of 2009 in favor of Sherman Lewis.
His offense became predictable and stagnated, and he was eventually fired in January of 2010.
This is further proof that first-time head coaches should not be expected to succeed as offensive coordinators, as well.
If Zorn had an offensive coordinator that utilized his preferred scheme (the West Coast Offense), the Redskins would probably be a much better team then they are.
Conclusion:
Zorn knows the system, he knows the GM and he knows the division.
What's not to like?
Batch and Hasselbeck weren't marquee names like McNabb and Bradford, yet Zorn developed both quite well, and they have been successful in the NFL.
Zorn could improve the young and talented Colt McCoy, as well.
Apparently, Zorn is set to meet with Cleveland brass on Thursday or Friday afternoon.
Candidate #3: Bill Musgrave
Al Messerschmidt/Getty Images
The Argument FOR Bill Musgrave as the Offensive Coordinator:
Musgrave has really come into his own recently, working under Mike Smith in Atlanta.
This year, he was promoted to Assistant Head Coach/QB Coach. Smith has said that he really likes Musgrave's approach to the game and how he has helped Matt Ryan develop early in his career.
With Musgrave's guidance, Ryan has led Atlanta to a 33-13 mark, and the Falcons were 13-3 in 2010.
Ryan was a solid prospect when he left Boston College, but his rapid development is a feather in Musgrave's cap.
Musgrave also worked with offensive coordinator Mike Mularkey to design game-plans in Atlanta.
Smith is so fond of Musgrave that he was reluctant to give anyone (including the Browns) permission to speak with him.
Musgrave has 14 years of experience as an NFL coach. He has helped to develop game-plans in Atlanta with Smith, and for the Jaguars and Redskins with Jim Zorn.
Musgrave played five seasons with the Cowboys, 49ers and Broncos, so he is also familiar with game-planning from that perspective.
Yet, Musgrave may be underrated.
In 1998, he worked as offensive coordinator in Philadelphia, and was hired to the same position with Carolina in 2000. In 2003, he became the Jaguars offensive coordinator.
He's had time to evaluate what he did right and wrong, and presumably would be a better offensive coordinator now.
The Argument AGAINST Bill Musgrave as the Offensive Coordinator:
Although his work in Philadelphia, Carolina and Jacksonville is not statistically impressive, I find the numbers to be misleading.
In 1998 the Eagles were a lowly 3-13 and ranked dead last in offense in virtually every statistical category. However, Ray Rhodes at the helm, and it was Musgrave's first stint as offensive coordinator.
The 2000 Carolina Panthers were 7-9 and were led by QB Steve Beuerlein. Their roster was much like Cleveland's—devoid of talent in key positions.
Still, the team finished the season by winning three of their last five games, and ranked 20th in the NFL in offense.
The 2003 Jags were a pretty dismal group. They finished 5-11 with a young, injury-prone QB named Byron Leftwich, who finished the season with 16 INTs.
The Jags were ranked 23rd offensively in 2003, though several players had stellar seasons. Fred Taylor ran for a whopping 1572 yards and added more than 300 yards receiving.
The 2004 Jags were 9-7. Leftwich threw fewer interceptions, Taylor and WR Jimmy Smith combined for more than 2740 yards of offense, and Musgrave's unit improved...to 21st.
Conclusion:
Musgrave seems to be a nice fit here.
He's been praised by former employers, and seems to have done a nice job with the Falcons, helping Ryan, Smith and Mularkey develop a legitimate playoff contender in Atlanta.
Conclusion: Who's The Man?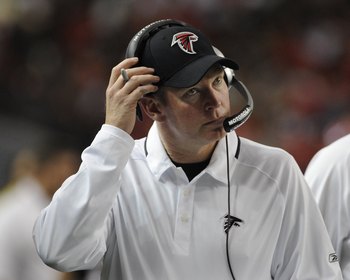 Al Messerschmidt/Getty Images
Cleveland's offense would be better with either Zorn or Musgrave than they were under Daboll, but I think Musgrave will be the Browns' new offensive coordinator.
And, really, what more could Cleveland fans ask for?
Musgrave has experience, and he has sufficient knowledge of the West Coast Offense.
His use of Fred Taylor in Jacksonville indicates that he will know how to deploy RB Peyton Hillis effectively.
Musgrave's work with Ryan in Atlanta suggests that he may be capable of producing a winning team quickly in Cleveland, if he can run his system and develop McCoy.
Holmgren has tabbed McCoy as "the man" in Cleveland, and perhaps with someone like Musgrave as offensive coordinator, the Longhorn may take the next step forward.
And Cleveland needs that, especially in a division where the other QBs—Flacco, Ben Roethlisberger and Carson Palmer—are elite. If Cleveland is to complete in the AFC North, they need McCoy and Musgrave to work together.
I believe they can.
Keep Reading

Cleveland Browns: Like this team?