Josh McDaniels St. Louis Rams: 2011 Draft Prospects Who Fit His System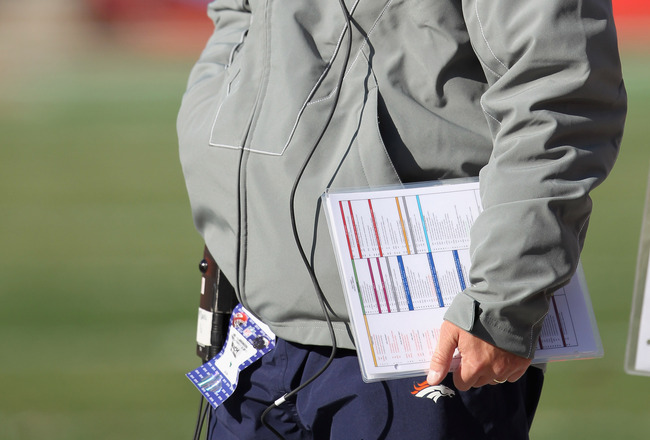 Jamie Squire/Getty Images
Former Broncos head coach Josh McDaniels wasn't out of work for very long.
He agreed to become the offensive coordinator for the St. Louis Rams on Tuesday.
The 34-year-old McDaniels replaces Pat Shurmur, who is now the Cleveland Browns head coach.
The McDaniels' hiring has caused plenty of excitement in St. Louis, but there will be plenty of questions as well.
Will he mesh with the current staff?
Is he just waiting for another head coaching gig?
Can he co-exist with his up-and-coming QB Sam Bradford and head coach Steve Spagnuolo?
McDaniels favors the spread offense; one that Bradford ran in his college days at Oklahoma. Assuming the Rams offense shifts towards a spread-like feel, let's take a look at 10 potential targets of McDaniels and the Rams offense in the 2011 draft.
10. Kyle Rudolph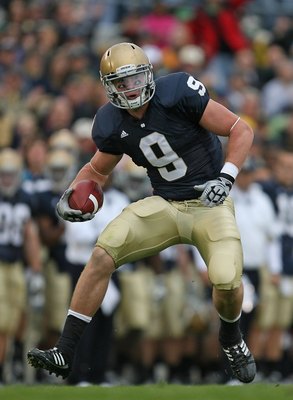 Jonathan Daniel/Getty Images
Kyle Rudolph was able to collect 28 catches for 328 yards and three touchdowns through six games before having season ending hamstring surgery.
The 6-foot-6, 265-pounder is agile and a great pass-catcher who could line up wide as a receiver in certain sets. His speed and ability to catch a pass would make him a nice fit in St. Louis.
9. Gabe Carimi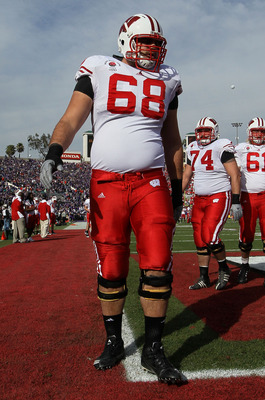 Stephen Dunn/Getty Images
The spread offense needs a great offensive-line and the Rams could really improve in that department.
Carmi was extremely consistent for the Wisconsin Badgers. The senior started 49 games in his career, including the last 33 in a row.
He is he anchor of a offensive line that allowed a mere 12 sacks in 12 games and featured the 12th best rushing attack in college football.
That's a lot of 12's.
8. A.J. Green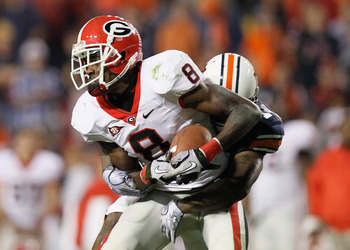 Kevin C. Cox/Getty Images
He is the best offensive player available in the draft and his explosive play-making ability will open up the rest of the Rams offense.
He missed the first four games of the season yet was still able to haul in nine touchdowns and 771 yards.
The best receiver in the draft will go well before the Rams No. 14th overall selection. But McDaniels has traded up in the past to ensure he gets his man.
If he decides Green is a can't miss stud—don't be surprised if the Rams trade up to snag him.
7. Julio Jones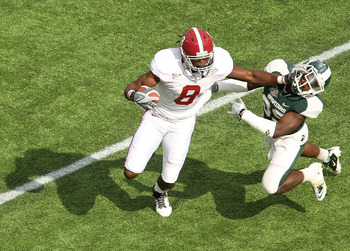 Mike Ehrmann/Getty Images
The top recruit coming out of high school, Jones has been a game changer since Day 1 at 'Bama.
He had a solid junior season, and has lifted his stock after a slow start. Playing hurt has shows that he may possibly even weather the Rams injury curse at wide receiver.
Jones is another player the Rams would most likely have to draft up to select. Odds are slim that he will be around at No. 14.
6. Terrance Toliver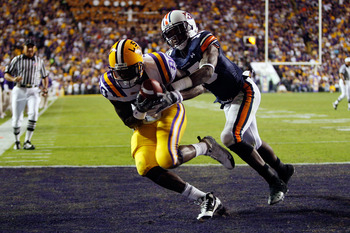 Chris Graythen/Getty Images
He may have had inconsistent production throughout his college career, but is quite the physical specimen.
He is 6'5" with huge hands and stellar down field speed. Toliver will be able to out jump almost every corner in the league.
He may not be the best fit for McDaniels, due to his lack of speed when cutting on slants and out routes, but Toliver has great yard after catch skills that make up for his inconsistencies underneath.
If the Rams could draft him in the second round they would be a happy camper.
5. Titus Young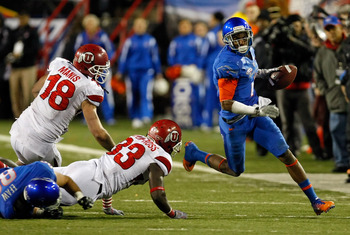 Ethan Miller/Getty Images
The speedy Young isn't very big and would need to bulk up in order to be productive at the NFL level, but there's no doubts about his athleticism and explosiveness.
His route-running skills and footwork are elite. Young is fearless and isn't afraid to run over the middle.
He could fit perfectly into a spread offense. A mid round pick of Young would serve the Rams well.
4. Greg Little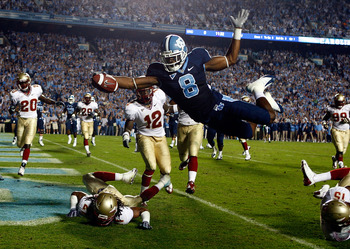 Scott Halleran/Getty Images
After being a running back for his first two seasons, Little converted to receiver his junior season.
He had a pretty stellar season; hauling in 724 yards and five TDs in 2009. He was expected to have a stand-out season in 2010, but he was suspended for the entire campaign.
He was poised to be a first or second round pick before getting suspended.
The 6'2", 215 lb Little initiates contact and can bowl over a defender as if he was still a running back.
He is expected to be drafted in the 4-5 round range, which means he would provide great value.
3. DeAndre Brown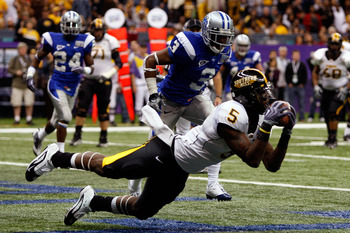 Chris Graythen/Getty Images
At 6'6" and 228 lbs, Brown looks more like a power forward than a wide receiver.
He runs a sub-4.5 40, which is pretty insane for someone with his size. He's a strong blocker and capable of making tough catches against less physical players with ease.
Brown would be a nice target for Bradford in red zone situations.
Playing for Southern Miss makes him a bit of an unknown. His draft status will likely depend on how well he performs in the upcoming combine.
But you can't teach speed.
2. Torrey Smith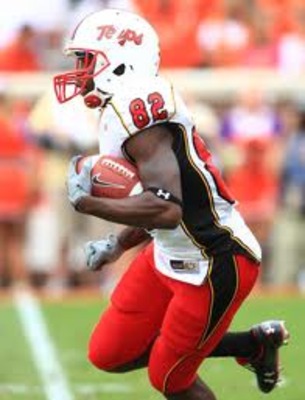 Smith specializes in athleticism and agility.
At 6'1", 205 lbs, Smith posses the average size and bulk of an NFL receiver.
His elite speed is his bread and butter, allowing him to make big plays down-field by leaving the defense in his dust.

Smith isn't just a streak runner either—he has quick feet and changes direction exceptionally well. He was a kick returner for Maryland throughout his college career, making him a potential threat on special teams right away.

With his breath taking speed and athleticism, Smith could be the kind of deep threat Bradford needs to take the Rams to the next level.
1. Jonathan Baldwin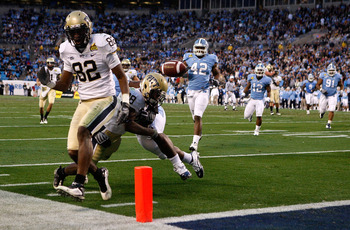 Streeter Lecka/Getty Images
Baldwin struggled this year due to QB issues, but he's still a physical freak at 6-5, 230 lbs. His ability to out jump DB's in the end zone would be a great addition for the Rams.
Baldwin excels at finding the opening in a defensive zone and settles nicely in those openings. That sounds like a perfect fit for a spread offense.
His natural speed combined with his excellent route running skills and height make him the perfect fit for St. Louis.
McDaniels could run all sorts of plays through Baldwin and would love to put blue and gold on him.
Don't be surprised if the Rams take Baldwin with the 14th pick.
Keep Reading

St. Louis Rams: Like this team?