Im-PACKed Players: Five Most Important Players for the Packers on Sunday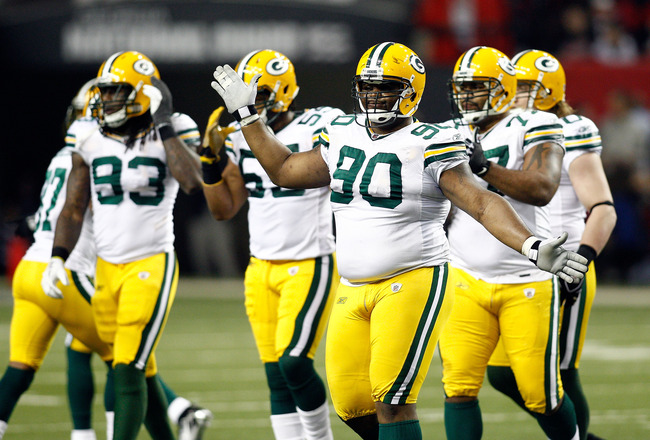 The Green Machine
Chris Graythen/Getty Images
There has been much talk about the complete dismantling that our offense did to the Atlanta defense. A lot of credit goes out to Aaron Rodgers and Co. for putting on such a display of dominance.
For the record, our defense put on quite a clinic versus the very efficient and talented Falcons. Even though Mr. Weems, who is a Pro-Bowler, took one to the house, our special teams has held their own in the playoff games.
Whether it be someone from the offense, defense, or special teams, the Packers have several impact, or how I like it, im-PACKed, players that will need to have a big game versus our fiercest rival on the biggest stage in the NFC this Sunday in order for us to reach the Super Bowl.
I am going to point out the five most important players for the Packers in my eyes, and you will be surprised not to see Aaron Rodgers on it.
1. Jarrett Bush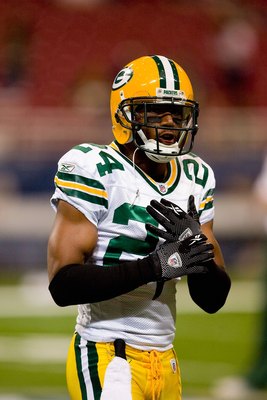 Dilip Vishwanat/Getty Images
Who would have thought that number one on anyone's list for impact players would be Jarrett Bush? When many of us think about him, we get a gut wrenching feeling in our stomachs.
In this game, however, Jarrett Bush could be the difference between a big return or not. Yes, there have been lapses in our special teams play throughout the year, and yes, the Bears have the best returner in NFL history, but that's more of a reason to need a big game from Bush. He is a captain for the special teams and for good reason. He has excelled on the special teams this year, and I remember several times when he has made a big tackle or has slowed up, or directed a returner towards the help.
I am guilty of assuming a big play no matter what when Jarrett Bush is in the game, but I am starting to see the light. The guy is not such a terrible player after all, as long as he doesn't go on the field for defense. His special teams play is crucial for the Packers to be able to contain Hester for much of the game.
Kudos to Tim Masthay...he completely disrupted the return games of both the Bears in week 17 and the Eagles in the Wild-card round.
2. A.J. Hawk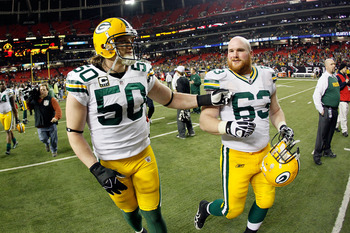 A.J. Hawk and Scott Wells after the win in the Georgia Dome
Kevin C. Cox/Getty Images
This fifth year pro has put together the kind of year he did as a rookie. Thank god! I was wondering where that productivity went. I think that it is kind of crazy how professional athletes seem to perform better in a contract year, but that's neither here nor there.
Hawk, who led the team in tackles, has a hefty task ahead of him, stopping Matt Forte. In the games combined versus the Bears, Forte rushed 26 times for 120 yards, not completely impressive, but not a slouch performer. In the playoffs, the run game is of a greater emphasis, and I have to believe that Lovie Smith is going to use his back much more than the 11 carries (first game) and 15 carries second game). A.J. Hawk will be responsible for neutralizing Forte and hopefully rendering him to a minimal rushing performance.
There is another thing that the middle linebackers will be responsible for, and that man is Greg Olsen. There is much to be made of his 100+ yard performance versus the Seahawks. There is also a debate whether that Greg Olsen will show up on Sunday or the less productive one will. I know one thing for sure, whatever the Packers did to neutralize the future HOF Tony Gonzalez, they will need to do once again. If those two men for the Chicago Bears have positive games, then the Packers will be in need for some help offensively.
Kudos to Desmond Bishop...after playing a limited role for the first four games, Bishop has surged to second on the team in tackles. He is as important as Hawk in the run game and will provide an extra punch on blitzes (Vick sack and Cat daddy dance, thanks to me might I add; check twitter!! haha).
3. James Jones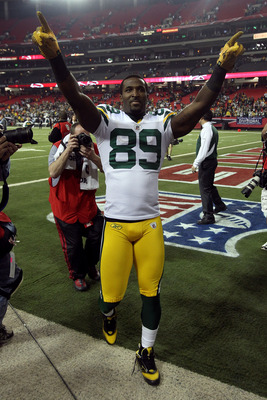 Streeter Lecka/Getty Images
My God, did James Jones put on a Wide Receiver clinic last weekend. My God, did James Jones drop a potential touchdown against the Eagles. Only God knows what James Jones will be there this Sunday, but we hope its the former.
Ever since Jones has been a Packer, he has had games that have lifted the Packers to victory or have led to them losing the game. In games against the Bears in his first three years in the league, he has arguably cost us two of them. The first was in his rookie year when he fumbled twice, once in the Red Zone if I remember correctly, and the other was the first Bears game this year with his fumble with under three minutes to play.
To say he has redeemed himself with his performance Saturday would be saying too much, but to say I am not encouraged would be false. I feel as though his performance can dictate what type of game our offense is having. Dropped passes and fumbles put a huge rift in our rhythm as an offense, and that is the most important thing for us to establish. If he is focused, he can be a legit threat for the whole game, but if he isn't, we could be asking ourselves "should the Packers keep him this offseason?".
Kudos to Driver, Nelson, and Jennings....I feel like if it weren't for Jennings fumble in the Atl game, the receivers would not have stepped their game up to the level it was at. Maybe that's a little harsh, but you could see how "beastly" we played after that happened. Our receivers are arguably the best in the league as a group, and we should be fortunate as hell to have them. Great work, TT.
4. James Starks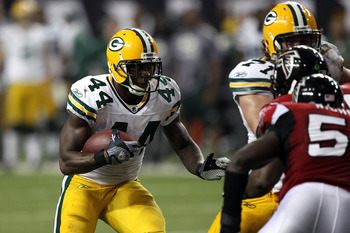 Streeter Lecka/Getty Images
I have been anticipating the type of game he had versus the Eagles ever since they took him off the PUP list. I knew coming into the year that he would be a work in progress, but he had an immense ceiling.
Starks reminds me a lot of Ryan Grant but more punishing. I always see him falling forward and stretching one yard runs into three or four yard runs. You don't see Starks dancing in the backfield like Jackson, and he has that extra gear that Kuhn cannot provide you with.
He is absolutely imperative in this weekend's championship game so he can soften the prolific Tampa 2 defense that Lovie Smith runs. We have to be able to block well for him so he can make the play action passing game that much more effective. If he can average around 3.8-4 yards per carry, the Packers offense will have no problem picking up first downs while sustaining drives.
I know that a lot was made of him going into the Falcons game, but that same pressure should be put on him going into this week. If the Packers can run the ball effectively they will take pressure off of Aaron Rodgers. The ends on the Bears like to over pursue so hopefully we can take advantage of that and get some big runs.
Kudos to Kuhn and Jackson. Kuhn, you are a powerful back who is very important in the short yardage game, even though everyone and their mothers knows that you are getting the ball it's okay, I have faith you will pick up that yard, and Jackson, I really dislike when you run the ball, but you are the prototypical 3rd down back who is really good at picking up the blitz and is above average at catching the ball. Please come to play!
5. Chad Clifton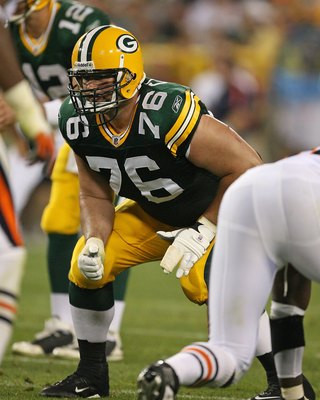 Jonathan Daniel/Getty Images
In the two games versus the Bears this year, Chad Clifton has done a great job versus his counterpart, Julius Peppers. The 2011 Pro Bowl choice held Peppers, one of the premier pass rushers in the game today, to zero sacks. That number is astounding considering how the Packers can seem to break down on the offensive line at times.
Chicago puts extra emphasis on getting to the quarterback with their front four, and our line will have their work cut out for them. There was a stat I remember hearing a couple weeks ago about Peppers that is quite encouraging. Of his eight sacks this season, he only has gotten three at home, probably due in part to the terrible field conditions, but that stat is one that will help the Packers hopefully. Keeping him in check while keeping Rodgers on his feet will be very important factors in winning this game.
There is a reason he was voted to the Pro Bowl, and we will see two Pro Bowl players facing off on Sunday.
Kudos to Wells, Sitton, Colledge, and Bulaga....thank you guys for not being terrible all year; last year was almost unbearable to watch as our franchise QB was taking sacks like David Carr. You guys have "manned" up to provide some of the best protection our offensive line has shown since the Mike Flanagan days. Keep it up so we can boast our abilities to the "Big Game".
Honorable Mention Page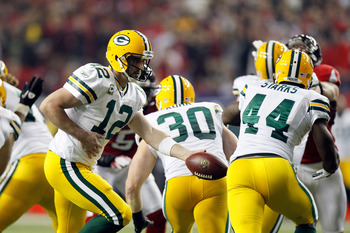 Kevin C. Cox/Getty Images
Here are some quick thoughts on what I think needs to happen for a Packer Win.
1. Soldier Field, figure out how to not suck. I don't think there is a worse field to play on in the NFL.
2. Matthews and Walden: Keep crashing the pocket.
3. Aaron Rodgers...enough said.
4. Tramon Williams..you were snubbed..the world knows it..add to the three picks you have in the post season please
5. Charles Woodson..I really love when you blitz and jump super high to prevent a pass attempt then sack the QB. Unreal.
6. Mike McCarthy...I beg you to run three or four screens and to run a play action run to Kuhn on a 1st and Goal, if the opportunity calls.
7. Dom Capers...enough said
8. Lastly, Packers fans, I hope those who have the ability to go to the game go. I wont stand for the Chicago fans who scream at the top of their lungs during the National Anthem, I don't care if it's a tradition for Blackhawk games; get some class. Packer fans, show Chicago what it's like to be regarded as the best fans in sports: class, knowledge, and control is what we boast.
Thank you for reading..you can call me crazy for not regarding Rodgers or the usual as impact players, but to me, they will continue to perform at their high level. Comment away, and if you think someone should be added, please share it. We are all excited as hell for the opportunity to bring the Lombardi trophy home, and we are all sick of the haters. Thank you!
Keep Reading

Green Bay Packers: Like this team?