Looking On the Bright Side: The Top 10 Players On the Redskins Roster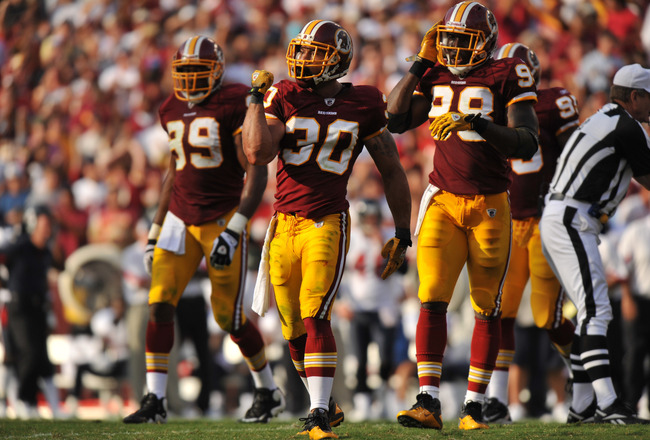 Brian Orakpo and Laron Landry are two rising stars within the Washington Redskins organization
Larry French/Getty Images
Since the conclusion of another disappointing season for the Washington Redskins, morale couldn't be much lower and all the talk has been about holes, needs and players they should target in the draft and free agency.
This is all understandable. Finishing with a record of 6-10 at the bottom of the NFC East for the third year in a row doesn't put anyone in a good mood.
It's human nature. Any fan with an ounce of passion immediately begins thinking about who needs to go, who they should get and what needs to be fixed.
I wanted to take a break from all of that talk, as fun as it is, and instead focus on the positives. Rather than analyzing potential draft picks and need-filling free agents, let's take a look at the studs we already have!
Who are the top 10 players, five on offense/special teams, five on defense, who already have lockers at Redskins Park?
The list will consist mainly of young, talented guys the team can build around for the future, and there may be a couple surprises in there.
10: CB Kevin Barnes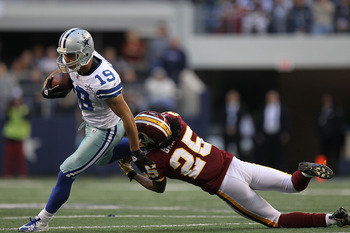 Ronald Martinez/Getty Images
Barnes, a third-round pick out of Maryland in 2009, is probably best known for his hard hit on Jahvid Best in college.
During his 2009 rookie season, however, Barnes had little impact. He was known simply as a great young man with very good practice habits.
It was different in 2010. He saw significantly more playing time and was even able to show his versatility by starting at free safety the final three games of the season.
His interception of David Garrard helped ice the game in Jacksonville in Week 16.
It remains to be seen if Jim Haslett will entertain keeping him at safety or if he'll move him back to corner. Regardless, the Redskins have themselves a good, young player in Barnes.
9: WR Anthony Armstrong
Win McNamee/Getty Images
The Redskins have been starving for a No. 2 option at wide receiver since Santana Moss arrived in 2005.
They seem to have found one in Anthony Armstrong.
Armstrong, who had 44 receptions, 871 yards and three touchdowns, averaged a ridiculous 19.8 yards per catch, trailing only DeSean Jackson and Mike Wallace in the entire NFL.
Having spent time in the UFL and EFL (Extreme Football League), Armstrong was considered a rookie this season at 27 years old. He showed great speed and reliable hands throughout the season and looks to be a solid option at wide receiver for years to come.
It took him a while to see the field because he was playing behind guys like Joey Galloway and Roydell Williams, but once he made it on the field, he never left.
8: RB Ryan Torain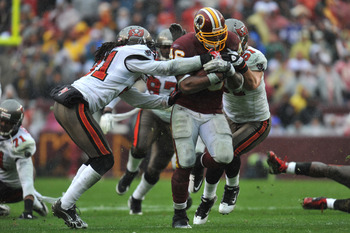 Larry French/Getty Images
With Clinton Portis most likely wearing a different uniform in 2011, the Redskins now have to rest their rushing attack hopes on the shoulders of Ryan Torain.
Although he battled a hamstring injury throughout the season, and he also had injury problems during his time in Denver, Torain had a breakout year in 2010.
In 10 games (164 carries), Torain rushed for 742 yards and four touchdowns with an average of 4.5 yards per carry. He had three 100-yard games, all while sharing the load with guys like Keiland Williams (who would be on this list if it was the top 15), Clinton Portis and James Davis.
Torain needs to prove that he can stay healthy for an entire season, but his hard-nosed, downhill style of running is something the Redskins haven't seen since Stephen Davis.
7: TE Chris Cooley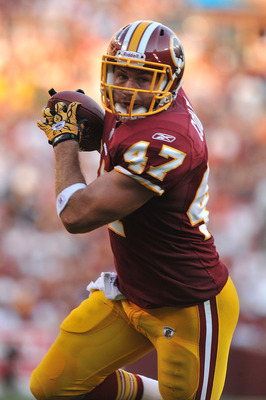 Larry French/Getty Images
There has been a lot of speculation that Chris Cooley might be on his way out of town.
I don't buy it.
Cooley, 28, has been the most consistent offensive weapon for the Redskins since he was drafted in 2004. Because of this, there's no question that he has the most trade value of anyone on the team.
The most the Redskins would be able to get for Cooley is a third-round pick. Why not stick with the sure bet, especially since there's a distinct possibility a rookie QB will taking snaps in 2011? Wouldn't it be nice for that rookie to have a solid veteran tight end to throw to?
Hang on to Cooley and see what you can get for Fred Davis. Cooley, again, only 28 years old, has at least five more years of solid football ahead of him.
Not to mention he's quite possibly the most popular player on the team.
6: CB DeAngelo Hall
Larry French/Getty Images
Even though the Washington Redskins consistently had a "top-10 defense" before 2010, one thing that was seriously lacking was turnovers.
DeAngelo Hall can change that.
He may give up the occasional big play or shy away from hard contact, but no one on the roster, or any Redskins player since Sean Taylor, for that matter, has a better nose for the football.
Hall had two returns for touchdowns this season (one fumble return, one interception return), which is exactly two more than the entire defense had in 2009 under the 4-3 scheme.
5: KR Brandon Banks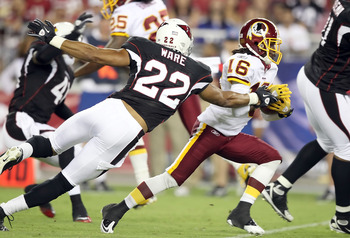 Christian Petersen/Getty Images
Gone are the days of watching Deion Sanders and Antwaan Randle El dance around for eight seconds, only to return the ball four or five yards.
Enter Brandon Banks, a tiny, speedy, mighty-mouse kick returner from Kansas State.
Banks was probably the brightest of all the scarce bright spots this season for the Redskins. He was 11th in punt returns and 12th in kickoff returns in the NFL. He had one return for a touchdown and would have had at least three more if not for costly holding and illegal block penalties.
Banks even lined up a few times in the offensive backfield to run the wildcat.
I expect Banks to see an even more expanded role in 2011.
4: LB London Fletcher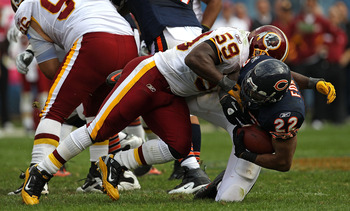 Jonathan Daniel/Getty Images
Yes, I know London Fletcher will be turning 36 in May and this article is supposed to focus only on young talent that the Redskins can build around, but hey, it's London Fletcher!
Fletcher, who went to his first Pro Bowl in 2009, had an even better season in 2010. Perhaps no one means more to his team or has a bigger impact on and off the field than he does.
Logic suggests that a 36-year-old linebacker should be declining, but Fletcher is getting better with age.
No one thought that he'd be able to successfully make the transition from the 4-3 to the 3-4, but he actually made the switch smoother than anyone else on the the defense and acted as a coach on the field.
Until he starts to show any sign of slowing down, London Fletcher cannot be left off of this list.
3: LT Trent Williams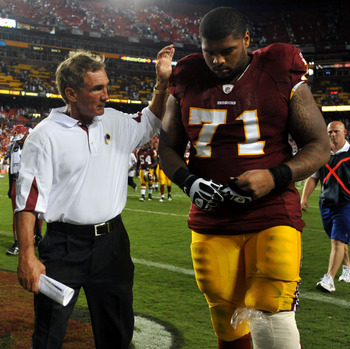 Larry French/Getty Images
The day after Chris Samuels retired marked the first day of a tough stretch for the Redskins offensive line.
The offensive line was like a game of musical chairs in 2010. Trent Williams was the lone bright spot.
Although he did struggle at times against some of the elite pass rushers in the NFL, overall, Williams looks to be worthy of the fourth overall pick in 2010.
There's no guarantee he'll ever be as good as Chris Samuels, but it appears the Redskins may have found their left tackle for the next decade.
2: OLB Brian Orakpo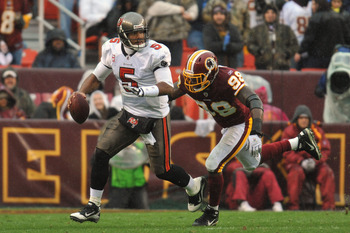 Larry French/Getty Images
Brian Orakpo burst on the to scene in 2009 with an impressive rookie season in which he compiled 11 sacks and earned a trip to the Pro Bowl.
He followed up that campaign with a very good but not great sophomore season with 8.5 sacks and another trip to the Pro Bowl now that either Clay Matthews or Lance Briggs will be playing in the Super Bowl.
Along with everyone else on the Redskins defense, Orakpo had some growing pains with the switch to the 3-4 defense.
He definitely needs to work on his coverage skills, and he needs to learn how to get around the lineman that will try to hold him on virtually every play.
So far though, he's having a very impressive start to his career: two seasons, two Pro Bowls.
As long as he continues to progress and add new tools to his repertoire, he's very capable of being a DeMarcus Ware, Clay Matthews-type impact player.
He will be a defensive cornerstone for years to come.
1: SS LaRon Landry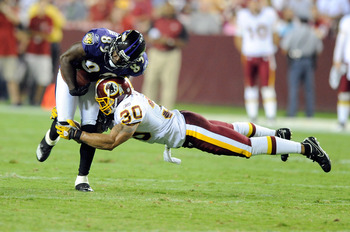 Greg Fiume/Getty Images
When LaRon Landry was drafted with the sixth overall pick in 2007, the idea of Landry and Sean Taylor playing together in the same defensive backfield likely gave wide receivers across the NFL chills.
He was drafted to be a strong safety. That's what he played at LSU and that's what he does best. Unfortunately, when Sean Taylor was murdered, Landry was thrust into the position of free safety and had plenty of struggles.
Now that he's back at his natural position, playing in the 3-4 scheme, he is absolutely flourishing.
He missed some time this season with a sore Achilles, but is anticipated to be more than ready by the start of 2011.
When he wasn't on the field, the defense was completely different.
He's a gym rat with dangerously huge biceps that keep undersized tight ends up at night, and he's going to be exciting to watch going forward.
Keep Reading

Washington Redskins: Like this team?