Oakland Raiders: Which Free Agents Will Be Wearing the Silver and Black in 2011?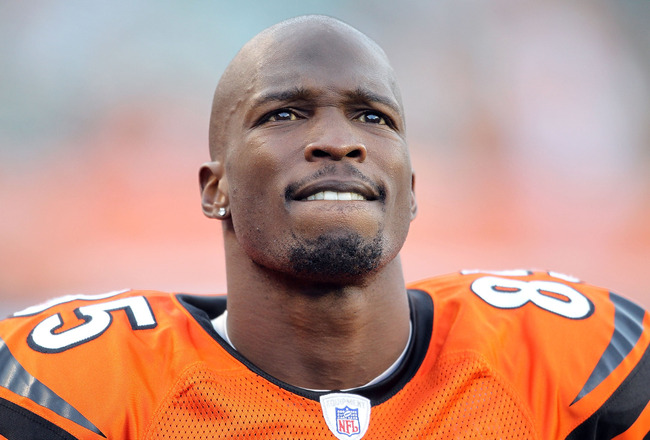 Andy Lyons/Getty Images
This offseason will be a big one for the Oakland Raiders, especially when free agency starts.
The Raiders have a lot of free agents on their roster and they will lose some, but they will also bring in some new players from the free agency pool.
There will be many players available that will be rumored to go to Oakland, both because of current needs and because of a player's character and past.
There will also be many current players that will be rumored to be gone from Oakland. The truth is nobody really knows what is going to happen with the CBA uncertainty.
When it does get figured out, Al Davis and Hue Jackson will be keeping and adding the players that they believe will take the Raiders to the next level.
Let's take a look at 10 free agents, both from and outside of Oakland, that will be rumored to be coming to the Black Hole or leaving it.
Chad Johnson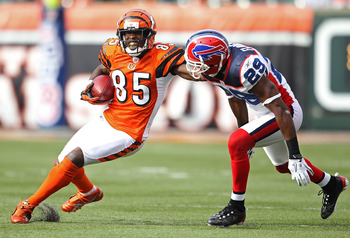 Andy Lyons/Getty Images
Player: Chad Ochocinco is a potential free agent that will be mentioned as a possible Raider. Al Davis loves bringing in veteran players with a proven track record.
Many in the media like to portray Ochocinco as a problem child, but in all reality, he is a playmaking receiver. The Raiders are currently young in the receiving department and are in need of a playmaker.
Hue Jackson—who is most likely to be named head coach—coached Ochocinco when he was the receivers coach for the Bengals.
Prediction: Ochocinco will not be a Raider in 2011. The Raiders have their own Ochocinco in Darrius Heyward-Bey. I don't see Chad changing his name back and I don't see DHB changing his number again.
The Raiders have a lot of potential in their receiving corps. I believe Jackson will wait another year before he decides whether he really needs a veteran wideout or not.
Terrell Owens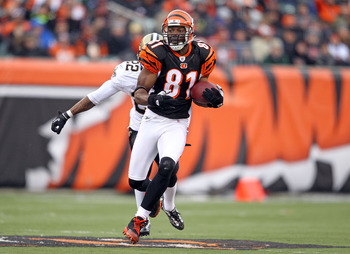 Andy Lyons/Getty Images
Player: Terrell Owens proved he can still play this year and he will be on the market once again. If Al Davis and/or Hue Jackson do decide to bring a free agent receiver, I believe it will be Terrell Owens.
Owens would only be a one or two year deal, where a player like Ochocinco will be more long term because he is younger than Owens.
Davis appreciates football history and there is no denying Owen's career numbers put him up in the ranks with Jerry Rice, Chris Carter and Tim Brown.
Davis brought in Rice late in his career and Brown played there most of his career. Adding Owens would mean that three of the best receivers ever in the NFL have worn a Raiders jersey. That would be along with all the great ones the Raiders mentioned this year when the team defended Darrius Heyward-Bey.
Prediction: Owens will not be a Raider in 2011. I really believe DHB, Louis Murphy, Jacoby Ford, Chaz Schilens and Johnnie Lee Higgins can be a solid group next season.
Jason Campbell will be more comfortable with his current group and that will only make them more productive.
Antonio Cromartie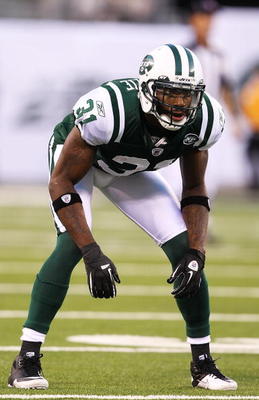 Al Bello/Getty Images
Player: Antonio Cromartie is scheduled to be a free agent in 2011. The Raiders may be in the market for a cornerback if Nnamdi Asomugha happens to leave Oakland.
Cromartie is a big, physical player that has that Raider speed. Davis loves athletes and Cromartie is one that Davis would love to have.
This could be something to keep an eye on.
Prediction: Cromartie will not be a Raider in 2011. I believe the Raiders will keep Nnamdi Asomugha, along with other key players on the defensive side of the ball.
Look for them to disguise more defenses next year and get away from their regular man to man defense.
Asomugha probably wouldn't mind staying in Oakland if their defense changed to give him more opportunities to make plays.
Who they hire for defensive coordinator will be vital. Jackson may be looking for an assistant that can bring in a better defensive scheme, or Mike Waufle could be promoted to defensive coordinator.
Jared Gaither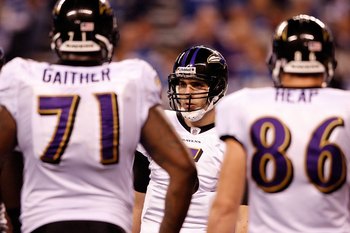 Andy Lyons/Getty Images
Player: Jared Gaither is a name that will come up a lot this offseason. Last offseason, he was unhappy and wanted a trade out of Baltimore. It is very possible that Baltimore brings Gaither back, but there are plenty of teams that could use his services.
Hue Jackson coached in Baltimore, so he knows Gaither. I cold see this being a possible match if the Raiders do lose Robert Gallery this offseason.
Prediction: Gaither will not be a Raider in 2011. I believe the Ravens retain him and place him on the opposite side of Michael Oher.
The Raiders will be looking to add offensive linemen, but I believe they'll add them through the draft. Jared Veldheer will most likely start at left tackle again next year, and look for Bruce Campbell to start at guard.
Logan Mankins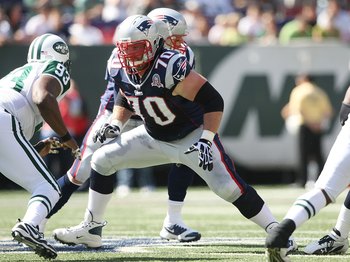 Nick Laham/Getty Images
Player: Logan Mankins of the Patriots could very well be on his way out of New England. The Raiders may drop Tom Cable's zone blocking scheme, so they might be looking for new offensive linemen.
It was obvious in 2010 that the offensive line struggled in pass protection. Look for Mankins to get some interest from the Raiders.
Prediction: Mankins will not be a Raider in 2011. The Raiders will add more offensive linemen through the draft and will not look to make a big signing through free agency.
Michael Huff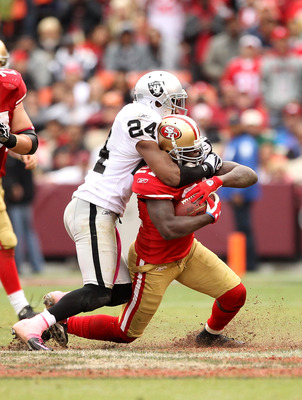 Ezra Shaw/Getty Images
Player: Michael Huff is scheduled to be a free agent. Huff has been getting better every year and he may be looking to test the market.
You might hear rumors about Huff going to Dallas during the offseason. Huff is a Texas native who, I'm sure, wouldn't mind playing for former defensive coordinator Rob Ryan.
Huff has said Oakland is his team, but we all know his heart is in Texas.
Prediction: Huff stays in Oakland. Davis and Jackson will do what they can to make sure they keep as many players as possible.
It's been said that the Raiders will be bringing in former Raiders secondary coach Chuck Pagano, who is currently with the Ravens and worked with Hue Jackson.
Look for the Raiders to mix it up a bit more on defense next year, and that will make Huff want to stay even more. The Raiders have a lot of talent on the team, but their defensive style doesn't let them make as many plays and hurts their ability to stop the run.
Charles Woodson is a great example. If you mix it up on defense, your playmakers will make more plays.
Zach Miller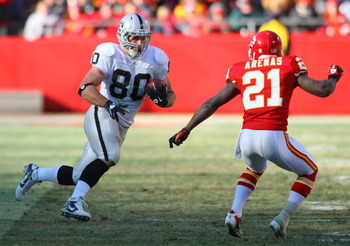 Tim Umphrey/Getty Images
Player: Zach Miller has been the most consistent offensive player for the Raiders since 2007. He was voted as a Pro Bowl alternate and that will eventually change to Pro Bowl Starter.
He is set to be a free agent as well this offseason. There are many teams in the NFL that are in need of a guy like Miller. Great hands, blocks very well and is there when you need him most.
Prediction: Miller will stay in Oakland. Miller will be very excited to have Jackson as the head coach and he'll want to come back.
Jason Campbell tends to build great rapport with his tight ends, so you'll see Miller's numbers get better every year.
The Raider Nation will be very happy to see Miller back next season.
Michael Bush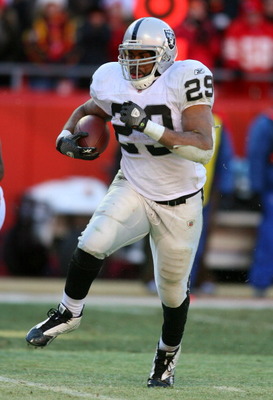 Tim Umphrey/Getty Images
Player: Michael Bush had a solid year this season. He averaged over four yards a carry and scored a career high eight touchdowns this year.
There will be teams interested in Michael Bush. The New York Giants and Miami Dolphins come to mind. Both teams might lose one of their current backs and may even lose both.
Bush will have options this offseason.
Prediction: Bush will stay in Oakland. He'll flirt with other teams because he does want to be a starter in the league somewhere. Most teams now use a tandem in the back field, so he'll find himself in the same situation in a lot of places, though he could be the featured back.
Bush has made a great pairing with Darren McFadden. They combined for 15 rushing touchdowns this season and they'll only get better.
McFadden has yet to play a full season, so Bush will always get his touches with the Raiders. Look for Jackson to help convince Bush to stay a Raider.
Richard Seymour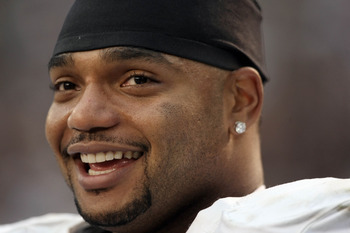 Donald Miralle/Getty Images
Player: Richard Seymour has been a great asset for the Raiders. He's a professional with a mean streak and he knows how to take care of business.
The Raiders gave away their 2011 first round pick to get Seymour, so he will be their first priority as a free agent. It's easy to say that every team needs a guy like Big Rich on their team.
Prediction: Seymour stays in Oakland. Seymour will break the bank and will sign a big contract with the Raiders this offseason. He will be the Raiders' first priority.
The Raiders are headed in the right direction and it is because of guys like Seymour. Seymour and Tommy Kelly made a goal before the season to be two of the top defensive tackles in the league.
They succeeded.
Nnamdi Asomugha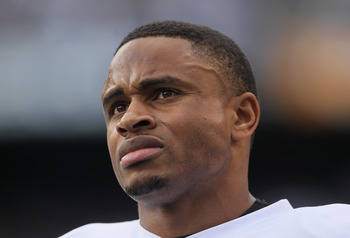 Jeff Gross/Getty Images
Player: Nnamdi Asomugha has been part of California for a long time. He played at Cal and was a first round draft pick for the Raiders.
Every team in the NFL will be interested in Asomugha. He is a class act off the field and he is a true shutdown corner.
Teams like Dallas, Philadelphia, the Packers and every other team in the world will want Asomugha. The Raiders will have a tough time trying to compete with the other teams.
Prediction: This is a player that everyone in the Raider Nation wants to keep. Asomugha wants to play for a winner. He's never had a winning record in his career as an NFL player and also left Cal with a losing record.
Teams are not losing because of him, but he's been unfortunate. Nnamdi deserves the best and he deserves to be on a winning team. Charles Woodson was in the same situation with the Raiders in 2007.
He was a star in Oakland, but left and became a superstar in Green Bay.
My prediction is . . . Asomugha will be back in Oakland.
The fan in me wants him to stay because I believe the Raiders are headed in the right direction and they will be winners. I'd love to see Asomugha be a part of it, because I think it will make winning seem sweeter.
Look for the Raiders to change some things on defense, and that will help make Asomugha's decision to stay a lot easier.
If you love the Raiders. follow me on Twitter: http://twitter.com/Elias_Trejo
Keep Reading

Oakland Raiders: Like this team?