MLB Predictions: 15 Players Who May Not Finish the 2011 Season With Their Team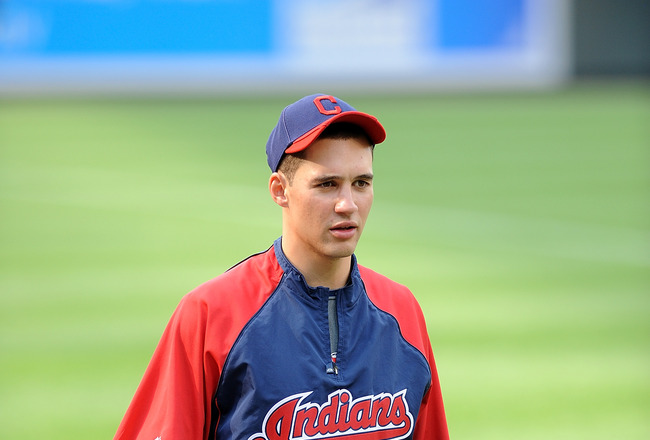 Greg Fiume/Getty Images
It happens every year. One team has unreasonably high expectations for their team, signs a couple of free agents, and when they fail to meet their goals, they become sellers at the trade deadline.
Need an example? How about last year's Seattle Mariners. In theory, Cliff Lee would have been great if they had an offense. However, their lack of success forced them to trade Lee to the Rangers, a team better suited for Lee.
On the other side, there are always buyers at the trade deadline. Maybe a team doesn't expect to be in playoff contention in July, however now that they are, they need one more player to piece together the puzzle and put them over the edge.
A good example is the Milwaukee Brewers of 2008. It was their acquisition of CC Sabathia that helped them reach the playoffs through the wild card.
Another common way for players to switch teams midseason is by under performing. By August, if a team is not content with the way one of their players is playing, they have to option to put him on waivers.
An example of this is the Alex Rios scenario of 2009. The Blue Jays, unhappy with Rios, placed Rios on waivers, where the White Sox picked him up. His .199 batting average in 2009 with the White Sox probably made the Blue Jays happy they let him go.
There are many other reasons that a player is moved during the season— these are just the main ones. In this article, I will speculate as to which players I believe will be moved in 2011.
15. Jason Marquis, Washington Nationals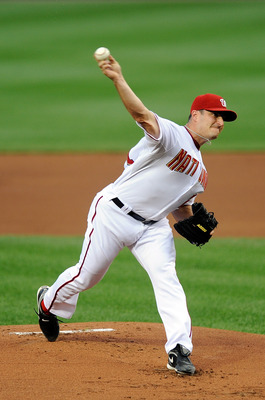 Greg Fiume/Getty Images
Pitching has been in high demand recently and the Washington Nationals aren't going anywhere just yet. Marquis is on his last year of a two year $15 million deal he signed with Washington last winter, so he could be a nice pickup for a team looking to shore up some holes in the rotation. Just speculation, but if Ivan Nova fails as a prospect for the Yankees or A.J. Burnett implodes as usual, could the Yankees be a good fit?
Marquis had a down year in 2010, posting a miserable 2-9 record with a 6.60 ERA. His control was an issue and he gave up home runs too often—surprising given that he kept his home run rate under control in Coors Field, a hitters park.
Despite this, Marquis has shown in the past that he has the potential to be a solid fourth or fifth starter for a contender.
In 2009 with Colorado, Marquis threw 216.0 innings, while maintaining a 4.04 ERA. Since 2005, Marquis has thrown 190+ innings five times, demonstrating that Marquis can hold his ground. Though he is not an ace by any means, and won't throw shutouts every third start, he has shown in the past that he can be very consistent.
I would be very surprised if there wasn't a contender willing to take a risk on Marquis, especially given that he will be a free agent at the year's end, thus removing any long term risk.
14. Joe Blanton, Philadelphia Phillies
Ezra Shaw/Getty Images
The Philadelphia Phillies do not need Joe Blanton—they have four elite pitchers at the top of their rotation and they have plenty of options for a fifth starter.
Most notably is Kyle Kendrick, who started 31 games for the Phillies in 2010, maintaining a respectable 4.73 ERA. Kendrick is a much more economically favorable option relative to Blanton, who will earn $17 million over the next two seasons.
So it makes sense for the Phillies to move Blanton. Now, the real question is who wants Blanton. Similar to Marquis, Blanton has demonstrated that he can be a solid back of the rotation starter for a contender.
In the last two years with Philadelphia, Blanton has thrown 371 innings, a testament to his durability. It is important to note, Blanton was placed on the DL in 2010.
With the amount of teams scraping the barrel for starting pitching, I do not think the Phillies would have too much difficulty finding a suitor.
As they near closer to mid-season, the Phillies may develop a weakness or suffer an injury. Depending on the situation, Blanton may be worth trading in order to accommodate those needs.
13. Aaron Harang, San Diego Padres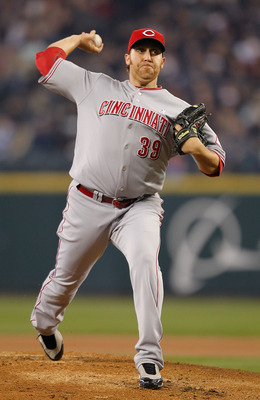 Otto Greule Jr/Getty Images
Yes, the San Diego Padres did sign Harang this winter. However, I do not believe that the Padres expect to be in the heat of a playoff race in July, and the market for starting pitchers is growing.
If Harang has a strong first half, many teams may give the Padres a call. Given the situation in San Diego now that Adrian Gonzalez is gone, Harang may be available.
In 2010, Harang went 6-7 with a 5.32 ERA so why would he be expected to have a strong 2010?
Harang will be pitching in Petco Park in 2011, one of the friendliest parks in the Major League Baseball for pitchers. This should help Harang reestablish his value, making him more appealing to many teams. For a more detailed analysis on Harang's 2011 outlook, click here.
Assuming Harang is able to produce at a level attractive to contenders, he will be in the same boat as Marquis and Blanton; expendable and desired by other teams.
12. Chris Getz, Kansas City Royals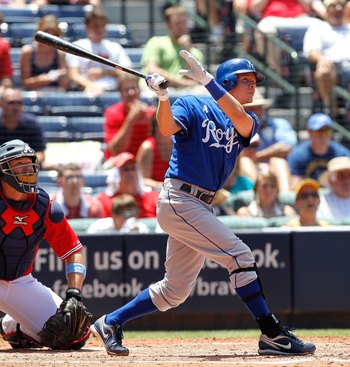 Kevin C. Cox/Getty Images
The Kansas City Royals' infield is a crowded one. Currently, Getz will be fighting for a starting spot with teammate Wilson Betemit.
Mike Aviles and Alicides Escobar are expected to start for Kansas City in 2011. Barring injury, this means that Kansas City will have a surplus of infielders in 2011 at the trade deadline. Getz may be the most sought after due to his advantage in terms of speed. He may be attractive to teams at the deadline either looking to fill a hole for an injured star or in need of a speed boost.
In just 606 career at-bats, Getz has stolen 41 bases in only 46 attempts. He can be a very useful utility man for a contender. There are no economic restrictions in Getz's contract that would limit his availabilty to teams.
Depending on the needs of major contenders come July, Getz could potentially be moved to clear up space in Kansas City and bolster a contenders championship potential.
11. Michael Young, Texas Rangers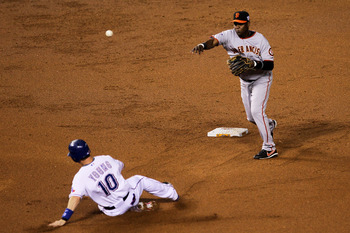 Stephen Dunn/Getty Images
Michael Young has had many trade rumors circulating around him ever since the Rangers signed Adrian Beltre.
With Elvis Andrus at shortstop and Ian Kinsler at second base, Young does not have a place in this Texas infield unless he is able to convert to first base. Of course, he can be put at the designated hitter spot in the lineup.
Young has been one of the most durable and consistent players in the Major League Baseball for years, playing 135+ games each year since 2002, with strong stat lines each year.
Young is a great fielder, as shown through his 2008 Gold Glove Award at shortstop, so it is possible that he may have more value on a different team.
Why would the Rangers want to give up such a consistent player though?
There are a few reasons. First is the economic issue; Young is making $16 million per year through 2013. They do have decent replacements in David Murphy and potentially Chris Davis..
If a suitor willing to take most or all of Young's contract comes along, the Rangers may be open to dealing him. There are a few teams with cash remaining, so it will be interesting to see if Young gets moved this season.
10. Magglio Ordonez, Detroit Tigers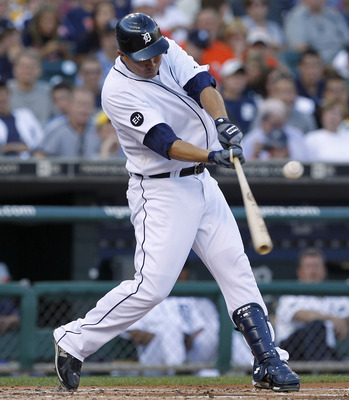 Leon Halip/Getty Images
The Detroit Tigers have a very crowded outfield.
Austin Jackson, runner up of the American League Rookie of the Year award in 2010, is a must start as long as his production continues. Both Ryan Raburn and Brennan Boesch have shown tremendous potential in both the majors and minors.
The Tigers recently signed Ordonez to a one year deal worth $10 million. However, if both Raburn and Boesch are successes, it might make sense for the Tigers to deal Ordonez. The Tigers could use another starting pitcher, and trading Ordonez might be appealing if they would be able to free up some cash.
Ordonez, like Michael Young, has been extremely consistent throughout his career. Inevitably, injuries will occur to the starters of contenders, which makes Ordonez appealing given his playoff experience.
9. Derrek Lee, Baltimore Orioles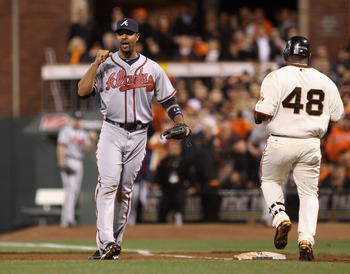 Ezra Shaw/Getty Images
Though Derrek Lee was just recently signed by the Baltimore Orioles, I can see him being moved this season. The Orioles, in my opinion, are this year's Seattle Mariners.
They may not be as bad as the Mariners were, however I expect them to struggle. Come mid-season, Lee's one year deal will be very expendable and very attractive to contenders.
Lee has shown potential in the past to be an elite first baseman.
In 2009, he hit .306 with 35 home runs. His down 2010 led to a relatively cheap contract, which assuming a rebound in 2011, raises Lee's value.
If the Orioles struggle, they might be sellers at the deadline and a team in need of either a first baseman or a designated hitter will be interested in Lee.
8. Chone Figgins, Seattle Mariners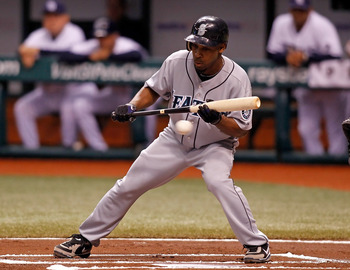 J. Meric/Getty Images
The Seattle Mariners' offensive plans for 2010 went poorly. Their lack of power was exposed, which led to one of the worst offensive seasons in Major League Baseball history.
Chone Figgins was a contributor to the Mariners' disappointing 2010. He was expected to arrive in Seattle and perform at a very high level—however, his .259 average says it all.
With the addition of Brendan Ryan, the Mariners' infield is growing increasingly populated.
In 2010, the Mariners demonstrated that they were willing to trade players they did not need by dealing Cliff Lee to the Rangers. If Seattle does not show any signs of life in the first half next season, it is possible Figgins will be on the block.
There are plenty of contenders who would be fit for Chone Figgins.
He is fast, and during his stay with the Angels, he showed an ability to perform at an elite level, making him very attractive to teams who have a weak spot in the infield or are simply in need of a base stealer.
7. Jonathan Papelbon, Boston Red Sox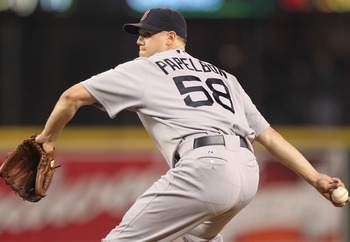 Otto Greule Jr/Getty Images
After the signing Bobby Jenks, and coupled with the development of Daniel Bard, Papelbon's name began to be thrown around as a possible player to be traded.
Given the struggles their bullpen went through in 2010, the Boston Red Sox may not be as inclined to trade Papelbon. However, if their bullpen is consistent throughout the first half, and a great offer comes for Papelbon that would benefit the Red Sox, it is possible that he would become available.
Though his salary is not particularly enticing, Papelbon has World Series experience and is still considered among the top closers in the league. Therefore, a finding a potential fit would not be something preventing the Red Sox from trading Papelbon.
6. Wandy Rodriguez, Houston Astros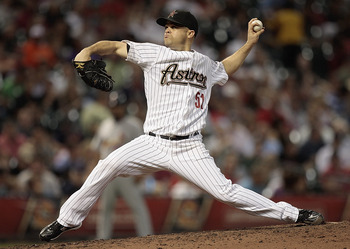 Bob Levey/Getty Images
Wandy Rodriguez has been involved in trade rumors due to his solid productivity and the lack of financial support in Houston.
Rodriguez has posted three straight seasons with an ERA equal to or below 3.60. He has also shown no signs of being prone to injury. Though he may come at a high price, Rodriguez could a difference maker for a contending team. Whether there are teams willing to cough up the necessary price is questionable.
It is clear that the Astros will not be making a postseason run in 2011 and that Rodriguez will not be on the team in the future.
So the question becomes: how long will the Astros hang on to Rodriguez?
5. Vernon Wells, Toronto Blue Jays
Matthew Manor/Getty Images
If the Blue Jays are unable to stick with the Boston Red Sox and New Yankees in 2011, Wells may find himself in a similar situation to Alex Rios in 2009. The Jays may try to trade him or put him on waivers.
The only major obstacle in moving Wells is his contract He will be making $21+ million over the next four seasons.
If the Jays are willing to eat some of Wells' contract, he may become more attractive to a contender looking for a big bat. Wells had a strong season in 2010, hitting 31 home runs along with a .273 batting average.
Though his salary will hinder many teams, Wells will be available this season and there is a slight possibility that he will be moved.
4. Brett Myers, Houston Astros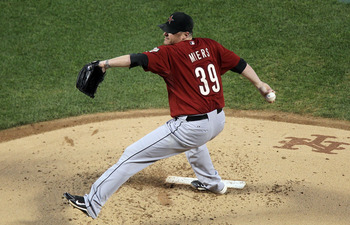 Jim McIsaac/Getty Images
Brett Myers is another pitcher who will not be part of the next era in Houston. He has a lot of trade value to contending teams who desire a third or fourth starter.
Myers had one of the best seasons of his career in 2010, positing a 3.14 ERA to go along with a 14-8 record. Myers has been pitching since 2002 and has veteran leadership, so he may be a player contenders will be looking to pull together a rotation.
While Myers is a key part of Houston right now, the return value may be more significant for Houston's future.
3. Heath Bell, San Diego Padres
Ezra Shaw/Getty Images
Heath Bell has been in trade rumors for a very long time now. Part of the reason he was not traded last season was due to the success achieved by the Padres.
However, now that Adrian Gonzalez is gone, Bell may follow suit if the Padres can manage to find a strong package in return.
Bell will have no problem finding a team he could be useful to. He has been one of the best closers in the majors for two years now, and at his age he is still in his prime.
His asking price will be high, though contending teams would like nothing more than to feel safe in the late innings of games.
2. Grady Sizemore, Cleveland Indians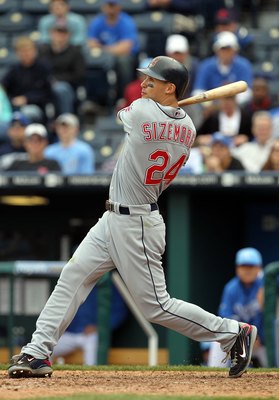 Jamie Squire/Getty Images
If Grady Sizemore is able to bounce back in 2010, he may increase his trade value to a point where the Indians would be willing to let him go. With the development of Michael Brantley, Sizemore may be expendable.
Based on Sizemore's career numbers, he could be a very valuable player for a contending team. His speed and power combination are unparalleled when he is at his best. Though his 2009 and 2010 seasons were brought down by injuries, Sizemore hit 33 home runs and stole 38 bases in 2008.
If able to revert back to his 2008 form, Sizemore could certainly be moved as his offers will increase in value. The Indians have in the past demonstrated willingness to part with unnecessary players such as CC Sabathia and Cliff Lee.
1. Carlos Beltran, New York Mets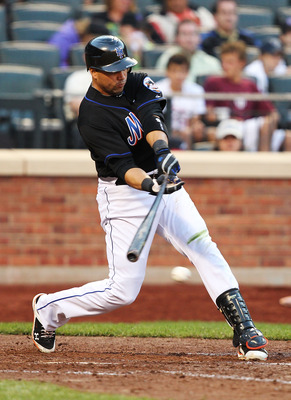 Al Bello/Getty Images
This season will be crucial for the Mets in terms of their future with Carlos Beltran. If the Mets play poorly in 2011, they may realize it is time to part ways with Beltran due to his inability to stay healthy and his hefty contract.
Like Grady Sizemore, Beltran's speed and power combination will be attractive to teams if he becomes available. If the Mets are willing to eat some of Beltran's contract, he would become very accessible for many teams.
The Mets have a developing prospect in Lucas Duda who would be able to take Beltran's role in center field if traded. Duda has shown potential in the minors, hitting .304 with 23 home runs last season.
Of course, Beltran's availability is limited by the success of the Mets; if they do succeed in 2010, Beltran will likely stay put.
Keep Reading