BR Exclusive Interview: Emmitt Smith Talks NFL Playoffs, Lock-Out and RBs
January 15, 2011
Tom Pennington/Getty Images
BleacherReport sat down with Emmitt Smith to talk about the NFL playoffs, the looming player lockout, and NFL running backs. Well, I was sitting. I assume Emmitt was, too. This was a phone interview.
Here is how it went down.
Bleacher Report: I understand we have this opportunity thanks to the good people at Hershey's and the Hershey's Pro Football Hall of Fame Sweepstakes. You want to tell me a little bit about that?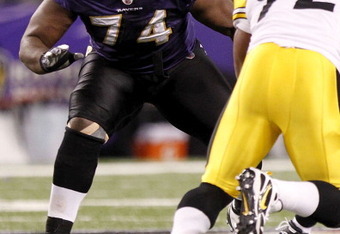 Geoff Burke/Getty Images
Emmitt Smith: Sure, sure. Hershey's and the Pro Football Hall of Fame have teamed up with myself to present this unique sweepstakes opportunity for fans around the country. To get involved with the Sweepstakes, you can go to Hersheys.com/halloffame to get more information about the contest. The grand prize winner will win an opportunity to come to the 2011 Pro Football Hall of Fame enshrinement ceremony. I will be their host. They can go and hang with me at the enshrinement dinners, the parade, the game itself. Not only that, but them and three of their friends will get a chocolate bust made in their image.
BR: Are they going to get to rub the Emmitt Smith Super Bowl rings or anything like that?
Emmitt: You know what, I don't wear my rings. I don't wear them.
No, sports fans, no rubbing the rings.
I asked Emmitt about his take on the weekend's games.
BR: Looking at the matchups this weekend. Looks like we've got some really good ones in the AFC, and of course we've got Seattle, who surprised everybody. Which games are the most intriguing to you?
Emmitt: I'm looking forward to the Baltimore–Pittsburgh game. This is an old-school matchup. That game right there is probably going to be the most physical football game that you are going to witness the entire weekend. That's why I am intrigued by that game.
BR: You know, I had that one circled. I said if Emmitt picks one, it will be that game. That reminds me of an Emmitt Smith kind of game.
Emmitt: That is one of those knockdown, drag-out games right there. To me, That's what this game is all about.
Emmitt: Another game that is very intriguing to me is the Atlanta–Green Bay Packer game.
BR: That one is a hard one to call. Atlanta is really good at home, but Green Bay is playing as well as anybody right now.
Emmitt: Yeah, they are playing very well. Not only that, but they just established the running game with (James) Starks in the backfield. I think Starks should be the starter and if that kid gets loose, he can make Atlanta's day very miserable. One thing that the Green Bay Packers have missed most of the season is the running game with Ryan Grant. Now, they've got somebody in there that can push that pile, get four or five yards...if not break it even further. With that kind of running game, it affords Aaron Rodgers the opportunity to do play-action, do some bootlegs, and take shots down the field.
BR: So, are you thinking upset in that game, or just kind of giving a "look out" here?
Emmitt: I'm giving a "Look out." When I think back to the last time Green Bay played Atlanta, Green Bay lost with a field goal. And the reason they lost with a field goal was because of a face mask penalty on a kick return and a couple of plays Atlanta made late. That was without Green Bay having a solid running game.
BR: Speaking of running backs, in the current crop in the NFL, which running backs impress you the most right now?
Emmitt: It is probably Michael Turner. He's been the most consistent. But also down in Houston, (Arian Foster) is running the football very well.
Note: Neither Emmitt nor I could come up with Foster's name. Well, it took us awhile, anyway.
BR: He sort of came out of nowhere, didn't he?
Emmitt: Yes, he did, but that system that they have with the zone blocking, if you have a running back that understands the reads and makes the cuts at the right time, you've got chances to make them pay there.
BR: You are the all-time leading rusher in NFL history. If you were to think about the top five running backs in NFL history, —I am going to go ahead and assume that Emmitt Smith is in that group—what other four guys would you put in there?
Emmitt: I would go Walter Payton, Barry Sanders, Eric Dickerson, Marcus Allen and Jim Brown.
Okay, so he chose five, but he is Emmitt Smith, so let's give him a Mulligan, what do you say? He did take a few minutes to produce the names he mentioned.

BR: Is there anybody right now in the NFL that you see that might ever make that list, or do you think we are just too early to tell in some of their careers?
Emmitt: I think we are extremely too early to tell. Give them to year eight or nine, or possibly even ten. In order to get to that level, you have to be a thousand-yard back at least nine years in a row. At least nine years, hitting 1,000 yards on the head.  If you hit 1,200 yards at least nine years, then you are in a very elite category.
For the record, Emmitt Smith surpassed 1,000 yards rushing 11 straight years, from 1991 to 2001. He surpassed 1,200 yards nine times. Of the backs he named, only Barry Sanders surpassed 1,000 yards nine consecutive years. Sanders and Dickerson each posted a 2,000 yard season, as well.
We asked Emmitt about the looming NFL lock-out. He didn't have much insight, only stating that the players need to make lifelong health insurance a focal point. He did, however, have plenty to say about the proposed 18-game season, which the owners want.
Emmitt: Sixteen games, to me, is a long enough schedule for anybody. We're already concerning ourselves with head injuries and bodily harm to all of the professional athletes. Add to extra games to it, (and) you are just increasing those risks.
BR: I wondered what kind of impact an 18-game schedule would have had on your career.
Emmitt: I don't think I would have played for 15 years. Let me put it to you this way: I practically did play an 18-game schedule. You have 16 regular season games, and then you have the playoffs. You have the NFC Championship game and then you have the Super Bowl. So, that's 19 games. So, what more do you need?
What did we get from Emmitt?
First, do not miss the game between the Baltimore Ravens and Pittsburgh Steelers if you like old-fashioned, smash-mouth football...and look out for the Green Bay Packers.
Second, he doesn't seem too concerned about any current running back passing him on the all-time rushing list. He took forever to come up with the name Michael Turner and he never could think of Arian Foster's name. Luckily, I eventually did think of his name, thanks to Google.
Third, if you are a NFL player in negotiations, don't just focus on what you are getting paid right now. Think about the rest of your life. Get that lifetime insurance coverage.
Fourth, he didn't put his predecessor Tony Dorsett on his top five all-time running backs list, but he did put Marcus Allen, who only surpassed 1,000 yards rushing three times, there.
Fifth, the 18-game schedule is a recipe for disaster—and shortened careers.
That is the NFL according to Emmitt Smith.
In our next installment of this 20-minute interview, Emmitt talks Dallas Cowboys, Jason Garrett and Jerry Jones.
Listen to the audio file accompanying this post to hear the Emmitt Smith interview in its entirety. As you know, it is always great fun listening to Emmitt talk.