Dallas Cowboys 2010-'11 Final Report Card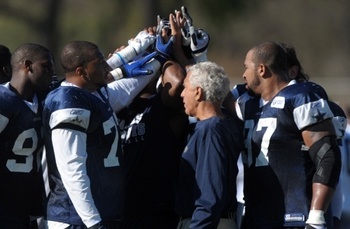 The Cowboys season is over and now they're working towards next season. However, we'll take one last look at the Cowboys 6-10 season position by position. Although it was an ugly one for fans and players alike and by the last game everyone just wanted the season to end, the changes that will be made should make for some optimism.
Quarterbacks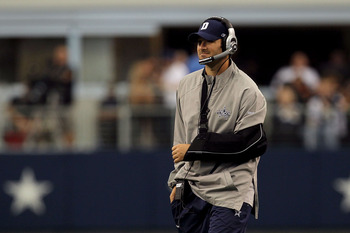 Stephen Dunn/Getty Images
Tony Romo (148-213, 1605 yards, 11TDs and seven interceptions) was having a good season before he went down with a broken collarbone. His interception numbers were high but most of them came at the result of receivers dropping passes.
Jon Kitna (209-318, 2365 yards, 16TDs and eleven interceptions) did a great job as Romo's replacement. He started a bit shaky but as the season went on (especially after Garrett took over as coach) he was able to carry the team on his back in some games and do just enough to get the Cowboys a victory in others.
Stephen McGee brought the Cowboys back from a 14-point deficit in week 16 against the Cardinals and won his only start against the Eagles in week 17 . McGee showed poise at times and wasn't afraid to run out of the pocket or take a hit to get a first down.
Grade: C
While they all did a pretty good job the Cowboys were still 6-10 and that was largely due to the fact that early in the season they weren't able to consistenly score in the red zone and at time couldn't score at all.
Running Backs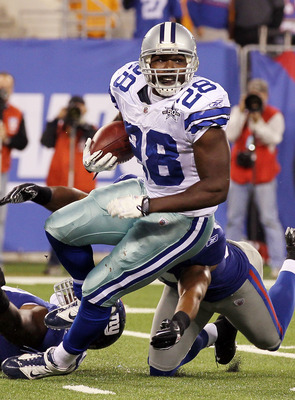 Jim McIsaac/Getty Images
Felix Jones was the starting running back for most of the season and while he had a decent amount of carries (185) and yards (800) he had just two TDs all season. Once Garrett took over as coach the running game improved greatly and most of that was because of Jones.
Marion Barber (113 attempts, 374 yards and four TDs) was as disappointing this season as he was last year, although this season his short yardage running was better than last season. Still it wasn't a good season for Barber who had injury problems and tried to test Garrett the first week he was named coach by not following the travel dress code.
Tashard Choice (66 carries, 243 yards and 3 TDs) spent most of the season on the bench, but when Barber got hurt he came in and played well, just as he's done his entire career. He played so well that now many people think that he should be Jones' backup instead of Barber who might be cut this off-season.
Grade: D
The Cowboys so-called three headed rushing attack had over 1400 yards total, but just eight TDs and eight runs over 20 yards. That maybe a solid season for one guy, but not three.
Tight Ends and Receivers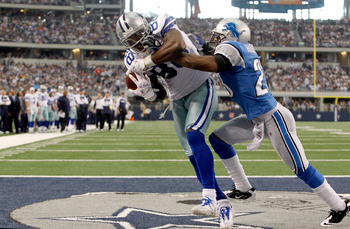 Tom Pennington/Getty Images
We'll start with the tight ends where Jason Witten (94 receptions, 1002 yards, nine TDs) benefited from Romo's injury as he became Jon Kitna's favorite target. Witten led the Cowboys in receptions and TDs.
Martellus Bennett (33 catches, 260 yards and one TD) did exactly what everyone expected him to do this season...nothing. Bennett has the size and skill to get open but for some reason he doesn't get open on a consistent basis.
As for the receivers Miles Austin led the unit with (69 catches, 1041 yards and seven TDs) in yards, but saw a significant decline in his production from last season. While Romo being injured can be a reason for that, Austin was among the league leaders in on-target drops and he can't blame anyone for that.
Dez Bryant had a great rookie season until he broke his ankle. In 12 games he had more catches and yards and TDs than Roy Williams who missed just one game all season. Bryant had six TDs receiving and returned two punts for TDs.
Roy Williams was happy when Jon Kitna was called on to replace Romo because of the chemistry they had in Detroit. However that chemistry never came together on the field as Williams (37 receptions, 550 yards and five TDs) didn't have more than five receptions in any game that Kitna started.
Sam Hurd and Kevin Ogletree weren't able to make a significant impact as they were both injured late in the season.
Grade: D
Witten and Bryant's season's keep this from being an F, and while the receivers have a lot of excuses for their production, the production fell off too much to me.
Offensive Line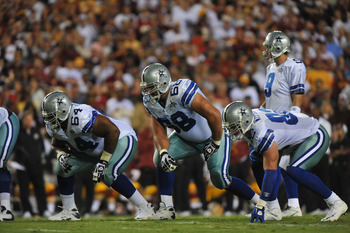 Larry French/Getty Images
Doug Free was the most consistent lineman the Cowboys had last season (ironic considering everyone was worried about him being the weak link). Kyle Kosier was injured at the beginning of the season and when he came back it took him a while to get into football shape, but when the Cowboys had their most successful days running the ball, they ran to this side of the line.
Andre Gurode was voted into the pro bowl, but was also very inconsistent, although his snapping actually improved this season which is a little surprising considering the change in QBs.
Many people think that Leonard Davis had a bad season. While I'll be the first to admit that it wasn't great, he did do alright considering that Marc Colombo was abused most of the season and because of that many teams ran their blitzes to that side of the line.
Some teams didn't even have to do that as their front four was enough to generate pressure, just ask the Arizona Cardinals.
Montrae Holland did a good job in spot duty, and Alex Barron was a running joke from week 1.
Grade: D
It's time to get younger on the line. Sam Young will get a shot to compete for a starting spot next season and the Cowboys have to try to find someone in the draft or through free agency.
Defensive Line
Christian Petersen/Getty Images
The defensive line losing Marcus Spears was a huge loss as backups Stephen Bowen and Jason Hatcher (who both made more money this season than Spears) didn't have the same success they had last year as backups.
Igor Olshansky is mostly a run stopper but didn't do much of that as he had just one (yes one) tackle for a loss all season and just 38 for the season. Opposing lines had no problem pushing him out of the play.
Jay Ratliff did the best he could considering the players around him on the line. Ratliff (who's at a disadvantage from the beginning because of his size) was constantly double teamed as there wasn't anyone else on the line to fear.
Because of this the Cowboys were ranked 12th in the NFL against the run giving up 108.4ypg on the ground.
Grade: D
The Cowboys need to get better defensive ends to help Ratliff, if they don't his production will continue to decline.
Linebackers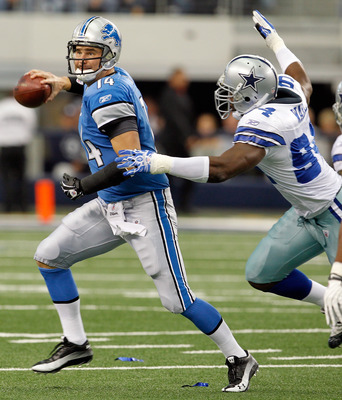 Tom Pennington/Getty Images
Bradie James and Keith Brooking had solid seasons but Brooking had a huge decline in his ability to get to the QB and to shed blocks in the run game as he was "jacked up" several times this season.
James was also ineffective at getting to the QB, but he was solid in the run game and led the Cowboys with 118 tackles.
DeMarcus Ware had another solid season with 15.5 sacks and 66 tackles. While Anthony Spencer showed that he's better defending the run and pass than rushing the QB as he had just five sacks, although that was good for second on the team, proving the Cowboys weren't good at creating pressure this season.
Sean Lee and the Williams brothers (Jason and Leon, who aren't actual brothers) played well when they were given more time towards the end of the season. Lee should be given a chance to start going into camp next season as he played a lot of snaps the final two games of the season especially in the passing game.
Grade: C
Ware's production combined with the drop-off of Brooking and the inconsistency of Spencer make this an average unit at best.
Secondary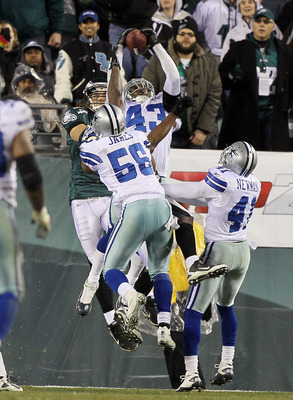 Jim McIsaac/Getty Images
This unit was downright awful, I literally think that the first thing they learned in camp this season was to never turn their heads around, because no one in this unit looks at the ball until it goes past them into a receivers hands
Mike Jenkins spent most of the season getting burnt, Terence Newman is slowing down and Orlando Scandrick has trouble covering anyone that isn't trying to run past him on every down.
When you add in Alan Ball it only gets worse as he didn't make a play all season at his position. For the most part he was always a step late and sometimes 10 steps too late.
Gerald Sensabaugh had the best season out of everyone as he led the team with five interceptions, ten passes defended and 71 tackles.
When Paul Pasqualoni took over the defense he almost never ran man to man with this secondary, which actually help them limit the big plays, although they still gave up a ton of yards. On the plus side they did force more turnovers.
Grade: D-
Sensabaugh saves them from an F, but there's a good chance he won't be back next season, and that could mean even more trouble for the secondary.
Special Teams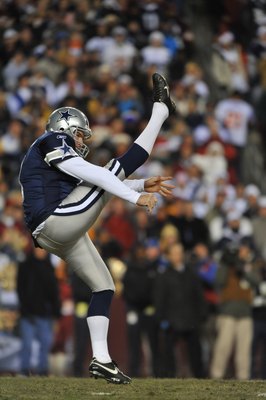 Larry French/Getty Images
Mat Mcbriar made the Pro Bowl and punted consistently all season, and did well as a holder on kicks. Dez Bryant was a doing great as a punt returner before he was injured.
That's where the good news ends.
David Buehler had a inconsistent first full season at kicker as he had just five games where he didn't miss a field goal attempt and one of his two PAT misses ended up being the difference in the game against the Arizona Cardinals.
However the Cowboys should keep him around as experience means everything at a position like this and he should improve next season.
The Cowboys didn't return one kickoff for a TD this season and had just a 21.2 yard return average.
Grade: C
Buehler will be better next season and if Bryant comes back healthy he'll have some more exciting returns next season.
Coaching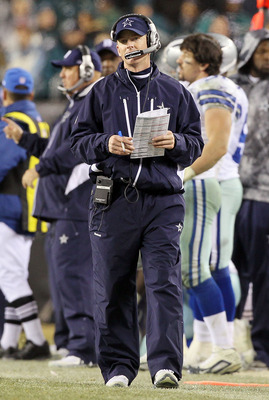 Jim McIsaac/Getty Images
The Cowboys struggled to begin the season under Wade Phillips then quit on him. Jason Garrett brought the team back to respectability, but he also made some rookie coaching mistakes. However, his physical practices and and leadership made the Cowboys players take responsibility for themselves and because of it they actually won some games.
Grade: B-
Garrett needs to get to work now and use the same aggression he used in changing the Cowboys, if they want to be considered contenders next season, because no one is going to give them the benefit of the doubt.
Keep Reading

Dallas Cowboys: Like this team?