Ten Bold Predictions For AL East in 2011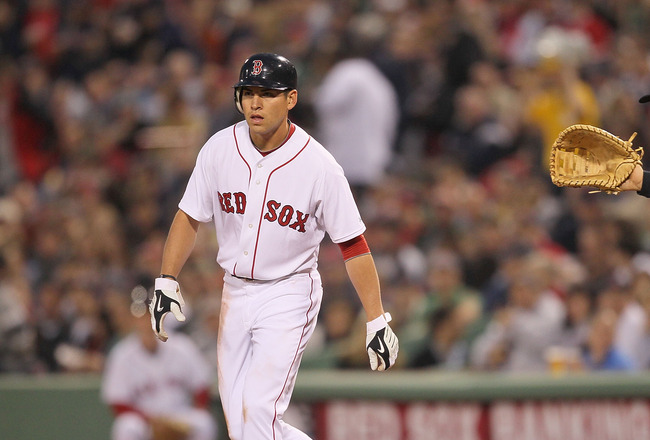 Jim Rogash/Getty Images
The American League East is arguably the strongest division in the MLB. The Red Sox and Yankees finish consistently atop the league standings, the Rays have one of the strongest farm systems in the MLB, the Blue Jays have an offense loaded with power hitters, and the Orioles have been very busy this off season through the free agent market.
With the majority of the free agent signings in the books, and Spring Training looming just around the corner, it is time to take positions on how this year will play out.
Which players have a season for the ages? Will any records be broken? Which teams will be major disappointments and who will be this year's Cincinnati Reds? In this article, I'll give you my ten bold predictions for the American League East in 2011. The following predictions are in no particular order regarding how bold I consider them to be.
10. Despite A Huge Off Season, The Orioles Lose 90+ Games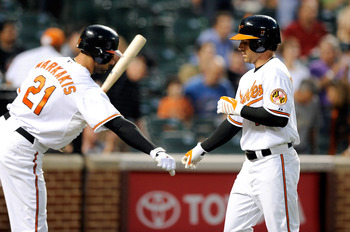 Greg Fiume/Getty Images
I don't care that the Orioles signed Mark Reynolds, Derek Lee and JJ Hardy this off season. The Orioles blatantly ignored their glaring need for starting pitching this winter, and it will come back to haunt them in 2011. Of teams whose team ERA was ranked 16th or lower, only four teams had records over .500. Furthermore, each of those teams that did have a record over .500 ranked in the top 10 in runs scored.
In other words, you can not win with weak starting pitching unless you have an offense comparable to that of the Red Sox or the Rockies.
Critics will contend that the Orioles' off season moves, combined with the development of many of their young talents, will make the Orioles a very dangerous offense. While they may be improved, they are no where near top 10 in the MLB.
The Orioles ranked 27th in runs scored in 2011, 24th in on-base percentage, and 22nd in slugging percentage. I find it hard to believe that strikeout king Mark Reynolds, who managed just a .198 batting average in 2010, an aging Derek Lee on the decline, and an average hitter in JJ Hardy will lead the Orioles to a top 10 offense.
Now, let's examine the Orioles' Achilles heel, their pitching. A total of one Orioles starting pitcher has been pitching for more than two years. And that pitcher, Jeremy Guthrie, is not exactly the ideal ace. Sure, they have some potential in Matusz and Tillman, but not enough to make the Orioles a legitimate threat.
Temper your expectations Orioles fans or prepare for a disappointing 2011.
9. On The Contrary, The Rays Overcome Their Losses And Win 90+ Games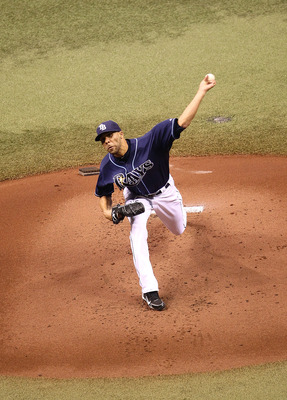 Mike Ehrmann/Getty Images
The Rays are the opposite of the Orioles this season, except a whole lot better. Their offense took some major blows with the losses of Carl Crawford, Carlos Pena, and Jason Bartlett. However, their pitching is still one of the best in the majors, despite the loss of Matt Garza. And in 2010, the theory that pitching wins games was proven correct. Of teams with top 15 team ERAs, just four had losing records. All four of those teams had offenses that ranked 19th or worse in runs scored, including the infamous Seattle Mariners.
While Carl Crawford is irreplaceable, his loss is not the end of the world. I do not believe that Desmond Jennings will live up to expectations in 2011, though he should be able to produce acceptable numbers for a starting outfielder. Carlos Pena's absence is by no means the end of the world; his .196 batting average will certainly not be missed and his power is replaceable to a degree. In 40 games with the Rays in 2010, Pena's succeeder Dan Johnson hit seven home runs.
Finally, the departure of Jason Bartlett may actually turn out to be a positive for the Rays offense. This is certainly not a knock on Bartlett, more so a compliment to his replacement Sean Rodriguez, who I have ranked as my number two sleeper this season. (For more information of Sean Rodriguez, click here.)
And remember, the Rays scored the third most runs in 2010, so it is difficult to imagine them dropping to the bottom third of the league in just one year.
Led by David Price, the Rays' pitching will be the key for the team in 2011. If they are able to reproduce their 2010 number, I see 90+ wins in the Rays future. Without Matt Garza and Rafael Soriano, this may be a lot to ask out of the Rays' pitching staff, but many of them have room for improvement and heralded prospect Jeremy Hellickson may get some starts throughout the year.
Do not fret Rays fans, losing Crawford is not the end of the world.
8. The Yankees (Unfortunately) Make The Postseason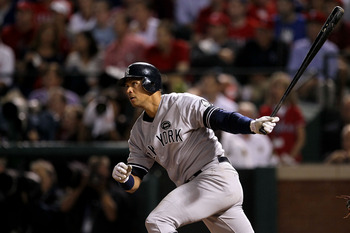 Stephen Dunn/Getty Images
Even if Andy Pettitte retires and Cashman is unable to acquire another starting pitcher by the start of the season, the Yankees will make the playoffs. The Yankees team ERA ranked 15th last season at 4.06. The loss of Andy Pettitte will be felt, but besides Pettitte, the Yankees only lost Javier Vazquez who was a nightmare in 2010 for the Yankees.
Let's examine the Yankees' starting rotation as it is now. First is CC Sabathia, the reigning AL Cy Young winner. It's safe to say that he will be good in 2011. It appears that Phil Hughes will have the job of number two starter in 2011. In 2010, Hughes was great besides his poor finish to the season. And his weak September was expected; Hughes had never previously exceeded 86 innings pitched in one season. Thus, Hughes will be a decent number two starter in 2011. Third in the rotation in AJ Burnett. You know the deal with him: Burnett is an on-and-off pitcher who can be an elite pitcher and the worst possible pitcher in the same week. Burnett is without a doubt one of the Yankees weaknesses and there isn't really any debating that.
The Yankees rotation is capped of with Ivan Nova and Sergio Mitre. Neither pitcher is exceptional; Nova has shown some potential in the minors but to expect him to be a good starter in 2011 is a little absurd. Mitre has pitched a full season as a starter, pitching 149 innings for the Marlins in 2007. He isn't great, but having him as a fifth starter isn't the end of the world.
The recent addition of Rafael Soriano to the Yankees' bullpen gives them one of the top bullpens in the league. Overall, the Yankees pitching isn't as bad as it has been said to be. It should be somewhere between 17-20 in terms of ERA rank, which given the Yankees offense, will still allow them to make the postseason.
7. The Red Sox's Pitching Finishes Top 10 In ERA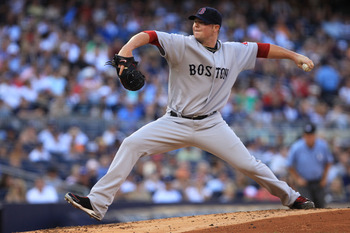 Chris McGrath/Getty Images
Everyone knows that the Red Sox have the best offense in baseball. It's as close to a fact as it can be at this point. However, I believe that it will be the pitching that will win the Red Sox the World Series in 2011.
In 2010, the Red Sox ranked 22nd in ERA. They acquired no starting pitchers through free agency or trade this off season. So why do I think they will improve significantly this year?
Let's begin with John Lackey. His 2010 performance was very poor, however there is reason to be optimistic for 2011. After the All-Star Break, Lackey's ERA was 3.97 and his K/BB rate rose by 1.9. This suggests that Lackey's poor start to the season was partially due to an adjustment period.
The next pitcher to examine is Josh Beckett. Beckett may not be the same, elite pitcher he was in the prime of his career, but let's remember that he is still a talented, 30-year-old pitcher. The last time Beckett had a season with an ERA above 5.00, he bounced back with a 20-7, 3.27 ERA season (2006-2007). He has spent much time working for a bounce back season in 2011 according to many reports, so it is very conceivable that Beckett returns as a very strong pitcher.
Throw in two Cy Young candidates in Jon Lester and Josh Beckett, the Red Sox have four strong starters. The Sox have many options for their fifth starter; they could use Dice-K and hope for the best, they could trade Dice-K, or they could use Tim Wakefield.
These aren't the prettiest options for a fifth starter, but with the additions of Bobby Jenks and the rise of Daniel Bard, the Red Sox's bullpen should make up for their lack of starting pitching depth.
6. Although Much Improved, The Blue Jays Finish 4th in the AL East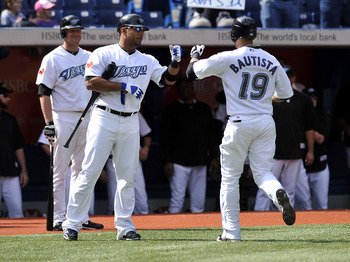 Brad White/Getty Images
This is not so much a bold prediction; this projection is more so to give my outlook for each team. The 2011 Blue Jays will be a much improved version of their 2010 selves. In 2010, the Blue Jays had an elite offense despite down seasons from both Adam Lind and Aaron Hill.
The Blue Jays enter the 2011 season with very high expectations. Not only are Aaron Hill and Adam Lind perfect bounce back candidates, the Jays have a highly touted prospect in J.P. Arenciabia, who is expected to take the reigns as starting catcher this spring. While Jose Bautista may not repeat his 54 home run season, the development of Travis Snider could be a huge boost to an already dangerous lineup.
However, the most important addition to the 2011 Blue Jays roster is right fielder Rajai Davis. While the Jays led the league in home runs, they finished 25th in batting average and 28th in stolen bases. If Davis is able to maintain his speed in 2011, the Blue Jays could have an even more potent offense than in 2010. The Blue Jays' leader in stolen bases in 2010 was Fred Lewis with only 17, and the Jays have not had a player steal 40 bases in one season this entire decade.
The Jays' pitching is certainly on the upswing. With prospects such as Kyle Drabek and Mark Rzepczynski, the Jays' have no shortage of potential. In Ricky Romero, the Jays' have a very strong pitcher; Romero was a workhorse in 2010, throwing 210 innings, while still maintaining a 3.73 ERA.
In the Blue Jays, I see a very talented team that in 2012 or 2013 may find themselves in the postseason. Due to the extremely high level of competition in the AL East, I can not see them finishing in a better position than 2010.
5. Sean Rodriguez Hits More Home Runs Than Robinson Cano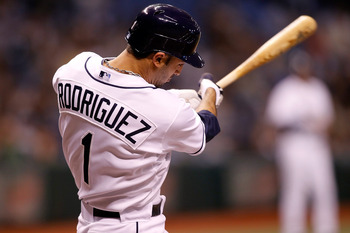 J. Meric/Getty Images
As I mentioned earlier in this article, Sean Rodriguez is my number two sleeper for the 2011 season. He has tremendous potential and I think he will show it from the get go. In fact, as the title suggests, I can see him surpassing Robinson Cano in home runs this season.
Let's begin with Rodriguez's minor league stats. Ever since 2006, when Rodriguez hit 24 home runs in A+, it has been clear that Rodriguez has the ability to hit for power. His stats continued to improve, and in 2009, Rodriguez had a monster season in AAA. In just 385 at-bats, Rodriguez hit 30 home runs. Over a 600 at-bat season, that would translate to 46.7 home runs. On top of that, Rodriguez hit .294 with nine stolen bases.
Rodriguez spent the entire 2010 season in the majors, and he showed that he his skill was not limited to the minors. In 343 at-bats, he hit nine home runs, stole 13 bases, and hit .251. If you were to translate those stats to a 600 at-bat season, his stat line would end up as follows: .251/15.7/69.9/22.7/92.7. Those numbers are respectable for any player, especially a rookie second baseman.
With more consistent playing time and a year of experience under his belt, I am projecting Sean Rodriguez to hit over 20 home runs this season.
While I think Cano is a great baseball player, I do not see him repeating his 2010 home run total. His 200 HR/FB ratio was 14.4 percent, a whole 2.7 percent higher than his career average. While some of this is due to the fact that he is becoming a better player, I think a slight decline is in Cano's future. I think 23 home runs is an accurate projection for Cano in 2011.
In conclusion, while Cano will still finish well above Rodriguez in terms of overall value, I expect Rodriguez to break out and hit around 25 home runs, beating out Cano.
4. Adam Lind's Batting Average + Aaron Hill's Batting Average > .530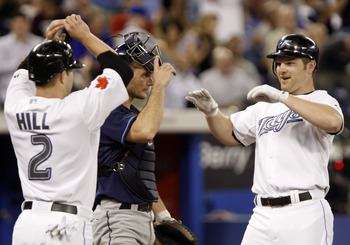 Abelimages/Getty Images
(For my full analysis on both Aaron Hill and Adam Lind, click here.)
In 2010, Aaron Hill's .205 average plus Adam Lind's .237 average totaled a miserable .435. In 2011, I am predicting their combined average rises by an entire .095 points.
The main reason I am led to believe this is that both players' BABIPs (Batting Average On Balls In Play) dropped significantly.
Entering 2010, Aaron Hill's BABIP fluctuated around .300 for his career. However, in 2011, his BABIP was a woeful .196. Granted, his line drive rate was atrocious, however it is clear that Hill had some bad luck in 2010. Thus, it is expected that Hill's average in 2011 reverts back, at least partially, to his 2009 form.
As for Lind, his career BABIP of .303 (including 2010) plummeted in 2010 all the way down to .277. His BABIP deviation from career average was less drastic than that of Hill, so other variables appeared to contribute to Lind's poor batting average. Regardless, I believe Lind will enter 2011 a more mature hitter with a better perception of the game, and his batting average will climb back up.
3. Alex Rodriguez Equals Evan Longoria in Value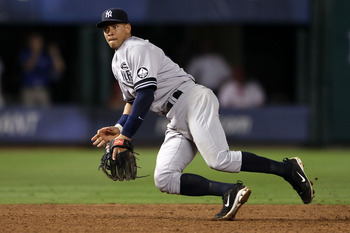 Elsa/Getty Images
Evan Longoria is the consensus top third baseman in the league, however I am straying from the norm by picking Alex Rodriguez to produce just as well as the highly touted youngster.
Rodriguez only played in 137 games this past season, yet he still managed to hit 30 home runs and drive in 125 runs. In 151 games, Longoria only hit 22 home runs and drove in 104 runs. It should also be mentioned that Rodriguez is one of the most consistent players in the MLB. He has hit 30/100 every year since 1998 and his batting average has never dipped below .270. In three seasons, Longoria has demonstrated immense potential, though his power will not even be in the same category as Rodriguez's in 2011.
As for batting average, Longoria certainly has the advantage. His batting average has increased all three seasons he has played. In 2008, he hit .272, followed by a .281 2009 and a .294 2010. As for Rodriguez, he is going in the exact opposite direction as Longoria. He has seen his batting average decline every year since 2007. Although I expect Rodriguez to bounce back to an extent, I'll give Longoria the advantage here.
While Longoria will likely hit for a slightly higher average, steal more bases, and field much more efficiently, I see Rodriguez hitting at least 10 more home runs than Longoria and driving in 25 more runs.
2. Desmond Jennings Fails To Hit .260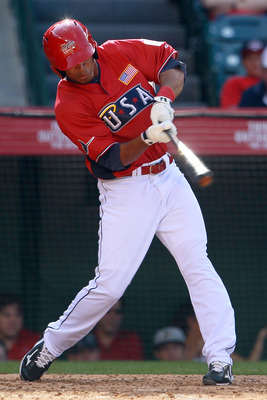 Jeff Gross/Getty Images
Desmond Jennings has been one of the top 10 most talked about players this off season due to the increased role he will have with Carl Crawford leaving the Rays. However, I think a lot of this hype is unjustified, and I am predicting Jennings to hit below .260. Keep in mind, I think he'll be good down the road, but in 2011 I don't think he is ready to start.
Jennings has had one great season in the minors, 2008, during which he stole 52 bases and hit .318. I can't deny that he has talent in that regard. However, in 2010 while still in the minors, Jennings only hit .278 though his BABIP was a very high .327.
His walk rate dropped to 10.3 percent and his strikeout rate rose to 16.8 percent. What this shows is that Jennings is not the most consistent player, which leads me to believe he will not be able to live up to expectations for an entire season just yet.
I can Jennings hitting about .255 or so with 30 stolen bases, but I just can't picture him hitting for a high average this early in his career given his lack of consistency.
1. Jacoby Ellsbury Rebounds Big Time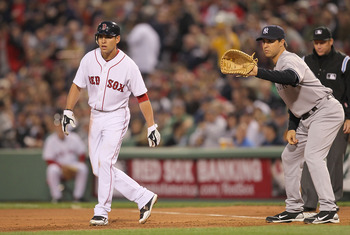 Jim Rogash/Getty Images
According to Red Sox general manager Theo Epstein, "He's [Ellsbury] been asymptomatic and very enthused about where he is and the off season he'll have getting ready for a normal season."
This quote was said back in early December, so it is safe to assume that Ellsbury is up to speed and ready to come back in 2011 as an elite outfielder.
In a much more dynamic and deep offense, Ellsbury will no longer have so much weight on his shoulder to be the all-important lead off hitter or the only base stealer. This lack of pressure should allow Ellsbury to take a different approach to the 2011 season than he did the 2010 season.
If there was anything bright to take out of the 2011 season, it was that Ellsbury still had blazing speed. In only 78 at-bats, Ellsbury stole seven bases on just eight attempts. It is not far-fetched to expect Ellsbury to lead the league in stolen bases with 60-plus; he is one of the fastest players in the league on the best offense in the league.
Expect a strong bounce back season from Ellsbury.
Keep Reading