NFL Free Agency 2011: 10 Players The Philadelphia Eagles Should Target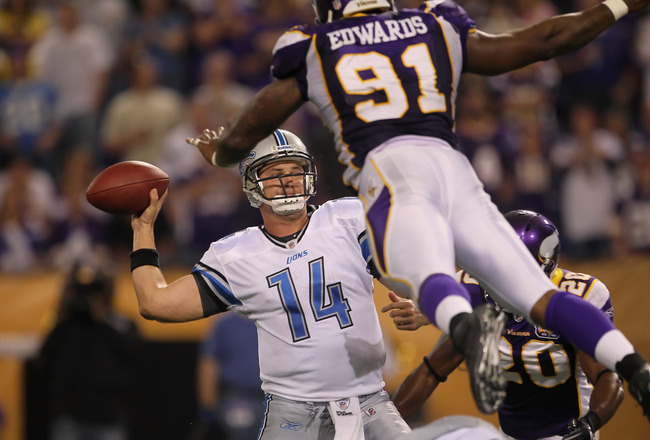 Jeff Gross/Getty Images
Assuming a Collective Bargaining Agreement is reached, the Eagles will have plenty of options in free agency. The Eagles need help especially on defense, as this was arguably Andy Reid's worst defense in his twelve year tenure.
The Eagles though cannot forget to address the offensive line, which needs major upgrades on the right side of the line. Winston Justice and Max-Jean Gillies are not competent starters, and both need to replace to protect Michael Vick.
Look for the Eagles to sign one or two impact free agents because Andy Reid knows this team is very close to becoming Super Bowl contenders.
Without further ado, let's look at the ten players the Eagles should target this free agency.
DE Mathias Kiwanuka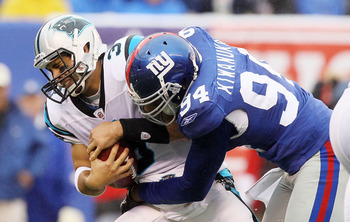 Jim McIsaac/Getty Images
Kiwanuka is one of the more underrated defensive players in the league. He was hurt all of this season, but can definitely get after the quarterback. Even though he is a little undersized at 265 pounds, the Eagles seem to love undersized defensive ends that can speed rush, evidenced in the drafting of Brandon Graham.
Kiwanuka could probably start for 4/5ths of the league at DE, but the Giants just have two elite defensive ends playing the position, not including the impressive rookie Jason Pierre-Paul.
The Giants may not have enough money to keep Kiwanuka, so the Eagles could definitely swoop in and steal a player from a division rival.
S Dawan Landry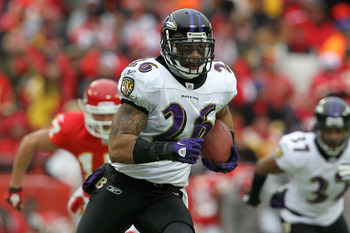 Doug Pensinger/Getty Images
Dawan Landry is a great safety no one talks about, mainly because he plays next to the best one in the league.
Landry though had 111 tackles, which is a huge amount at the Safety position. Even though his first interception came in the Ravens playoff games, he is not a liability in coverage like Quintin Mikell.
Landry could definitely compliment the rangy Nate Allen, and provide help in run support. The Ravens may not be able to keep him, so the Eagles could get one of the underrated safeties in the league at a bargain price.
G Logan Mankins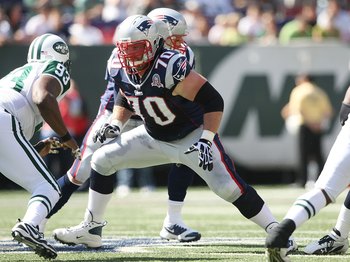 Nick Laham/Getty Images
The Eagles are not afraid to give big money to offensive lineman, and signing the best guard in football would solidify the right side of the line.
Mankins refused to sign a long term deal with the Patriots after issues, so with him hitting free agency, the Eagles should pounce on the right opportunity, and make Mankins the highest paid guard in football.
Though he missed games this year because of a holdout, Mankins still made the Pro Bowl, proving his dominance.
DE Ray Edwards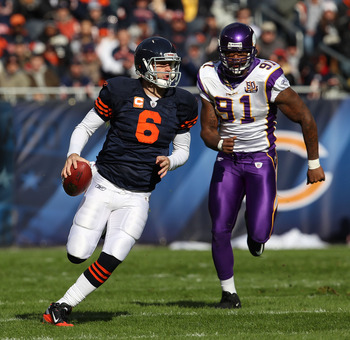 Jonathan Daniel/Getty Images
Edwards is young at 26 and is a rising superstar at defensive end. The Eagles can finally have a competent player across from Trent Cole to apply pressure.
Ray Edwards in a down year had 8 sacks, and also missed 2 games. He is a complete defensive end, like Trent Cole and could be worth the long term investment.
The Vikings will try to keep him, but there is no doubt the Eagles should pay to upgrade one of their biggest weaknesses on the team.
CB Champ Bailey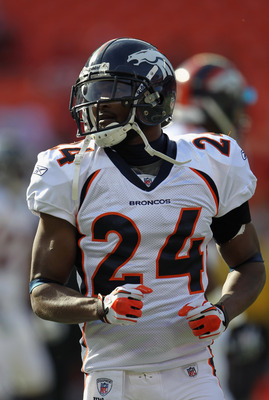 Jamie Squire/Getty Images
People may call Bailey old, but he is still playing at a reasonably high level and the Eagles could possibly sign him to play opposite Asante Samuel.
The addition of Bailey would give the Eagles two ball hawks at the CB, and teams will have to be careful throwing the ball.
If the Eagles could get Bailey at the right price, I would be all for it.
He would at least be a major upgrade over Dmitri Patterson.
LB Chad Greenway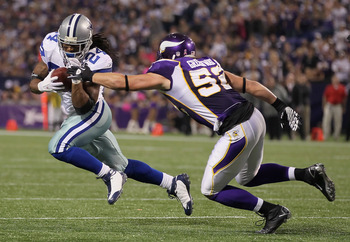 Jeff Gross/Getty Images
The addition of Greenway to the Eagles would finally give them a playmaking player at linebacker. Greenway started off slowly in his career, but is finally reaching elite status.
If the Eagles let Stewart Bradley go in free agency, Greenway can come in and play the strongside linebacker and impact both the run and pass defense.
Greenway had 144 tackles this year, and was one of the few bright spots on the Vikings defense.
S Roman Harper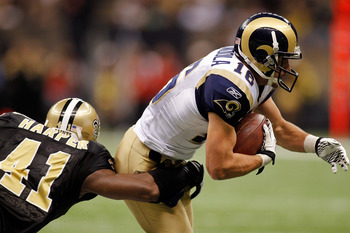 Chris Graythen/Getty Images
Roman Harper played his way out of a huge contract with his terrible showing against the Seahawks, in which he was lit up.
Harper though had a spectacular regular season for the Saints, and could impact the defense.
He had 6 forced fumbles this year and 1 interception, showing he is a safety that is always around the ball.
That last part of the sentence sounds awfully familiar....Dawkins.
CB Antonio Cromartie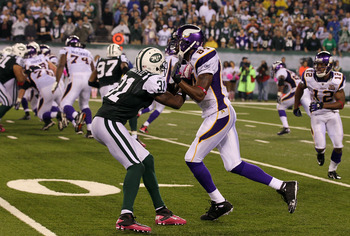 Jim McIsaac/Getty Images
Man, if some team could get Cromartie to play up to potential, they would be ecstatic.
Cromartie has all the physical tools you look for in a cornerback. He is tall, fast, strong, and is a ballhawk, but always seems to be tormented by the big play.
The Eagles would be getting a great playmaker if they signed Cromartie, but they would have to deal with the big plays he tends to give up.
Again though, anything is an upgrade over Dmitri Patterson.
LB Barrett Ruud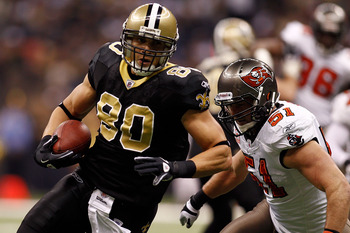 Chris Graythen/Getty Images
Ruud is a great, underrated middle linebacker.
He racked up 120 tackles and was key to the young Buccaneers defense. Many would call him the leader of the team as well.
If the Eagles lose Bradley to free agency, Ruud could be a great pickup to play the Mike, or could even be signed to play the strongside linebacker position.
He is also young at 27 which the Eagles certainly value in their linebackers.
CB Nnamdi Asomugha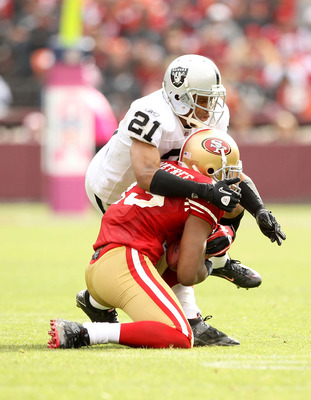 Ezra Shaw/Getty Images
Asomugha is so elite that he was targeted only 33 times last year. Let that statement sink in for a few seconds.
The ultimate CB is hitting the free agent market. Even though he did not have an interception last year, he is still a playmaker in both the run and pass support.
He would give the Eagles 2 elite CB's, something no other team in the league could boast. Asomugha could transform the Eagles defense from average to great.
The only downside is that Asomugha will be 30 heading into next season, but that in my opinion does not matter at all. It does matter however to the Eagles brass, who try to sway away from giving out big contracts to "old" players.
Nevertheless, Asomugha would be a huge addition for an awful defense.
Again though, no matter how great your corners, you always need some type of a pass rush, which would greatly benefit from having 2 elite corners.
Keep Reading

Philadelphia Eagles: Like this team?