Antonio Cromartie and the Funniest Bulletin-Board Quotes Ever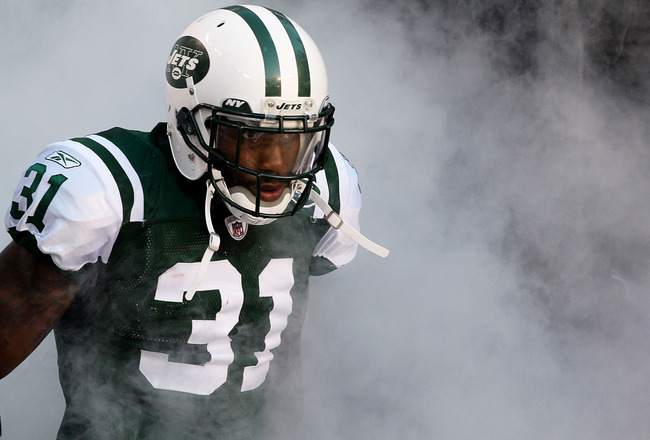 Al Bello/Getty Images
Antonio Cromartie is turning up the heat on the Jets-Patriots pressure cooker.
The New York Jets cornerback went off on a profanity-laced tirade Tuesday, slamming New England Patriots quarterback Tom Brady.
This is the first time we've ever really heard someone rip into Brady, but I'm not sure it was the wisest move on the part of Cromartie.
The last thing the Jets need is to feed an already-hungry Brady some more motivational food.
But that's exactly what Cromartie did.
He isn't the only athlete that we've seen fire up the other team with some ill-timed words, though.
Here are the 10 funniest bulletin-board quotes ever.
10. Shannon Sharpe: "I Would Rather Die"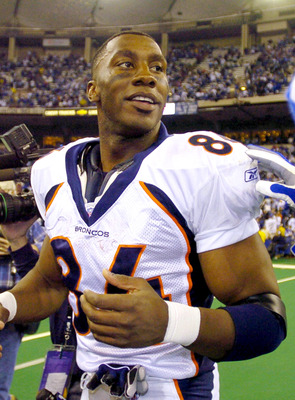 A. Messerschmidt/Getty Images
What would Shannon Sharpe rather do than play for Tom Coughlin?
"I would rather die in an abandoned building, by myself and my family not know anything, than play for him."
There's an idea: "Saw 7," starring Shannon Sharpe.
9. Antonio Cromartie: "F#$k Him."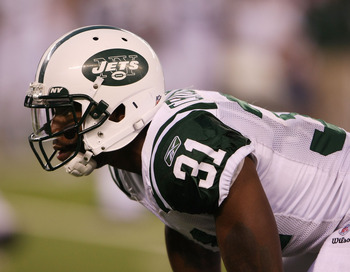 Al Bello/Getty Images
Reporter: "Antonio, what do you think of Patriots quarterback Tom Brady?"
Cromartie: "An asshole."
(Awkward silence).
"F#$k him."
It's OK, Antonio. I'd hate someone who pounded my team 45-3 just over a month ago, too.
8. Shannon Sharpe: "I'd Pour Honey On Him"
A. Messerschmidt/Getty Images
Don't invite Shannon Sharpe on your next camping trip.
Why? Here's what the former Denver Broncos tight end said about a certain Baltimore Ravens linebacker:
"Ray Lewis is the type of guy, if he were in a fight with a bear I wouldn't help him, I'd pour honey on him because he likes to fight. That's the type of guy Ray Lewis is."
Remove the bear, replace Ray Lewis with this chick and I'm all in.
7. Jalen Rose Has No Faith In His Teammates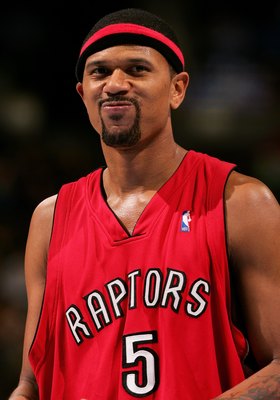 Doug Pensinger/Getty Images
While a member of the Toronto Raptors, Jalen Rose was asked how many of his Raptors teammates were question marks.
His response: "You want me to take the time to count 'em? No comment."
This is one of the rare occasions when an athlete provides ammunition for the opposing team.
Even Jalen Rose didn't think his own team was any good.
6. Kris Jenkins Hates Warren Sapp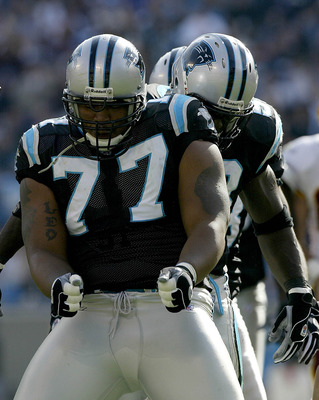 Craig Jones/Getty Images
Ever wonder what former Carolina Panthers defensive tackle Kris Jenkins thinks of Warren Sapp?
"I hate him. Everybody says I'm supposed to be polite when I talk to you all, but I hate him. He talks too much, he doesn't make sense, he's fat, he's sloppy, he acts like he's the best thing since sliced bread.
"He's ugly, he stinks, his mouth stinks, his breath stinks, and basically his soul stinks, too. Not too many people have personalities like that and survive in life. I don't know how he does it."
I sense a little jealousy from Jenkins.
He's probably just pissed because he doesn't have a Super Bowl ring.
5. Kevan Barlow: "He Reminds Me Of Kurt Warner"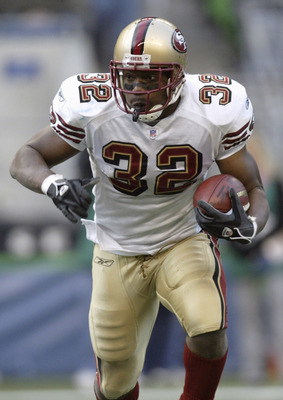 Otto Greule Jr/Getty Images
When asked what he thought about Adam Sandler's performance in "The Longest Yard," former San Francisco 49ers running back Kevan Barlow decided to take a shot at Kurt Warner for some reason.
"He's an actor, not an athlete. I didn't buy him as a quarterback. I didn't buy him as a linebacker in 'The Waterboy' either. He's just so stiff, especially when he drops back to pass. Really stiff. He reminds me of Kurt Warner."
Stiff he may be, but Warner has a Super Bowl ring, two Super Bowl appearances and a couple of NFL MVPs.
Barlow was out of the league by age 28, and he's probably not gonna be the next Roger Ebert, either.
4. Drew Bledsoe Challenges Tom Brady To a Race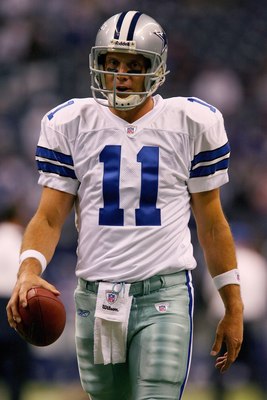 Ronald Martinez/Getty Images
The only reason Tom Brady ever took over in New England was because Drew Bledsoe got hurt.
And apparently Bledsoe still held a grudge against Brady when Bledsoe took over as the starting quarterback of the Dallas Cowboys.
"I'm not fast. But there are a lot of guys that are a hell of a lot slower than I am. Somebody wants to do a pay-per-view race between me and [Tom] Brady, sign me up."
Challenging Brady's speed? Really, Drew?
If speed was the only thing that mattered, the Oakland Raiders would win the Super Bowl every year.
3. Charlie Villanueva Thinks He's Tim Duncan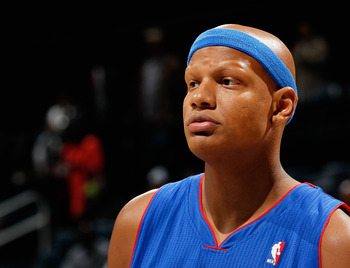 Kevin C. Cox/Getty Images
In 2005, Charlie Villanueva was drafted by the Toronto Raptors, and he had some high hopes about playing alongside Chris Bosh.
"We're like Tim Duncan and David Robinson. But a younger version. I really feel that."
Yeah, Charlie. And now that you're in Detroit, you and Ben Gordon are like Michael Jordan and Scottie Pippen.
2. Pedro Martinez: "The Yankees Are My Daddy"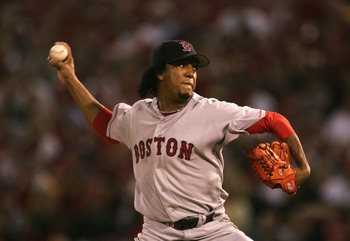 Al Bello/Getty Images
After pitching in a 2004 loss to the New York Yankees, Boston Red Sox pitcher Pedro Martinez addressed his struggles against the Bronx Bombers.
"What can I say? I tip my hat and call the Yankees my daddy."
Rumor has it that the following night Derek Jeter gave Martinez a pacifier and rocked him to sleep while singing "Twinkle Twinkle, Little Star."
Nah, not really. But that would have been phenomenal.
1. Dan Gilbert: The Guarantee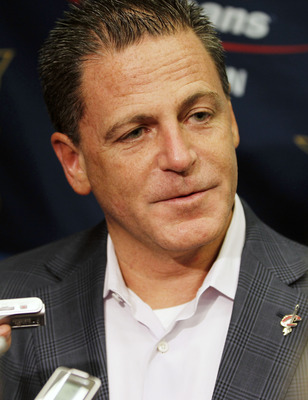 Gregory Shamus/Getty Images
When LeBron James bolted Cleveland to take his talents to South Beach, Cavaliers owner Dan Gilbert issued a letter trashing James and his "egotistical" move to sign with the Heat.
"I personally guarantee that the Cleveland Cavaliers will win an NBA Championship before the self-titled former 'King' wins one," Gilbert wrote.
The Cavs are currently an NBA-worst 8-30 and have won one game since Nov. 27, 2010.
As long as the Heat don't win an NBA title this year, there's always next season, right?
Or not.
Keep Reading

New York Jets: Like this team?