Peyton Manning: Why It's All Downhill from Here for the Colts Quarterback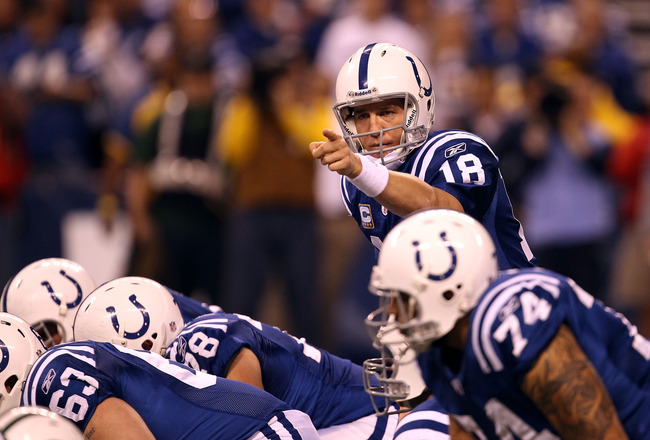 Jonathan Daniel/Getty Images
Peyton Manning isn't used to early exits.
The Indianapolis Colts lost to the New York Jets 17-16 in an AFC Wild Card game on Saturday. Despite the first round loss, Manning still finished with another incredible season as he completed 66 percent of his passes for a career-high 4,700 yards and 33 touchdowns.
He finished the regular season tied for first in the NFL in yards per game (294), second in passing yards, second in completion percentage (66.3) and had the 10th-best quarterback rating (91.9).
On numbers alone, you can't question Manning's ability. Arguing that for a second would be stupid. But he's also getting older, and his window of opportunity for more Super Bowls is narrowing. Look at his games, and he still seems to be in his prime, but look at the big picture and you'll see the clock is ticking.
Here are 10 reasons why Manning's career could be headed downhill:
10. Will the Chemistry Be There?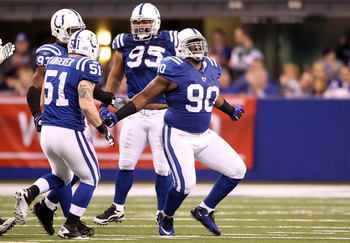 Andy Lyons/Getty Images
You can have all the talent in the world, but if there's no chemistry it won't matter. This was an overachieving Colts team that hard to battle through injuries and lots of adversity, but it didn't seem like it had the chemistry that you saw on last year's AFC champion team.
Chemistry was incredibly evident when Manning and the Colts won the Super Bowl. Same could be said for past Super Bowl winners like St. Louis' "Greatest Show on Turf" and the Cowboys teams of the 90s. The Patriots started slow this year, but one reason why they're the Super Bowl favorites is the chemistry they have developed as the season has progressed.
9. Defenses Will Catch On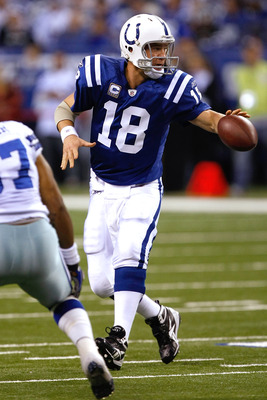 Scott Boehm/Getty Images
Stopping Manning is almost impossible because of his ability to audible at the line and spot weaknesses in opposing defenses. But if there's one thing units will catch onto, it's that the biggest way to rattle Manning is to make sure he and the Colts offense don't develop any rhythm, and to force Manning into trying to do too much. That's what led to his 17 interceptions this season.
8. Jim Caldwell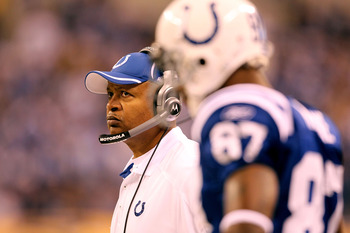 Andy Lyons/Getty Images
Manning was at his best when Tony Dungy patrolled the sidelines, but Jim Caldwell doesn't seem like the right fit for the Colts quarterback.
Luis DeLoureiro, who operates NFLStatAnalysis.net, examined the issue on the New York Times' blog. Manning, he argues, is the team's offensive coach, and DeLoureiro wondered if it's too much on his shoulders. He also said the best fit would be to give him someone like Bill Cowher, Jon Gruden or Jeff Fisher.
"Caldwell was outcoached in last year's Super Bowl, but most of the blame for the Colts loss still went to Manning," DeLoureiro writes. "Caldwell appears to be coaching like someone who is afraid to lose the game—not someone who is trying to win. In his defense, he was put in a difficult situation. He was a first-time coach taking over a team that already had a very strong leader. If he loses with Peyton Manning, he is viewed as a failure. If he wins with Peyton Manning, he's only doing his job."
Caldwell won't be going anywhere soon, though.
"Jim's done a really good job," owner Jim Irsay recently told the Indianapolis Star. "(People) forget he was on the field less than a year ago while we were hoisting the AFC championship trophy in front of our fans."
7. Tough Task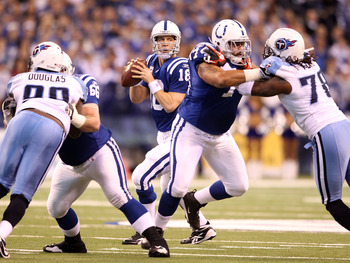 Andy Lyons/Getty Images
We've been used to seeing Manning and the Colts cruise to winning division championships, but this year the team had to win late to just make it in the playoffs. Tom Danyluk of Pro Football Weekly saw a beleaguered Manning during that time.
"He's a bleary-eyed Manning now, the bleariest we've ever seen him," Danyluk wrote entering Saturday's Wild Card game. "He looks exhausted, dragging. The playoffs meant mustering a four-game win streak to close the season, a stretch when the Indy starters usually have their feet up and we watched names like Jim Sorgi and Curtis Painter come up 4-for-17 in their passing."
6. Must Be Addressed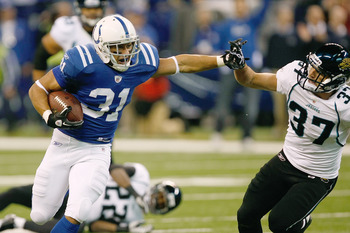 Scott Boehm/Getty Images
The Colts have two proven options at running back in Joseph Addai and Dominic Rhodes. The team needs to re-sign Addai, and Rhodes should also be cheap. However, the biggest question mark is Donald Brown, who rushed for 129 yards against Jacksonville in Week 15, but followed that with 37 yards in the next two games. He didn't play Saturday against the Jets.
The offensive line, which gave up a league-low 16 sacks, also is getting old and could use younger additions who could make an immediate impact in 2011.
5. Won't Last Forever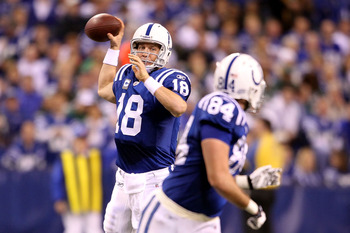 Andy Lyons/Getty Images
This year marked the 13th consecutive season in which Manning has started 16 games. It's an incredible accomplishment, but injuries also happen. No matter how hard you try to push your body, Brett Favre showed this year that sometimes that's just impossible.
4. Others Are Improving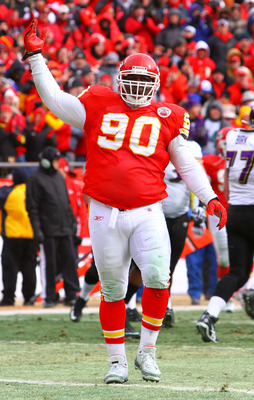 Dilip Vishwanat/Getty Images
New England, Pittsburgh and Baltimore have become consistent winners, but you look around, and you've got to think the AFC is only going to get tougher. Kansas City returned to the playoffs this year, but is young and will build off this season. Rex Ryan is molding the Jets into one of the AFC's best, Cleveland also shows promise with Colt McCoy and Peyton Hillis, and Oakland also improved this year.
It's one thing when you have to worry about maybe two other teams, but when there's several others who are improving, your chances for success get even tougher.
3. Big Contract Could Cause Big Problems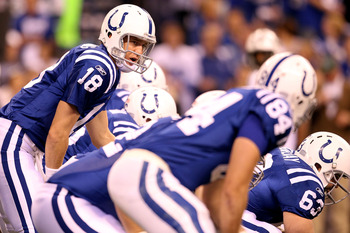 Andy Lyons/Getty Images
Peyton Manning's contract is expiring, but the team hopes to have a deal in place by March.
There's no doubt that he has earned the money, but a fatter paycheck could cause bigger problems for the team. Writer Anthony Schoettle examined this in the Indianapolis Business Journal, and said it would be best if Manning defers some of that money so the team can use it for key acquisitions. Building through the draft won't help either, he explains, since Manning is about to turn 35.
"Yes, they'll get better just by getting healthy, but they still need a receiver and running back with breakaway speed now—not someone that will take two or three years to learn how to play football at the pro level," Schoettle writes. "An offensive lineman who can blow somebody off the line of scrimmage would be nice, and the defense and special teams could also use a short-term boost here and there."
"If (general manager Bill) Polian refuses to change his course, and the Colts fail to win another Super Bowl while they have the services of one of the greatest quarterbacks of all time, I think NFL historians will revise their appraisal on Polian's abilities as a team executive."
2. The Age Factor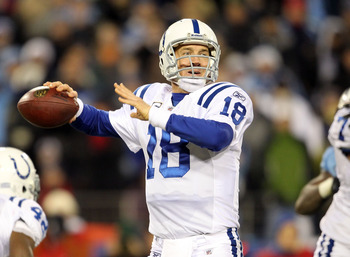 Andy Lyons/Getty Images
You may think it's not a big deal, but in the NFL, 35-year-old quarterbacks aren't young pups anymore. Manning may be putting up big numbers still, but it's inevitable that he will soon start slowing down and his skills won't be as sharp. It happens to every player at every position. No one is exempt.
1. The Window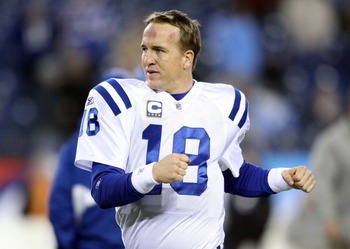 Andy Lyons/Getty Images
It's there with every team: When you've got the right pieces, developed the chemistry and have everything in place, there is only a certain amount of time you have to win and compete for Super Bowls. After that, your shot is over (or your chances dwindle significantly), and other teams catch up and get their chance.
Keep Reading

Indianapolis Colts: Like this team?